Chess took root in Russia since it found its way into the country in the early Middle Ages. Around the early 19th century, when the game was flourishing in Europe, and France and England were emerging as the leading chess-playing nations, Russia's chess traditions were beginning. The country saw its first great players in Alexander Petrov (1794-1867), Carl Jaenisch (1813-1872), and Ilya Schumov (1819-1881), who were outstanding theoreticians and practical players. The three Russian masters were invited to the first ever international tournament, London 1851, but Petrov and Schumov declined, while Jaenisch arrived late.
Other strong masters later emerged in the Urusov brothers Sergey (1827-1897) and Dmitry (1829-1903), Emmanuel Schiffers (1850-1904), and Semyon Alapin (1856-1923). It was Mikhail Chigorin (1850-1908), however, who became Russia's most influential player of the 19th century. Playing in two world championships, he would inspire Russian players up to the succeeding century.
All these spoke of a rich, Russian chess culture, but up to the first decade of the 20th century, chess was much a game of the nobility, intelligentsia, and the rest of the Russian high society. A whirlwind of events, however, brought chess to the masses and turned it into the nation's passion.
In 1917, the Bolsheviks seized power by a violent revolution, ending centuries of tsarist rule. As they established the new proletarian society, they faced the daunting task of remolding the Russian citizenry.
Although the Bolsheviks initially saw chess as a decadent bourgeoisie pastime, they gradually acknowledged it as an intellectual sport that could revitalize the peasants and workingmen who had been blighted by decades of exploitation.
Chess, slowly but surely, pulsed into life. Clubs were organized, newspaper chess columns and magazines appeared, and tournaments became more frequent. Three years into the new regime, the All-Russian Olympiad of 1920 was held, which came to be known later as the USSR Championship after Russia completed its transformation into the Union of Soviet Socialist Republics in 1922. To make the tournament possible, the government had to gather all the strongest players of the old Russia and defray all their expenses. Alexander Alekhine won the event to become the USSR's first national champion.
It helped, of course, that however the Bolsheviks first despised chess, some of them were true lovers of the game. Vladimir Lenin himself, the architect of the revolution, was an avid player. Alexander Ilyin-Genevsky, a strong master and genuine revolutionary, was appointed as Commissar, a considerable rank in the Soviet military. This enabled him to organize important tournaments, and the All-Russian Olympiad Alekhine won, in fact, was largely his creation.
One man, however, would realize the dramatic progress that Soviet chess was yet to take and become its most influential figure. He was Nikolai Krylenko.  
Nikolai Krylenko | Photo: Wikipedia
Krylenko, like Ilyin-Genevsky, was a true-blooded Bolshevik who was tasked with important responsibilities after the revolution. He served as the People's Commissar for Justice, and, even briefly, the Supreme Commander of the Red Army. Ever the chess enthusiast and a frequent tournament participant, he was appointed as the head of the Soviet Chess and Checkers Section.
No greater boon could have come to chess than a high-ranking Soviet official serving it. Krylenko would gather back to the Soviet fold players displaced by the revolution. He would advocate government support of the strongest players. Chess materials became affordable under his leadership, such that theory was easily shared among the Soviets. Ultimately, he would turn chess from a sport favored only by a few Bolsheviks into a state-funded one.  
In the meanwhile, chess kept humming. In 1922, Moscow and Petrograd (formerly St. Petersburg), home to the nation's brightest players, faced-off in an eleven board-match. Between 1923 and 1925, three more USSR Championships were held. Peter Romanovsky was national champion in 1923, and Efim Bogoljubov in 1924 and 1925. Ilya Rabinovich became the first Soviet representative to an international tournament when he was sent to Baden-Baden, Germany, in 1925. He placed seventh.
Efim Bogoljubov | Photo: shahimat.org
In the same year, 1925, Krylenko decided that it was time to test all the progress of chess since the revolution by staging a tournament that would pit the nation's strongest players against the leading foreign masters. The Soviet cast was to be composed of the top eight players of the 1925 Soviet Championship, namely, Efim Bogoljubov, Grigory Levenfish, Ilya Rabinovich, Boris Verlinsky, Fedor Duz-Khotimirsky, Solomon Gotthilf, Alexander Ilyin-Genevsky, and Peter Romanovsky. Fyodor Bohatyrchuk and Nikolai Subarev were added to bring the Soviet representatives to ten. Opposing them were eleven international stars, which included the World Champion Jose Raul Capablanca, former World Champion Emanuel Lasker, Frank Marshall, Savielly Tartakower, Carlos Torre, Richard Reti, Ernst Gruenfeld, Rudolf Spielmann, Akiba Rubinstein, Frederick Yates, and Fritz Saemisch.
Conspicuously missing was Alekhine. The great Russian had been disillusioned by the slow development of chess in the first few years after the revolution and didn't expect the progress it would later take with Krylenko at the helm. He wrote in the book Chess life in Soviet Russia:
"In the latest news, the chess players of Petrograd, Kazan, and Kharkov have started to organize, but even there, as everywhere, everything depends on the personal influence of some government official – chess in Moscow flourished solely because of Ilyin-Genevsky. It seems improbable that you can build on something solid on such a precarious foundation."
In 1921, Alekhine married a Swiss journalist and was allowed to travel west with his wife. He never returned.  He was not invited because he was deemed an "alien hostile to Soviet power."

Master Class Vol.3: Alexander Alekhine
On this DVD GMs Rogozenco, Marin, Müller, and IM Reeh present outstanding games, stunning combinations and exemplary endgames by Alekhine. And they invite you to improve your knowledge with the help of video lectures, annotated games and interactive tests
Krylenko secured a bankroll of 30,000 Rubles to make Moscow 1925 the first ever state-sponsored tournament. The tournament ran from November 8 to December 10, and for nearly a month the nation was caught in unprecedented chess mania. More than a thousand spectators showed up at the House of Soviets every round. The unlucky who could not be accommodated had to gather outside the Theatre Square for news, where a militia was called to control the crowds. Tens of thousands more across the country awaited news from Moscow each day. All the excitement was captured in the silent movie Chess Fever, where footage of the tournament participants appeared.

Master Class Vol.4: José Raúl Capablanca
He was a child prodigy and he is surrounded by legends. In his best times he was considered to be unbeatable and by many he was reckoned to be the greatest chess talent of all time: Jose Raul Capablanca, born 1888 in Havana.
Capablanca and Lasker were the favorites. A year before, they had figured in a down-the-wire finish in a similarly great tournament, New York 1924, and another close race between them was likely in the offing. After twenty rounds, however, it was Bogoljubov who emerged victorious. He scored 15.5 points on 13 wins, 2 losses, and 5 draws to outpace Lasker and Capablanca, who placed second and third respectively.
Final standings
With his victory, Bogoljubov shot into world title contention. Moscow 1925 was his greatest triumph, but it was only one of his many in his rise after World War I. He had also won Berlin 1919, Stockholm 1919, Kiel 1921, Pistyan 1922, and tied for 1st–3rd at Karlsbad 1923. He would win another great tournament in Bad Kissingen in 1928.
Bogoljubov vs. Capablanca | Photo: The Facebook group page Shakhmatnyye Kollektsionery: Soviet and Tsarist Chess Sets
The Soviet Union's and Krylenko's resounding success, the culmination of eight years of work after the revolution, turned out to be bittersweet, for the following year Bogoljubov would defect to Germany. To the Soviet's dismay, he and Alekhine would figure in the next three World Championships, with Alekhine winning the title in 1927, and Bogoljubov becoming his challenger in 1929 and 1934. The Soviet Union could have prided itself in their achievements, but renegades like them had been sanctioned with rejection. 
As it happened, all the other Russian participants finished dismally. Romanovsky was the best-placed Russian after Bogoljubov at joint 7th-8th, while the rest finished at the bottom half. Clearly, yet, only Alekhine and Bogoljubov were equal to the task of facing the foreign masters. Krylenko set himself to work again, more determined than ever in his search for a new Soviet champion.  In 1935, he would stage another great tournament in the same city, and would find in the joint winner, Mikhail Botvinnik, the man who would bear the Soviet torch.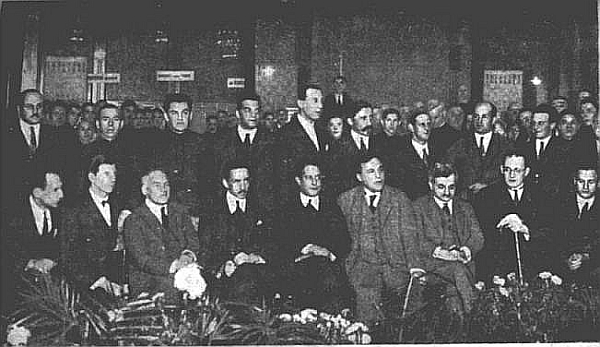 The participants of Moscow 1925 | Photo: https://pjanse.home.xs4all.nl
The Soviet Union would eventually become the major chess power beginning in the late 1940s.  Krylenko, however, would not see that day. During the Great Purge in 1938, he fell out of Joseph Stalin's favor. He was ousted from office for supposedly attending to chess and mountain climbing more than he did his official functions. Worse, he was accused of engaging in anti-Soviet activities. After a sham trial, he was imprisoned and shot.
Moscow 1925 was critical to the development of chess from a game of the privileged class in tsarist Russia to a tool of propaganda and national recovery in the Soviet socialist state. Not only did the tournament produce a Russian contender for the world title, but it also set the Soviet Union well on its way to becoming a true superpower of chess.
Selected games
Capablanca vs. Zubarev – Capablanca plays a beautiful attack based on positional play and short tactics.
Bogoljubov vs. Verlinsky – Playing a Hypermodern Opening, Bogoljubov simplifies into a favorable ending and subtly puts his opponent in zugzwang.
Reti vs. Romanovsky – Reti manages to build an initiative in a drawish Rook and Bishop vs. Rook and Bishop ending with the Bishops of opposite color. Clever tactics nail the full point.
Ilyin-Genevesky vs. Reti – Reti demonstrates the power of a Hypermodern Opening.
Rabinovich vs. Romanovsky – Sensing material gain, White plays carelessly and succumbs to a mating, counter-attack.
Capablanca vs. Ilyin-Genevsky – In one of the few times Capablanca attacks, Ilyin-Genevsky launches his own on the opposite flank. The tense game is decided by a passed pawn.
All games
Links