A high-end simul
A single 'slow rapid' round was played on the third day of action at the World Team Championship in Jerusalem. The organizers had something special prepared for Tuesday, though, as grandmasters Vishy Anand and Emil Sutovsky played a blindfold simultaneous exhibition against six officials from the Israeli government. Each of the players faced three opponents, and both experts won all three of their games.
Referring to the fact that the simul was played at Israel's Knesset (parliament), FIDE press officer Alexey Root wrote in her day-3 report:
Besides being the name of Israel's parliament, the word Knesset translates to "gathering." At the start of the FIDE World Team Championship 2022, 12 teams from Africa, the Americas, Asia, and Europe gathered in Jerusalem. After each game, the opponents did a postmortem. Sometimes, the analysis took almost as long as the rapid game itself. 
Four out of the twelve teams left the competition, as the knockout stage of the event is set to begin on Wednesday. By Friday, a new champion will be crowned.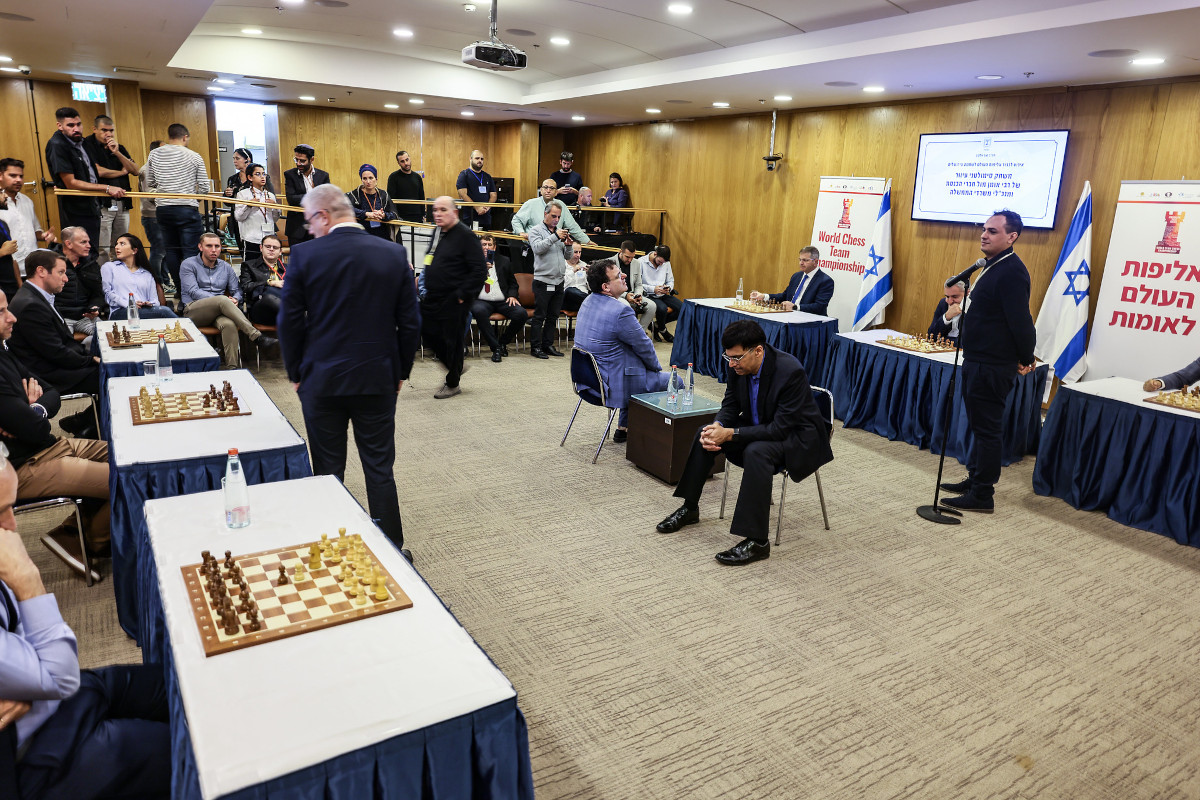 Vishy Anand and Emil Sutovsky giving a blindfold simul at the Knesset | Photo: Mark Livshitz
Pool A: Two entertaining matches
Spain convincingly secured his spot in the quarterfinals by beating South Africa 4-0, which meant there was nothing the Netherlands could have done to qualify. Nonetheless, the Dutch team got a valuable draw against Ukraine thanks to Jorden van Foreest victory over Vasyl Ivanchuk on the top board.
Not surprisingly, Ivanchuk and Van Foreest played a sharp, hard-fought game.
White had a superior position after finding the remarkable 26.Nd7 — a marvellous way to make the most of the many tactical motifs that favour the white army in this setup. 
Van Foreest found the most trying lines in the ensuing tactical sequence, but nonetheless ended up playing with a rook and knight against a queen after 26…Rexd7 27.Bxd6 Rxc2 28.Rxc2 Rxd6 29.Rc8
Ivanchuk's tactical shot left him with a superior position according to the engines, but converting his advantage into a win was no trivial matter. Van Foreest created as much counterplay as possible with his rook and pair of knights, and his tenacity was rewarded when Ivanchuk faltered on move 46.
The one move that keeps White's advantage is 46.h3, while Ivanchuk's 46.Bd3 allows Black to pin the bishop with 46…Rd1. Van Foreest's coordinated army turned out to be too strong for White's bishop and queen — 47.a5 Rd2+ 48.Kg1 Nef2 49.Qxd5+ Nh3+
Black now wins the queen by force via 50.Kf1 (50.Kh1 fails to 50…Rxh2#) Ne3+, with a royal fork. Ivanchuk resigned soon after. Ukraine's Kirill Shevcehnko beat Lucas van Foreest on board 2 to tie the score.
In the remaining match of Pool A, France managed to draw China, with Jules Moussard beating Xu Xiangyu on the second board.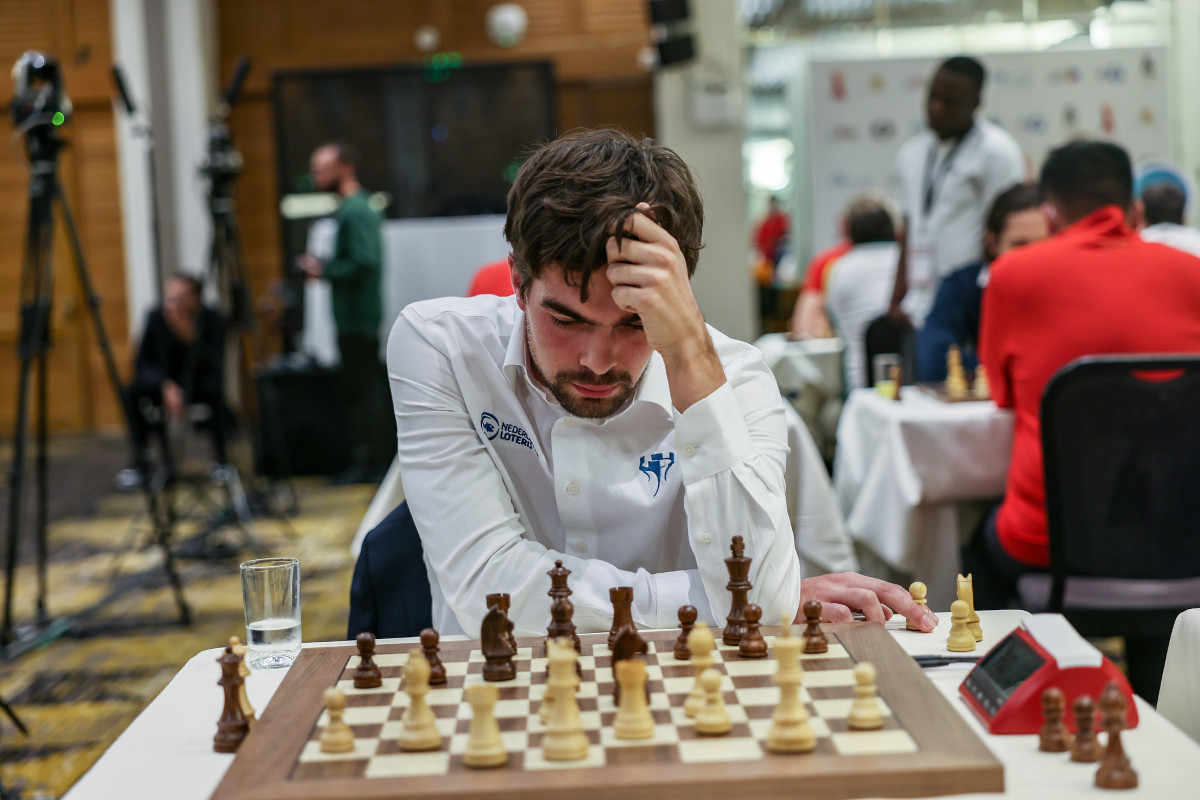 Jorden van Foreest | Photo: Mark Livshitz
Final standings – Pool A
| | | | | |
| --- | --- | --- | --- | --- |
| 1 |   | China | 9 | 15 |
| 2 |   | France | 6 | 11,5 |
| 3 |   | Spain | 6 | 11,5 |
| 4 |   | Ukraine | 6 | 11 |
| 5 |   | Netherlands | 3 | 9,5 |
| 6 |   | South Africa | 0 | 1,5 |
All games
Pool B: India and Poland make it through
It was all to play for in Pool B's final round, as only Uzbekistan had secured a spot in the knockout with one round to spare. In the end, Azerbaiyan, India and Poland ended up qualifying.
Azerbaiyan and India advanced to the knockout by beating Israel and the United States respectively, while Poland's draw with Uzbekistan was just enough to finish in fourth place. Poland and Israel finished with the same number of match points and individual points, but the Polish team had the better third tiebreaker score (Sonneborn-Berger).
Poland will have the tough task of facing China in the quarterfinals.
The young Uzbek squad | Photo: Mark Livshitz
A highlight from the fifth round was Shamsiddin Vokhidov's win over Radoslaw Wojtaszek, who came from winning two in a row on the top board for Poland. The 20-year-old Uzbek star ended the game with an elegant knight jump to the eighth row.
29.Nc8 prompted Black's resignation. White is both attacking the queen on b6 and threatening a back rank mate with the rook from e8, while in case of 29…Rxc8 there is 30.Qxc8, winning.
Uzbekistan will face Ukraine in an impossible-to-predict quarterfinal stage.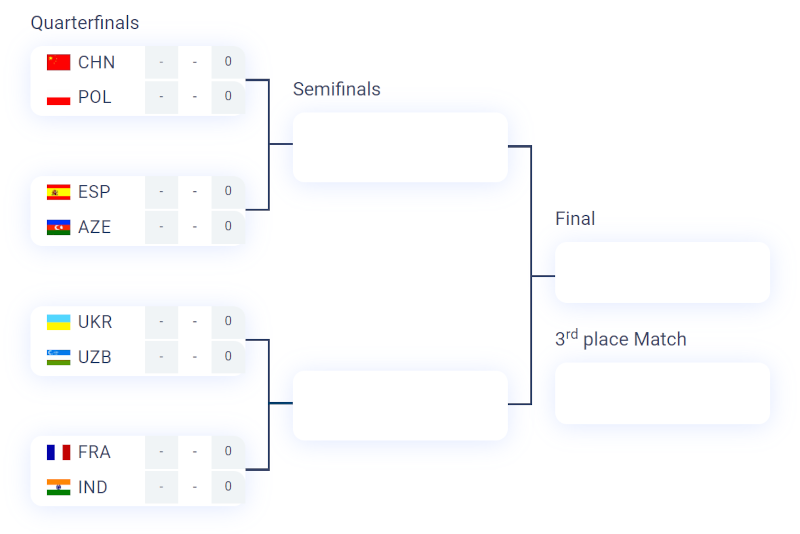 Final standings – Pool B
| | | | | |
| --- | --- | --- | --- | --- |
| 1 |   | Uzbekistan | 7 | 12 |
| 2 |   | Azerbaijan | 7 | 11,5 |
| 3 |   | India | 6 | 10 |
| 4 |   | Poland | 4 | 9,5 |
| 5 |   | Israel | 4 | 9,5 |
| 6 |   | United States | 2 | 7,5 |
All games
---
---
Links