Pool A: No major upsets
China, France and Ukraine have all secured a spot in the knockout stage of the World Team Championship. The one remaining spot is likely to be grabbed by the Spanish team, which is paired up against South Africa in Tuesday's final round of the preliminaries — South Africa, the big underdog, has yet to score a match point in the tournament. Only if South Africa beats Spain will the Netherlands get an outside chance of qualifying.
As per the teams that are set to play in the quarterfinals, China has impressed the most: the Asian team has won all four of its matches so far in Jerusalem, including convincing wins over France and Ukraine.
Impressively, the Chinese have dominated the group despite having arrived in Israel without any of their top stars. Led by Lu Shanglei (rated 2627), the squad has a 2557 average rating.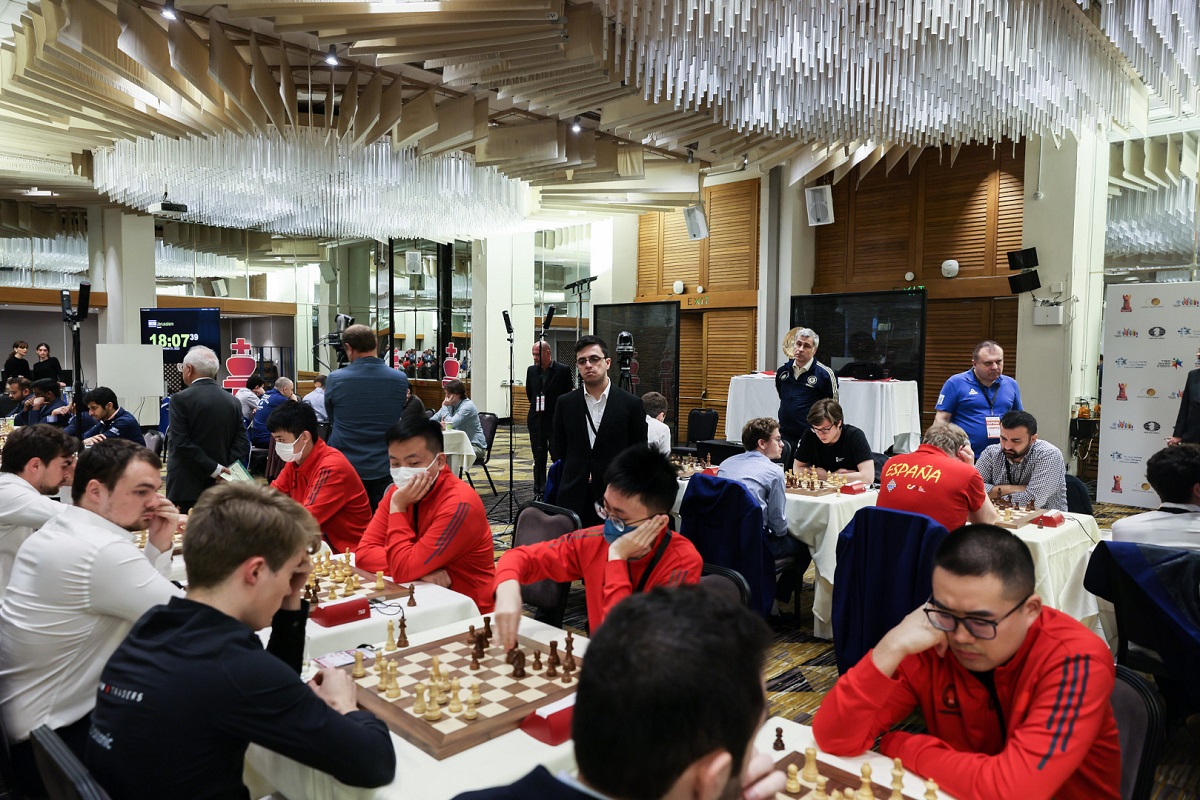 China facing the Netherlands in round 4 | Photo: Mark Livshitz
A case of mutual blindness was seen in round 3. France had a 1-point lead over Spain thanks to Maxime Vachier-Lagrave's victory over Jaime Santos, but David Anton had a rook for a bishop in a technical endgame against Jules Moussard. The conversion was never going to be trivial, but the Spaniard was inches away from actually losing the game on move 80.
Anton's 80.h4 failed to acknowledge the fact that the rook is hanging on a4. But Moussard also missed that crucial fact — instead of winning on the spot with 80…Bxa4, he went for 80…gxh4, and the battle continued!
The game lasted no fewer than 124 moves, with Anton getting the win that allowed his team to draw the Frenchmen in the longest match of the round.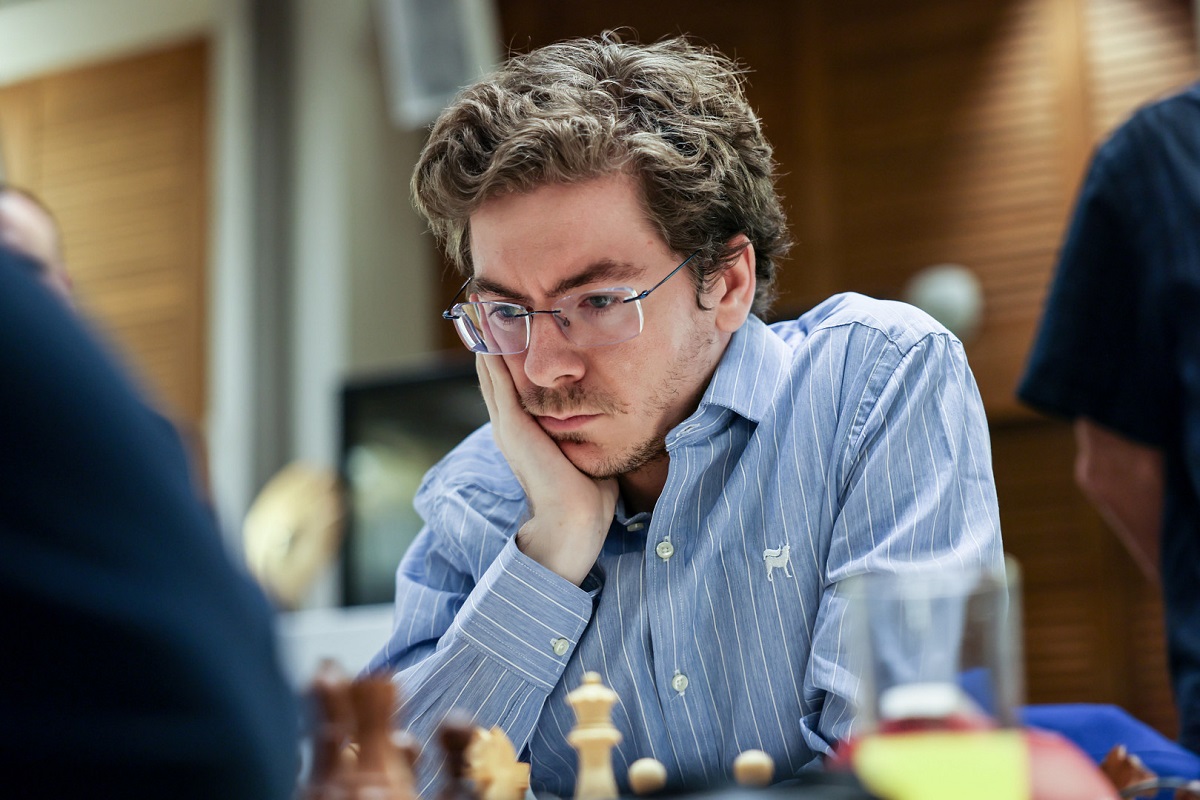 David Anton | Photo: Mark Livshitz
Standings after round 4 – Pool A
| | | | | |
| --- | --- | --- | --- | --- |
| 1 |   | China | 8 | 13 |
| 2 |   | France | 5 | 9,5 |
| 3 |   | Ukraine | 5 | 9 |
| 4 |   | Spain | 4 | 7,5 |
| 5 |   | Netherlands | 2 | 7,5 |
| 6 |   | South Africa | 0 | 1,5 |
All games
Pool B: All to be decided in round 5
An entirely different scenario is seen in Pool B, where only Uzbekistan has secured a spot in the knockout with a round to spare. Azerbaijan, currently in second place, is very likely to move on to the quarterfinals as well, but all four remaining teams still have chances in the fight for the two remaining spots.
Israel and India have 4 points each; Poland stands a match point back with 3; while the United States, with 2 points in the standings, still has outside chances of qualifying.
Team USA will face India in round 5. In order to qualify, besides winning the match, they will need for Uzbekistan to take down Poland. Given how evenly matched things have been in this group, the outcome of the prelims' final round is nothing short of unpredictable.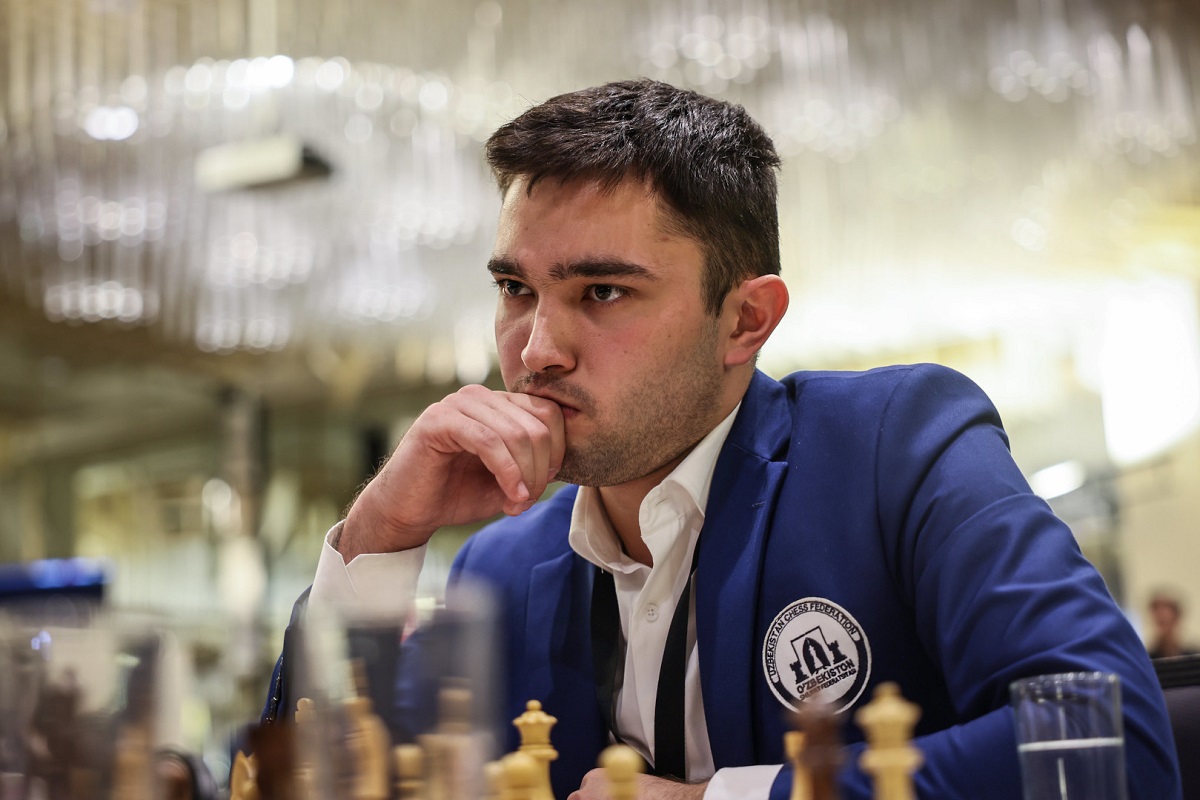 Uzbekistan's Jakhongir Vakhidov | Photo: Mark Livshitz
On Monday, Uzbekistan climbed to sole first place in the group by obtaining back-to-back wins over the United States and India.
Javokhir Sindarov, playing on board 2, won both his games on the second day of action. Facing Nihal Sarin in round 4, he got a winning advantage in a complex position with queens still on the board and plenty of dynamic play. Suddenly, however, Nihal got an unlikely chance to save a draw, one that is very difficult to find in a practical (rapid) game.
After the natural-looking 42.d6, Nihal, already in a desperate situation, responded by 42…Qg3 (note how the white queen defends the f2-square from c5). The Indian prodigy went on to resign the game two moves later, as there is not enough counterplay for Black.
Instead, however, Nihal could have saved a draw by playing 42…Rd2 in the diagrammed position. The threat of …Qg2-…Qe2 means White is forced to play 43.Ke1, and after 43…Qg2 once again there is no time to grab the rook on e7.
Only 44.Qg1 or 44.Rg1 now save the draw for White, using the pin along the g-file to prevent his opponent from giving mate on the next move. Black would then give perpetual check with the rook along the second rank. A beautiful geometric pattern!
Standings after round 4 – Pool B
| | | | | |
| --- | --- | --- | --- | --- |
| 1 |   | Uzbekistan | 6 | 10 |
| 2 |   | Azerbaijan | 5 | 9 |
| 3 |   | Israel | 4 | 8 |
| 4 |   | India | 4 | 7 |
| 5 |   | Poland | 3 | 7,5 |
| 6 |   | United States | 2 | 6,5 |
All games
---

Master Class Vol.14 – Vasily Smyslov
Smyslov cultivated a clear positional style and even in sharp tactical positions often relied more on his intuition than on concrete calculation of variations. Let our authors introduce you into the world of Vasily Smyslov.
---
Links