'Slow rapid' chess
The Israel Chess Federation is hosting the World Team Championship on November 19-26, with twelve teams from all around the world. Much like in the last edition of the Women's World Team Championship, this tournament is being played under a new format. The participant countries were split into two pools of similar strength, taking as a reference the rapid rating list. The four best teams from each pool will advance to the knockout stage.
The time control is 45 minutes for the whole game with an increment of 10 seconds per move starting from the first move, which means that two rounds can be played per day. The playing venue is the Hotel Dan in Jerusalem.
According to the day-1 report by FIDE:
The Dan Hotel Jerusalem and the organizing team have provided ideal playing and auxiliary spaces. The playing hall is spacious and well-lit, with clear signage.

[…] Commentating from a nearby room filled with chess fans are former World Champion GM Viswanathan Anand and IM Almira Skripchenko. The technical crew has its own room near another room set aside for members of the press.
The trophies were showcased during the opening ceremony | Photo: Mark Livshitz
Pool A: China and Ukraine start strong
There is a clear underdog in pool A — the South African team led by GM Kenny Solomon (rated 2408). Two of the favourites in the group, China and Ukraine, played and beat South African on opening day, and both teams also won their remaining match. China beat Spain despite having lower rated players in three out of four boards, while Ukraine got the better of France with nominally weaker players on all four boards.
Igor Kovalenko, from Ukraine, won both his games on Sunday, beating France's Tigran Gharamian in the first round. Kovalenko, who was born in Novomoskovsk, played for Latvia from 2013 to 2021, but this year returned to his homeland to volunteer in the war effort.
The Ukrainian correctly simplified into a winning rook endgame playing white against Gharamian.
43.Nxf7+ Rxh5 44.Nxd8 Kxd8 45.Rxf8+ Kc7 leaves White with a strong central passer, which would turn out to be impossible to be stopped for the Frenchman.
Kovalenko won the game five moves later. His teammate Andrei Volokitin was defeated on board 3 by Laurent Fressinet, but Kirill Shevchenko's win on board 2 gave the Ukrainians match victory, since living legend Vasyl Ivanchuk managed to draw Maxime Vachier-Lagrave with black on the top board.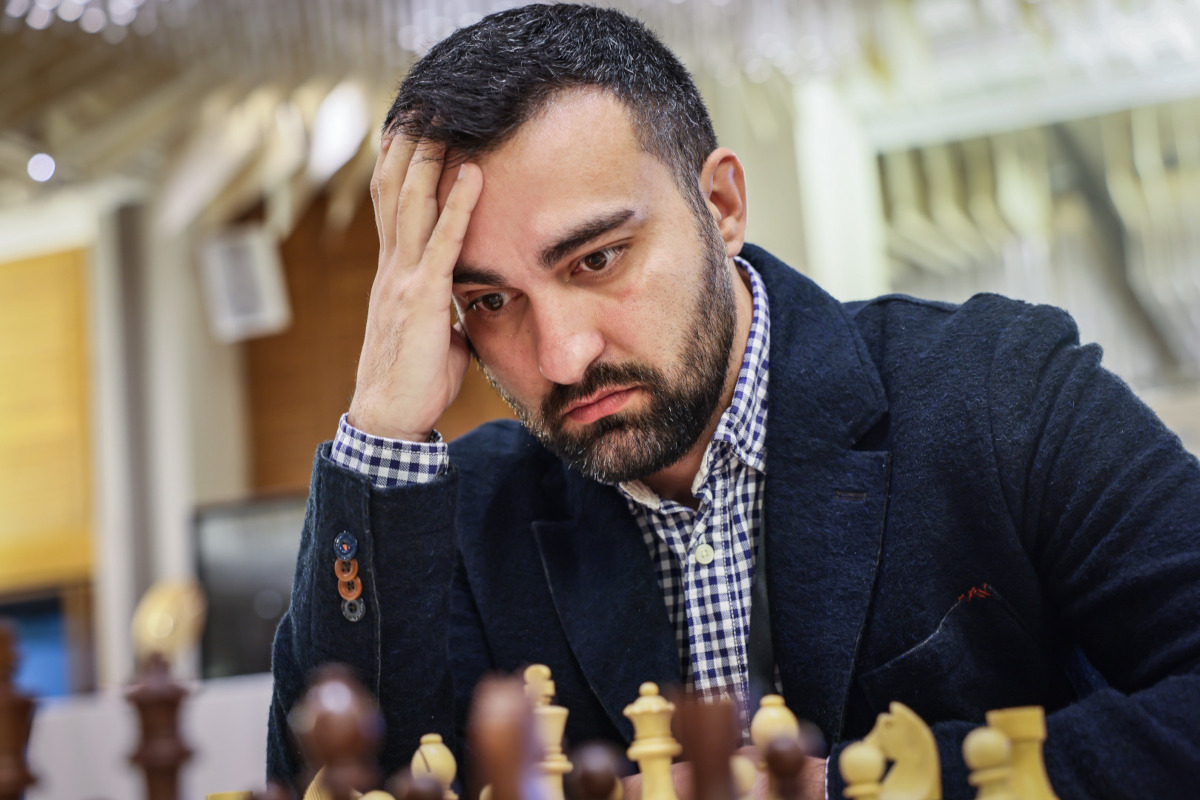 Igor Kovalenko | Photo: Mark Livshitz
Standings after round 2 – Pool A
| | | | | |
| --- | --- | --- | --- | --- |
| 1 |   | China | 4 | 6,5 |
| 2 |   | Ukraine | 4 | 6 |
| 3 |   | France | 2 | 4 |
| 4 |   | Spain | 2 | 3,5 |
| 5 |   | Netherlands | 0 | 3 |
| 6 |   | South Africa | 0 | 1 |
All games
Pool B: Azerbaijan scores two important wins
Things look more evenly matched in Pool B, with the Olympic champions from Uzbekistan (lacking Nodirbek Abdusattorov) the lowest-rated team in the group.
Azerbaijan is the favourite by rating, and managed to beat Uzbekistan and the United States on opening day. It should be noted that the Azerbaijanis have Shakhriyar Mamedyarov and Teimour Radjabov on the top two boards, while Team USA did not send the strongest squad, with Hans Niemann and Lazaro Bruzon leading the squad.
Mamedyarov, who played the last round of the Meltwater Tour Finals after winning both his games in Jerusalem, first defended well against Niemann's provocative play and then made steady progress with his queen, knight and connected passed pawns.
Here is where the US grandmaster resigned, after 57…Qc5+, forcing a queen trade.
Uzbekistan, India and United States are sharing second place in the group, but they have two strong squads a match point behind in Israel and Poland.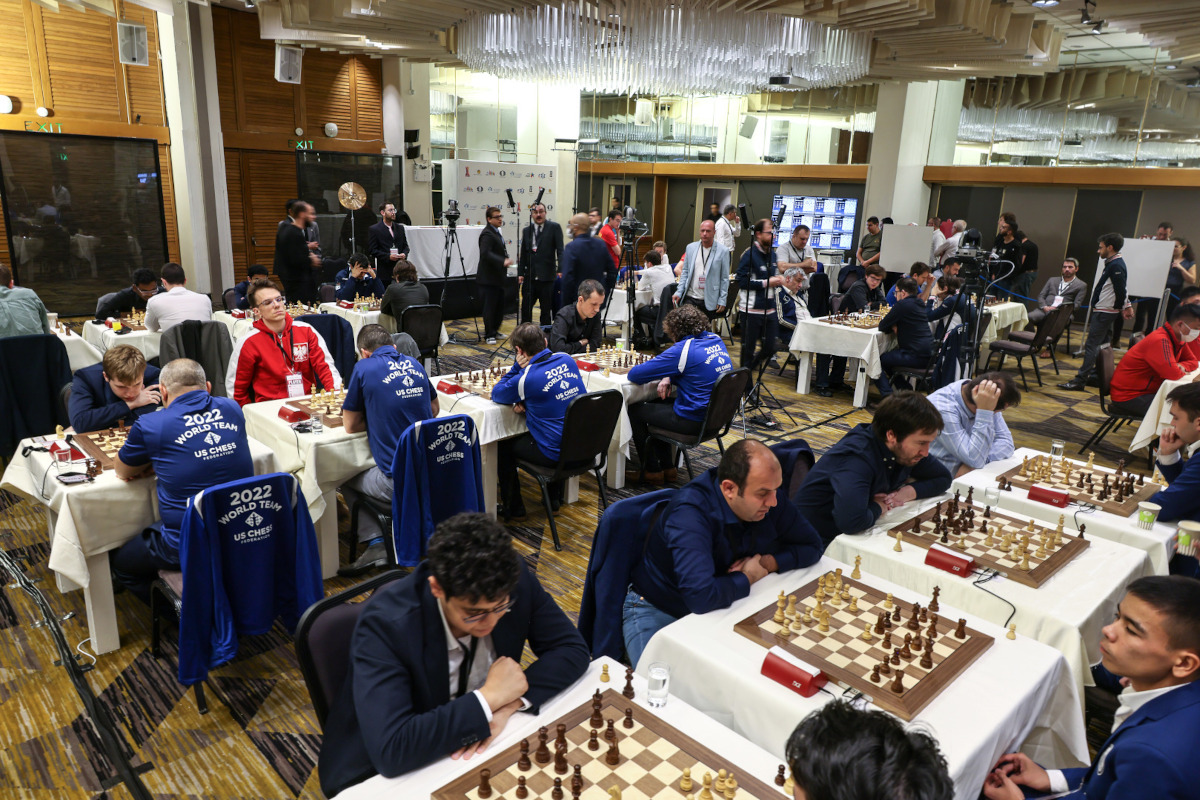 The playing hall during the first round | Photo: Mark Livshitz
Standings after round 2 – Pool B
| | | | | |
| --- | --- | --- | --- | --- |
| 1 |   | Azerbaijan | 4 | 5,5 |
| 2 |   | Uzbekistan | 2 | 4 |
| 3 |   | India | 2 | 4 |
| 4 |   | United States | 2 | 3,5 |
| 5 |   | Israel | 1 | 3,5 |
| 6 |   | Poland | 1 | 3,5 |
All games
---
---
Links