Strongly recommended: order as download
The best way to order our products is by download. These are the advantages:
immediate delivery, no delay;
the product can be installed on your computer without the need of a DVD drive;
all your downloads are recorded and backed up in your Shop account;
in case of a change of hardware you can always simply reinstall from your account.
In case you haven't ordered products as downloads before: it is very quick and very easy. Just create aShop account. After that you can always select products with a click, for your checkout basket. When you proceed to checkout, you see what you have on your purchase list. The total costs (on discount day 25% will be automatically deducted) are displayed. If you select "download," chances are you will have the program on your computer on the same or the next day. It's easy as pie!
One more thing: if you click on "Bundles" in the ChessBase Shop you will see the special bundles we have put together – multiple products at a permium price. And on Discount Day you get the 25% discount in addition to that! 
Products we especially recommend today
The new program comes with many new functions that improve the user experience: the new ultra-high-resolution 2D board; the really crisp display of notation and lists; and "Dark Mode".
There are many technical improvements such as: a new faster data format, with fewer files and no need for a search booster; and a fine-tuning of the database paths, so you can smoothly manage your databases outside the standard Windows directories.
New is also the smart inputting of positions, and the completely reworked engine window, with a visual evaluation of pieces and measurement of complexity, the display of non-trivial threats or temptations, training options,
ChessBase 17 is a personal, stand-alone chess database that has become the standard throughout the world. Everyone uses ChessBase, from the World Champion to the amateur next door.
Order ChessBase 17 today – for €??? (instead of €???)
---
This is the premiere chess database with over 9.75 million games from 1475 to 2022, standardized and in the highest quality.
Packing more than 110,000 annotated games, Mega 2023 contains the world's largest collection of high-class analysed games. Train like a pro! Prepare for your opponents with ChessBase and the Mega Database 2023.
Let grandmasters explain how to best handle your favorite variations, improve your repertoire and much more.
Languages:

German, English
Release:

23.11.2022
System:

Windows 7 or higher
Delivery:

Download, Postal Delivery
---
Find the right combination: Mega and Premium packages
Mega Package: ChessBase 17 program + new Mega Database 2022 with 9.75 million games and more than 110,000 master analyses. Plus ChessBase Magazine (DVD + magazine) and CB Premium membership for one year! Order today for €224.93 instead of €299.90.
Premium Package:  ChessBase 17 program + new Mega Database 2022 with 9.75 million games and more than 110,000 master analyses. Plus ChessBase Magazine (DVD + magazine) and CB Premium membership for one year! Order today for €374.93 instead of €499.90.
---
And the engines to analyse with
It is essential to have the finest engines to help with the analysis of games in ChessBase. Starting with the World Champion program:
The Power Fritz engine, developed by Frank Schneider, earlier this year won the computer chess world championship in the software group, after a playoff against Komodo Dragon. The main engine is a brand-new, massively improved (+ 150 Elo) version of the previous Fritz18 NNUE.
But the most important innovation in Power Fritz is the new training function for ambitious chess players. This program will allow you to find brilliancies in your games against it.  The new AI-based training method leads you to brilliant sacrificial combinations via clever variant selection and discreet hints. 
Full information on Power Fritz is here.
Buy it today for €59.93 (instead of €79.90)
---
The new Komodo Dragon 3 engine won the World Chess Software Championship in August after gaining 100 Elo points in playing strength over its predecessor to reach around 3600 Elo. The large Elo increase is due to a new net structure for NNUE, as well as various optimizations and improvements in the search.
The absolute gain in playing strength offers real practical advantages: Komodo Dragon 3 takes only about a quarter of the time to play or analyze at the same level as Komodo Dragon 2! 
The Playing strength is selectable between Elo 1 and 3500:  Komodo Dragon 3 has arbitrarily adjustable strength settings from 1 to a maximum of 3500. With reduced playing strength the engine makes the kind of mistakes that are to be expected from humans with rating level that is set.
Order Komodo Dragon 3 today for €74.93 (instead of €99.90)
---
This makes it ideal for building up a solid opening repertoire or adding strong feints to your own favourite variations. The concept of the opening articles: A grandmaster or IM presents you with a repertoire idea, introduces the most important games and his analyses, explains typical plans and points out critical variations. It is the best database to improve your opening knowledge!
In this year's issue 66 new opening articles and 388 new opening overviews have been added, compared to the previous year. New feature: GM Dorian Rogozenco goes into detail about the latest opening trends in top chess, with many videos. The former trainer of the German Chess Federation explains opening trends in world-class chess. In three videos he shows us what you should play after 1.e4, 1.d4 and 1.c4/1.Sf3. Each Video has a running time of 25 to 35 minutes.
Order the Opening Encyclopaedia 2022: €74.93 (instead of €99.90)
---
The new Corr Database 2022 is the large ChessBase collection of correspondence games from the period from 1804 to 2021. With more than 80,000 tournaments and over two million correspondence games, Corr 2022 is a must for all correspondence chess fans. But the Corr Database is very popular even among many grandmasters and trainers, since correspondence games often herald the development of opening theory!
• New, refined layout!
• EXCLUSIVE! Twenty selected games from the 29th-32th Correspondence Chess World Championship cycles presented in video analysis by wellknown GMs such as Rustam Kasimdzhanov, Markus Ragger, Vidit Gujrathi, Christian Bauer, Romain Edouard, Yannick Pelletier, Mihail Marin and others.
Correspondence Database 2022:​ €142.43 (instead of €189.90)

"当人们让我推荐国际象棋软件时,第一个跳入我脑海的词就是ChessBase。
在我的国象生涯中,我一直在使用它。"
---
Endgame Turbo 5 USB flash drive
Perfect endgame analysis and a huge increase in engine performance: get it with the new Endgame Turbo 5! Thanks to a new format the Endgame Turbo 5 is smaller, faster and yet has more scope. The USB 3.0 flash drive (128 GB) covers 143 of the most important six piece endgames, allowing top engines such as Fritz, Komodo Chess and Houdini to play these endgames perfectly. But they also generally play the endgame much better because they can access the perfect knowledge of the Endgame Turbo in the search! A powerful tool for anyone who wants to study the endgame, for correspondence players, endgame theoriticians and friends of engine matches!
Endgame Turbo 5 USB flash drive: €134,93 (instead of €179.90)
---
ChessBase Magazine subscription
ChessBase Magazine is the most comprehensive and most sophisticated chess magazine there is. World class players analyse their brilliancies and explain the ideas behind the moves to you, opening specialists present the latest trends in opening theory and offer exciting ideas for your repertoire. Master trainers in the fields of tactics, strategy, and the endgame show you the tricks and techniques a successful tournament player needs! 
Each issue of ChessBase Magazine offers you several hours of video training with grandmasters and experts. World-class players like Caruana, Anand, Vidit, So, Giri, Nepomnicachtchi, Vachier-Lagrave, Gelfand, Wojtaszek, Vitiugov, Yu Yangyi and many more analyse their best games and explain the ideas behind their moves. Each issue also includes at least ten new opening articles with exciting ideas for your repertoire, an extensive collection of training exercises on tactics, strategy and endgames, and much more.
ChessBase Magazine appears every two months (six issues per year). It's available on DVD + booklet (by post) or for download (including the booklet in pdf format).
Save twice with ChessBase Magazine: For the annual subscription to ChessBase Magazine you'll pay only €99.70 per year (compared to €119.70 for the 6 individual issues). As a new subscriber you will also receive the original ChessBase USB stick with 128 GB and the chance of an exclusive training session with a world-class trainer.
ChessBase magazine €74.77 (nstead of €99.70)
---

The Fritz Powerbook 2023 contains 25 millions opening positions, derived from 1.7 million high class tournament games. Together with each position all relevant information is stored: all moves that were played in the position, by players of what average rating, with what success and performance results.
The games from which the Fritz Powerbook 2023 were derived (except the Corr Games) are also included on the DVD or download version.
The Fritz Powerbook 2023 represents the state of the art of current openings theory. With the 2022 edition you get three Books: Fritz Powerbook, Strongbook and the CorrBook. Discover exciting and tricky new lines and practice them against Fritz. 
Fritz Powerbook 2023: €59.93 (instead of €79.90)
---
ChessBase account
Just try it out: if you have not registered for an account (and you should do so right now!) some of the services will not have the full scope, e.g. the Training page will give you access to 1000 positions, not the 60,000+ you get when you are properly registered. Get started by registering for free, then explore and upgrade.
In the Chessbase Account you will find all the tools you can use to become a stronger, more profound tournament player.
Fritz trainers in bundles
Note that many of the following products may be purchased in bundles. Simply click on the new "Bundles" tab in the ChessBase Shop to view the special offers:
The bundles cost substantially less than the individual items. In addition to the reduced price you will get a further 25% reduction on Discount Day.
Brand new, being released today:
Marin: A Repertoire against the Italian Game: Given White's difficulty in proving an advantage in a series of Ruy Lopez systems, the Italian game (also known as Giuoco Piano), has become increasingly popular. White aims at submitting their opponent to the same kind of positional pressure as "The Spanish torture" in the Ruy Lopez. This video course also contains a database with all the games relevant to the repertoire, plus a selection of positions for practicing. Discount price today: €22.43 instead of €29.90.
Marin: Tactic Toolbox Italian Game: The highly popular Italian game is mainly a positional opening. This video course is intended as a tactical guide for Black, featuring themes such as the tactical abilities of the c5-bishop and the relatively restricted c6-knight, the kingside attack and the fight for the centre. The author hopes that the spirit of the examples on this video course sweep away the common fear that chess will be extinguished by draws. Discount price today: €22.43 instead of €29.90.
Regular bundle price for Italian + Toolbox: €54.90 – on Discount Day: €41.18
---

Mihail Marin: The French Defence
The French Defence is an opening with a marked strategic character, but it also offers rich tactical possibilities to both sides. This video course is aimed as a tactical guide for Black, featuring the most typical combinations for the French structures. The reader is also invited to find combinations delivered by White, in order to become aware of the possible dangers.
For virtually all types of white combinations, the video course features symmetrical equivalents for Black, but also tests how Black can withstand the White aggression.
Individual volumes €22.43 instead of €29.90.
Today vol. 1+2: €41.18 instead of €54.90 (total value €59.80)
---

Vol 1: deals with different dynamic decisions involving pawns. The aim is to arm club/tournament players with fresh ideas which they can use in their own practice.
Vol 2: Practical Play. In this DVD the material is selected with an aim to improve the viewer's middlegame decision making process and broaden his/her middlegame understanding in general.
Vol 3: Throughout his playing career Ivan Sokolov has found the Hedgehog (with both colours) one of the most difficult type of positions to master. With White (the side with more space) there is always a danger to overextend oneself (or miss the opponent's pawn break). While playing Black (the side with less space) there is always a danger to mistime your pawn break, or simply to not get counterplay and be overrun.
Vol 4: Studying this video course should greatly improve the viewer's handling of dynamic pawn positions! As with all the other video courses material here is predominantly aimed at improving players and tournament players.
Vol 5 + 6: Understanding openings does not end with theory. It is important to understand the ideas and structures associated with the opening moves. In this video course we focus on Rossolimo and Maroczy structures in the Sicilian Defence.
Individual volumes €22.43 instead of €29.90. Plus different bundles.
Bundle 1-6 today only €112.43 instead of €149.90 – total value: €179.40
---

The Ruy Lopez is one of the oldest openings and continues to enjoy high popularity from club level to the absolute world top. In this video series, American super GM Fabiano Caruana, talking to IM Oliver Reeh, presents a complete repertoire for White.
You can find all three of Fabiano Caruana DVDs here. They are all discounted by 25% today.
Special: Vol. 1 – 3 bundle: €59.93 instead of €79.90
With the new ChessBase series "The Monthly Dragon", GM Chris Ward shows us the newest tactics, plans, and development of this fascinating opening.
A series taking a look at Black's most aggressive response to 1 e4 from both a principled and theoretical perspective. In this first part, the emphasis is on themes and ideas as the viewer is armed with tactical and positional motifs and concepts after 1 e4 c5 2 Nf3 d6 3 d4 cxd4 4 Nxd4 Nf6 5 Nc3 g6.
The Dragon is an opening, played by some of the best players in the world. 
---
Top Choice Repertoire:
play The French Defence
The French Defence is one of the most popular openings – from club player to grandmaster. It's a very solid opening against 1.e4 but leaves room for counterplay and initiative.
In this two-volume video course former world-champion and star-trainer Rustam Kasimdzhanov shows you the ins and outs of this hugely complex opening. Full review and samples.
Video running time: 5 hours 45 min. With interactive training including video feedback. Extra: Training with ChessBase apps – Memorize the opening repertoire and play key positions against Fritz on various levels.
Vol. 1+2 Bundle: €41.18 instead of €54.90
---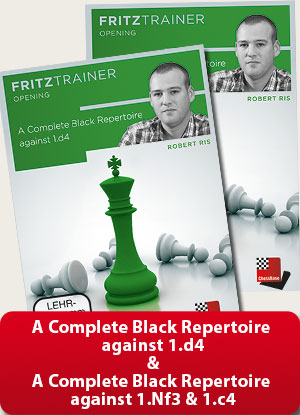 Robert Ris: A Complete Black Repertoire against 1.d4, 1.Nf3 & 1.c4 
These video courses feature a black repertoire against 1.d4, 1.Nf3 and 1.c4. The recommended variations are easy to learn and not difficult to remember, but also pose White serious challenges.
Each volume today: Today: €22.43 instead of €29.90
Bundle: both volumes €41.18 instead of €54.90 (€59.80 total value)
---
Oliver Reeh: Master Class Tactics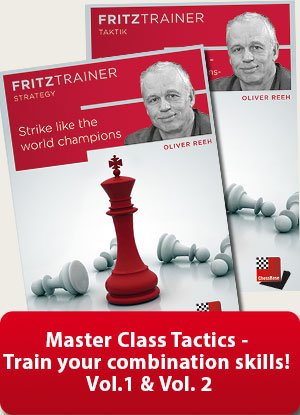 In almost every chess game there comes a moment when you just can't go on without tactics. You must strike, because nothing is more annoying than missing a winning combination in the decisive situation, and thus giving away the advantage you have worked for the whole game. So it is vital to train tactics properly – and Master Class Tactics offers you the perfect tool for this! On this Fritztrainer, IM Oliver Reeh has compiled his favorites from the CBM column " Tune your Tactics" issues 186 to 197. 
Vols 1 and 2: €22.43 instead of €29.90 each
Bundle 1+2: today €41.18 instead of €54.90 (total value €58.80)
---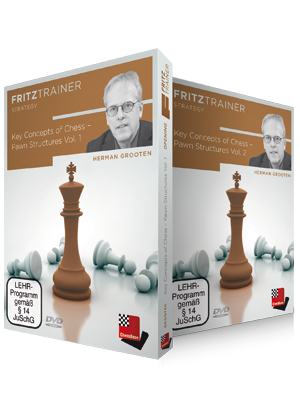 Herman Grooten: Key Concepts of Chess – Pawn Structures Vol.1 and 2 
In this series it's all about strategy for club players, explained in a simple way with clear examples! The idea is to focus on certain themes using specific pawn structures. The central question is: how can the pieces be manoeuvred into good positions and what should we then consider? IM Herman Grooten will offer rules-of-thumb and concepts to give clubchess players the necessary guidance to try and find the right paths in their own games.
Vols 1 and 2: €22.43 instead of €29.90 each
Bundle 1+2: today €41.18 instead of €54.90 (total value €58.80)
---
Dr. Karsten Müller: Endgames of the World Champions Vol 1 & 2
Learn Endgames from the World Champions!
All world champions left their mark on chess. And although they had different styles each and every one of them played the endgame exceptionally well. The material on this DVD is based on the ChessBase MasterClass series, and gives you a good opportunity to enjoy some of the best endgames in the history of chess.
Order Endgames of World Champion 1+2
Today: €41.18 instead of €54.90
---

Markus Ragger: Power openings: Grünfeld Defence Volume 1 + 2
You are looking for an active answer to 1.d4? Then the Grünfeld Indian is an excellent choice! Not by chance this opening is one of the main weapons of some top grandmasters: with active play and emphasis on tactics, Black counters White's strong centre, immediately facing him with concrete problems.
In this video course, the Austrian number one and Grünfeld expert Markus Ragger gives you the necessary knowledge to outplay your opponents with the Grünfeld. In over 10 hours (volumes 1 and 2), he presents the most important main and side lines. Subsequently, you have the chance to apply your freshly acquired knowledge in interactive video format, finding the right moves in response to the author's questions. What's more, you can practice the repertoire and play out the Grünfeld structures against the computer. So – start studying the Grünfeld right away!
Markus Ragger is a grandmaster, Austrian number one and the strongest chess player in the German-speaking world. He became multiple Austrian national champion and represents Austria in Olympiads and team championships at the first board. He has already exceeded 2700 Elo in his career and has been among the top 100 in the world for over ten years.
Today: Bundle offer €41.18 instead of €54.90
---
Simon Williams: An aggressive Repertoire
The author concentrates on the King's Gambit accepted with 3.Bc4. Bronstein once said about this move, 'Play 3.Bc4 if you want to win!' Of course things have developed a lot since Bronstein's times, and this DVD aims to bring people up to speed with all the latest developments and new ideas that are playable, with both colours in this fascinating variation. Simon Williams has included a lot of novelties and interesting attacking variations that should wet the lips of any attacking player, looking for an interesting way of meeting 1…e5! With the Berlin opening now leading to dull equal positions, it may well be time to start taking a look at the King's Gambit in more detail. The opening leads to crazy interesting positions, where Black is placed under pressure from move two.
Today: Bundle offer €104.93 instead of €139.90
---
Fritz Trainers

Brand new, being released today:
Sipke Ernst: Super-solid Slav
When you add the Slav to your repertoire, you get an opening with a solid foundation. However, that doesn't mean you will get a boring game. On the contrary, this opening often leads to very dynamic play. Therefore, it shouldn't come as a surprise that many of the world class players of today, including Carlsen, Caruana and Firouzja have played it frequently, and used it to play for a win against their contemporaries.
We get the Slav after the moves 1.d4 d5 2.c4 c6. This video course will focus on 3.Nf3 Nf6 4.Nc3 and now dxc4, but the white alternatives leading up to the mainline are also discussed in great detail.
Today: €22.43 instead of €29.90
---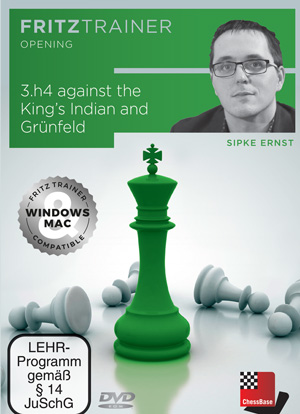 Sipke Ernst: 3.h4 against the King's Indian and Grünfeld
For some time now, we've known that the strongest chess engines like to push their flank pawns up the board. This has led to an interesting system, with which we can meet the Grunfeld and the King's Indian. Studying the mainlines is time consuming, and it is possible that our opponents may know the typical plans in those openings better than us, right?
Therefore, it is a great idea to take Grunfeld and King's Indian players out of their comfort-zone right from the start! 
Today: €22.43 instead of €29.90
---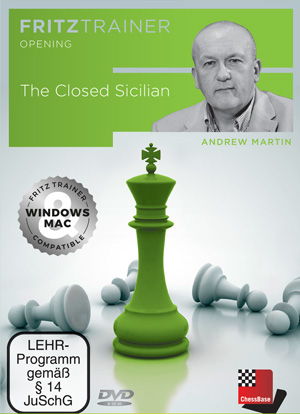 Andrew Martin: Closed Sicilian
Do you have a fantastic memory and a liking for sharp positions, the evaluations of which can change with a few taps of a computer button? If so, then the main lines of the Open Sicilian are for you.
But if you are one of the 99% of chess players who do NOT fall into this category, and open 1 e4, then the Closed Sicilian is a worthwhile option. The Closed Sicilian offers White a set of easy-to-understand plans, the chance of a kingside attack and little danger of being outgunned by tactics in the opening.
Today: €22.43 instead of €29.90
---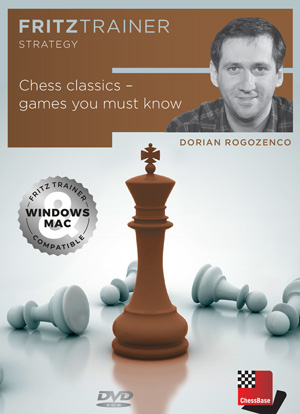 The video course presents a fine selection of 33 classic chess games, played between the 18th century and the beginning of the second world war.
Starting with François-André Danican Philidor through to Mikhail Botvinnik, these significant games, played by the greatest players of their times, are treasures of chess history. They are also a part of chess culture, and every aspiring chess player or simply lover of the game of chess, should know them. 
Born 1973 in Moldavia, Dorian Rogozenco is today a citizen of Romania. He is a strong grandmaster, who, e.g., qualified for the 2001 FIDE-WCh 2001. Rogozenco is one of the most successful ChessBase authors who keeps producing highly interesting contributions. 
Today: €22.43 instead of €29.90
---

Svitlana Demchenko: The Scotch Game
The Scotch Game (1.e4 e5 2.Nf3 Nc6 3.d4) is a great repertoire addition for any player looking for a solid yet active opening, which relies more on understanding rather than pure memorization. The popularity of the Scotch rose exponentially after Garry Kasparov employed it in the World Championship match against Anatoly Karpov in 1990. In modern times, the Scotch Game can sometimes be seen at top level from such players as Magnus Carlsen, Fabiano Caruana, Hikaru Nakamura, and Ian Nepomniachtchi, all having overwhelmingly positive scores with it. Besides in-depth theory and exciting tactical exercises in the Scotch Game, this video course also includes a bonus section on the Scotch Gambit (1.e4 e5 2.Nf3 Nc6 3.d4 cxd4 4.Bc4), a lively variation often leading to very dynamic positions.
Today: €22.43 instead of €29.90
---
Dr. Karsten Müller, Luis Engel:
The 4 Player Types standard model –
Find your strengths and weaknesses and those of your opponent
Playing styles in chess are an important and thus often discussed topic. GM Dr. Karsten Müller and GM Luis Engel take up a model by GM Lars Bo Hansen based on 4 player types – namely 'activists', 'pragmatics', 'theoreticians' and so-called 'reflectors'. Their respective strengths and weaknesses are explained with the help of many examples, enabling the reader to try and assign himself or herself to one or the other player type.
Today: €22.43 instead of €29.90
---
Elisabeth Pähtz: Attacking with the Jobava London System
The Jobava London System, named after the top Georgian player Baadur Jobava, is a side form of the London System, which differs in principle in only one small detail – the white knight is established early on c3.
Today: €22.43 instead of €29.90
---
Andrew Martin: The Hippopotamus system of defence
What is the Hippopotamus system of defence? The idea is that, at the beginning of the game, Black develops within his own first three ranks. He constructs a solid, flexible and hopefully stable position, awaiting events. At the right moment, he will strike back!
The Hippopotamus was given the name by an eccentric English amateur player JC Thompson, back in the 1950's. It seems as good a name as any. Given the right conditions, Black will emerge from the chessboard swamp and crush all before them.
Today: €22.43 instead of €29.90
---
Andrew Martin: The Barry Attack
Not quite a London System and not quite a Veresov. The unusually named 'Barry Attack' lies somewhere between the two. Yet another challenging queen pawn system that Black has to prepare for. In fact, the 'Barry Attack' had roots as early as 1922, when Tartakower experimented with what was then an unknown opening, but didn't really take off until the late 1970's and 1980's, when a whole series of strong players such as Niaz Murshed and several English masters started to win game after game with it.
Today: €22.43 instead of €29.90
---
New edition – more than 11 hrs. of videos!
Scarcely any world champion has managed to captivate both chess lovers and the general public to the same extent as Magnus Carlsen. The enormously talented Norwegian arrived on the scene as if from nowhere, without having been systematically trained within the structures of a major chessplaying nation such as Russia, the Ukraine or more recently, China. Rather, his development had taken place in an almost totally private setting.
Thanks to Carlsen's style, computer-supported opening preparation has faded somewhat into the background, with a greater importance being placed on the sporting side of chess – deep strategy, extensive endgame knowledge, energy and endurance are the trump cards of the new chess megastar. By 2010, Carlsen was already number one in the world ranking list; in 2013 he also claimed the title of World Champion, a title he has now successfully defended several times.
Order Master Class Vol. 08: Magnus Carlsen
Today: €22.43 instead of €29.90
---
Daniel King:  Power Play 1-28
Born 1963, Daniel King has been a professional chess player for more than 20 years and has represented his country in numerous competitions. King is the author of more than 15 chess books and has wealth of experience as a trainer, assisting many of England's leading players. To the delight of chess fans worldwide, he hosts his monthly "Powerplay" show on  Playchess.com.
The complete Power Play package with all 28 DVDs. Opening, Middlegame, Endgame – All you need to know about the game of chess presented by one of the most popular and charismatic chess trainer.
Order Powerplay 1–28
Today: €419.25 instead of €559.00
---

Svitlana Demchenko: Understanding Material Imbalances
One of the first lessons we are taught in the beginning of our chess journey is how much every piece on the board is "worth". However, the more we master the game, the more we realize that the "true" value of pieces can differ from their theoretical value, depending on the subtleties of the position. When faced with material imbalances, it can be challenging to come to a correct evaluation and decide which plans to pursue. In this series, you will learn some general guidelines, explore model games played by the best players in the world, and test your knowledge through practice positions.
Today: €22.43 instead of €29.90
---
Nicholas Pert: A Complete Black Repertoire versus the English, 1…e5
The English is becoming increasingly popular as White players avoid the heavy theory of 1.e4 or 1.d4 and hope to achieve a small advantage in a safe position.
A lot of club players tend to focus on openings against 1.e4 and 1.d4 but neglect to study a response to the English. 1…e5 is a theoretically sound response with good chances of equality or better in all variations.
In this video series I provide a complete Black repertoire based on this move. I have several years of experience playing 1…e5 against the English, and it is used regularly by many of the world's leading grandmasters. Anish Giri is known for his opening preparation and his ideas feature heavily in the chapters.
Today: €22.43 instead of €29.90
Simon Williams: Tactic Toolbox London System
The London System is becoming increasingly popular, both at grandmaster and club level. The theory of the opening is developing quickly, with new things being tested all the time. This, in return, gives rises to fresh tactical ideas which should belong to the basic arsenal of any London devotee – after all, tactics remains the be-all and end-all of the game.
On this DVD, Simon Williams shows all the complications in the London System one has to know as White, giving you the tactical tools for a successful practice – the player who knows the typical motifs has an advantage over the board. Using the interactive FritzTrainer format which invites the viewer to answer questions by entering the moves on the screen, the "Ginger GM", intensively and systematically, makes your familiar with a multitude of typical tactical finesses in positions of the London System. Of course, those who don't yet have this opening in their repertoire can also profit – after all, a sharp combinatorial vision is always useful in chess.
Today: €22.43 instead of €29.90
---
Robert Ris: The Smooth Scandinavian
Are you looking for a simple, easy-to-learn repertoire against 1.e4? Then the Scandinavian with 3…Qd8 is yours! After 1.e4 d5 2.exd5 Qxd5 3.Nc3 the retreat 3…Qd8 leads to a very solid type position for Black. At the expense of two tempi, the pawn structure has been defined, and hence a clear developing plan can be made for our minor pieces.
The first goal is to get the light-squared bishop out to g4, then placing the pawns on c6 and e6. Now Black has a rock-solid setup and good chances to build up pressure against White's pawn on d4 and/or use the d5-square as an outpost for any of their pieces.
Today: €22.43 instead of €29.90
---
Robert Ris: Calculation Training Booster
For those who haven't recently done any calculation training, there is the Calculation Training Booster. After all, every chess brain needs regular stimulation, as you don't want to become a lazy player – avoiding calculating critical variations or simply failing to calculate properly.
Order Calculation Training Booster
Today: €22.43 instead of €29.90
---
Mihail Marin: The Catalan vs. the Semi-Slav, Chebanenko and Triangle
The Semi-Slav, Chebanenko system and the Slav triangle are solid and flexible weapons for Black. The repertoire examined on this DVD meets them all in a provocative way. 
Order Marin: Catalan vs Semi-Slav
Today: €22.43 instead of €29.90
---
Jan Werle: The Saemisch Variation against the King's Indian and Benoni
Beat the King's Indian and Benoni structures with the impenetrable pawn phalanx g2-f3-e4-d5. Encounter your opponent with sound and fresh ideas in this classical rebooted line of the Saemisch!
Today: €22.43 instead of €29.90
---
Adrian Mikhalchishin: How to study the classics
Chess education is based on examples of great players of the past. Most of the typical methods of attack, analogous plans and correct ways of conducting different endgames happened for the first time in their games. On the basis of these games, numerous books have been written about endgame subjects and endgame technique. Even concerning openings, the great Alexander Alekhine said that theory is simply the practice of the masters!
Today: €22.43 instead of €29.90
Mihail Marin: The Catalan vs. the Semi-Slav, Chebanenko and Triangle
The Semi-Slav, Chebanenko system and the Slav triangle are solid and flexible weapons for Black. The repertoire examined on this DVD meets them all in a provocative way. 
Order Mihail Marin: Catalan
Today: €22.43 instead of €29.90
---
Simon Williams: The Tactical Chigorin
Show your opponent that you're looking for a fight right from the start! Immediately put White's position under pressure with the Chigorin Defence (1.d4 d5 2.c4 Nc6). This opening is perfect for players who enjoy unconventional and sharp positions. Simon Williams will show you everything you need to know to play the Chigorin Defence and have great fun while you're at it. This course is centered around understanding the opening ideas. This means that even if you forget a specific move when at the board, you'll be able to make the right decision.
Order Simon Williams' Tactical Chigorin
Today: €22.43 instead of €29.90
---
Vidit Gujrathi: The Fashionable Caro-Kann Vol.1+2
Over the last few years, opening theory in Caro has developed at a rapid pace thanks to deep computer analysis. The Indian super GM Vidit Gujrathi not only presents you the latest trends, but also takes great pride in presenting you with his own new insights! "I have analyzed the new trends carefully and found some new ideas for Black.
Order Vidit Gujrathi's Caro-Kann 1+2
Today: €41.18 instead of €54.90
---
Erwin L'Ami: The Stonewall Dutch – A Fighting Repertoire against 1.d4
In the Dutch Stonewall variation, Black fights for the initiative from the very first move. World Champions such as Mikhail Botvinnik, and most recently Magnus Carlsen, have shown just how dangerous it is. World Champions such as Mikhail Botvinnik, and most recently Magnus Carlsen, have shown just how dangerous it can be. Take a fascinating journey with Grandmaster Erwin l'Ami and let him demonstrate the depth and charm of this attractive opening.
Order Erwin L'Ami's Stonewall Dutch
Today: €22.43 instead of €29.90
---
Simon Williams: The London System
Do you like clear-cut attacking chess? Then you should look forward to this newDVD by Simon Williams. The Grandmaster from England will show you all the important ideas and tricks you need to get promising positions with White after 1.d4! "I'm going to show you some fascinating possibilities where you can get a great attack in a very lazy way."
Order Simon Williams' London System
Today: €22.43 instead of €29.90
---
Viktor Bologan: The Modern Pirc
Viktor Bologan has played the Pirc all his life – and has scored quite a few points with it! It is an extremely flexible opening and offers a range of options. "The Modern Pirc is actually a mixture of the Caro-Kann and the Pirc. In many lines, Black combines the ideas of the Classical Pirc, where the fianchettoed bishop is important, with the Caro-Kann idea of fighting for the center with c6-d5." Equip yourself with a complete opening repertoire against 1.e4!
Order Viktor Bologan's Modern Pirc
Today: €22.43 instead of €29.90
---
Sergei Tiviakov: Realizing an Advantage
You are probably also familiar with this problem – you've finally reached an advantageous position. But what now? How do you convert your game into a full point in the tournament crosstable? Sergei Tiviakov approaches this topic from two sides, firstly from the psychological aspect of exploiting advantages, and secondly the technical aspect of actually grinding out the win.
Order Tiviakov's Realizing an Advantage
Today: €22.43 instead of €29.90
---
Simon Williams: The Black Lion – an aggressive version of the Philidor Defense
The Black Lion is a tenacious and flexible opening against 1.e4 that packs quite a bite. After 1.e4 d6 2.d4 Nf6 3.Nc3 e5 4.Nf3 Nbd7 5.Bc4 Be7 6.0–0 c6, Black wants to attack with an early …g5 followed by …Rg8 and g5-g4 to storm the White king's position. GM Simon Williams is, as always, captivating and extremely entertaining: "Do you know any other repertoire DVD where black doesn't castle?!" An exciting DVD! You too can let the Lion roar and the fun commence!
Order Simon Williams' Black Lion
Today: €22.43 instead of €29.90
---
Adrian Mikhalchishin: Pattern Recognition and Typical Plans
The more patterns a chess player knows and learns, the better he or she can then play. Let GM Adrian Mikhalchishin explain typical patterns and strategic concepts with the games of the World Champions and broaden your chess horizon. Learn the art of pattern recognition and analog thinking, technqiues that have also helped the author himself to many a victory!
Order Mikhalchishin's Pattern and Plans
Today: €22.43 instead of €29.90
---
Visit the Shop
If you visit the ChessBase Shop you have many tools that help you find the things you need. And there are many was to find them.
For instance you can search for a specific trainer or author
Or you can search for Fritztrainers on an opening line – by simply entering a few moves. You can use filters to narrow the search (language, topic, level of play, etc.
In the ChessBase Shop there are hundreds of training DVDs – all 25% off today
---
For beginners and little 'uns – everything 25% cheaper today