Louis Vuitton published a photo that has simply gone viral. It shows Lionel Messi and Cristiano Ronaldo – arguably two of the greatest ever footballers ever – playing chess! But what is so special about this photo that it might well become the most viewed picture in the history of Internet? Why is it a marketing genius by Louis Vuitton? Why is chess used in the photo, and who are the two world-class chess players whose game is portrayed here?
IM Sagar Shah tells us all about it.
Sagar tells us all about the background of the photo shoot. He has even traced the game they have on the board (spoiler: it is from a game from Carlsen-Nakamura). Here's the game and the position on the board between Messi and Ronaldo:
The diagram in the notation shows the position on the board in the Louis Vuitton photo. You can read a more extensive report  on ChessBase India.
Messi!
Incidentally Lionel Messi and Christian Ronaldo are my all-time favourites in football. Here are two images to illustrate, from an article I wrote in 2016. The screen grabs are from a game Barcelona vs Espanyol on December 18, 2016.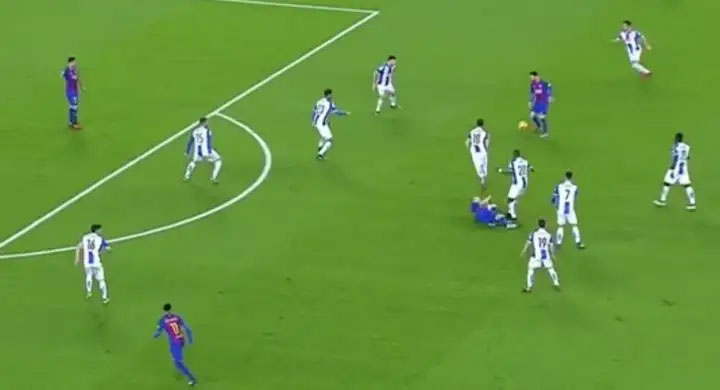 Messi, who is surrounded surrounded by ten players, i.e. the entire Espanyol team (except for the goalkeeper, who is 20 meters to the left), gets the ball. What does he do? In exactly six seconds this amazing player has worked his way past them all and gets a clear shot at the goal!
Messi's shot was parried by the goalkeeper, but his teammate and prodigy Luis Suárez, whose foot you see on the left, could easily tap the rebound into the goal. You can watch it all transpire in this Youtube video sequence. If I have got you in the mood, you can google for the most impressive Messi and Renaldo solo runs against hoards of opponents.
Fixing football
Messi and Ronaldo are real exceptions in the game, which is facing a real problem (as I predict you will see in the current World Championship in Qatar). I suggested a fairly audacious solution: Fixing football — how to make it interesting. I'd love to see your comments on that.