In 1968, computer scientist and chess master Hans Berliner won the 5th World Correspondence Chess Championship with the extraordinary score of 14.0 out of 16. His lead of three points over the second place finishers was the largest in history. 16 years later Lithuanian-born American Vytas Palciauskas became the second to win the title in 1984 in the 10th edition of the World Championship. Now, nearly 40 years later, Jon Edwards has become the third American to win the title.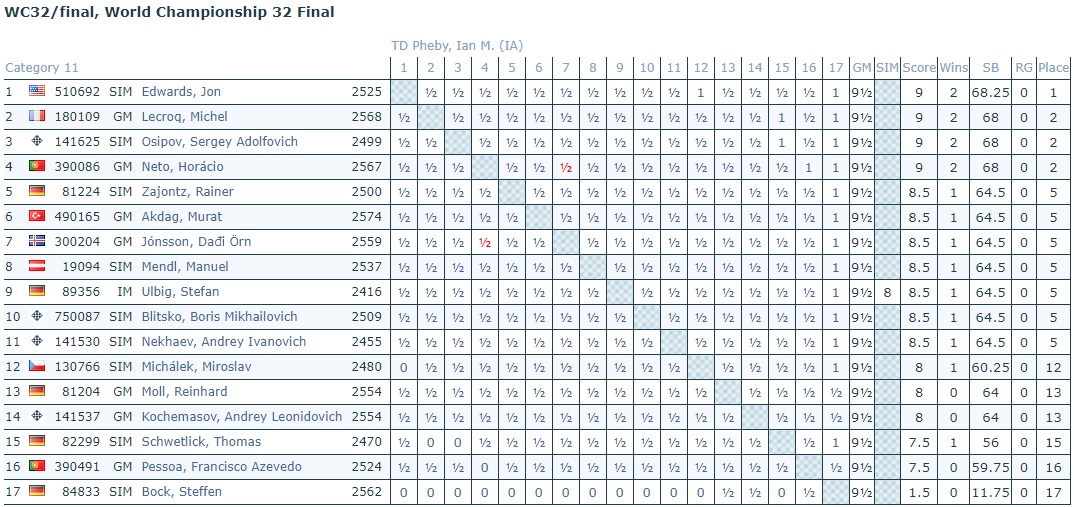 Much has changed since the days of Berliner, with computers now the dominant aspect of gameplay and analysis, but also with draw rates going through the roof as perfection is much more common than not at the top levels. By perfection, you must understand it as games in which the play is so skillful on both ends that draws are the overwhelming norm.
Unless a player loses on time or other such clerical issues, flawless draws, despite the typical back and forth of these fearless and technical struggles, are the usual result. 
The New York Times generously celebrated the win by Jon Edwards, and justifiably, but the reality is that the draw rate is so high, it came more down to technical issues to decide it than pure skill. 
That said, a win is a win, and Jon played his very best, and deserves all the laurels that go with his win. For example, he entered it as a SIM (Senior International Master), but emerged a GM as a result of his victory. It isn't the first time a non-Grandmaster emerges victorious, but one must remember that with games and events taking as long a they do (this World Championship took over two years), obtaining norms is a lengthy process, let alone winning titles outright.
The collector
I had the pleasure of meeting Jon in New York during the over-the-board World Championship between Magnus Carlsen and Sergey Karjakin. Friendly and approachable, he told me about his other passion: collecting. He explained that he actually had the largest chess stamp collection in the world. "Greater than Karpov?" I queried. Karpov's collection was well-known, and this was the first time I had heard about Jon's.
Jon Edward in his office, the starting point to show off his collection
He explained that while both he and Anatoly might have similar sized collections in terms of pure stamps, isolated and in sheets, his included another aspect of this hobby and passion: envelopes in which the stamps had actually been used and postmarked. It was with this that his pulled clearly ahead, and it did not stop there.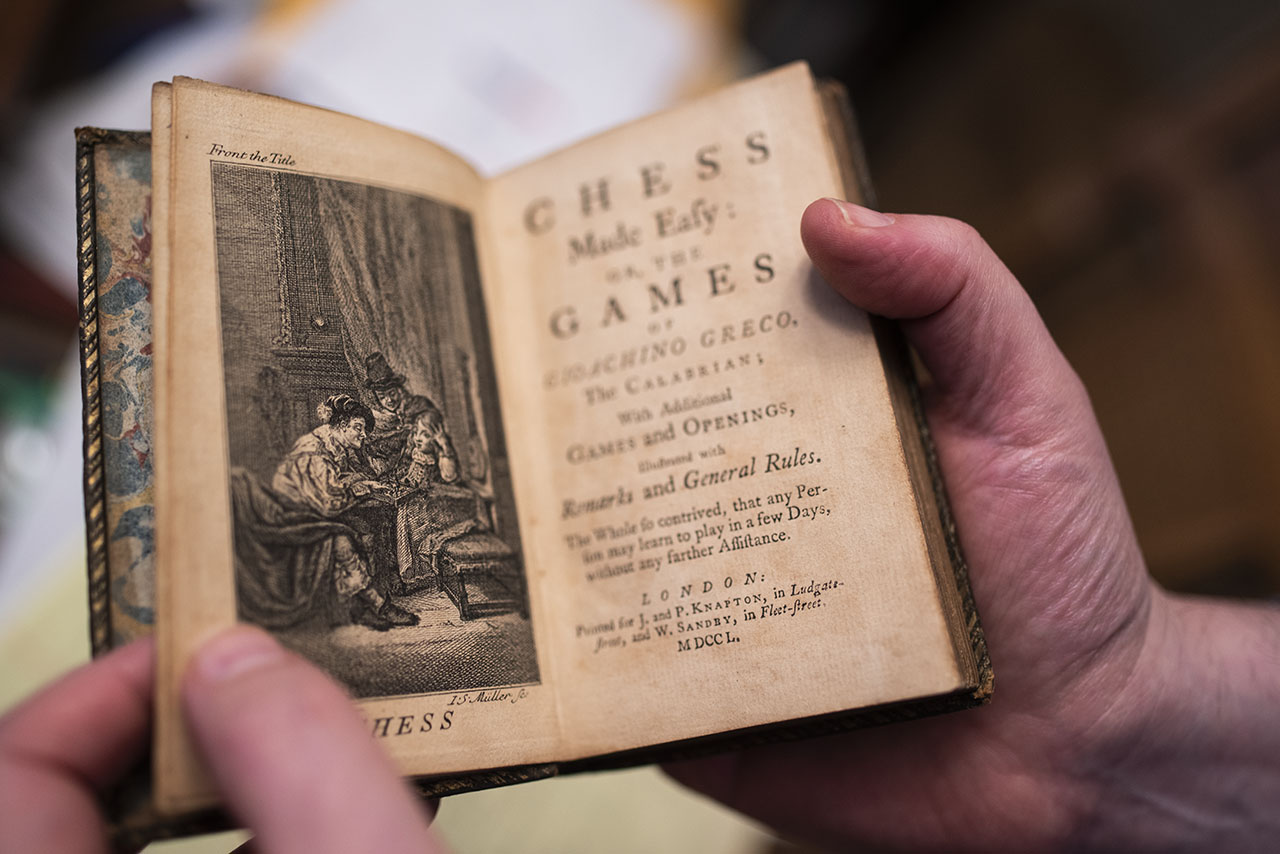 While not a chess book collector per se, he had an interesting assortment of antiques and modern books. Greco anyone?
I was fascinated and delighted when he extended an invitation to visit his home, and above all be given a private tour.
The raw stamp collection is made up of endless ring binders such as the one above
There are many lovely ones, painted in meticulous detail, such as this stamp from Mali celebrating the chess olympiad in Nice, France
Even Nigeria got caught up in the 1972 World Championship fever
Djibouti? Yes, Jon explained that in such an impoverished destination, the government issues commemorative stamps quite regularly and makes sure collectors learn of it so they can buy them.
This sheet of stamps is extraordinary. Not only are all the stamps usable, but the sheer detail upon a closer look is fascinating.
The sheer detail is fantastic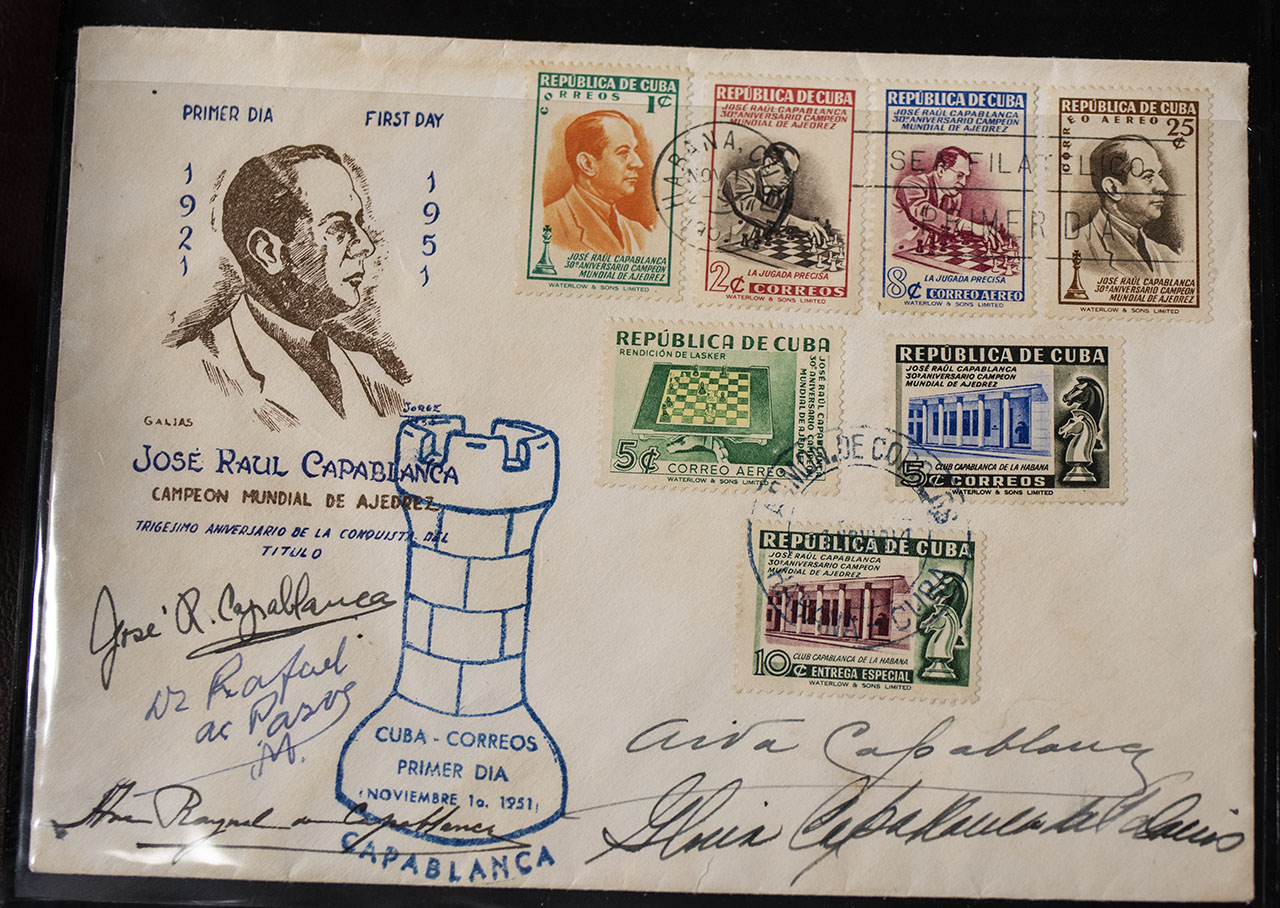 This  envelope from Cuba celebrates the 30th anniversary of Capablanca's World Championship title
This is one of the many memorabilia from the 1972 match between Spassky and Fischer. Jon had so many, such as tickets to the second game, which of course never took place. Every day a new postcard would come out with a new caricature.
Here is another crowning Fischer
He even had a full berth of comics with a chess theme on the cover. Star Wars, Casper the Ghost, Mutants, and so many more.
Jon Edward enjoying the fruits of his labor
Links