Using the active notation
You might be inclined to believe the game notations below are just to be looked at and the moves to be played through in your mind. But as most of you know you can click on the moves to get a separate replay board, which you can resize and move to the best place on your screen.

Chess Endgames 9 – Rook and Minor Piece
Endings with rook and minor piece against rook and minor piece occur very frequently, even more often than rook endings, yet there's not much literature on them. This endgame DVD fills this gap. The four different material constellations rook and knight vs rook and knight, rooks and opposite coloured (and same coloured ) bishops and rook and bishop vs rook and knight are dealt with. In view of the different material constellations Karsten Mueller explains many guidelines like e.g. "With knights even a small initiative weighs heavily".
The popup board has full controls, and you can use the navigation buttons to advance the moves, as well as use an engine or save the game or position to your computer. In the engine window you can ask for multiple lines, or what the threat is, or see the positional evaluation of the position.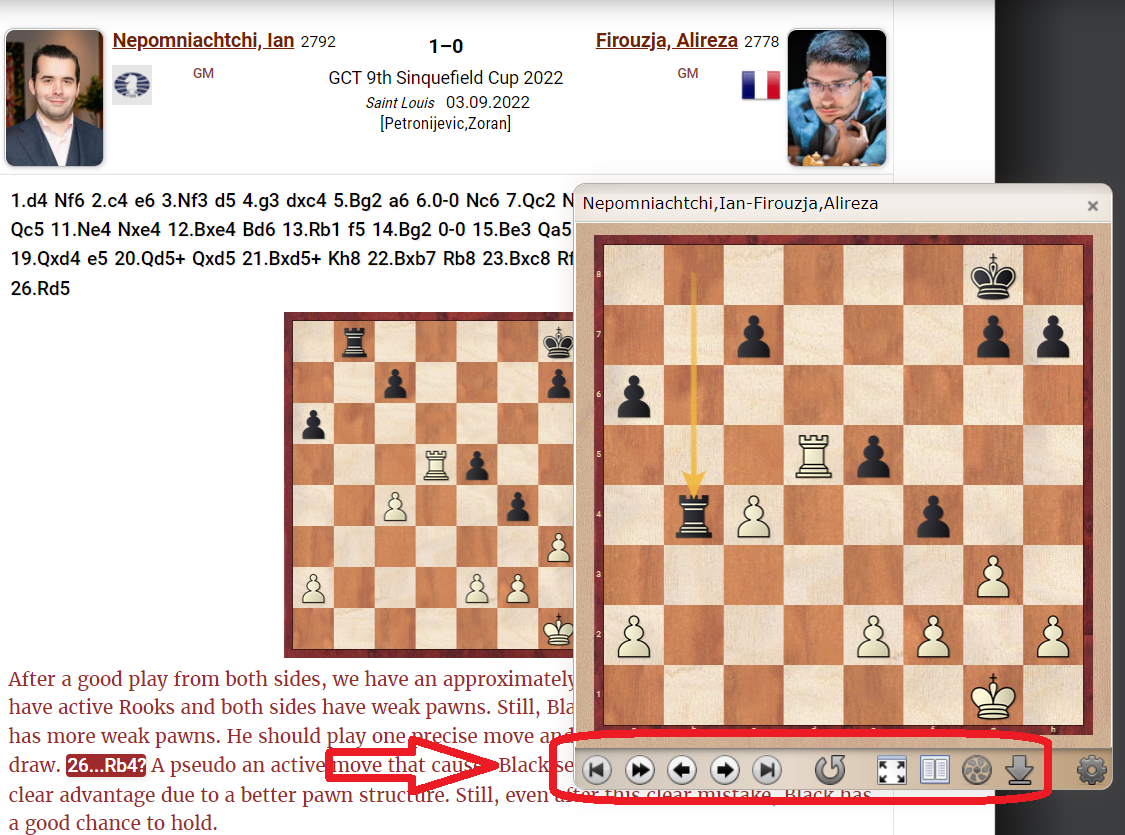 A quick win with opposite-colored bishops
It is not uncommon to quickly conclude that winning with opposite colored bishops in the ending is going to depend on a very helpful opponent, and this was the opinion of the viewers as the chatted. However Nakamura had a different idea and showed superb technique. Well worth checking out.
The prodigal son returns
In their series, incredibly, a second ending with opposite colored bishops ensued, but this time there were rooks. As Davies explains, if you exchange to a pure rook endgame or pure opposite colored bishops it is an easy draw, but the combination is another story.
Centenarians have it tough
Not centenarians in years, but in moves. Indeed, while both Nakamura and So are the crème de la crème, the combination of a rapid game and nothing left but the increments by move 100, and what had been a fairly ho-hum affair now became a comedy of errors as winning chances appeared and disappeared on the board
Links