Carlsen wins seven in a row
A dominating Mangus Carlsen has taken the sole lead at the Meltwater Champions Chess Tour Finals on Thursday. The Norwegian got a second straight 3-0 victory, this time defeating Anish Giri, while former co-leader Jan-Krzysztof Duda was defeated by Le Quang Liem. 
Before beating Giri, Carlsen had defeated Shakhriyar Mamedyarov also with a perfect 3-0 score and had won his last game in round 2 against Arjun Erigaisi — which makes for a seven-game winning streak.
Against Giri, Carlsen won twice with black, first playing the French Defence and then entering a French-like structure out of a Sicilian. In game 3, Giri, in a must-win situation, made a strategic error that shocked star commentator Peter Leko.
White had an edge before playing 22.dxe5, and grabbing the knight with 22.Rxe5 was doubtlessly the most logical continuation — keeping better chances of attacking the backward pawn on e6, among other things.
Leko could not believe his eyes, given how strong of a player Giri actually is.
And, indeed, Carlsen went on to win this game, grabbing his seventh straight victory at the Meltwater Tour Finals.
Select an entry from the list to switch between games
Le stops Duda
Jan-Krzysztof Duda kicked off the tournament with three match wins, keeping up the pace with Carlsen. After drawing the first two games in his confrontation against Le Quang Liem, however, the Polish grandmaster faltered by allowing his opponent to use a tactical resource similar to the one he had employed to get a remarkable win over Giri on Wednesday.
Black's best move here is 39…Rc5, while Duda's 39…fxe5 allowed 40.f6 Qg6 41.Qd5+ Rf7 42.Qxe5, and it is clear that weakening the black king's position was a mistake.
How to save the black queen (and the king for that matter)? There followed 42…Rxf6 43.Rxg5 Rc1+ 44.Kg2 and Black will run out of useful checks soon. Duda resigned two moves later.
Arjun scores first match win
Given that half the participants of the tournament are playing on-site in San Francisco, the starting times have been delayed in comparison to previous tour events, which is the most punishing to Mamedyarov (playing from Azerbaijan) and Arjun Erigaisi (playing from India). In their direct matchup, it was Arjun who prevailed, grabbing his first match win of the event.
Arjun won twice with white. Game 4 saw the young Indian playing a nice final move.
33.Be5+ prompted Shakh's resignation. Capturing with the bishop allows Qxe8+, while capturing with either rook allows Qf6+. Game over.
So beats Praggnanandhaa
After losing his first two matches in San Francisco, Wesley So has climbed to fourth place by scoring 3 match points in his two last confrontations. On Wednesday, the US grandmaster defeated Arjun, which was followed by a victory over Praggnanandhaa.
It was a close match, with So winning the one decisive game of the confrontation (game 3). 
Pragg will face Carlsen and Duda back to back in the next two matches. Having his coach R.B. Ramesh with him will surely help him deal with this tough task.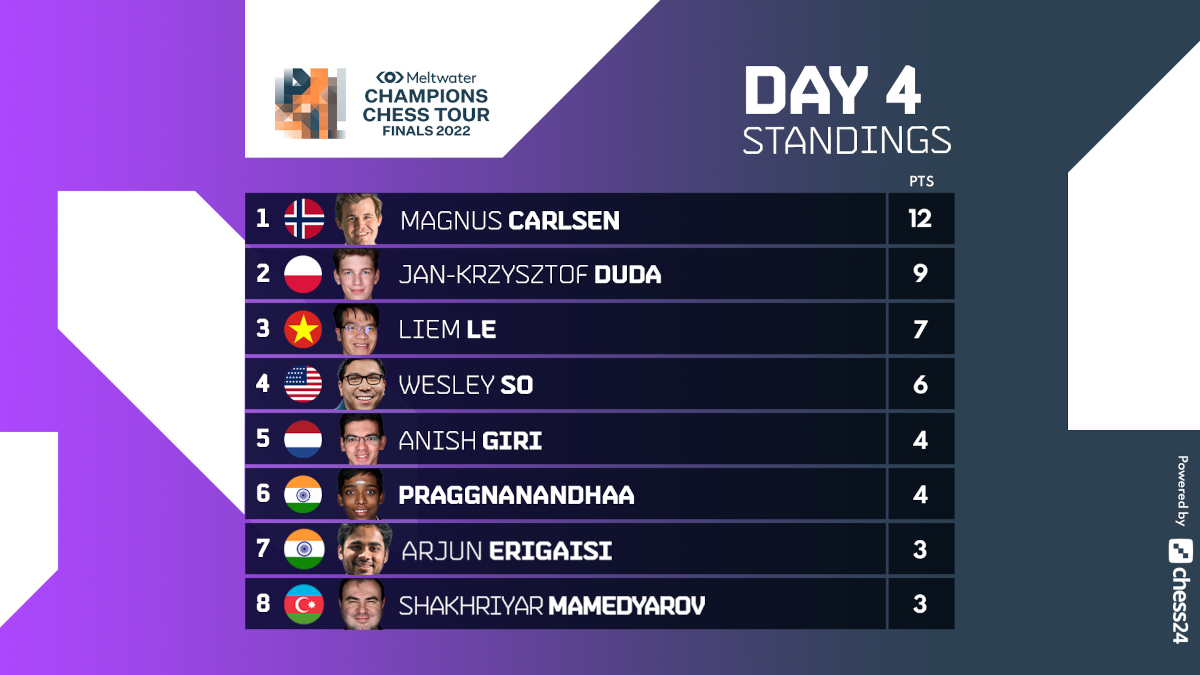 ---

With Power Fritz 18 you have the world champion program on your PC!

---
Links