Confusing health bulletin
FIDE President Arkady Dvorkovich reported on Tuesday 15 November that Anatoly Karpov had been released from hospital and was doing well. However, Russian sources and media still give different information about what actually happened and for what reason Karpov had to be admitted to the Moscow "Sklifosovsky Clinical and Research Institute for Emergency Medicine" on 29 October.
The careless handling of news and the seemingly arbitrary mixing of facts, conjecture and conspiracy theories in the Russian media and among the people involved causes astonishment, to say the least.
Anatoly Karpov, a member of the Russian parliament, the Duma, was found unconscious on the pavement not far from the Duma building on Saturday 29 October. He was reportedly first taken to the city hospital and then transferred to the Sklifosovsky Institute. Some Russian sources reported that Karpov was in a heavily intoxicated state. Doctors had diagnosed a closed skull injury and a fracture of the left femoral neck bone. Pneumonia was also reported. There were also reports that Karpov had been put into an artificial coma or even that he had had a stroke.
In the following days, many different versions of what happened appeared in the Russian media. According to Andrei Kovalev, the chairman of the All-Russian Entrepreneurial Movement, Karpov was knocked down by unknown persons after leaving the Duma building and left seriously injured. This version, however, was immediately denied by Karpov's assistant Albert Stepanyan. In his version, Karpov is said to have slipped on the street and hit his head when he fell. He is said to have been hospitalised with a concussion. Albert Stepanyan also dismissed reports of broken bones as fairy tales.
Andrei Kovalev insisted on his version despite denials, also from Karpov's family. He had heard the report about an attack on Karpov from a source close to Karpov whom he trusted, he told Gazeta.ru. Kovalev did not believe it was an accident. In fact, the news of a drunken Karpov is very implausible, as the 12th world champion was never a friend of alcohol. Perhaps the attack on Karpov was carried out on commission, Kovalev surmised.
Karpov's wife Natalya Bulanova gave another version. Karpov had slipped on his way to a café and hit his head. He had a small haematoma on his head and would be discharged after three days of observation in hospital. Karpov's daughter Sophia confirmed the version of an accident.
However, Natalya Bulanova's hope for a short hospital stay for her husband was countered by a news item from Izvestia reporting serious injuries to Karpov, cerebral oedema, a fracture of the right parietal bone and the right temporal bone, haematomas on the skull and a closed fracture of the left femoral neck bone. Karpov were on a ventilator at the hospital, Izvestia also reported.
New details were then published about the circumstances of Karpov's fall. Karpov was reportedly in his office in the Duma when he received a call from the Kazakh embassy. The Kazakh embassy had invited Karpov to a party at the embassy and sent a car to the Duma courtyard to pick him up. On the way to the car, Karpov had fallen.
After Nataliya Bulanova visited her husband in hospital, she told the press that Karpov was already complaining that the doctors were still keeping him in hospital for observation and had not already discharged him, clearly contradicting the serious injury reported in some media.
Last Friday, however, various Russian media reported on the one hand that Karpov was on the road to recovery and on the other that the 12th World Champion was in a critical condition due to brain haemorrhages and was fighting for his life.
The following Monday Sergey Karjakin told Tass that Karpov was recovering well. Reports of a critical condition were wrong.
Then on Tuesday (8 November) Albert Stepanyan, also a member of the Supervisory Board of the Russian Chess Federation, spoke to Sport Express and reported that Karpov was still in intensive care. His condition had not yet improved significantly. At least he was making slow progress and was now conscious. Stepanyan cited a telephone conversation with Karpov's wife as his source. The biggest problems were caused by pneumonia, Stepanyan told M24.ru.
The next day Albert Stepanyan told Sport.ru that Karpov was already able to make phone calls. His injuries were not as bad as initially reported. There were also no broken bones. However, the former world champion would still be in intensive care.
On Friday, Karpov's wife Natalya Bulanova reported that Karpov's condition had improved significantly. He could speak and was watching television. He would now only be kept in hospital for observation for a few days, but was already able to give orders to his assistant Albert Stepanyan.
The next day there was new news. It was to be decided on Monday (14.11) whether Karpov could be released from hospital. On Monday, Tass reported, the doctors decided to keep the 12th World Champion in hospital for a few more days, as he had not recovered as much as had been hoped. It was unlikely that Karpov would be discharged this week, Albert Stepanyan suggested.
For all those who had followed the news closely, it could not have come as a surprise that Karpov was dismissed the following day after all. FIDE President Arkady Dvokovich announced the news on Match TV. "Karpov's condition is good. He will continue to be cared for at home," Albert Stepanyan also confirmed.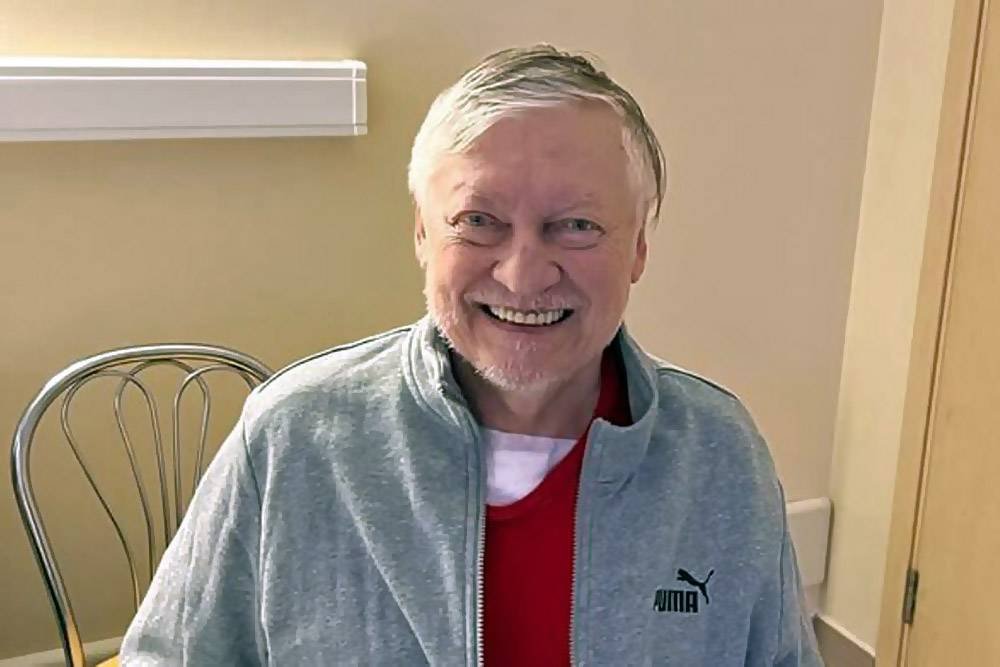 Photo: Natalya Bulanova (via Europe Echecs)
Karpov already had enough strength during his hospital stay to send greetings to Cap d'Agde, where a rapid chess festival has been held in his name for 20 years.
Links