A convincing victory for Pragg
Round 2's loss against Anish Giri was rather painful for Praggnanandhaa, who had kicked off that match with back-to-back wins before seeing his opponent bounce back and win the tiebreaker. However, at 17, Pragg is quick to recover, as he now got a clear 3-0 victory over Le Quang Liem in the very next round.
Pragg is thus one of four players sharing third place on 4/9 match points, no fewer than 5 points behind Magnus Carlsen and Jan-Krzysztof Duda, who won all three of their encounters without going to tiebreaks in any of them.
In the first game against Le, Pragg dealt with his rival's tricky attacking manoeuvres to make the most of his superior position.
After Le's sneaky 24…Qc1, grabbing the black queen with 25.Rxc1 fails to 25…Rxc1+ 26.Kh2 Nf1+ 27.Kg1 and the game will end in a draw by repetition.
However, fortunately for Pragg, this is not draughts, so he was not forced to capture the queen. The youngster went for 25.Qb8+ Kf7 26.Qxb7+ Ke8 27.Nxg7+ Kf8 and 28.Nxe6+ makes use of the queen being en prise on the first rank.
After grabbing a number of pawns, Pragg carefully transferred his queen to h5, defending the rook on d1. The Indian did not have trouble converting his advantage into a win from that point on. 
Select an entry from the list to switch between games
Carlsen (also) wins three in a row
All four matches on Wednesday lasted three games, but only two of them saw the winner getting victories in all three games. Magnus Carlsen, much like Pragg, scored three wins in a row, in his case against Shakhriyar Mamedyarov. The Norwegian also won twice with white.
In game 3, Carlsen caught Shakh's queen in the middle of the board.
17.f4 leaves the queen without squares to escape. Resignation came after 17…Nxe4 18.fxe5 Nxd2, as White's advantage is overwhelming.
Duda takes down Giri
Out of the two wins that Jan-Krzysztof Duda got with white over Anish Giri, certainly the second was the most spectacular. A series of sacrifices led to mate after the Dutchman played risky chess while already a point down on the scoreboard.
It all started with the good-looking 28.Rg7+, as Duda had foreseen that after 28…Kxg7 there is no way for Black to prevent mate — in fact, there is mate-in-ten on the board.
The attack continued with 29.f6+ Kh6 30.Ng4+ Kg5, and it was the queen's turn to be sacrificed! 31.Qf5+ is the killer blow.
31…Nxf5 32.Rxf5+ Kg6 (32…Kxg4 33.h3#, mating with a pawn) 33.Re5+ and Giri resigned.
After 33…Kg7 there is 34.Re7+ Kg8 35.Nh6+ Kh8 36.Rh7#, when it is clear that White's light-squared bishop has been a lethal attacking weapon from the first rank.
So gets the better of Arjun
Two players who came from losing their first two matches faced off in round 3. Wesley So, who had lost against Carlsen and Le, prevailed in the end in his confrontation against Arjun Erigaisi. The Filipino-born grandmaster won games 2 and 3 for a 2½-½ victory.
In game 3, So knew that in a rare line of the Slav Defence, leaving his king in the centre was not a big problem for White going forward.
Here 8.Bd2 Bxd2+ 9.Qxd2 fails to 9…Ne4, and the knight on h4 will be captured by the queen. White can play 8.Ke2 though, getting a better position despite having lost the right to castle.
So never lost the thread from his advantageous position out of the opening, and went on to get a 50-move victory.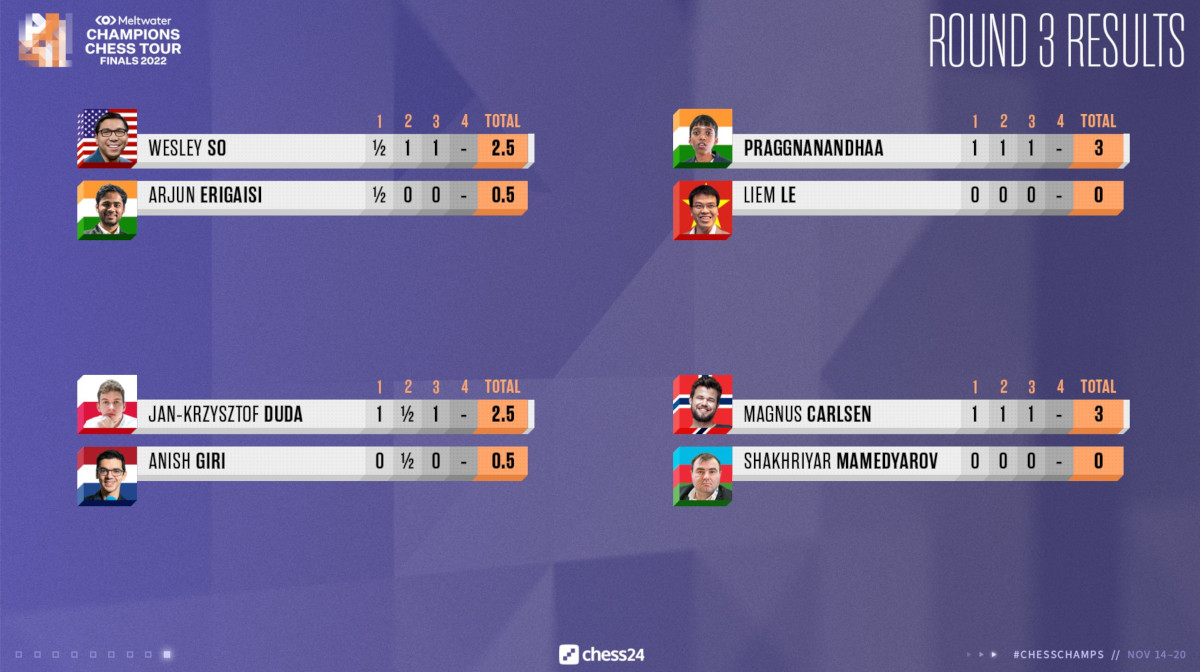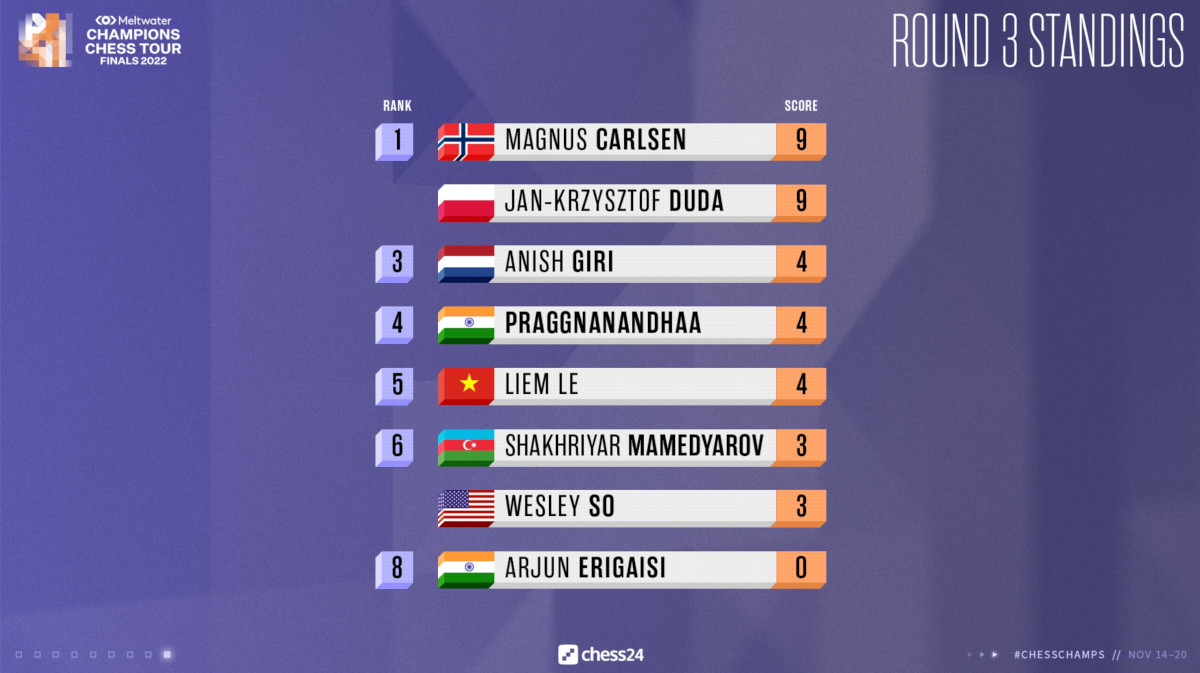 ---
---
Links