Whipping up a delicious feast for the holidays does not have to be a tall order for wais Pinoy moms. There are so many delectable Pinoy desserts and dishes that only need a handful of ingredients. Plus, madishkarte moms have a secret up their aprons – they keep a 2-in-1 sweet and creamy ingredient in the kitchen that instantly levels up desserts and dishes. Want to know how they make it? Check out these easy-to-make Pinoy staples that make Christmas extra special.
Fruit Salad

Are the holidays even complete without this Pinoy staple dessert? For a perfect Fruit Salad, you just need a can of fruit cocktail (you can even add more fruits like apples, peaches, and bananas) and a can of the sweet and creamy Alaska 2-in-1 Crema-Asada. The combined creaminess of all-purpose cream and the sweetness of condensed milk in the Crema-Asada makes for a delectable dessert.
Combine the ingredients in a bowl, gently mix, and serve cold. It's so easy, you could even make a fruit salad any time you crave a sweet treat.
Buko Pandan

Here's another quick and easy Pinoy favorite – Buko Pandan or Pinoy coconut pandan dessert. Madishkarte moms can make this delightful treat with only three ingredients: shredded young coconut meat, pandan-flavored gelatin, and a can of the Alaska 2-in-1 Crema-Asada. Adding sago and nata de coco for that added texture is optional. Not only is Buko Pandan an easy dessert to make, but it's also great for those on a budget.
Buko Lychee Salad

We've shown you how to make Fruit Salad and Buko Pandan and now it's time for yet another Pinoy staple for special occasions. Think of Buko Salad as a combination of the two. It's made with a can of fruit cocktail, shredded young coconut, nata de coco, kaong, and pineapple chunks. But you can also make it with an additional twist like the Buko Lychee Salad. A can of Alaska 2-in-1 Crema-Asada brings everything together into a sweet and creamy dessert you could never go wrong with.
Coffee Jelly
Coffee Jelly only requires two ingredients: coffee-flavored jelly and cream. To make the coffee jelly, all you have to do is stir powdered or brewed coffee with the gelatin and cut it into cubes once solidified. As for the cream, that's as easy as pouring a can of Alaska 2-in-1 Crema-Asada into a bowl, adding a bit more coffee, and chilling it. From there, you can make the dessert extra special by adding whipped cream, chocolate for that mocha flavor, or even shredded coconut.
Mango Float

Mango Float or Mango Ref Cake is simply one of those desserts you can't have enough of. Kids and adults alike absolutely love it! Each forkful gives you refreshing mango slices, a blend of sweet cream, and soft graham crackers.
To make a fuss-free, no-bake Mango Float, all you need is to layer crushed Graham and whole Graham crackers, mango slices, and a can of Alaska 2-in-1 Crema-Asada. That combination of the creamy goodness of Alaska Créma and Condensada in one convenient can makes for a quick, easy, and affordable ingredient.
Pastillas

Whenever the kids (or kids at heart!) are looking for sweet treats, you can give them bite-sized pastillas, a dessert made of milk. It's easy to make – all you'll need is to combine powdered milk with the creamy and sweet Alaska 2-in-1 Crema-Asada in a bowl until it forms a smooth dough. Form the dough into small cylinders and roll them in the sugar. Fast, easy, and affordable, this is easily the best trick up a wais mom's sleeves.
No Bake Creamy Silvanas
You can never have too many sweet desserts at the Christmas table and this No Bake Creamy Silvanas (a.k.a. snackable sans rival cake) surely adds to the fun. It only needs four ingredients: butter, cashew, Graham crackers, and the Alaska 2-in-1 Crema-Asada for that extra, mouthwatering creaminess.
To make, whip the butter in a bowl and add in the Crema-Asada and cashews. Sandwich the mixture between Graham crackers and coat it with crushed Graham and crushed cashews. And that's the perfect creamy and sugary dessert to top off a Christmas feast.
Pinoy-style Spaghetti

What's any occasion without a plate of Pinoy-style spaghetti? Spaghetti noodles in the signature sweet tomato sauce with hotdogs and ground pork is a staple on any occasion, not just Christmas. To make the sauce sweeter and creamier, stir in a can of the Alaska 2-in-1 Crema-Asada. Kids will love it and adults will probably come up to you to ask what your special ingredient is. This dish is best paired with yummy fried chicken and a slice of cake.
Whipping up desserts and meals for the upcoming holidays doesn't have to be a stressful affair. As long as you can make these easy desserts and dishes, you're good to go. It's amazing how cooking is easier with a can of the Alaska 2-in-1 Crema-Asada. This sweetened thick creamer elevates desserts and even savory dishes thanks to the combined perfection of the creamy goodness of Alaska Créma and Condensada. And it's affordable too! Now that's a wais mom's secret ingredient guaranteed to make sure Christmas is extra special.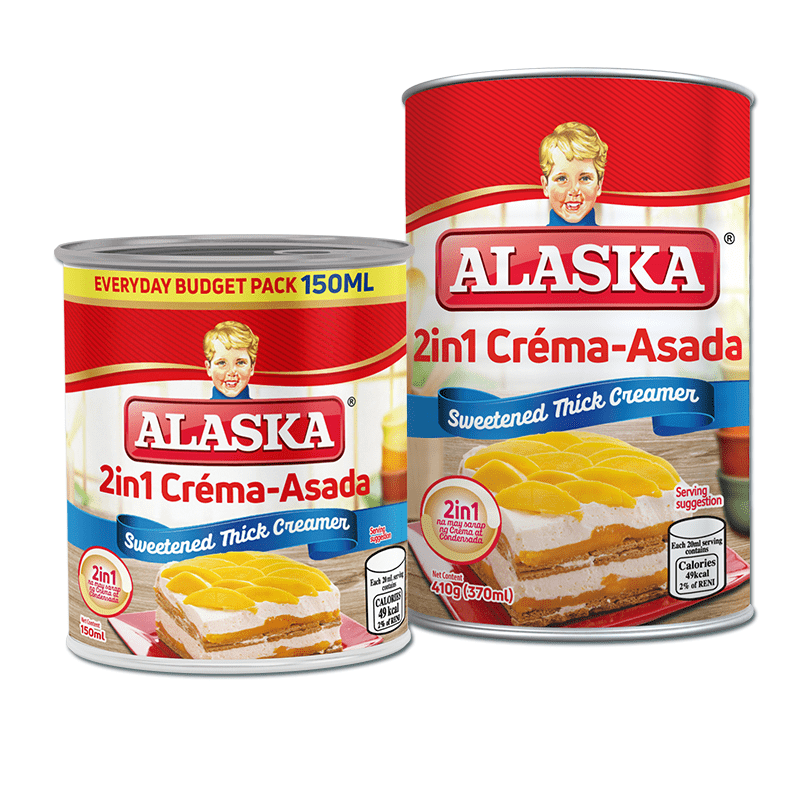 To stock up on Alaska 2-in-1 Crema-Asada, get it delivered straight to your door via Shopee and Lazada or find them in supermarkets nationwide. You can also take advantage of the Buy 2 Save P10 ongoing promo just in time for the holiday season.
Which of these Noche Buena classics will you be whipping up?