Exceptional
The Soviet Union was over a long time a hegemonic chess hyperpower. After Fischer broke their invincibility the USA entered the chess scene and experienced a greatly increased interest in chess.
Later on, with the general chess expansion within a politically and economically changing world, the chess stage completely changed its scenography. The disintegration of the Soviet Union caused a mass immigration of its grandmasters that scattered around the world, mainly in the USA and Europe. In such a climate one could expect that a new chess glory would arise from a country where chess sprouts already bore fruits like India, China, the USA or other countries where many formerly Soviet players immigrated.
But, Norway? A country with hardly any chess history and just a handful of titled masters in comparison to the hundreds and thousands from countries where chess is more prominent. But then, that is Norway, a land of exceptions!
Our chess hero, the Norwegian Magnus Carlsen, is indeed an exception to the rule. Born in 1990, in Tønsberg, at 32 years of age, he is the reigning five-time chess world champion and a world number one for over a decade.
Norway cannot compare with the culturally and scientifically developed countries like Great Britain, France, Italy, Spain, Russia, Germany and Austria, who have endowed the world with a great number of geniuses in the fields of music, science, arts and literature. This small, exceptional piece on Earth has not produced a quantity of artists or scientists, but her representatives in each field are unique examples that are regarded as forerunners in various disciplines and influenced arts and sciences throughout the world.
Magnus Carlsen is in the company of a few other Norwegian exceptional geniuses: Niels Henrik Abel, Henrik Ibsen, Edvard Grieg and Edvard Munch.
Niels Henrik Abel
The Swedish scientist and philanthropist, Alfred Nobel, in his will bequeath his fortune to establish the 'Nobel Prize' for outstanding achievements in various fields. However, one subject was omitted: mathematics. It seems that Nobel was not appreciative of its abstractness and the lack of practical benefits.
At the other side of the border, the Norwegians were dismayed and set out to correct the omission. They created the 'Abel Prize' for mathematics. Modelled after the Nobel Prize, it is awarded yearly by the Norwegian Academy of Science and Letters. The Abel Prize committee is also dedicated to stimulating the interest in mathematics among children and youths, and in that respect it has created a Mathematics Teacher Prize as well as yearly mathematics competitions for children and teenagers.
The Abel Prize was created as a homage to Niels Henrik Abel (1802 – 1829), the greatest Norwegian mathematician of all time that pioneered several disciplines in modern mathematics.
Niels Henrik Abel in an article from the Magazine for Natural Sciences, 1823  | Photo: Severin Worm-Petersen / Norwegian Museum of Technology
Abel started his groundbreaking contributions to a wide range of topics while still a teenager, before entering university. At the age of 16, he proved the binomial theorem. Three years later, he proved that it is impossible to solve quintic equations — by independently inventing group theory and thus solving a problem that had been open for over 350 years!
His main work was about a special kind of elliptic functions leading to establishing Abelian functions. He wrote a monumental work on elliptic functions, which was discovered only after his death. He died at the age of 26 from tuberculosis. An invitation for a professorship from the University of Berlin arrived two days after his death. During his short life, while living impoverished, he made mathematical discoveries about which the French mathematician Charles Hermite would say: "Abel has left mathematicians enough to keep them busy for five hundred years".
While browsing the internet researching the life and work of Abel, I came across a related mathematical proof: the opposite sides of a parallelogram are congruent. My attention was attracted by a 64 square board which is used to demonstrate that.
Parallelogram where opposite sides are identified | Photo: Wiki (better seen in this GIF)
---
See more: A short video about Abel, and the establishing of the Abel Prize for mathematics | Source: Abel Prize website 
---
Henrik Ibsen
Henrik Ibsen (1828 – 1906) is known as the Father of Modern Theatre and is studied at all drama faculties throughout the world.
Henrik Ibsen | Photo: Gustav Borgen / Norwegian Museum of Cultural History
Similarly to Carlsen, Ibsen rose to worldwide prominence despite hailing from a country with no dramatic tradition of its own. He forged his own style of drama, refusing the entertaining element of mainstream stages and creating instead a 'serious thinking' theatre.
The drastic changes that he brought to the drama genre were misunderstood and heavily criticized at first. They were rejected by commercial mainstream theatres; however, he had staunch followers among the progressive literary intelligentsia across Europe, and in Berlin, Paris and London new theatres were formed where Ibsen's plays would be exclusively performed.
The Norwegian government proclaimed 2006 The Ibsen Year. The hundred-year anniversary of Ibsen's death was a major cultural undertaking aimed at maintaining and increasing appreciation of Henrik Ibsen and Norwegian culture internationally. Eighty-three countries took part in the commemoration.
Brand, Peer Gynt, A Doll's House, An Enemy Of The People, Ghosts, Hedda Gabler, The Master Builder, Norma, Pillars Of Society, When We Dead Awaken, The Wild Duck and The Lady from the Sea are just a few of Ibsen's plays that have been in theatres' repertoire worldwide with undiminished popularity and political and social relevance until today.
"The majority is never right. Never, I tell you! That's one of these lies in society that no free and intelligent man can help rebelling against. Who are the people that make up the biggest proportion of the population – the intelligent ones or the fools?" (Excerpt from An Enemy of the People).
Peer Gynt, the drama in verse about the Norwegian folk hero, is the most performed play internationally. A Peer Gynt Festival was held for the first time in 1928, for the centennial of Henrik Ibsen's birth, and continued annually to this day as a 12-day cultural event taking place at the beginning of August. During this prestigious festival, a Peer Gynt Prize is awarded to individuals or institutions who have distinguished themselves for promoting Norway internationally. In 2011, the recipient was Magnus Carlsen.
Edvard Grieg
Ibsen's cooperation with his friend, composer and pianist, Edvard Grieg (1843 – 1907), led to Grieg writing the incidental music for Ibsen's epic play Peer Gynt. Parts of this composition are among the most often performed since the last decade of the nineteenth century. Among them are Solweig's Lied, Morning Mood and In the Hall of the Mountain King, which is probably the most recognizable piece of classical music, even though it might not be known that its author is the foremost Norwegian composer. For music lovers, here one of the numerous modern versions of In the Hall of the Mountain King. 
Grieg's only piano concerto, Piano Concerto in A minor, has been performed by many of the greatest pianists ever since he wrote it, in 1868. Rachmaninoff considered it to be the best piano concerto ever written, and he modelled his own Piano Concerto No. 1 on Grieg's work.
Edvard Grieg, 1907 | Photo: Grieg Museum
The renowned French composer Maurice Ravel is among many influential European musicians who held Grieg in high esteem and learnt from him. He said: "You can't imagine the power Grieg's music had in Paris. Through him, we could perceive the mountains and the sea, gnomes and giants, a world that the city had made us forget."
It is said that Edvard Grieg is to Norway what Shakespeare is to England: his country's most celebrated son. He cherished the Norwegian national heritage and would make it resound throughout his work. The traditional Norwegian music has a prominent place in Grieg's opus. In his own words:
The traditional way of life of the Norwegian people, together with Norway's legends, Norway's history, Norway's natural scenery, stamped itself on my creative imagination from my earliest years.
In world music history, Grieg is widely seen as one of the leading Romantic-era composers.
Edvard Munch
The Scream, a painting by the Norwegian artist Edvard Munch (1863 – 1944) is considered the second most famous picture in art history, after Da Vinci's Mona Lisa.
The Scream, 1893 — oil, tempera and pastel on cardboard, 91 x 73 cm | Photo: National Gallery of Norway
It is the most imitated and reproduced work of the twentieth century, acquiring an iconic status in popular culture. It even has its own emoji!
There are four versions of The Scream: two pastels and two paintings, as well as several lithographs. One of the pastels, the only version not held by a Norwegian museum, in May 2012, at the New York Sotheby's auction fetched more than $119 million, a record-breaking price, confirming its reputation as one of the most important works of art.
Numerous interpretations have been voiced by art critics, but the general conclusion is that it represents the universal anxiety of modern humanity. Munch himself said about the painting: "…I felt the great Scream in nature".
Troubled by his own anxieties, family tragedies and mental distress since early childhood, Munch poured his intense emotions on the canvas, capturing deep psychological expression of his subjects.
His paintings bore titles that corresponded to his state of mind: Despair, Melancholy, Anxiety, Jealousy, culminating with The Scream (also known as The Cry), one of the most famous paintings ever produced. Existential themes, including death and love. were central to his opus.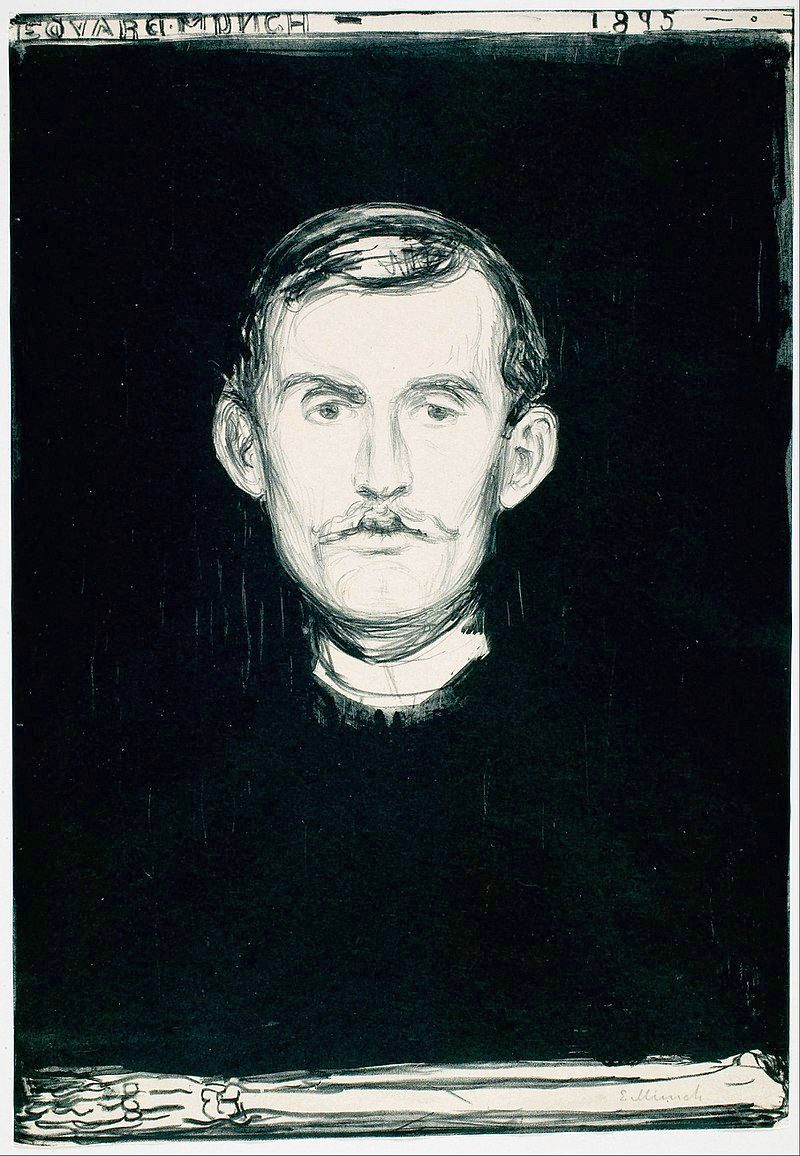 Edvard Munch: Self-portrait, 1985, lithograph | Photo: Munch Museum, Oslo
Munch established his original, free-flowing, psychology-themed style. He broke from the realist style and academic naturalism early in his career, paving the way for a new art movement: expressionism.
Such was his boldness, freedom of expression and vision that he is seen as an eternally up-to-date contemporary artist.
Jealousy, 1896, Lithograph, at the Scottish National Gallery of Modern Art | Photo: National Galleries Scotland
We will allow a little divergence and remind ourselves that the Vikings' cradle is not only a land of human exceptional achievements. Norway is dotted by nature's phenomena as well. It is a land of the midnight sun, the rising sun, fjords and northern lights.
Lysefjord, Pulpit Rock | Photo: Norway Powered by Nature
And quite exceptionally, Norwegians revere gnomes and believe in trolls!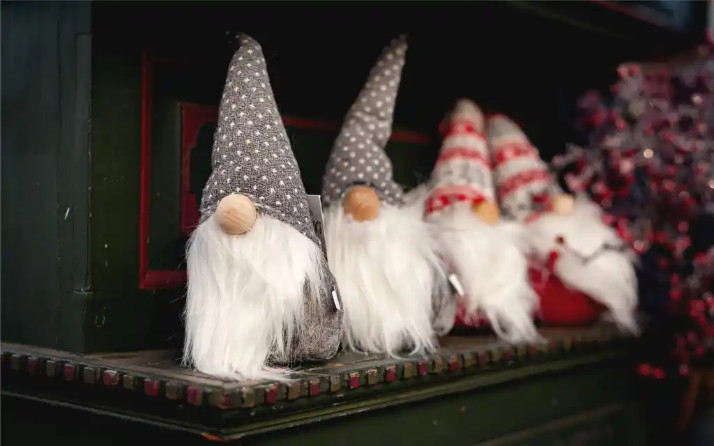 Gnomes on skis | Photo: scandification.com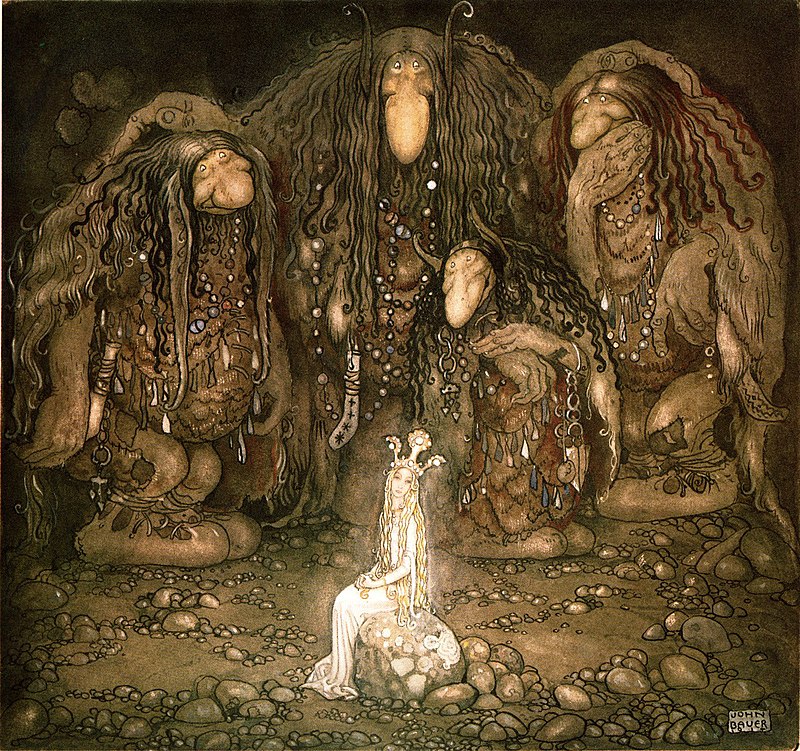 Trolls, painting by John Bauer, 1915 | Photo: Wiki
J.R.R. Tolkien based The Lord of the Rings on Norse mythology. Trolls feature prominently and he describes them as "creatures of a dull and lumpish nature, without the ability to speak, violent giants full of anger". They inhabit the woods and mountains.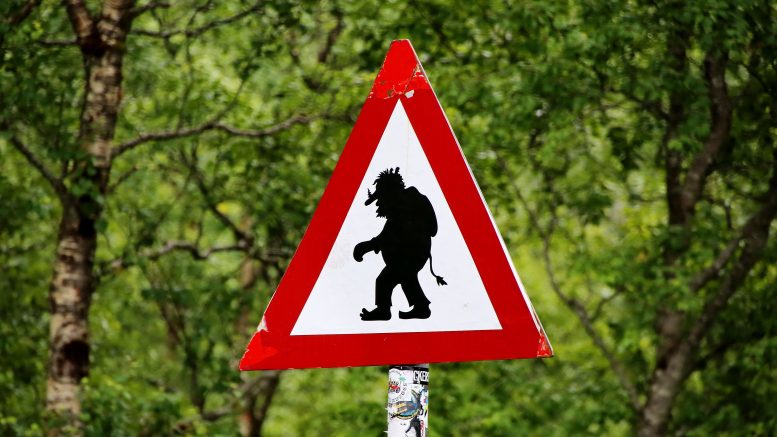 A warning sign near Norway's Trollstigen road | Photo: Mark Konig, Norway Today 
And maybe Norway is not all that 'without a chess history'. Because the Lewis Chessmen, discovered buried in the sand on a Scottish island in the 19th century were made in Norway around 600 years earlier. So, chess in Norway must have been popular many centuries before Magnus!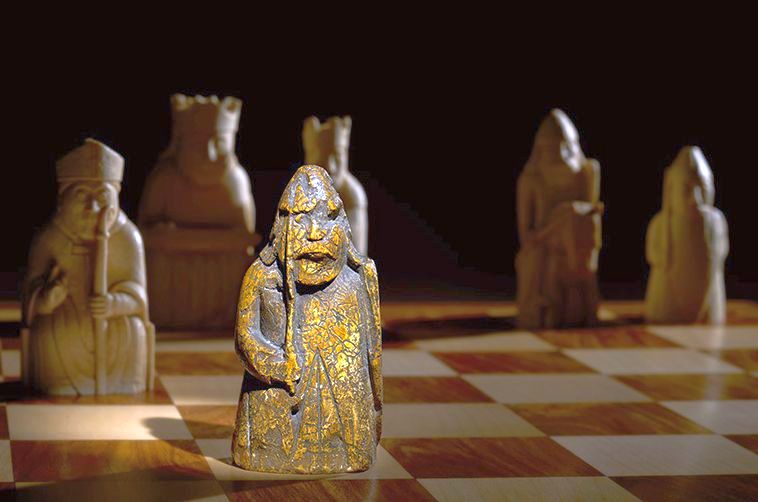 Lewis Chessmen | Photo: Sotheby's, Life in Norway
The world chess champion, Magnus Carlsen, known for his unconventional style of play, is one of the most successful chess players in history. He will be placed in the same pantheon with the Norwegian geniuses contributing to the international reputation of his country. New world chess champions will come and go, but Magnus will float over the fjords and linger in the northern lights having secured his place among his worthy countrymen, Abel, Ibsen, Grieg and Munch.
Magnus after becoming the world champion in 2013
My reminiscences on beautiful Norway and its geniuses were formed much earlier than the current cheating speculations mounted by Carlsen, which have so intensely gripped the chess world that I could not avoid mentioning it. But 'exception' suits even this affair. Will Magnus pull off a spectacular discovery of cheating, or will he fall flat on his face for slander is yet to be seen? But whatever the outcome, his reaction, act and demeanour, whether regarded in a positive or negative light, are quite exceptional.
---
---
Links