Form is temporary, class is permanent
Surya Ganguly's peak rating was as high as 2676 points. Currently his Elo has slid down to 2589. But as they say, form is temporary and class is permanent. The experienced GM from West Bengal won the Bangkok Chess Club Open 2022 with a score of 7½/9, ahead of strong players like Aryan Tari, Hrant Melkumyan and Nigel Short. 
Losing a game in a 9-round tournament usually means the end of hope for winning a Swiss event, especially with such strong competition like in the Bangkok Open 2022. But Surya Sekhar Ganguly, the second-ever grandmaster from West Bengal, managed to bounce back from such a loss. After losing his round-5 game against Polish Grandmaster Klekowski Maciej, Surya struck back with four consecutive wins! 
Facing a must-win situation, Surya played uncompromising chess and won the final round in beautiful fashion. This was Surya's first tournament victory while travelling with her 2-year-old daughter Arya — Arya even joined Surya in the podium.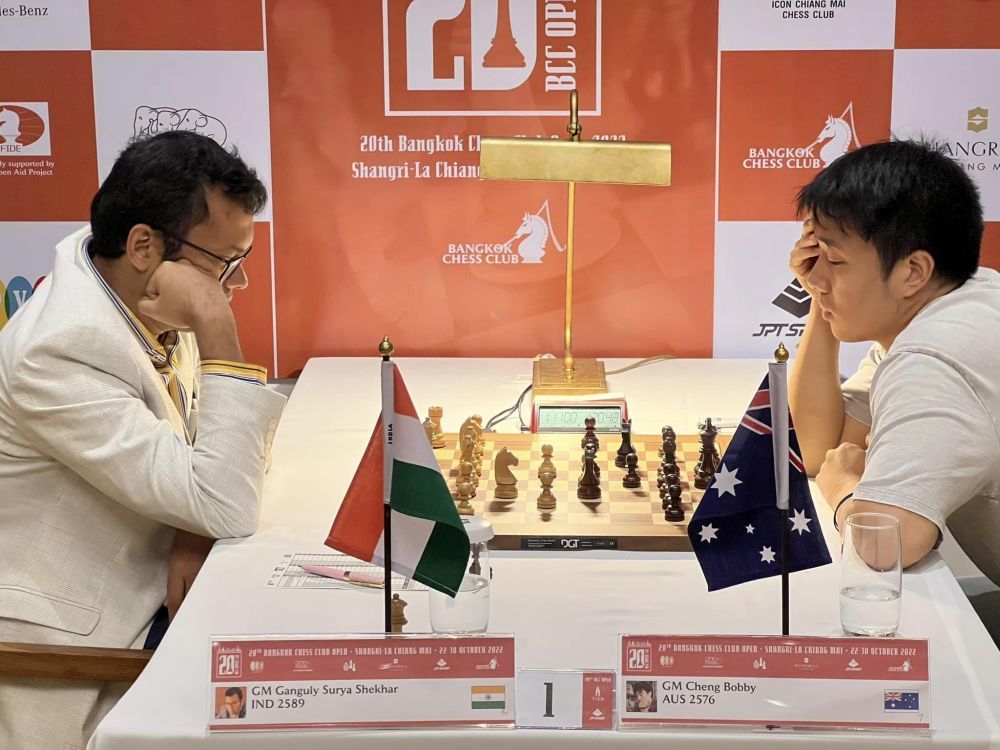 The final round was a must-win situation for Surya — to win the tournament, he had to defeat then-tournament leader Bobby Cheng | Photo: Bangkok Chess Club
Ganguly vs. Cheng – Analysis by Ganguly and Sagar Shah
Arya, a great 2-year-old trainer
On Arya in the podium:
Arya is fond of many things, and one of them is stairs. She really enjoys climbing the up and down the stairs. In the dais, there were stairs. She immediately wanted to go there, and anyway I had this idea that I wanted to be with her in the dais when I take the trophy. She actually walked with me all the way, took the stairs, and then this trophy was 4 kilos, so in the one hand I'm having 4 kilos of trophy, and in the other hand there was Arya — so I was doing my own gym there [smiles].

It was such a good feeling to have Arya with me. I told you, she is my biggest teacher. I played the Sharjah Masters while she was with me, and the event did not go well. I was not at all happy, I really wanted to win a tournament with her, and to play well. This time it worked!
The impact of Arya's presence in Surya's performance:
There are pros and cons. Of course I cannot say that I sit down and prepare for 2 hours. My maximum preparation time would be 1 hour at a very high scale. Usually, I'll be done within half an hour to 40 minutes for an entire game. But the best part was, if something goes wrong, Arya takes it away instantly. For example, after I lost my fifth round game, I think if I was alone it would take more time to recover, to get a good sleep and so on. But with Arya being there, it is just instantly over. You enter the room, and you cannot possibly think about your game.

So, that helped a lot and in general I keep saying that she is my best teacher. I learn from her on a day-to-day basis. The way she looks at life, you know, I cannot possibly imagine. For me, as a parent, the only thing I want to provide her is expose her to travel, and get her close to nature. I think that's the only thing that I can basically give her.

If I can choose, I would bring Arya to every single tournament. But of course, I would also like to have at least a place where I can prepare where she's not seeing me. Sometimes it's not just about me, but also when I am preparing she is unable to sleep, because the room is not dark. It's not possible to manage every time, but as and when it is possible, I'll do that.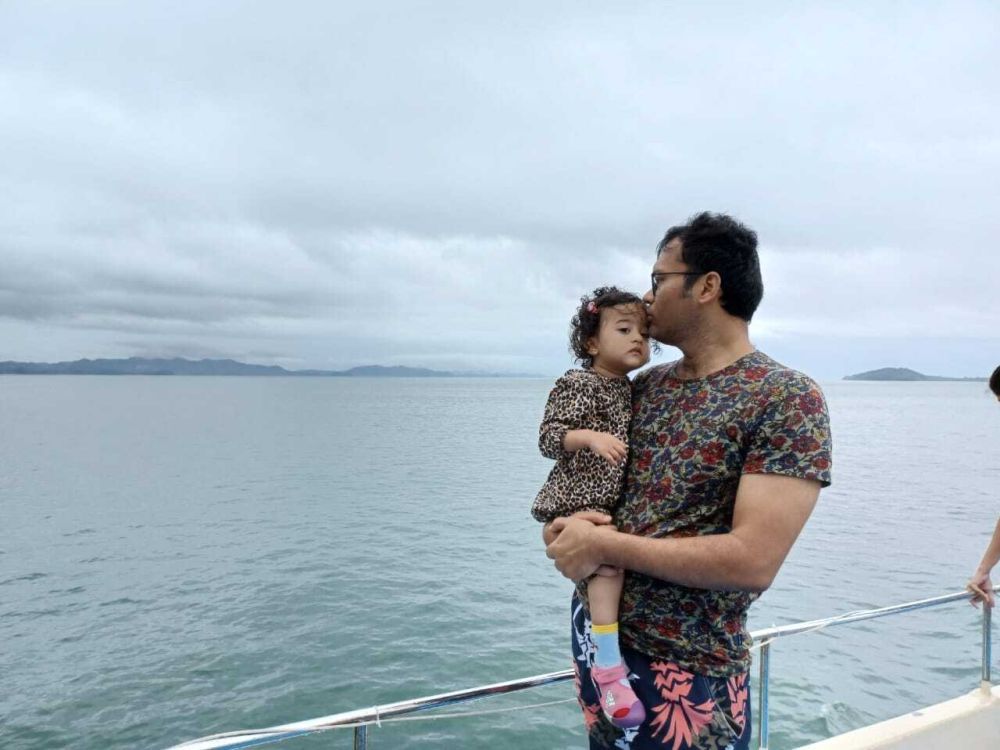 An affectionate father-daughter moment | Photo: Surya Sekhar Ganguly's Facebook
---
The full interview
---
Final standings – Bangkok Chess Club Open
All available games
Links