By Alan McGowan (chipsmcgowan@gmail.com)
The Edinburgh Chess Club was founded in 1822 and is celebrating its 200th birthday on November 4. It is the world's second oldest chess club in continued existence after Zurich (1809).
There was an Edinburgh chess club long before 1822, but there is no claim of succession to it. Richard Twiss, writing in 1789 (Chess, Vol. 2) quoted from a letter from Edinburgh:
There was formerly a Chess-club here, but of late in general every game has given place to Cards.
Original members
The early members numbered 31 and were an interesting cross-section of Edinburgh society; accountants, members of the legal profession, merchants, military men – several of whom were connected to the East India Company – as well as a baker, a church minister, a printer and a theatre manager. Four of them worked for the Royal Bank of Scotland.
Details of a few of the original members:
Dr Andrew Berry (1764–1833) Physician, Surgeon and Botanist.  
Dr Berry was the first president of the club. He donated the Berry Medal for club competition. 
He was born in Edinburgh on 25 May 1764 to William Berry and Janet Anderson. He held various positions in the Indian Medical Service: Assistant Surgeon 1784; Surgeon 1791; Superintending Surgeon 1801; First Secretary of the Madras Medical Board 1786; Member of Madras Medical Board 1807-14 and a member of the Asiatic Society 1796. 
Berry was a nephew of physician and botanist James Anderson (1738–1809). After Anderson's death, the botanical garden he had created in Madras was maintained by Berry. The genus berrya was named after him by his friend William Roxburgh (1751–1815). 
Dr Andrew Berry | Ancestry.com records
James Donaldson (1787–1848) Solicitor, Accountant. 
James Donaldson was deeply involved in various Edinburgh city matters. He served on the Town Council, which explains why chess reports often referred to him as 'Bailie' Donaldson. 
Mr Donaldson was the convenor of the club committee formed for the correspondence match against London 1824–1828. Accounts of the day suggest he was the club's strongest player, which may be why he was asked to contribute the Chess section for an edition of the Encyclopaedia Britannica. 
He was appointed club president for season 1847–48, but he died soon after on 27 January 1848. He is remembered by the Donaldson Gold Medal which he donated for club competitions.
His son James Donaldson (1818–1853), was also a club member.
Captain Marriot Chadwick Walker Aytoun (1787–1854) R.A.
Capt. Aytoun was descended from an ancient family whose surname is taken from the lands of Ayton (the town on the River Eye) in Berwickshire, though branches of the family later settled in Fife. He was born 18 March 1787 in Kinglassie, Fife, to then Major Roger Aytoun and Jean Sinclair. 
He was actively involved in local matters, being a Justice of the Peace for Fife and Perthshire and Deputy Lieutenant for Fife. In 1832 he provided Auchterarder, Perthshire, with its first water supply, and in 1872 the town's Aytoun Hall was constructed as a memorial to him.
When Capt. Aytoun joined the club in 1822 he was retired from the Royal Artillery. He served on the club council for several seasons and was a member of the committee in the correspondence match against London 1824–28. 
William Henry Wood Murray (1790–1852) Actor, Theatre Manager.
William Murray was born in Bath, Somerset in 1790, the son of an actor and dramatist, Charles Murray. He moved to Edinburgh in 1809, where he worked for the next 40 years. The city's Theatre Royal was then managed by Henry Siddons and his wife Harriet – Murray's sister – but after Henry died in 1815 Murray and his sister took over. 
Things improved under their partnership, which included the staging of the works of Walter Scott. A particular success was the first performance of Rob Roy. In 1822, when Scott was organising the upcoming visit of King George IV to Scotland, he made extensive use of Murray's talents in his preparations for setting the various venues. In 1830 Murray took over sole management of the theatre, continuing in this role until resigning in 1848, though he continued acting. 
William H. W. Murray | Portrait by Sir William Allan (1782─1850) – National Galleries Scotland
James Rose (1797–1864) W.S.
James Rose was born in Edinburgh to James Rose, Depute Clerk of Session, and Jean Scott. He followed his father into the legal profession and in 1824 he was admitted as Writer to the Signet.
Mr Rose should be considered as one of the most significant figures in the club's early history. His dedication as Secretary from 1825–1852 likely prevented the club from failing during difficult times related to problems with membership and premises. He also served as President from 1852–1864. 
Capt. James Watkins (1787–1871) East India Company
Watkins was born in Linlithgow, West Lothian to Thomas Watkins and Christian Hutton. He entered military service in 1804 and at the time of joining the club he was a Captain with the East India Company, serving with the 62nd Regiment of Native Infantry. Later, he was promoted to Major (1832) and Lieut. Colonel (1837), before retiring in 1838. 
He married (1) 1825, Mary Ann Watkins (sic) in Shropshire and (2) 1843, Helen Buchanan, the youngest daughter of club colleague John Buchanan (1768–1836), also one of the original members.
He died 7 January 1871 at his home, 6 Buckingham Terrace, Edinburgh.
There was no organised chess in Scotland in those days, so the members could only indulge in casual games, unless they entered the club championship for the medal donated by Dr Berry. Like other gentlemen's clubs, however, the membership offered social and business contacts, as well as interactions between members. Aside from that of Captain Watkins mentioned above, there were other marriages; two sisters of James Lockhart (1794–1841) married member John More (1781–1857) and his brother, James Stephens More (1789–1832), who joined the club in 1824. 
And there is a fascinating connection between Captain Watkins and a later chess era. The Lessing J. Rosenwald Collection at the Library of Congress in Washington, D.C. has a copy of an illustrated manuscript entitled Kitāb-i tashrīḥ al-aqvām: History of the origin and distinguishing marks of the different Castes of India. It was compiled by Lieut. Col. James Skinner (1778–1841) of Skinner's Horse Regiment, son of a Scottish soldier and a Rajput mother. It is inscribed to Watkins and was gifted to him (along with another illustrated volume). 
J. Watkins can be seen at the top of the page and inscription below reads:
History of the origin and distinguishing marks of the different Castes of India compiled by Lt. Col. J. Skinner CB whose gift it is to the present possessor JW.1
Lessing J. Rosenwald (1891–1979) was a successful businessman, a philanthropist, a collector of rare books, and a chess enthusiast. He was a member of the Manhattan Chess Club in New York, and he sponsored a series of tournaments in the USA in the 1950s and 1960s that carried his name and featured a young Robert J. Fischer. 
Correspondence match
In 1824 the club, led by James Donaldson, challenged the London Chess Club to a match by correspondence. This was an audacious move, if not impertinent; Edinburgh's players were unknown, whereas the opposing team included experienced players such as William Lewis and John Cochrane.
It took four years to complete, with letters – which the club still has – having to be transported by horse and carriage. It was not without controversy; London attempted to retract a move in one game, even appealing to the Postmaster – unsuccessfully – to have their letter returned. 
The match, which was won 2-1 by Edinburgh (draws not counting), saw the introduction of the Scotch Game: 1.e2-e4 e7-e5 2.Ng1-f3 Nb8-c6 3.d4. The line was first played by the London team, perhaps influenced by the Scottish-born Cochrane, but was taken up and used successfully by their opponents. 
As per the rules of the match, the losers had to provide the winners with a silver trophy to the value of £25. Edinburgh named it the Scots Gambit Cup, and it has a prominent place today in their trophy cabinet. 
The Scots Gambit Cup
The next phase
It's not surprising that the challenge match generated a huge amount of publicity, with seemingly every paper in the country reporting on its progress. Membership increased during the period 1824–28, though it slowed afterwards. Later, as membership declined further, there were problems with premises and members sometimes met in each other's homes. However, the club property was preserved, and the office-bearers continued. 
Still, visiting masters ensured a few high points. Aaron Alexandre, who had published Encyclopédie des Ėchecs in Paris in 1837, visited for a few days in 1840, Daniel Harrwitz's trips to Scotland in 1848–1850 included engagements in Edinburgh, and Johann Löwenthal visited in March 1852.
Daniel Harrwitz
A new era
The club's situation improved when it met for the first time in new rooms on Princes Street on 5 July 1852. There were many new members, drawn particularly from those who had previously played chess at the Philosophical Institution, and the opening of the new location was highlighted by the visit of Howard Staunton. The club remained in Princes Street until 1856, when it accepted rooms in the Philosophical Institution at 4 Queen Street. This move marked a real period of stability; they stayed there for 34 years.
Some other members
Reverend Thomas Gordon (1817–1888) 
He was often referred to by his pseudonym 'Gamma', and is known for his many games against fellow churchman, Reverend John Donaldson ('Delta'). He joined the club in 1840 and was probably one of its strongest players after the death of James Donaldson in 1848.
Captain Hugh Alexander Kennedy (1809–1878) 
Author of Waifs and Strays, Chiefly from the Chess Board, 1875. He served as Lieutenant in the Madras Native Infantry, retiring in his early thirties. He was later a Captain in the Forfar and Kincardine Militia. He donated his library to the club.
Reverend George McArthur (1829–1913) 
He joined the club in 1872 and served as Secretary 1872–1889. In 1889 he immigrated to the USA and joined the Brooklyn Chess Club, New York and the Franklin CC in Philadelphia. He was also known as a chess problem composer. In 1896 he returned to Britain and, for family reasons, chose to live in London. He died there in 1913.  
Dr James Cunningham Frazer (1825–1876) 
Dr Frazer (or Fraser) was a particularly significant figure during this time. He won the club championship in 14 consecutive years, from 1861 through 1874, but he then became seriously ill, withdrew from chess, and died a few years later. The Frazer Gold Medal had been awarded to him in recognition of his success, but was gifted back to the club by Dr Frazer's representatives for future competitions.
Cleveland Public Library: Special Collections
Advance
Chess playing opportunities in Scotland improved in the latter half of the 19th century. In 1871 there began a series of matches between the East and West of Scotland, which included the participation of many Edinburgh CC members. 
And in 1884 the Scottish Chess Association (now Chess Scotland) was founded, which provided for an annual congress with a championship tournament and several supporting events. A driving force behind the formation of the SCA was Walter Cook Spens, who, because of his position in the legal fraternity, was usually referred to as Sheriff Spens. He had joined Edinburgh CC in 1862, but by this time his work had taken him west – appropriate for a Sheriff – to Glasgow. Spens participated in every Scottish Chess Association Congress from the inaugural year 1884 until his death in 1900. He was equal first with W.N. Walker in the 1890 championship but lost the play-off match. He won in 1894. Three members of Edinburgh CC were present at the inaugural meeting of the SCA; Dr J. Clerk Rattray (1834–1896), Christopher Meikle (1823–1906), and John Fraser.
The Chess Monthly, February 1892, p.161.
Further playing opportunities were offered to Edinburgh CC members by a series of matches against Glasgow CC that began in 1887, and by the donation by J.B. Richardson of a trophy – the Richardson Cup – for competition between the leading clubs of Scotland, the first event being in season 1898–99.
Master visits continued in the later years of the century; Rosenthal in 1871, Blackburne (many times), Captain G.H. Mackenzie in 1888 and 1889, and Teichmann in 1894. Particularly significant was the January 1899 visit by the reigning world champion, Emanuel Lasker.
They came from away
Several club members came from foreign lands; some of them might have been escaping political turmoil or anti-Semitism.
Joseph Martin Kronheim (1810–1896) 
A lithographer, born in Magdeburg, Germany. By the late 1830s he was in Edinburgh, working for Miller & Richard, type founders. He used a process developed by George Baxter (1804–1867) to produce a wide variety of coloured prints. His business dealings took him to London, back to Germany, then America, and back to the U.K. Examples of his work can be found in online sales and auctions.
He joined the club in 1876, but his name appears again in 1891, at which time he gave 10 Montague Place as his address. He died in Berlin.
Léo Melliet (1843–1909) 
Born in France, he was active in the Paris Commune that seized power for a short time – March to May 1871 – at the end of the Franco-Prussian war. He was Deputy Major of the XIIIth arrondissement, but on the fall of the Commune he was arrested and imprisoned. He escaped, with help, and fled to Belgium before ending up in Glasgow.
Melliet gave private French lessons and lectured on subjects such as the writings of Victor Hugo and the Siege of Paris. He was briefly employed by Caversbank House, a school for girls in Paisley. He was also involved with Socialist political groups.
He joined the Arlington Baths CC (Glasgow) and represented them in numerous matches. He played in several West v East of Scotland matches.
During this time he used the name A.L. Melliet-Prevot and this was the name entered in the Members Roll when he joined Edinburgh CC in 1885. Initially, he again advertised his private French lessons but it wasn't long before he was employed at the Charlotte Square Institution for the Education of Young Ladies. Soon after, because of an earlier amnesty, he called himself Léo Melliet.
The Edinburgh Evening News of 28 May 1898 (p2) reported that he had been appointed to the French Chamber of Deputies. He returned to France where he represented Lot-et-Garonne from 1898 to 1902. 
Léo Melliet | Wikimedia Commons
Alexander Nicolay Meyerowicz (1828–1922) 
Born in Russian Poland, taken to Königsberg when young, where he lived for about ten years. He attended universities in Königsberg, Heidelberg and Berlin and was admitted to the Prussian Bar.
He went to London in 1856, and a year later he went to Trinity College, Glenalmond, where he was German and French master for four and a half years. Thereafter he was in Edinburgh, where he was German master at the Royal High School, Edinburgh Academy and George Watson's Ladies' College. He also taught at Falkirk High School.
Mr Meyerowicz joined the club in 1876. He died at 97 Comiston Road, Edinburgh.2
Otto Schulze (1852–1925) 
Born in Leipzig, he became a bookseller, publisher and bookbinder. He joined the club in 1902. Interestingly, in 1910, when he became a naturalized British Subject, his application was approved by Winston Churchill.
For fifteen years he was the manager at Messrs. Williams & Norgate, booksellers, 20 South Frederick Street, Edinburgh, but around 1901 he acquired the business, which then operated as Otto Schulze & Co. He died at 9 Dundas Street, Edinburgh in 1925.3
English supporters
Edinburgh CC benefitted when many English-born players moved to Scotland for business reasons: 
Harry Jackson (1863–1927): Yorkshire-born, stalwart team member and problem composer
Edmund Macdonald (1865–1937): winner of the 1902 Scottish Championship.
Daniel Y. Mills (1849–1904): an eight-time Scottish champion.
Peter Reid (1910–1939): represented Scotland at the Stockholm Olympiad 1937.
George W. Richmond (1877–1941): Scottish champion 1910.
Robert T.R Serjeant (1875–1962): club secretary and president, and a four-time medallist.
Francis Percival Wenman (1891–1972): Scottish champion 1920.
Local heroes
Christopher Meikle (1823–1906) 
He was employed by the Edinburgh Savings Bank as a boy and went on to serve there for nearly 50 years, almost 40 of them as an Actuary. 
He joined the club in 1844 and supported it in many ways, serving as secretary, treasurer and president. He was also a five-time club champion.
James Pringle (1847–1926) 
He studied at Aberdeen University before moving to Edinburgh, where he qualified as a chartered accountant and actuary. 
While he might not have stood out as one of the strongest players, he was someone that every club needs; a reliable administrator. 
He joined the club in 1873 and immediately showed his willingness to assist by taking on the role of Treasurer from 1874–1910. He was also President 1910–11.  
David Forsyth (1854–1909) 
Inventor of a method of recording positions that became known as Forsyth Notation, details of which were first published in the Glasgow Weekly Herald of 10 February, 1883 (p7).
Mr Forsyth, a solicitor, was one of the founding members of the Scottish Chess Association in 1884, being elected to the positions of Secretary and Treasurer. He was also secretary of Glasgow Chess Club.
In 1887 Forsyth joined Edinburgh CC after moving there. He later conducted a chess column in the Weekly Scotsman, while continuing in his roles of secretary/treasurer for the SCA.
In early 1899 he took up residence in New Zealand, winning the championship of that country in 1901. 
David Forsyth | The Chess Bouquet by F.R. Gittins, 1897
20th century
It would have been natural for the club to have looked forward to a new phase, but there were continuing difficulties over premises. The problem had started in 1890 when, after a breakdown in the relationship with the Philosophical Institution, the club had to move, but they were also obliged to move again in 1896, and yet again in 1901. The difficulties continued in the new century with changes of premises in 1907 – they did consider purchasing property at this point – and 1912. 
From a chess playing point of view, however, things had improved. The Edinburgh Chess League was formed in time for season 1903–04, which provided for regular team competition, and the club continued its success in correspondence chess matches, winning against clubs in Dublin (1891–92), Glasgow (1896–97 and 1898–99), Rome (1903–05), Munich (1907–08), Newcastle (1916), and Paris (1923–25). The Munich match was of particular interest as the opponents included Rudolf Spielmann.
And the club likely benefitted from the publicity that surrounded the British Chess Federation Congresses that were held in Edinburgh in 1920 and 1926.
The East v West of Scotland matches continued to be held, but in 1926 began another series of matches, this time between the Edinburgh and Glasgow Leagues. Naturally, many Edinburgh CC members were involved in these encounters. The club also won the Richardson Cup – Scotland's premier team competition – in 1901, 1904, 1910, 1920, 1923, 1924, 1928, 1931, 1935 and 1937.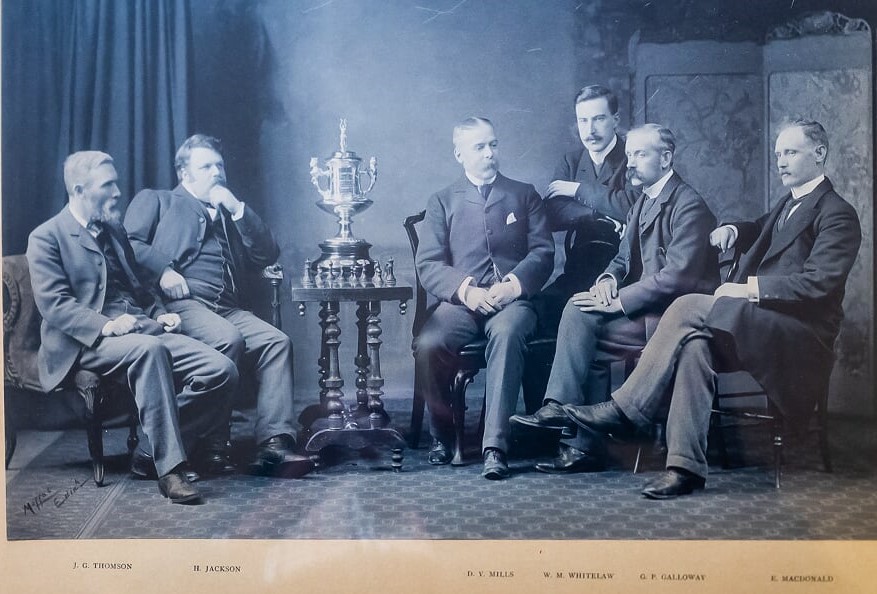 The 1901 Richardson Cup team members (Whitelaw was not in the five-player final) | John Moffat Studios, Edinburgh – courtesy of Edinburgh Chess Club
A turning point – The club obtains their own premises
After the club's 1912 move, a period of stability followed, which allowed the members to give further thought to buying their own premises. This was achieved in 1922 with the purchase of a flat at 1 Alva Street for £700. Several members made donations and debentures were issued, but the main contributor was the then club President, a significant figure in the club's history, whose support and generosity made it possible.
John G. Thomson (1856–1932) 
Mr Thomson (seen in the 1901 photograph) was born in Edinburgh in 1856 and was a lawyer by profession. He joined the club in 1888 and served as president in 1907–08 and 1921–22, and as secretary in 1910–11 and 1924–28. 
He won the club championship three times; 1889–90, 1899–1900 and 1901–02. He also served as president of the Scottish Chess Association and the Edinburgh Chess League, and he was a life member of the British Chess Federation.
Mr Thomson made a gift to the club of £200, and a further loan of £400. This permitted the club to purchase the flat in time for their centenary celebrations on 4 November 1922; a formal opening of the new premises was followed by dinner with many specially invited guests. 
Mr Thomson died at 34 London Street, Edinburgh on 23 March 1932.
Outside of chess John Thomson had several interests. He was an accomplished mathematician, and he was responsible for several inventions. In 1923 he published The Cycloid in Astronomy. 
He was particularly interested in harnessing the power of the tides. In 1929 he was granted permission to erect buildings on the River Forth at Killiebank, Alloa, to be used in research into tidal power. At the time of his death in 1932 his research had not been completed, but he left instructions in his will (his Executor was club member David Simpson) that the work should continue. This resulted in a legal case brought by his nephew William Graham Thomson, an engineer, who claimed that his uncle's invention was 'useless and impracticable and incapable of being developed commercially or economically.' The case was decided in favour of Thomson's nephew in November 1933.4
The entrance to the Edinburgh Chess Club at 1 Alva Street
Visitors
The new premises welcomed several visiting Masters in the 1920s and 1930s. 
Fred Yates was the first, on 18 November 1922, soon after the opening of the rooms. He won all 30 games in his simultaneous exhibition.
Jacques Mieses visited in November 1934. He drew against D. Simpson and AA Foster in consultation, but lost to Simpson in an individual game. In a simultaneous exhibition he scored +13, =3, -1 (AJD Lothian).
George Koltanowski visited Edinburgh in 1937, but that was to set a new world 'blindfold' record in an exhibition arranged by the city's Stockbridge CC. However, he returned in February 1938 for a simultaneous dsplay at Edinburgh CC, when he scored +15. =1 (AA Foster).
Alexander Alekhine, the world champion, gave a display at the club on 22 September 1938. He scored +21, =1 (D. Simpson).
A few interesting members of this period…and beyond
Lt. Harris Kirkland Handasyde, M.C. (1877–1935) 
He served in WWI with the Royal Scots (4th Battalion). In 1917 he was transferred, temporarily, to the King's African Rifles and in 1922 he relinquished his commission.
In the 1915 Scottish championship he finished 1st equal with Wardhaugh and Wenman but failed to win the play-off. 
He joined Edinburgh CC in 1921. In the club's 1923 championship he tied with Lothian and Page, but again failed to win the play-off.
Handasyde played in the 1924 FIDE 'Olympiad' in Paris that was restricted to amateurs. He also played in several Paris championships, including 1925, 1926, 1927 and 1930. He is closely associated with the British Chess Club in Paris, and he died in that city on 24 May 1935. 
David Simpson (1880–1977) 
David Simpson is a very important figure, both as a player and an office-bearer. He was born in Dundee, but his family moved to Falkirk, where he joined the local club. 
He studied law, first locally and then, from 1901, in Edinburgh, qualifying as a solicitor in 1904. He joined Edinburgh CC in 1902 and won his first of 14 club championships in 1907.
Simpson gave sterling service to the club; secretary 1906–10, treasurer in 1910–11 and 1924–1960, and president 1914–16. 
George Page (1890–1953)
George Page joined the club in 1912. He was a 15-time club champion, including consecutive years 1934–42, and he was Scottish champion in 1925. He edited a chess column in the Weekly Scotsman from 1926-1939 and represented Scotland in the Olympiads at Folkestone 1933 and Stockholm 1937.
George Page
Dr James Macrae Aitken (1908–1983) 
The mid-1930s saw the appearance of Aitken, who would go on to win the Scottish championship 10 times, one less than the record held by Fairhurst. He joined Edinburgh CC in 1936, and led the club to a Richardson Cup win in 1937 in a match where fellow Edinburgh club members George Page and D.S. Clunie had chosen to play for the opponents, the Civil Service CC.  
Also in 1937, Aitken represented Scotland in the Stockholm Olympiad – the country's first appearance – as a relative 'unknown'. Scotland finished last, but Aitken caused difficulties for many of his opponents on top board. He also played in the Olympiads of Munich 1958, Tel-Aviv 1964 and Skopje 1972. 
Aitken during the 1930s
On the outbreak of World War II Aitken was recruited to Bletchley Park, a codebreaking establishment. After the war, Aitken continued working for Britain's Foreign Office, ending his career at GCHQ at Cheltenham.
Post-war success
While most clubs had to curtail their activities during WWII, Edinburgh had regular competitions during that time. This might partly explain their success in the immediate post-war years, when they won the Richardson Cup team competition trophy in 1946, 1947 and 1948.
The 1946 Richardson Cup team members. Standing, l-r: AJD Lothian, AA Foster, TR Harvey, BW Herd, DS Clunie, SL Hart. Seated: RTR Serjeant (left) and David Simpson. | Photographer unknown, colourised by club member Alastair White. Courtesy of Edinburgh Chess Club.
Further wins in this competition were recorded in 1950, 1953, 1958, 1959 and 1962.
Celebrating the 1958 Richardson Cup win. Standing, l-r: WS Smerdon, IC Kirkwood, DS Clunie, AG Laing, RWM Baxter. Seated, l-r: JA Smith, D. Simpson, I McRobbie. Mr Clunie is holding the Richardson Cup. Also exhibited: Edinburgh League Trophy (left) and the Scots Gambit Cup. | Photographer unknown, colourised by club member Alastair White. Courtesy of Edinburgh Chess Club.
Ian C. Kirkwood – later Lord Kirkwood – was one of the judges selected to hear the appeal of convicted Lockerbie bomber Abdelbaset Ali Mohmed Al Megrahi. This appeal was heard at a special Scottish Court in the Netherlands in 2002.
New blood
Despite the above successes, the club received a dramatic shock in 1963 when they were defeated 7-0 by Glasgow in the Richardson Cup final; that's when they realised that changes had to be made.
Juniors had never previously been welcomed at the club; Rudolf Austin (1936–2019) had only been able to join in 1953 by lying about his age. In the 1960s, exceptions were made for three very strong juniors – Gordon J. Burt, Peter M. George (1963) and Robert D. Waugh (1964) – but club members managed, with difficulty, to persuade the committee to make further allowances. 
The time was right for such a decision: the Scottish Boys' championship had existed since the 1930s; the Glorney Cup junior team tournament began in 1951; the Sunday Times National Schools Team Tournament started in 1957; the Glasgow Congress, which started in 1962, soon had many sections for juniors, and The Scotsman's Scottish Schools' Team Tournament started in season 1967–68.
Also, several Edinburgh area schools had chess clubs and it wasn't long before some of their players made their way to the club.
1968 Glorney Cup team. From l to r: James Lumsden, John Glendinning (non-playing captain), Colin Campbell, Allen Taylor, Eric Holt, Donald Marr, Robert Waugh, Ian Mullen. Campbell, Holt, Marr Waugh and Mullen all became members of Edinburgh CC.
The most successful of the club's juniors was Mark Condie (1965–), who was awarded the International Master title in 1984. He might have risen higher, but a disappointing result at the Dubai 1986 Olympiad affected his willingness to try for the GM title. And any later thoughts of pursuing that goal were dashed because of Wilson's disease.
An outstanding junior of the current era, and one to watch in the future, is Frederick Waldhausen Gordon. Born in 2010, he has already represented Scotland internationally.
More visitors
Other masters – some on informal or private visits – have been to the club, including:- 
Karl Gilg
It appears that the Sudetan German who represented Czechoslovakia in the Olympiads in 1927, 1928, 1931 and 1936, visited the club during a period when he was a prisoner of war Scotland. 
Max Euwe (1901–1981)
Euwe visited in 1972 as part of a world tour during his tenure as FIDE President.
William Lombardy (1937–2017) 
He played in a small international event in Glasgow in 1975, later visiting the club and donating one of his scoresheets from the recent tournament.
Vlastimil Hort
He was in Scotland in 1980 to train the country's Olympiad squad, after which he made a private visit to the club.
Danny Kopec (1954–2016)
Danny was more than a visitor, for he was also a club member. He came from the USA to study at Edinburgh University. He was the 1980 Scottish Champion after winning a play-off match against R.M. McKay, his success repeating that of another American student, Max Pavey, who won the 1939 Scottish championship. 
Anatoly Karpov
The then world champion gave a simultaneous display in Glasgow in 1984 as part of the Scottish Chess Association's centenary celebrations. The next day Karpov made a private visit to the club.
Veselin Topalov
The Bulgarian former world champion gave a simultaneous exhibition at the club in 2012.
Arkady Dvorkovich, the FIDE President was a guest in 2018, along with GM Emil Sutovsky, FIDE Director General.
Recent times
The club's successes continued with the winning of the Richardson Cup in 2013 and 2016.
2013 Richardson Cup. Standing L-R: R Bhopal; H. Brechin; C Sreeves; A Bremner. Seated L-R: D Oswald; N Berry; D Robertson; C Macqueen | Photo: Neil Berry
Club president Neil Berry, a namesake of the first president, guards the trophy.
Fascinating finds 
When delving into the history of a club as old as Edinburgh, it might be expected that a few surprises would be found. Hiding in plain sight in the Members' Roll were three particularly interesting names. 
Sir Robert Robinson (1886–1975) Nobel Prizewinner 1947
Professor Robinson was born near Chesterfield in Derbyshire, England. He joined Edinburgh CC in 1921, during a period when he had been appointed Professor of Chemistry at St Andrews University. He was knighted in 1939, and in 1947 he was awarded the Nobel Prize in Chemistry. 
Sir Robert Robinson | https://www.nobelprize.org/prizes/chemistry/1947/robinson/facts/
Prof. Robinson played for Oxford University in the December 1944 match against the Bletchley Park codebreakers. He was president of the British Chess Federation from 1950–53, and with Raymond Edwards he co-authored the book The Art and Science of Chess (Batsford, 1972). 
Ian Robertson Hamilton (1925–2022) Advocate
A new member of the club in 1956 was Ian R. Hamilton, Advocate, 2 Circus Gardens, Edinburgh.
Hamilton was born in Paisley, Renfrewshire and was educated at the John Neilson Institution in Paisley and, after serving in WWII, Glasgow University, where he studied law and became politically active.
He was one of four students who removed (liberated) Scotland's historic Stone of Destiny from Westminster Abbey in 1950, a sensational, international story at the time. He wrote about the experience in No Stone Unturned (1952), and other works, and in 2008 the story was made into a film. 
Mr Hamilton died on 3 October 2022.
Left-Right: Gavin Vernon, Ian Hamilton, Alan Stuart and Kay Matheson | http://www.policemuseum.org.uk/crime-casebook/interesting-cases/the-stone-of-destiny-1950/
Dr Lim Kok Ann (1920–2003) FIDE General Secretary 1982–88.
He joined Edinburgh CC in 1940, when he was studying medicine at Edinburgh University. His address at that time was 109 Warrender Park Road. He married in Edinburgh in 1942 – Rosie Seow, also from Singapore – and they had two children born in the city; a daughter, Sing Po, born 1944 and a son, Su Min, born 1946 (Su is the Chinese word for 'Scot').  
At some point Lim resigned, but he rejoined in December 1945, at which time he was at 28 Sciennes Road. In March 1947 he and his family returned to Singapore. 
Just before leaving, Lim played on the Edinburgh team that won the 1947 Richardson Cup.
Richardson Cup Final 1947
Dr Lim was Singapore champion in 1949, the same year he helped found the Singapore Chess Federation. He also won the 1960 and 1968 Singapore championships, and played in the Olympiads at Lugano 1968, Siegen 1970 and Skopje 1972. He became an International Arbiter in 1968.
His abilities as a promoter of chess and as an administrator attracted the attention of Florencio Campomanes, who appointed him FIDE General Secretary in 1982.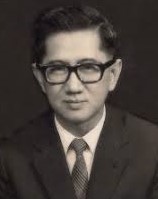 Dr Lim had a distinguished career in medicine. He was Professor of Microbiology and later Dean of Medicine at University of Singapore (1965-1972). Of particular note was his success in isolating the virus responsible for the 1957 Asian influenza epidemic.
After his death members of his family drew from an unpublished memoir by Dr Lim, which can be read at https://limkokann.blogspot.com/ There are numerous references to Edinburgh, the entries for August and September 2008 being particularly relevant.
Up to date
When restrictions were lifted after the Covid lockdown, the club was soon hosting events as part of their 200th year celebrations, including:
The club was featured in a Channel 4 TV production.
Club Championship in June.
Beginning a 42-board correspondence chess match against a London team. 
Hosting the Scottish Championship 2-10 July.
Welcoming the Schaakstad Apeldoorn club from the Netherlands for a friendly match 15-17 July.
Holding a weekend event in support of women and girls in chess with IM Lorin D'Costa (from "She Plays to Win"), 3-4 September.
Offering the public access to the club as part of Scotland's Civic Trust Doors Open Days. 
And more…
Best wishes for the Bicentenary celebrations, and for the next 100 years.
Notes
Lt-Col J, Skinner, CB: CB stands for Companion of the Bath, a chivalric order.
Meyerowicz: Scotsman, 16 May 1904, p.6; 30 January 1922, p.6; Falkirk Herald, 4 February 1922, p.4.
Schulze: The Publisher: The Journal of the Publishing Industry, Volume 74, 1901, January 26.
JG Thomson: British Chess Magazine: 1922, p.23 and 1932, p.202; Linlithgowshire Gazette, 8 April 1932, p.8; Leven Advertiser and Wemyss Gazette, 12 October 1929, p.4; Dundee Evening Telegraph, 23 December 1932, p.7; Edinburgh Evening News, 17 November 1933, p9.