von Ivan Sokolov
The Rossolimo gained popularity recently as it avoids Open Sicilian theory such as the Sveshnikov or Kalashnikov. In essence, we reach an English opening with colours reversed (1.c4 e5 2.Nc3 Nf6 (or 2…Bb4) 3.g3 Bb4) being a tempo up.
As with most colour reversed systems, now we have (as White) a comfortable position (the extra tempo counts after all!), but our aim also changes (as we are no longer happy with a 'comfortable position' but are aiming for an advantage).
None other than Magnus Carlsen is playing this opening to a great extent, which is a key component of the selection on this video course. We mostly analyse plans after 3…g6 (followed by Bxc6 with both …bxc6 or …dxc6 recaptures) or 3… e6 4.Bxc6 bxc6.
At first glance White has an 'obvious advantage' in the Marcozy Bind: White has more space with Black not having clear counterplay. Danish chess legend Bent Larsen liked to play against the Maroczy Bind with Black and came up with many ideas that are still viable today.
In this video course, my material is based on the Classical main-line Maroczy bind, I have pointed out the main ideas/positions both sides are aiming for and show surprising strategic mistakes (committed even in top-level games!).
Video running time: 7 hours 20 Minutes (English)
With interactive training including video feedback
Extra: Model games database & Training with ChessBase apps – Play key positions against Fritz on various levels
Anatoly Karpov once said: 'Understanding the Ruy Lopez is crucial to middlegame improvement in chess'. On this video course I opted for 'Karpov Ruy Lopez understanding type lines', the massive majority of the material coming from Chigorin, Breyer and Zaitsev variations.
I have tried to give viewers a 'crash course' on typical middlegame plans, typical material imbalance ideas (and dynamics), types of positions White or Black should be happy about (or try to avoid!), while combining it (when I saw fit) with useful opening advice (advice based on my forty years' experience playing and researching those positions).
The course aims to improve the understanding of these types of positions to help the viewer to play better and to get better results. 
Video running time: 6 hours 25 minutes (English)
With interactive training including video feedback
Extra: Model games database & Training with ChessBase apps – Play key positions against Fritz on various levels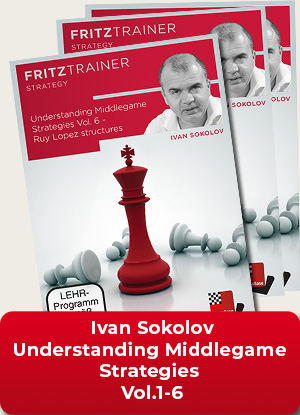 Links: