Fischer Random World Championship
In addition to the  title, "Naka" received 100,000 USD in prize money – and a sculpture made of lava stone.
The four-game mini-match was close and brought a number of interesting games. But it was Nakamura who was the first to score: He won the first game of the match with Black.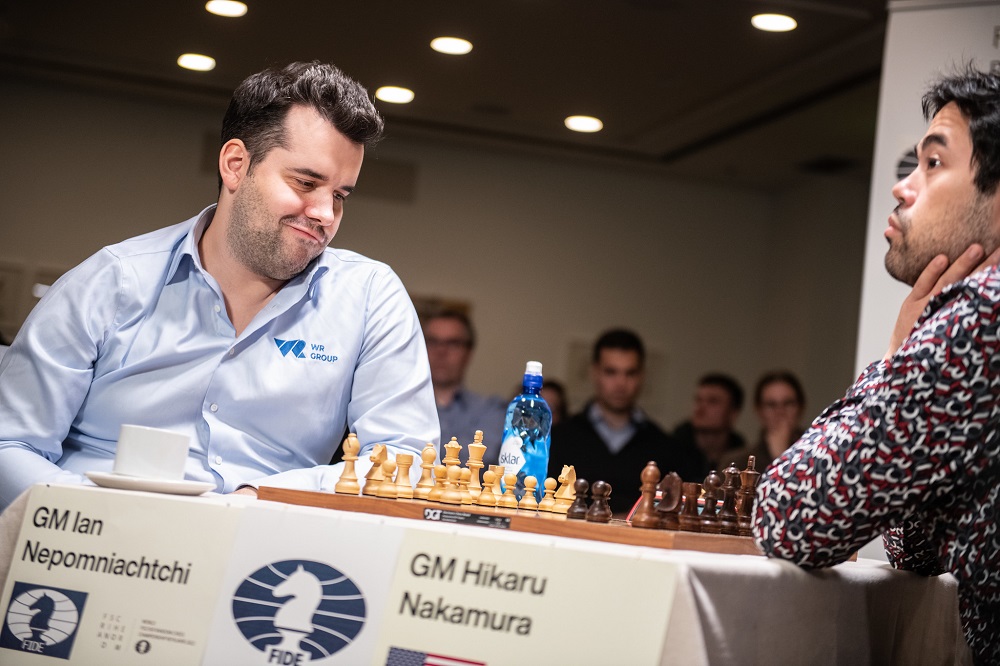 But Nepomniachtchi hit back: after a draw in game two, he won the third game to equalize the match. With a short and bloodless draw in game four, the players indicated that they were quite willing to go into Armageddon. | Photo: FIDE / David Llada
In this tournament, the players had to make "bids" to indicate with how much time they were willing to play. The player with the higher bid would play with White. Naka had bid 14 minutes and got White, Nepo had bid 13 minutes and was to play with Black. The Armageddon game was then played with these times.
Results
Final: 
Hikaru Nakamura – Ian Nepomniachtchi 2-2, Nakamura won the Armageddon tiebreak to become World Champion.
3rd place match:
Magnus Carlsen – Nodirbek Abdusattorov 3-1
5th place match:
Wesley So – Vladimir Fedoseev 1-3
/th play match:
Matthias Blübaum – Hjorvar Steinn Gretarsson 3-1
Prrize money
1: 150.000 USD
2: 85.000 USD
3: 55.000 USD
4: 40.000 USD
5: 25.000 USD
6: 20.000 USD
7: 15.000 USD
8: 10.000 USD
Games