Defending champion out of contention
At the 2019 World Fischer Random Championship, Wesley So knocked out Ian Nepomniachtchi in semifinals, and then defeated Magnus Carlsen to become the first official world champion in this variant. This time around, he could not advance to the knockout stage, as he was outscored by an inspired Nodirbek Abdusattorov and the ever-fighting Nepomniachtchi.
Despite not being in the best form, So managed to end this stage of the event on a high note. Almost with no chances of advancing to the knockout, So faced an in-form Abdusattorov in the last mini-match of the group section. Up to that point, the young Uzbek had scored 9½/10 points — but facing one of the strongest technicians in the circuit, he could not hold a draw in a double-edged rook endgame.
How to proceed with White here? Black has two general threats: to infiltrate with his king on the queenside and to push his f-pawn down the board. Apparently, Abdusattorov considered that his rook would manage to defend against the advance along the f-file while the king deals with the queenside infiltration. Thus, the youngster played 50.Kb2 Rh2+ 51.Ka3
It was a very difficult decision, and Abudsattorov chose the wrong path. Better would have been to force matters with the active 50.h7 Rh2+ 51.Kd1 (the king has a more active role than from a3) Kc3 52.Rb8 and White trades his h-pawn for Black's backward pawn on the b-file.
None of this happened, though, as in the game So showed his usual remarkable technique to convert his advantage into a win. Thus, the Filipino-born star became the only player to inflict a defeat on the youthful world rapid champion in the first stage of the event.
Nepomniachtchi had entered the third day of action with a 2-point lead over So, and managed to reach the knockout despite losing twice to Abdusattorov (he had also lost 2-0 in their first contest on Tuesday). Two wins over Icelandic GM Hjorvar Steinn Gretarsson sealed second place in Group A for the Russian.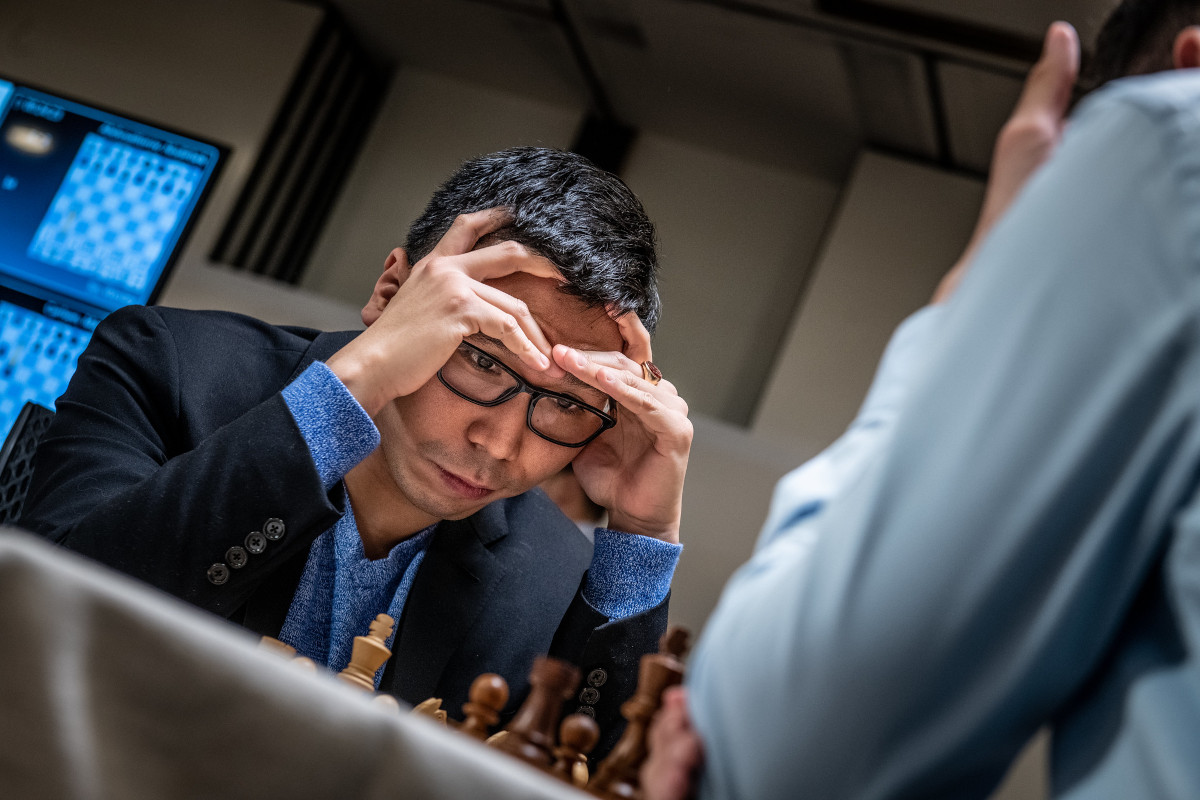 Wesley So | Photo: David Llada
Final standings – Group A
| | | |
| --- | --- | --- |
| Player | MP | Pts |
| Nodirbek Abdusattorov | 10 | 10 |
| Ian Nepomniachtchi | 7 | 7 |
| Wesley So | 6 | 5½ |
| Hjorvar Steinn Gretarsson | 1 | 1½ |
All games
Carlsen wins Group B
It has not been a particularly clean performance by Magnus Carlsen in Reykjakiv, but he has nonetheless grabbed first place in his group. The Norwegian obtained as many match points as Hikaru Nakamura, but outscored the US grandmaster by a mere half point in individual points.
On the final day of the group stage, Carlsen defeated Vladimir Fedoseev by a 1½-½ score and drew both his games against Nakamura (Naka had beat Carlsen in their first mini-match).
Carlsen could have collected a 2-0 victory over Fedoseev, had he not missed a stalemate trick in a completely winning position.
Despite the material being equal, Black has the safer king and is to move — it is all about the initiative in these open positions with major pieces on the board. In fact, there is mate-in-six here, starting with 42…Qh2, and it is impossible for White to give two checks in a row without sacrificing material.
Carlsen instead erred with 42…Qc2, the most tempting move in the position — and a mistake one is likely to see in a chess club blitz game! Fedoseev quickly showed the refutation: 43.Re7+ Ka6 44.Ra7+ Kxa7 45.Qe7+, and a draw was agreed.
The classical-chess world champion was visibly upset when he figured out that Fedoseev was ready to sacrifice his queen, like he had done his rook, on a7 or b7, with a stalemate.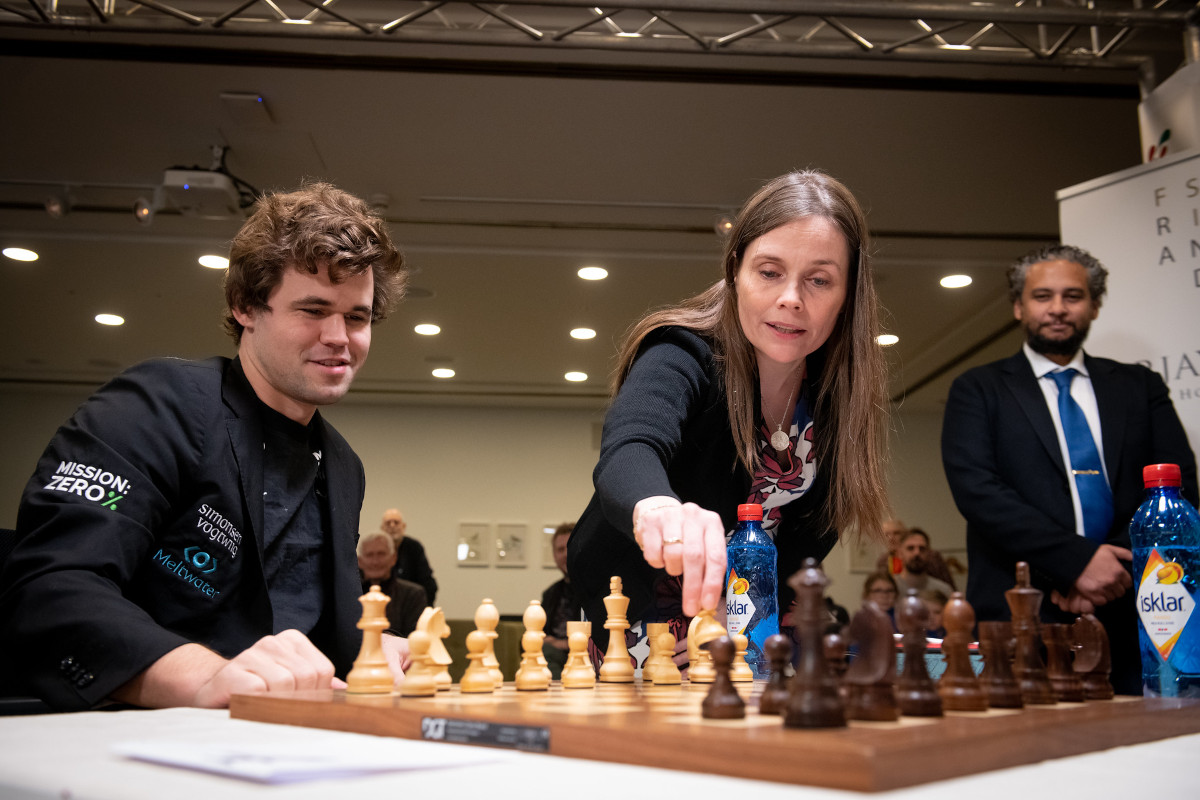 Iceland's Prime Minister Katrín Jakobsdóttir visited the playing hall | Photo: David Llada
Now that the group stage is over, the players who advanced to the semifinals will get a rest day, while the players who finished in third and fourth positions will be back in action on Sunday. This is the program for the final two days of the competition:
Saturday
Each confrontation will be a 4-game match, with an Armageddon to follow in case of a tie.
Semifinal (1): Abdusattorov vs. Nakamura
Semifinal (2): Carlsen vs. Nepomniachtchi
Sunday
Final: Winner (1) vs. Winner (2)
Match for 3rd place: Loser (1) vs. Loser (2)
Match for 5th place: So vs. Fedoseev
Match for 7th place: Gretarsson vs. Bluebaum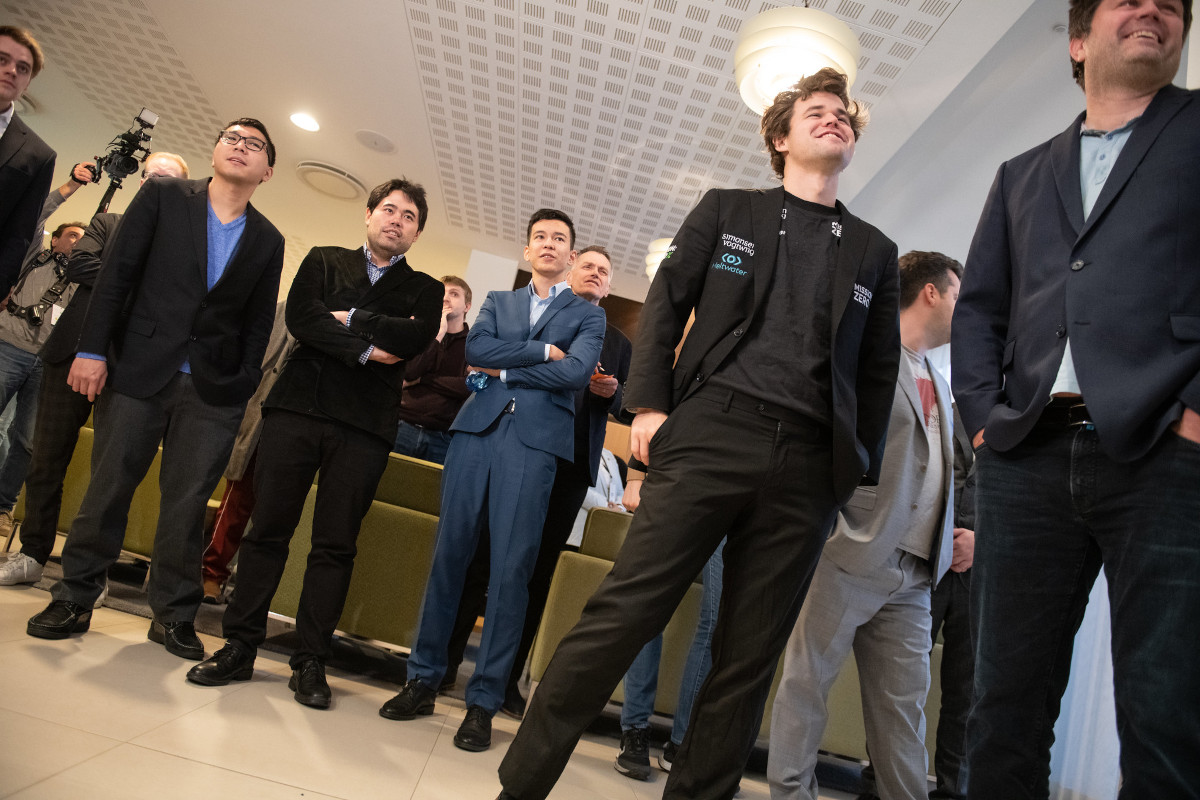 The players see the new position appear on a screen, one piece at a time | Photo: David Llada
Final standings – Group B
| | | |
| --- | --- | --- |
| Player | MP | Pts |
| Magnus Carlsen | 9 | 8 |
| Hikaru Nakamura | 9 | 7½ |
| Vladimir Fedoseev | 5 | 5½ |
| Matthias Bluebaum | 1 | 3 |
All games
---
---
Links