"The worst possible starting position"
As reported by Jonathan Tisdall, the participants of the Fischer Random Championship in Reykjavik daily reach the playing hall in "a visibly relaxed mood". Relieved from the burden of preparing long theoretical lines, they prioritize keeping a fresh outlook going into each round. 
A surprise awaits for them after each mini-match. On Wednesday, once the first position was announced, Magnus Carlsen could not but remark, "This is probably the worst possible starting position". With knights on the corners, 'normal' piece-developing schemes are not likely to be effective.
While some of the players are accompanied by seconds to investigate the positions before each mini-match, others chose to go at it solo in Reykjavik: i.e. Wesley So, Hikaru Nakamura, Nodirbek Abdusattorov and Matthias Bluebaum.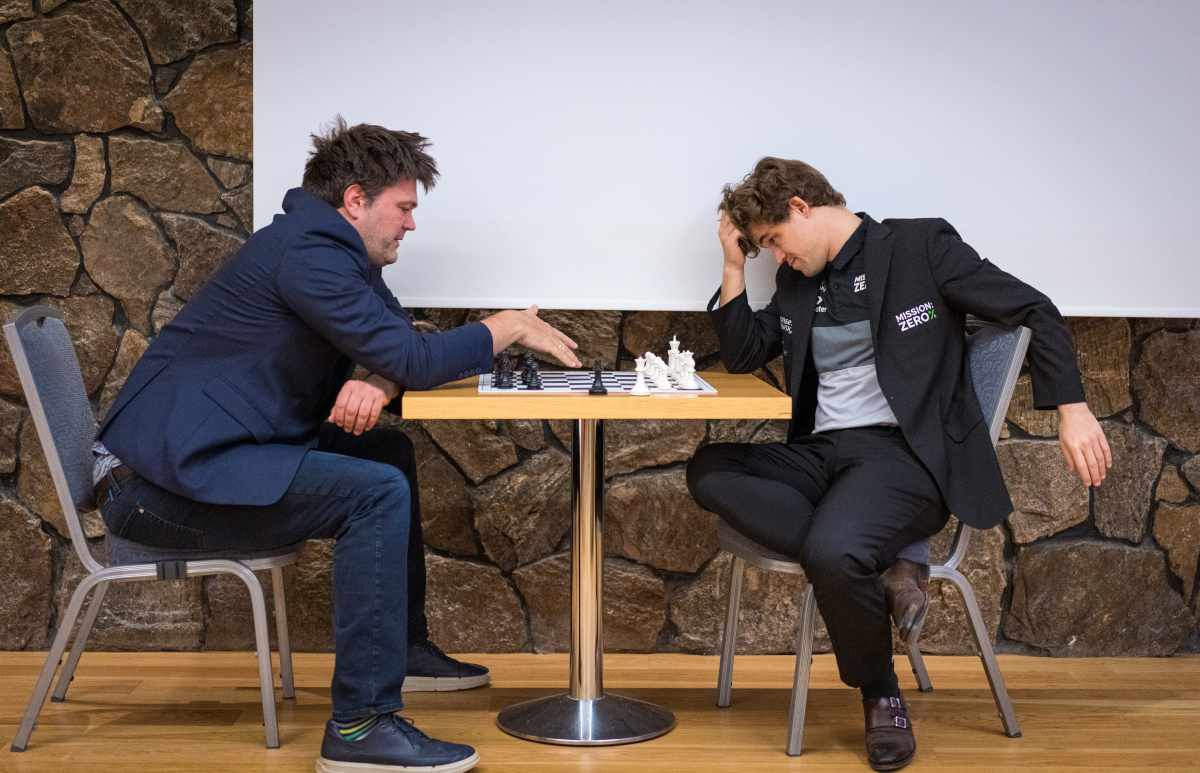 Pre-game analysis — Peter Heine Nielsen and Magnus Carlsen | Photo: Lennart Ootes
Group A: Abdusattorov still perfect, So confuses castling rules
After beating the strongest contenders of the group on opening day — Wesley So and Ian Nepomniachtchi — Nodirbek Abdusattorov twice faced underdog Hjorvar Steinn Gretarsson on Wednesday (two mini-matches, four games). The youngster continued his excellent run by scoring a perfect 4/4 against the Icelandic representative, thus securing a spot in the semifinals with two rounds to go.
Since the Uzbek ace has already secured a spot in the knockout, either Nepo or So will not be able to fight for the championship come Saturday. Coincidentally, the two elite GMs were paired up against each other in day 2's double round, when each pair of contenders played four games from two different starting positions.
Nepo prevailed in the matchup against the defending champion, as he won three and lost one to go into the final two mini-matches in sole second place, two points ahead of So.
A curious situation, typical of the variant in use, was seen in the third confrontation between Nepo and So.
So had played 17…Qe6 in the previous move, allowing 18.Qa8+, which is winning for White — after 17…Qd8, for example, the position would have remained more or less balanced.
When So placed his queen on e6, he counted on responding to the check from a8 with short castle, transferring the kingside rook from h8 to f8 and keeping things under control. The US grandmaster forgot that castling is forbidden while in check. After the arbiters explained this to him, the defending champion simply resigned.
It should be noted that the aforementioned rule is not absolutely obvious in this case, as the king does not need to be moved in the castling manoeuvre. In fact, Anish Giri confessed on Twitter that he would have appealed this decision, while Carlsen told So that he also thought it was legal to castle while in check if the king does not need to move.
Giri later quipped (making a nod to NC-chess?):
And in general, castling makes no sense.

— Anish Giri (@anishgiri) October 26, 2022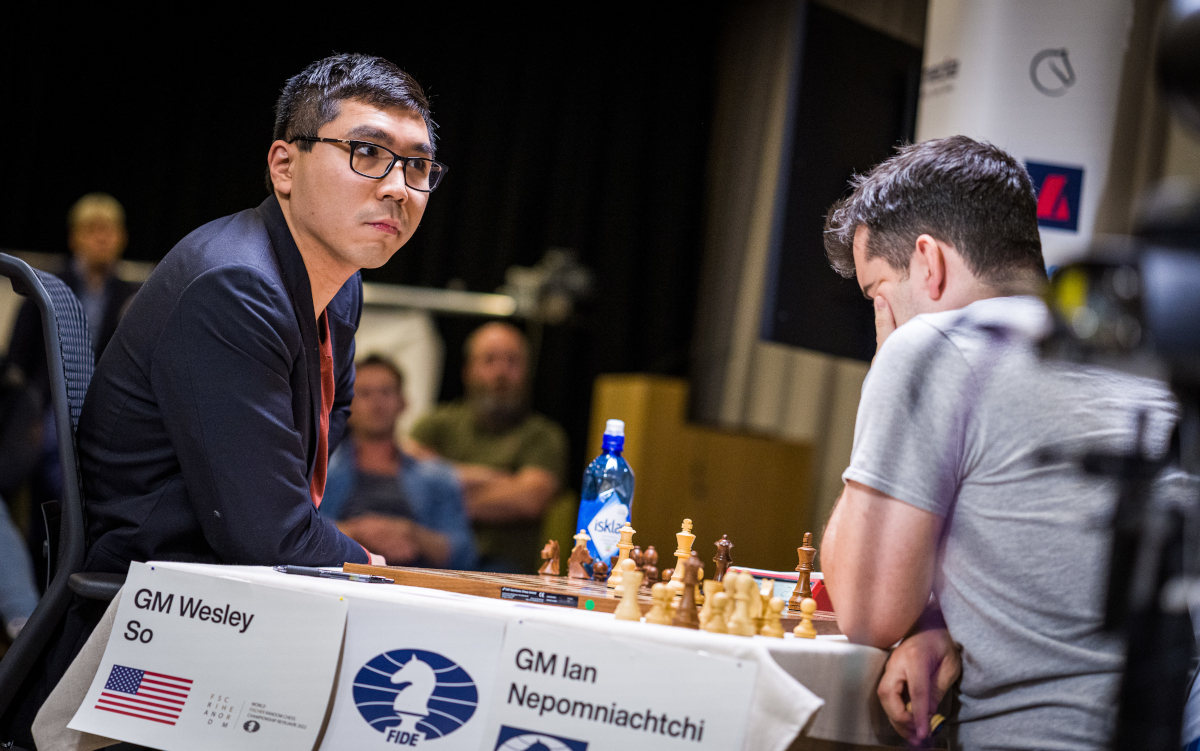 Wesley So and Ian Nepomniachtchi | Photo: Lennart Ootes
Standings after round 4 – Group A
| | | |
| --- | --- | --- |
| Player | MP | Pts |
| Nodirbek Abdusattorov | 8 | 7½ |
| Ian Nepomniachtchi | 5 | 5 |
| Wesley So | 3 | 3 |
| Hjorvar Steinn Gretarsson | 0 | ½ |
All games
Group B: Naka and Carlsen share the lead
While So will need a good performance and some luck to catch Nepo in group A, Vladimir Fedoseev similarly has outside chances of reaching the semifinals in group B. The Russian stands two points behind co-leaders Hikaru Nakamura and Magnus Carlsen, but has proven to be capable of fighting toe-to-toe with the two big favourites in this variant.
On Wednesday, Carlsen scored 3½/4 individual points against underdog Matthias Bluebaum, while Fedoseev and Nakamura drew all four of their encounters.
Despite all four games ending in draws, there was no lack of excitement in the confrontation between Naka and Fedoseev. The third encounter was a total slugfest.
Naka's 21…Nxd2 was a brilliant way to open lines against the white king.
The engines show that 22.Nxd2 is the best reply, but in this case White needs to figure out that he is not in deep trouble after 22…Bxc5 23.Rc4 (forced, as rook and queen were forked by the bishop) b6 24.b4 f3. Fire on board! (See diagram below).
A great calculator, Fedoseev surely found this line, but evaluating such a wild position from afar is not easy at all! Thus, he opted for 22.Kxd2 in response to Black's capture. 
Indeed, exposing the king to attacks in the middle of the board was the easier-to-calculate variation here.
Naturally, mistakes were made by both players in the 25-minute game. The result was a remarkable 60-move draw.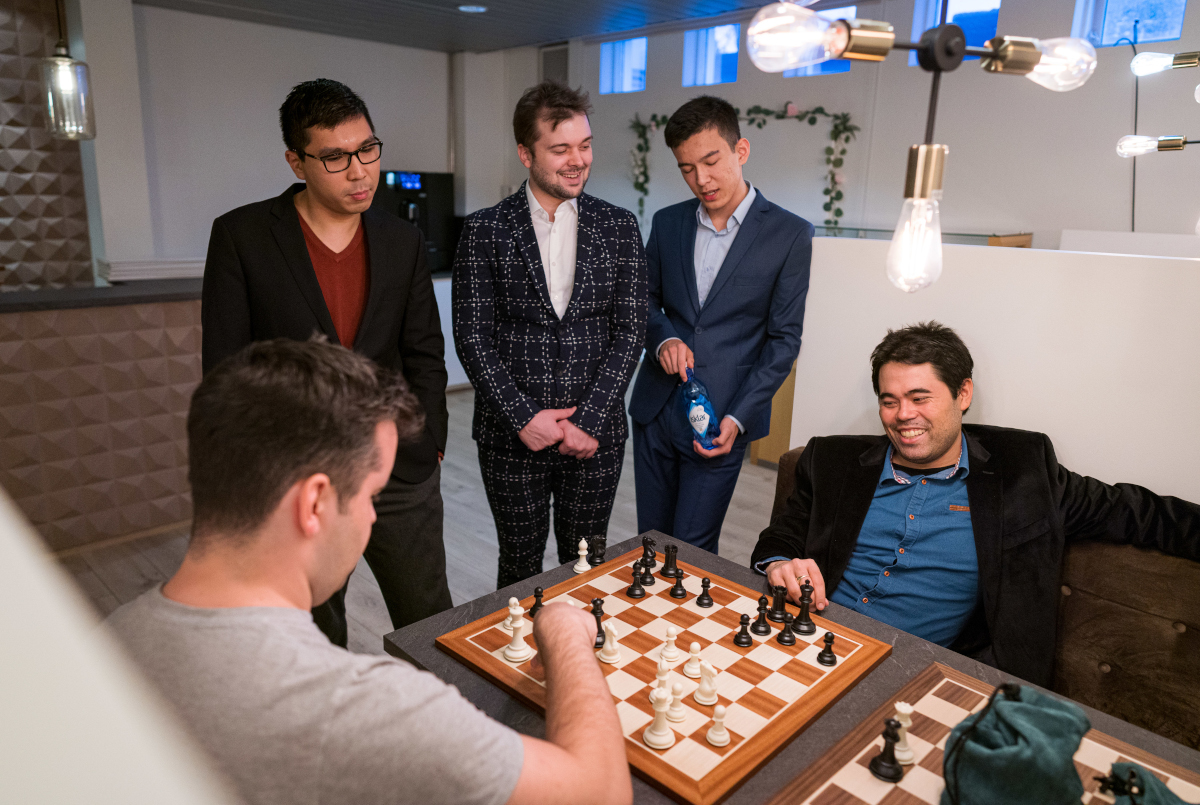 Top grandmasters enjoying themselves | Photo: Lennart Ootes
Standings after round 4 – Group B
| | | |
| --- | --- | --- |
| Player | MP | Pts |
| Magnus Carlsen | 6 | 5½ |
| Hikaru Nakamura | 6 | 5 |
| Vladimir Fedoseev | 4 | 4 |
| Matthias Bluebaum | 0 | 1½ |
All games
---

Master Class Vol.2: Mihail Tal
On this DVD Dorian Rogozenco, Mihail Marin, Oliver Reeh and Karsten Müller present the 8. World Chess Champion in video lessons: his openings, his understanding of chess strategy, his artful endgame play, and finally his immortal combinations.
---
Links