A historic setting
Fifty years after Bobby Fischer and Boris Spassky were the protagonists of an epic match for the World Championship title in Reykjavik, Iceland's capital once again became the arena for a top chess competition. Fittingly, eight strong grandmasters are battling it out in the variant invented by Fischer himself, as the six-day World Fischer Random Chess Championship kicked off on Tuesday.
Gudmundur G. Thorarinsson, President of the Icelandic Chess Federation during the legendary 1972 match, was present at the Berjaya Natura Hotel, and made the ceremonial first move in the game between Hjorvar Steinn Gretarsson and defending champion Wesley So.
Fifteen minutes before the start of each round, the players were shown the position that would be used in the coming 2-game mini-match, and they got to evaluate the setup with their seconds. And thus, the fun began.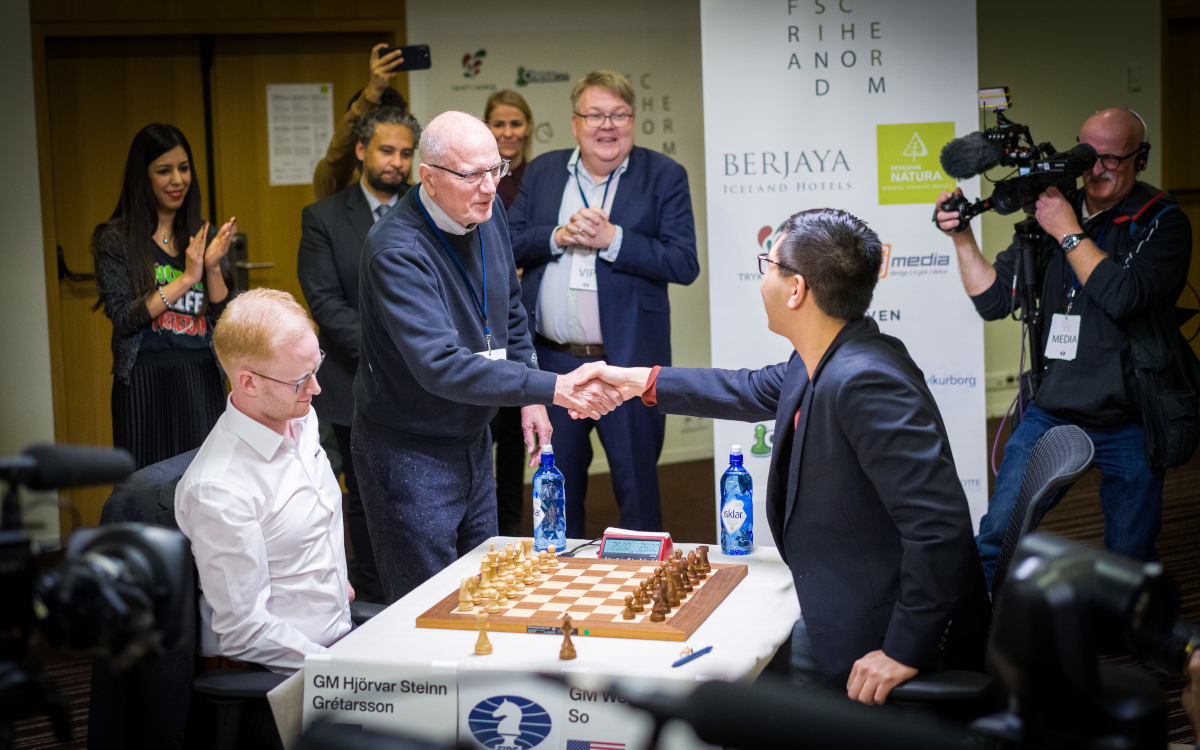 High-level chess returns to Iceland | Photo: Lennart Ootes
A piece sacrifice on move 1?
Perhaps the most striking moment from the first day of action was Magnus Carlsen's first move in his game with black against Hikaru Nakamura.
A very creative approach! Grabbing the bishop with 2.Qxa8 allows Black to gain a few tempi to develop with 2…Nf6 3.Qg7 Rg8 4.Qh6 d6. Not surprisingly, Nakamura sidestepped this line and went for 2.Bb2 instead, the best move in the position according to the engines.
The game lasted 39 moves and ended in a draw.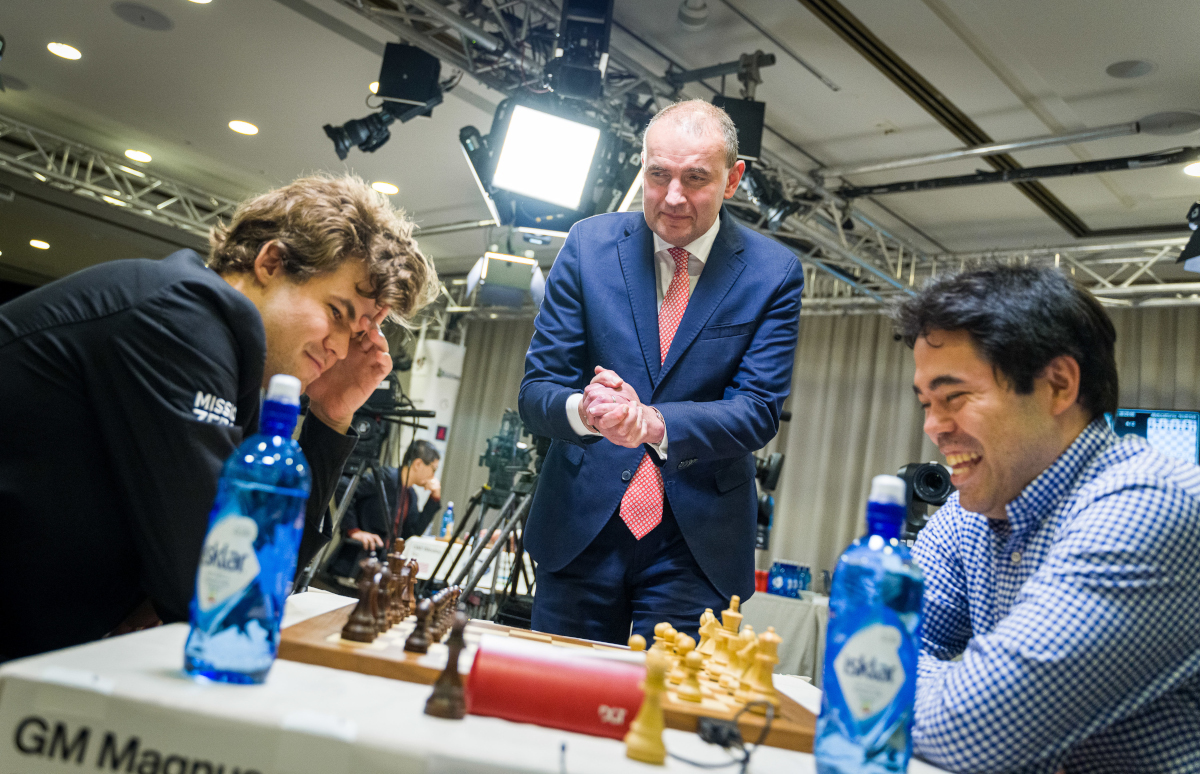 Did Nakamura know what was about to happen? | Photo: Lennart Ootes
Group A: Abdusattorov on fire
In a dream start, Nodirbek Abdusattorov scored 3½/4 against Ian Nepomniachtchi and Wesley So to grab the lead in group A. The remaining player in this group, Hjorvar Steinn Gretarsson, is a clear underdog and lost both his mini-matches on Tuesday, which goes to show how important it was for the 18-year-old to beat Nepo and So right out of the gate.
Abdusattorov defeated Nepo in brilliant style in the very first game of the tournament.
After 11…f4, the youngster did not hesitate to respond by 12.exd5, giving up a piece to open up the position against Black's vulnerable king. A magnificent attack followed, which ended with Nepo's resignation as early as on move 22.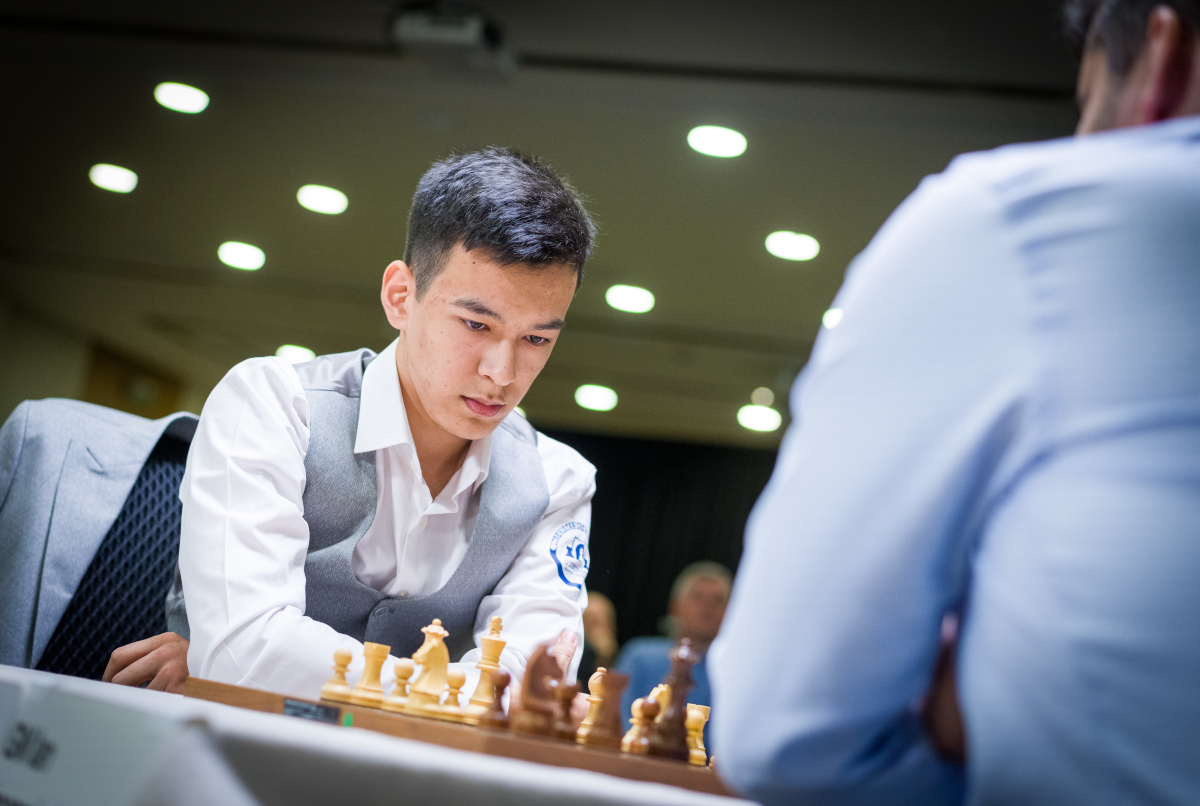 World rapid champion Nodirbek Abdusattorov | Photo: Lennart Ootes
Standings after round 2 – Group B
| | | |
| --- | --- | --- |
| Player | MP | Pts |
| Nodirbek Abdusattorov | 4 | 3½ |
| Wesley So | 2 | 2 |
| Ian Nepomniachtchi | 2 | 2 |
| Hjorvar Steinn Gretarsson | 0 | ½ |
All games
Group B: Naka beats Carlsen, leads
Nakamura did not score a win as spectacular as the one by Abdusattorov against Nepo, but nonetheless managed to end the day with a perfect 4/4 in match points. Naka got 1½-½ victories over Matthias Bluebaum and Magnus Carlsen.
Carlsen made two uncharacteristic mistakes on Tuesday. First, against Vladimir Fedoseev, he blundered an exchange in the middlegame before managing to escape with a draw (thus getting a 1½-½ over the Russian), and then he gave up a whole rook in the second game against Naka.
31.a6 allowed the simple 31…Qe4+, forking rook and king. Carlsen's idea to push the a-pawn was correct, but came a move too early. Of course, 31.f3 was the preparatory move needed to go on with that idea.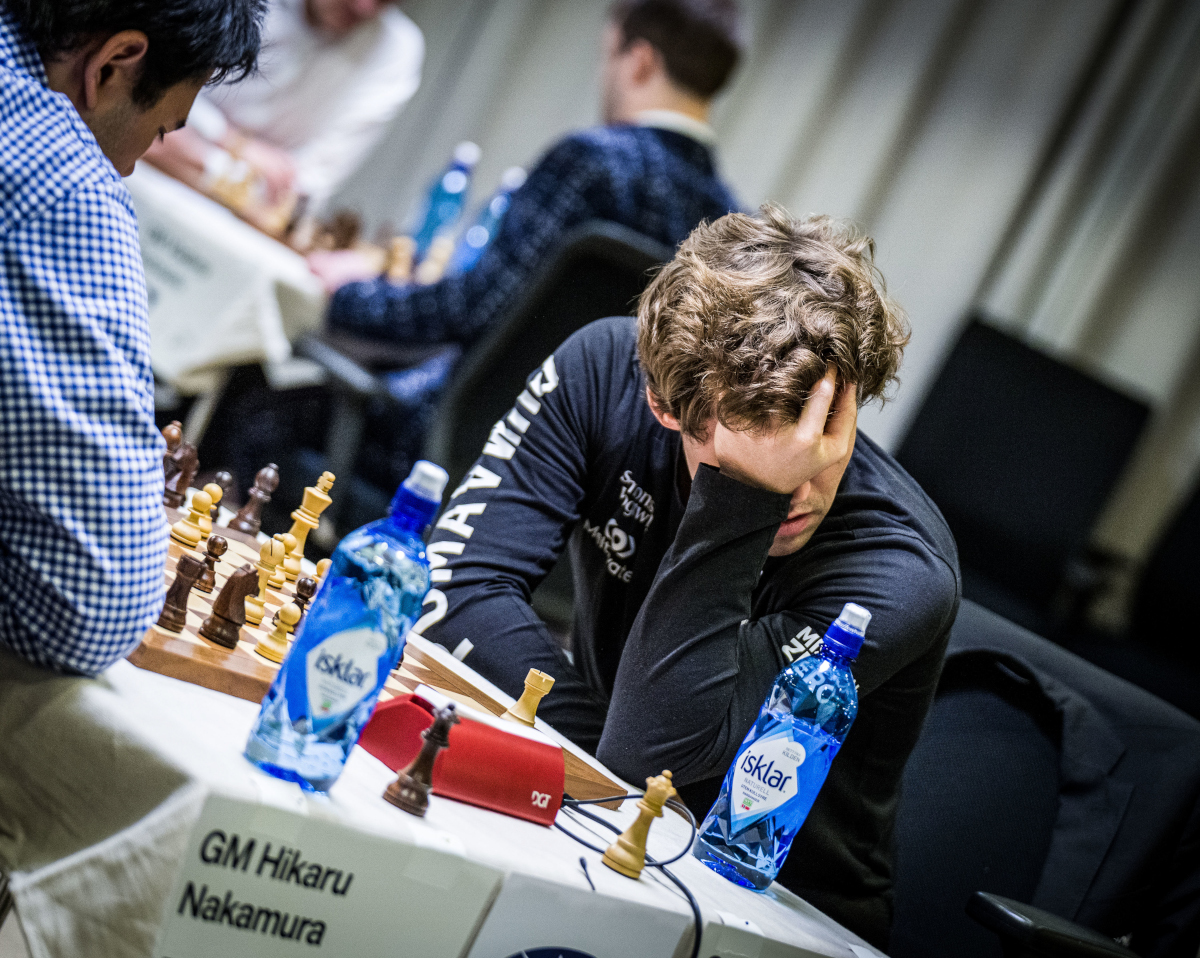 Often a slow starter — Magnus Carlsen | Photo: Lennart Ootes
Standings after round 2 – Group A
| | | |
| --- | --- | --- |
| Player | MP | Pts |
| Hikaru Nakamura | 4 | 3 |
| Magnus Carlsen | 2 | 2 |
| Vladimir Fedoseev | 2 | 2 |
| Matthias Bluebaum | 0 | 1 |
All games
---
---
Links