By Frans Peeters
The Hoogeveen Master Open comes with a new format
Last week the Hoogeveen tournament was played for the 25th time in the beautiful Town Hall of Hoogeveen. There were two matches with six games, an amateur group in the morning with seven rounds and a nine-rounds open group in the afternoon.
The first match was between Englishman Luke McShane (sometimes called the best amateur in the world) and Lucas van Foreest (Jorden's brother). Van Foreest won this match with 4-2. Lucas won all three games with white, drew two and lost one with black.
The second match was between the youngsters Max Warmerdam and Daniel Dardha (BEL), who are both reigning national champion of their countries.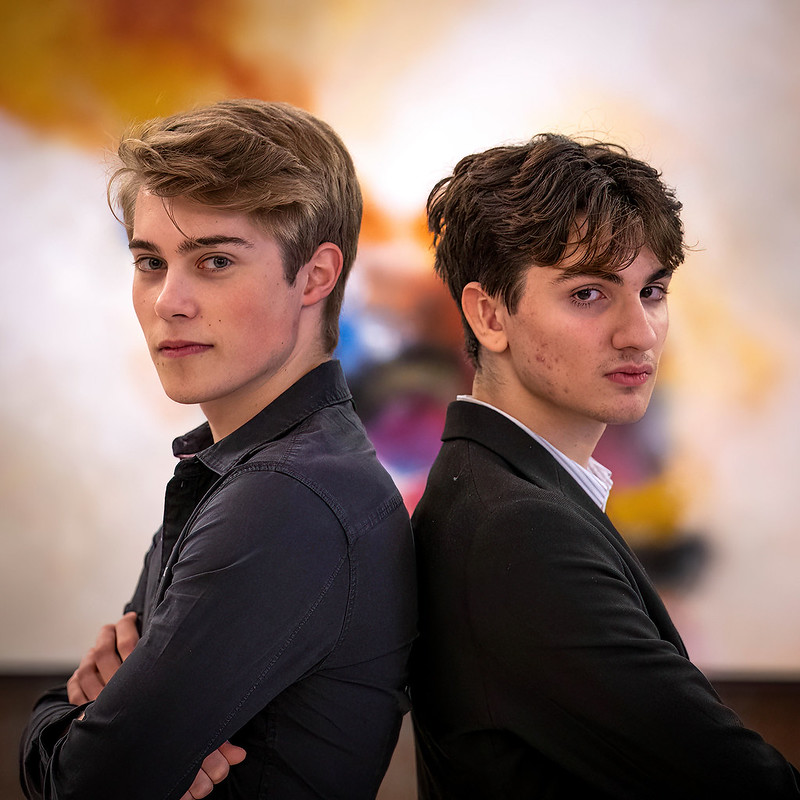 Max Warmerdam and Daniel Darda
There were four draws and they both won a game. In the tiebreak blitz games Daniel showed his streetfighting chess and he won both games.
All games of the matches
The Amateur group was for early birds: games started at nine in the morning! Amongst the 57 players there were three players from Uganda. The youngest player was born in 2014 and the oldest in 1939! ChessBase sponsored a number of Training DVDs and ChessBase Magazines for this group.
In the Open group there were 103 players in nine rounds with 21 titleholders from nine different countries. All games were broadcast live thanks to operator Fons van Hamond and DGT. DGT is known all over the world for the live boards and digital clocks they produce. Their brand new main office is quite near Hoogeveen.
Tournament Director Loek van Wely came up with the idea of playing a Final Four in the Open tournament after round seven. The best four players in the ranking after round seven play a semi-final and a final, and money-prizes are not split for the first four! The rest of the players move on to play in the Swiss tournament for money-prizes from 1000 euros for place five up to ten.
In one semi-final the Dutch IM Nico Zwirs beat 15-year-old GM Bharath Subramaniyam H from India. In the other semi-final GM Robert Hovhanissyan from Armenia drew with GM Evgeny Romanov playing under the Norwegian flag, but Robert won the tiebreak games. In the game for third place Bharath and Romanov drew and Bharath won the blitz tiebreak. Romanov had to speed back to Utrecht Station after his game to travel to Germany to play a Bundesliga game the next day.
In the final Nico had good chances to win but Robert defended superbly and the game was drawn.
Hovhannissyan, Zwirs
In the deciding blitz tiebreaks Robert won the tournament. The first prize was a nice chess-set and 2500 euros. Nico still won 1500 euros by the way. Robert's comment after the prizegiving was: "This is the first tournament in which I won and lost ratingpoints."
Robert Hovhannissyan
Final Four games
Place five was shared between GM Daniel Howard Fernandez from England and Dutch IM Thomas Beerdsen. Place seven was shared between GM Moroni from Italy, Ashwath from India and the surprisingly strong Tamer Ismail (rated 2018) from Belgium.
Machteld van Foreest won bronze at the worldchampionship last summer.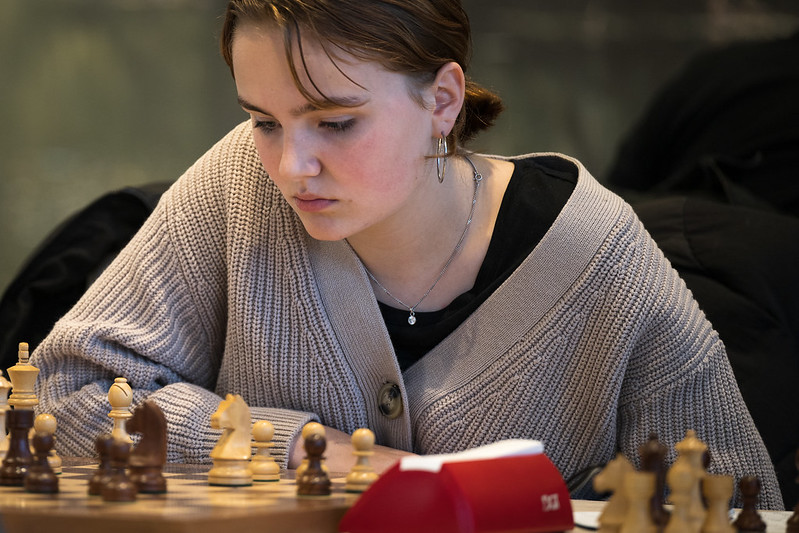 Machtheld van Foreest
She continued her strong play in the Hoogeveen Open where she won some nice category prizes (best female / third under 18 / third rating under 2200).
Special compliments to a delegation from Germany with young players from Hamburger SK von 1830!
The HSK in Hoogeveen
They were really nice and one of them scored an IM norm. Jakob Weihrauch (rated 2075) played against three GM's, two IM's and one FM and gathered six points.
Daniel Fernandez watches the game of Jakob Weihrauch
He scored an IM-norm and gained 149 ratingpoints in our tournament. Congratulations Jakob!
Standings Open after sieben/nine rounds
103 players
Games of the Master Open
Final standings Amateur Open
57 players
Games of the Amateur Open
Check out www.hoogeveenchess.nl for more information, blogs in Dutch and English from press-officer Peter Boel and a lot of photos.