World Junior Championship – Open
Before the last round, Adam Kozak from Hungary had 8.0/11 and was half a point ahead of the new World Champion Gadimbayli – and a last-round-draw would have been enough for Kozak to win the title. But the Hungarian faltered just before the finish line when he failed to save a worse but tenable ending against Leon Luke Mendonca from India. 
Results of the 11th and last round
Final standings after 11 rounds
…120 players
Games
World Junior Championship Girls
Things were much clearer in the "Girls" section where WGM Govhar Beydullayeva started with 8.5/10. And though she lost the final round, she still won the tournament on tiebreak.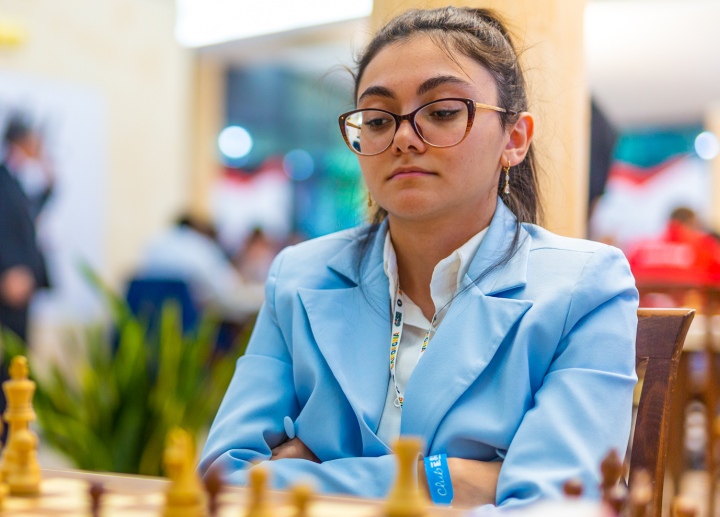 WGM Govhar Beydullayeva from Azerbaijan (born in 2003) is new World Junior Champion
Results of the 11th and final round
Final standings after 11 rounds
| | | | | | |
| --- | --- | --- | --- | --- | --- |
| 1 |   | WGM | Beydullayeva Govhar | 2356 | 8,5 |
| 2 |   | WIM | Serikbay Assel | 2181 | 8,5 |
| 3 |   | WIM | Kamalidenova Meruert | 2376 | 8 |
| 4 |   | WIM | Urh Zala | 2221 | 8 |
| 5 |   | FM | Jarocka Liwia | 2089 | 8 |
| 6 |   | FM | Kurmangaliyeva Liya | 2199 | 8 |
| 7 |   | FM | Schulze Lara | 2266 | 7,5 |
| 8 |   | IM | Salimova Nurgyul | 2415 | 7 |
| 9 |   |   | Hrebenshchykova Yelyzaveta | 2268 | 7 |
| 10 |   | WFM | Hajiyeva Laman | 2138 | 7 |
| 11 |   | WFM | Rudzinska Michalina | 2259 | 7 |
| 12 |   | WIM | Mkrtchyan Mariam | 2374 | 6,5 |
| 13 |   | WGM | Ouellet Maili-Jade | 2177 | 6,5 |
| 14 |   | WGM | Schneider Jana | 2331 | 6,5 |
| 15 |   | WIM | Nurgali Nazerke | 2169 | 6,5 |
| 16 |   | WIM | Kanyamarala Trisha | 2174 | 6,5 |
| 17 |   | WFM | Altantuya Boldbaatar | 2223 | 6,5 |
| 18 |   | WFM | Vanduyfhuys Daria | 2073 | 6,5 |
| 19 |   | FM | Goltseva Ekaterina | 2300 | 6 |
| 20 |   | FM | Malicka Maria | 2327 | 6 |
| 21 |   |   | Bucur Denisa-Andreea | 1946 | 6 |
| 22 |   | WFM | Kucharska Honorata | 2179 | 6 |
| 23 |   |   | Koubova Anna Marie | 2089 | 6 |
| 24 |   | WFM | Bashylina Luisa | 2073 | 6 |
| 25 |   |   | Aubert Estee | 2019 | 6 |
| 26 |   |   | Pipia Ekaterine | 1926 | 6 |
| 27 |   | WIM | Gomez Barrera Javiera Belen | 2219 | 6 |
| 28 |   | WFM | Aydin Gulenay | 2109 | 6 |
| 29 |   |   | Cassi Elisa | 1965 | 6 |
| 30 |   |   | Walter Ema | 2062 | 5,5 |
| 31 |   | WFM | Gombocz Zsofia | 2118 | 5,5 |
| 32 |   |   | Malikova Marjona | 1830 | 5,5 |
| 33 |   |   | Sebastian Mhage Gerriahlou | 1865 | 5,5 |
| 34 |   | WFM | Levitan Ronit | 2024 | 5,5 |
| 35 |   |   | Ruiz Villalba Andrea | 1764 | 5,5 |
| 36 |   |   | Norlamo Sarabella | 1946 | 5,5 |
… 66 participants
Games
Links