Gukesh and Arjun ahead of Carlsen
Five Indian players were invited to the Aimchess Rapid online tournament — the remaining eleven players represent eleven different countries. Out of the five Indians, three reached the knockout. Gukesh Dommaraju and Arjun Erigaisi both defeated Magnus Carlsen for the first time in their careers and finished the single round-robin ahead of the world champion (second and fourth, respectively). Meanwhile, Vidit Gujrathi barely made it through and is set to face prelims winner Jan-Krzysztof Duda in the quarterfinals.
Duda finished the preliminary stage with 28 (out of 45) points despite suffering three losses, two of which came on Monday. The Polish star stands in second place in the overall tour rankings, behind Carlsen. Duda was the runner-up in the Charity Cup and won the first Major of this year's tour, the Oslo Esports Cup.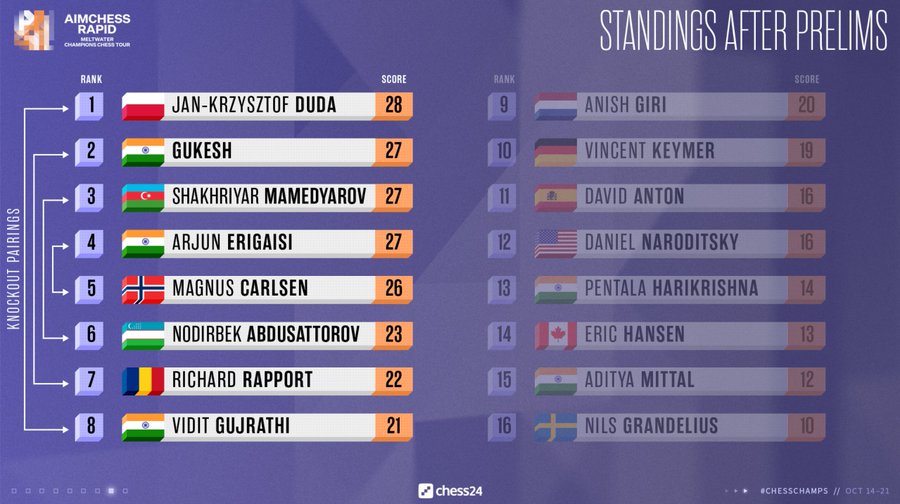 In Tuesday's quarterfinals, Duda will face eighth-placed Vidit. Going into the last round of the prelims, the Indian stood two points behind Anish Giri, and only a combination of him winning and Giri losing would allow him to get the coveted final spot (Giri only needed a draw, since he had beat Vidit in their direct encounter). And that is exactly what transpired.
Playing black, Giri had a better position against Arjun, but he failed to find the precise way forward in the following position.
In this materially imbalanced position — with kings on opposite flanks to boot — the one move that retains Black's advantage is 30…Qg6+. Of course, figuring out why this check is better than Giri's 30…Bf5+ is a tough ask in a high-stakes rapid game. 
The queen check is better due to 30…Qg6+ 31.Ka1 a4 (the bishop supports the pawn push) 32.Nxb4 axb3 33.a3, and the white king is permanently boxed in the corner.
Instead, after the text move, White got a few tempi to rearrange his pieces, with his coordinated army proving too much to handle for Black's queen, bishop and rook. Giri soon found himself in an inferior position and had to resign on move 38. 
Arjun's win not only helped his compatriot to reach the knockout — Vidit got a rather quick win over David Anton — but set up a rematch against Carlsen in the quarterfinals. The world champion convincingly defeated Arjun in the final match of the Generation Cup, while the Indian beat his famed opponent in this tournament's round 7, just two days ago.
As for Vidit, he was clearly not expecting to remain in competition after the prelims.
The two other quarterfinal matches will see Gukesh facing Richard Rapport and Nodirbek Abdusattorov playing against an in-form Shakhriyar Mamedyarov.
---
Final standings (win = 3 pts; draw = 1 pt)
---
All games
---
---
Links