Shakh keeps it fun
The penultimate event — and the last 'regular' tournament — of the 2022 Meltwater Champions Chess Tour is taking place on October 14-21. A mix of elite grandmasters, rising stars and well-known streamers are fighting for $150,000 and a chance to make it into the last 'major' of the year, set to kick off next month in San Francisco, United States.
Four rounds of rapid chess were played on the first day of action and, fittingly, the current world rapid champion grabbed the sole lead after scoring three consecutive wins and ending the day with a draw. Nodirbek Abdusattorov, who was only 17 years old when he won the World Rapid Championship in Warsaw last year, recently led the Uzbek team that grabbed gold medals at the Chennai Olympiad.
A pragmatic youngster, Abdusattorov later said:
I just want to play some interesting games, to see what I can learn from them. Today was a very good day obviously.
The sole leader collected three wins and a draw for a 10/12 score (wins are worth 3 points; draws are worth 1 point), and stands a whole three points ahead of his closest chasers: Magnus Carlsen, Jan-Krzysztof Duda and Shakhriyar Mamedyarov.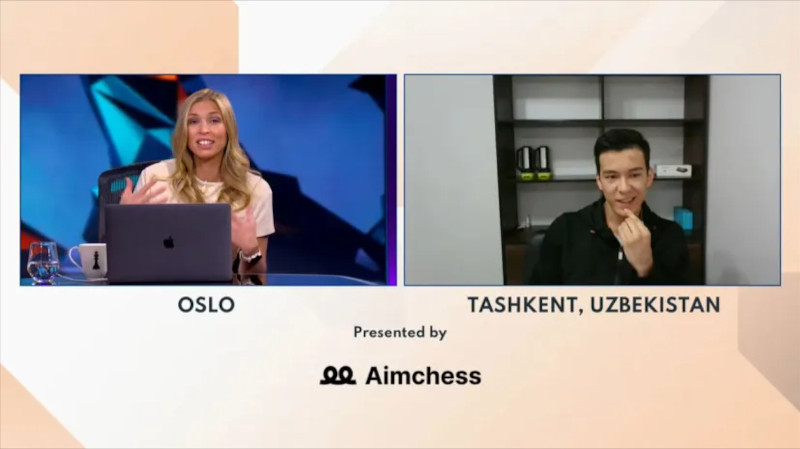 Nodirbek Adusattorov chatting with Kaja Snare from Tashkent, the capital and largest city of Uzbekistan
Mamedyarov beat Carlsen in the first round, lost to Duda in the second, and then obtained a remarkable win over Anish Giri in the third.
Instead of 15…Bf6, Giri should have looked for counterplay with 15…Qb6, since after the text White can immediately create attacking chances on the kingside with the exchange sacrifice 16.Rxg4 fxg4 17.Qxg4
There followed 17…b5, finally creating something on the queenside (perhaps the reason why Giri rejected placing his queen on b6 earlier), 18.Bxh6 Qb7 19.0-0-0 a5
Getting rid of the central white knight with 19…Bxe5 was a better defensive try in the previous move. After the text, on the other hand, White gets to sacrifice yet more material to deflect the queen from her defensive post on the seventh rank — 20.Nxb5 Qxb5 21.Bxg7 Bxg7 22.h6, and there is no stopping the kingside offensive.
Black is lost here, but Giri continued playing, allowing Mamedyarov to show one more sacrifice to further increase the power of his attack. After 22…Ra7 23.Rh1 Rxf2 24.h7+ Kf8…
…there came 25.Qxg7+ Rxg7 26.h8Q+, and Giri resigned four moves later.
Commentator Tania Sachdev called this game "not the game of the tournament, [but] the game of the Champions Chess Tour".
Standings after round 4 (win = 3 pts; draw = 1 pt)
All games
---
---
Links