In the first part of the interview, Ramirez mainly talks about his chess career – how he became Costa Rica's first grandmaster, how difficult it was in Costa Rica to participate in tournaments, to play against grandmasters or even to meet them. But Ramirez still had a stellar chess career. At 13, he won the sub-zonal tournament in Managua in 2001 and automatically became an IM. However, at that time he had not yet played against a single grandmaster.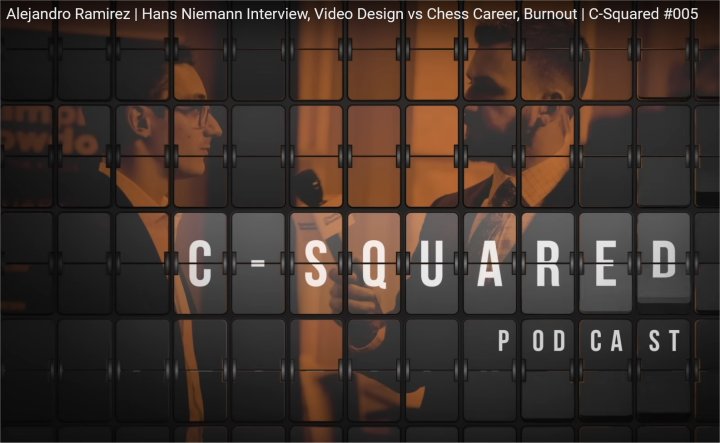 But in the first round of the Chess Olympiad in Bled 2002 Ramirez finally played against a grandmaster. Costa Rica had to play against Russia and Ramirez had White against Alexander Morozevich, who at that time was one of the world's best players whose original and creative play again and again fascinated the public.
Against Ramirez he also played creatively and put a lot of pressure on his young opponent, but did not find a way to overcome White's stubborn defence. In the end Ramirez even missed a win.
In 2004, Ramirez became a grandmaster himself at the age of 15. However, he only decided to pursue a career in chess after successfully completing a degree in "Video Game Design" at the University of Texas at Dallas.
As a professional player, Ramirez won a number of prestigious tournaments and as a second he was part of Caruana's team for the 2018 World Championship match between Fabiano Caruana and Magnus Carlsen. As a coach, Ramirez oversees the successful Saint Louis University team and as a popular and eloquent commentator, he regularly covers top tournaments, especially in Saint Louis.
He was also a commentator at the 2022 Sinquefield Cup and experienced first-hand the drama that ensued when Magnus Carlsen pulled out of the tournament after losing to Hans Niemann in round three, and then indirectly accused Niemann of cheating with his subsequent "Mourinho tweet".
Ramirez interviewed players at Sinquefield after their games, and it was he who interviewed Niemann after his win against Carlsen and after his game against Alireza Firouzja. And when Ramirez interviewed Niemann after his game against Leinier Dominguez Niemann made his now famous statement, in which he admitted to using computer help in online games at the age of 12 and 16 but claimed he had never cheated since – a statement that clashes with the "Hans Niemann" report published by chess.com early October. In this report, chess.com claims that Hans Niemann "likely received illegal assistance in more than 100 online games, as recently as 2020", including in many tournaments with prize money on the line.
Alejandro Ramirez interviews Hans Niemann after Niemann won against Carlsen
Alejandro Ramirez interviews Hans Niemann after Niemann played against Alireza Firouzja
Alejandro Ramirez interviews Hans Niemann after Niemann drew against Leinier Dominguez
Thus, the main part of the conversation between Ramirez, Chirila and Caruana also revolved around the Hans Niemann case.
Ramirez described how and why Niemann had been invited to the Sinquefield Cup, talked about the impact of the cheating allegations on the chess world and the organisation of chess tournaments, and the difficulties of proving computer assistance in online and live chess.
He also spoke about the damage caused by allegations of cheating: "Assume that [Hans] is innocent. The amount of damage done is incredible."
But when Chirila finally asked directly where Ramirez stood on the allegations against Niemann, Ramirez said:
"The circumstantial evidence that has gathered against Hans seems – specifically on him having cheated over-the-board – so strong that it's very difficult for me to ignore it. … From my own experience and my own expertise for these things, it does seem very likely he has cheated over the board. … Am I sure of this? No, I am definitely not sure of this. …
[But] the thing about Hans is that his improvement seems strange. … It's strange and it is something worth looking into. And hopefully we find useful tools that will help us in the future to determine better whether a player is playing like a human or not.
Now, when it comes to Hans specifically … there's a part of me that wants Hans to be innocent. That wants to believe that this guy is a good chess player … that he played one really good game of chess, or maybe three or four, and now he is put into this shitstorm.
It seems unlikely. His meteoric rise, then beating Magnus with Black the way that he beat him. It is unlikely. I want it to be the truth. I want it to be the fairy-tale story. But can you really believe the fairy-tale?"
The C-Squared podcast with Alejandro Ramirez
Timestamp
0:00 – Intro
0:43 – Chess beginnings
9:56 – Limited opportunities for Costa Rican players
11:00 – Youth tournaments
14:05 – Federations with limited resources
20:46 – Worldwide online resources
21:19 – Growth from losses against good players
22:32 – Going to the U.S.
24:39 – University of Texas at Dallas
25:25 – Disillusioned and burned out
27:40 – A Master's Degree in Video Game Design
30:50 – Paying the bills after college
32:12 – 2013 U.S. Championship
34:11 – "I don't have a rating, I have a name."
34:59 – Salsa Lizano
39:44 – Hans Niemann
45:47 – How much evidence is enough evidence?
48:35 – Cheaters try to hide
50:55 – False positives
53:25 – Proof and punishment
56:00 – Moving forward
59:54 – Hans' post-mortem interviews
1:15:55 – Where does Alejandro stand?
1:21:06 – Chapulina the owl
1:22:47 – A goodnight kiss for the homies
Links