Vidit on 4 out of 4
All five Indian players rated 2700 or above are playing at the European Club Cup in Mayrhofen. Coincidentally, all their games on Thursday finished decisively, with two wins and three losses for "team India". While Vishy Anand (Superbet) scored his first win of the event by beating Shakhriyar Mamedyarov (Viernheim), Vidit Gujrathi (Novy Bor) grabbed his fourth consecutive victory in Austria, as he crucially defeated Aryan Tari (Offerspill) to help his team take the sole lead in the standings.
The youngest of the group, Arjun Erigaisi (Ljubljana) and Gukesh Dommaraju (Superbet), both lost for the first time in the event. Gukesh was defeated by Sergey Fedorchuk (Viernheim), who, like Vidit, is also on 4/4 — the Ukrainian's Tournament Performance Rating is only a bit lower than Vidit's.
Since Pentala Harikrishna lost to Offerspill's Magnus Carlsen board 1, Vidit's win on the second board was not enough to give Novy Bor overall victory. Markus Ragger, the number one player from Austria, also scored a full point for the Czech squad, as he defeated Johannes Haug on the sixth board.
Draws in the matches Superbet vs Viernheim and Silla Valencia vs Ljubljana left Novy Bor in the sole lead. In round 5, the leaders will face Superbet, the favourites in Mayrhofen.
Novy Bor (Harikrishna, Vidit) – Superbet (Anand, Rapport)
Clichy (Maghsoodloo, Van Foreest) – Asnieres (Vachier-Lagrave, Esipenko)
Ljubljana (Arjun, Saric) – Viernheim (Mamedyarov, Kryvoruchko)
Silla Valencia (Korobov, Santos) – Offerspill (Carlsen, Tari)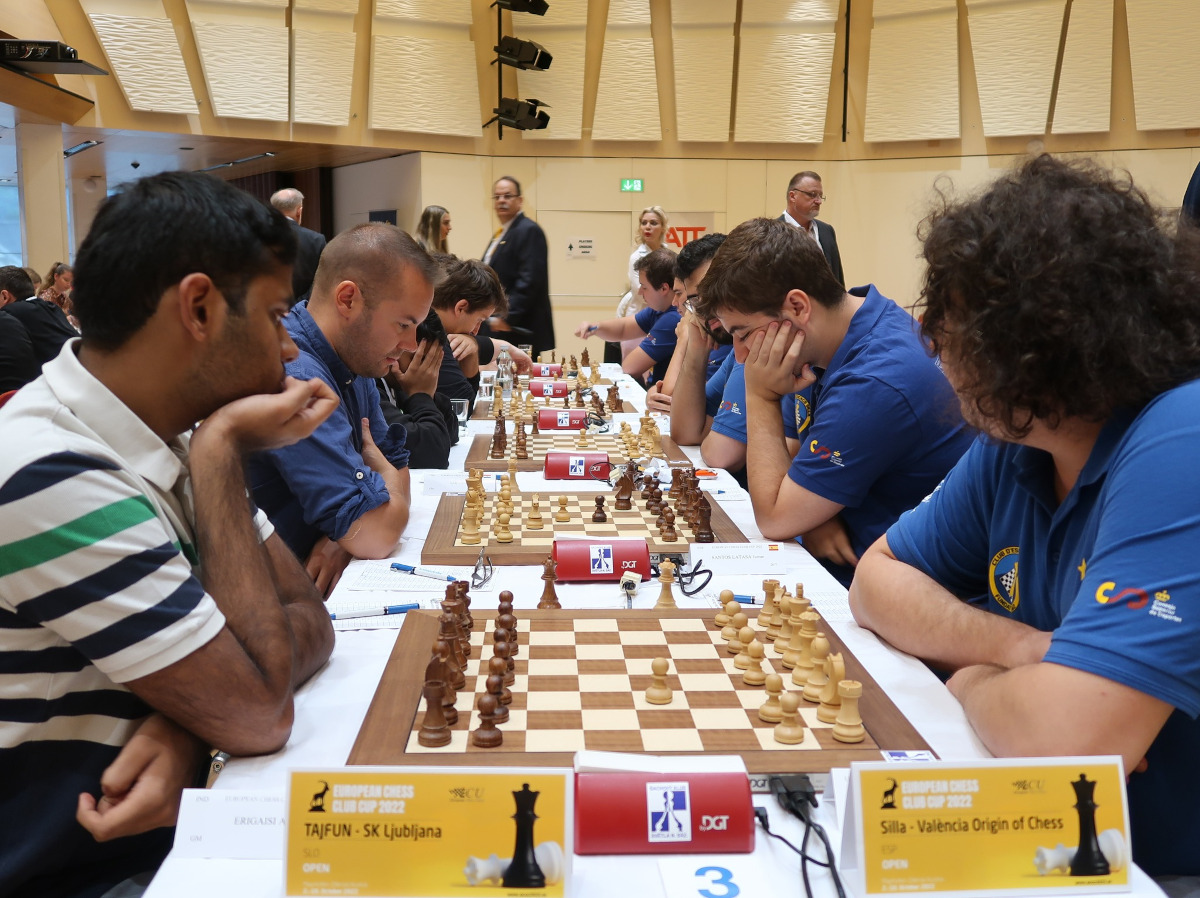 Ljubljana facing Silla Valencia, with Anton Korobov's 1.c4 already on the board in his game against Indian prodigy Arjun Erigaisi
Ragger only needed 29 moves to beat Haug. The Austrian gave up two pawns before reaching this position, in which White's attack looks scary — but is not indefensible.
24…Kb8 is Black's best alternative here, albeit it is tough to voluntarily give way to 25.Rxc7. Also, note that in many lines Ra1 is a dangerous threat — however, after 24…Kb8, for example, an immediate 25.Ra1 does not work due to 25…d3, when Black gets the upper hand!
Haug, whose clock was ticking down dangerously already, spent seven minutes before playing 24…c5. Ragger had apparently foreseen this move, as he quickly replied by 25.bxc6 d3 26.Qxd3, well aware of the fact that after 26…Qxb2 27.Rc2 the threat of a queen infiltration via a6 is too much to handle for Black. 
Black allowed his opponent to show mate on the board — 27…Qxc2 28.Qa6+ Kc7 29.Qb7#
Standings after round 4
All available games
Superbet and Pamhagen continue to share the lead
After winning their round-3 matches against strong opposition, Superbet and Pamhagen kept their perfect scores and their spots as co-leaders in the women's event. The teams from Romania and Austria were thus paired up against each other on Thursday. Wins by Irina Bulmaga (Superbet) and Aleksandra Maltsevskaya (Pamhagen) led to a 2-2 final score, as the remaining two encounters finished drawn.
Remarkably, Pamhagen's Maltsevskaya has won all four of her games so far in the tournament, and is the only player in the women's cup (with more than two games played) that has kept a perfect score. It should be noted that Maltsevskaya hails from Poland — she seems to be following the steps of her compatriot Oliwia Kiolbasa, who impressed in the Olympiad by winning nine games in a row for her national team!
Two chasing teams scored wins in round 4 and now stand a single point behind the leaders: Gwiazda Bydgoszcz from Poland and Wood Green from England. The Polish squad will try to take down one of the leading teams in Friday's fifth round, while the English team will face the rating favourites on board 3:
Gwiazda Bydgoszcz (Kashlinskaya, Kiolbasa) – Superbet (Bulmaga, Saduakassova)
Erste Bank Baden (Salimova, Roebers) – Pamhagen (Danielian, Ushenina)
Monte-Carlo (Anna Muzychuk, Stefanova) – Wood Green (Sukandar, Houska)
Focused — the first moves of the match Superbet v Pamhagen have already been played
Following her subpar performance at the Women's Grand Prix in Astana, Alina Kashlinskaya kicked off the European Club Cup with a loss and a draw. The resilient IM, who recently transferred from Russia to Poland, bounced back with consecutive wins in rounds 3 and 4 though. On Thursday, she got to play a nice final move to beat rising star Gunay Mammadzada with the black pieces.
41…Be3 prompted the Azerbaijani's resignation. Black's queen will infiltrate White's camp and will take advantage of the king's vulnerable position in the centre of the board.
Standings after round 4
All available games
Links