Goryachkina beats Zhu
Rating favourites Aleksandra Goryachkina and Kateryna Lagno are the only two players who remain undefeated at the Women's Grand Prix in Astana. Each of them has scored four wins and four draws so far in the event. Lagno did not have a stellar start, but collected three wins in a row in the last three rounds to catch her young compatriot in the standings.
Going into round 8, Goryachkina and Lango were sharing the lead with 19-year-old Zhu Jiner. In a crucial confrontation, Goryachkina defeated the Chinese youngster with the white pieces. Zhu is now in sole third place, a full point behind the Russian duo.
In a theoretical opening battle, Goryachkina deviated on move 11 from the line seen in Niemann vs Mamedyarov from the Sinquefield Cup.
Niemann had gone for 11.0-0-0, while Goryachkina opted for the less popular 11.Be2. This was an important decision insofar Zhu was apparently surprised, since she spent 25 minutes before replying by 11…d6, which was still theory.
The queens soon left the board, and Zhu managed to keep the balance as her opponent had a slight initiative with her central passed pawn and better development. 
On move 24, however, the Chinese faltered in a seemingly innocuous position.
Black needed to be cautious here, since many transitions into rook endgames favoured White with her advanced passed pawn — in fact, 25…Rf8 was the only move that would have kept the struggle going. Zhu's 25…Bd7, on the other hand, immediately leaves Black in trouble after 26.Bxd7 Rxd7 27.Rc7.
Goryachkina converted her advantage without much hassle, showcasing her experience to get an all-important full point against her younger opponent.
Aleksandra Goryachkina is the top seed in Astana | Photo: FIDE / Anna Shtourman
Meanwhile, Lagno got the better of Elisabeth Paehtz, also with white. Paehtz's compatriot Dinara Wagner had also lost to Lagno on Saturday, and managed to bounce back with a remarkable win over Alina Kashlinskaya with the black pieces.
Wagner brilliantly coordinated her minor pieces to put an end to the game.
Great piece play by Wagner led to this completely winning position. The threat of 54.Nf5+ plus the presence of connected passers on the queenside prompted Kashlinskaya's resignation.
Dinara Wagner beat Alina Kashlinskaya with white | Photo: FIDE / Anna Shtourman
Wagner is one of four players with a -1 score in the tournament table. Joining her on 3½/8, among others, is Tan Zhongyi, who found a nice sacrifice to make the most of her advantage against Bibisara Assaubayeva.
35…Rxe3 36.fxe3 f2, and after 37.Bd2 Bxh3 Black's passers on the f and h-files are stronger than White's extra rook. Assaubayeva resigned two moves later.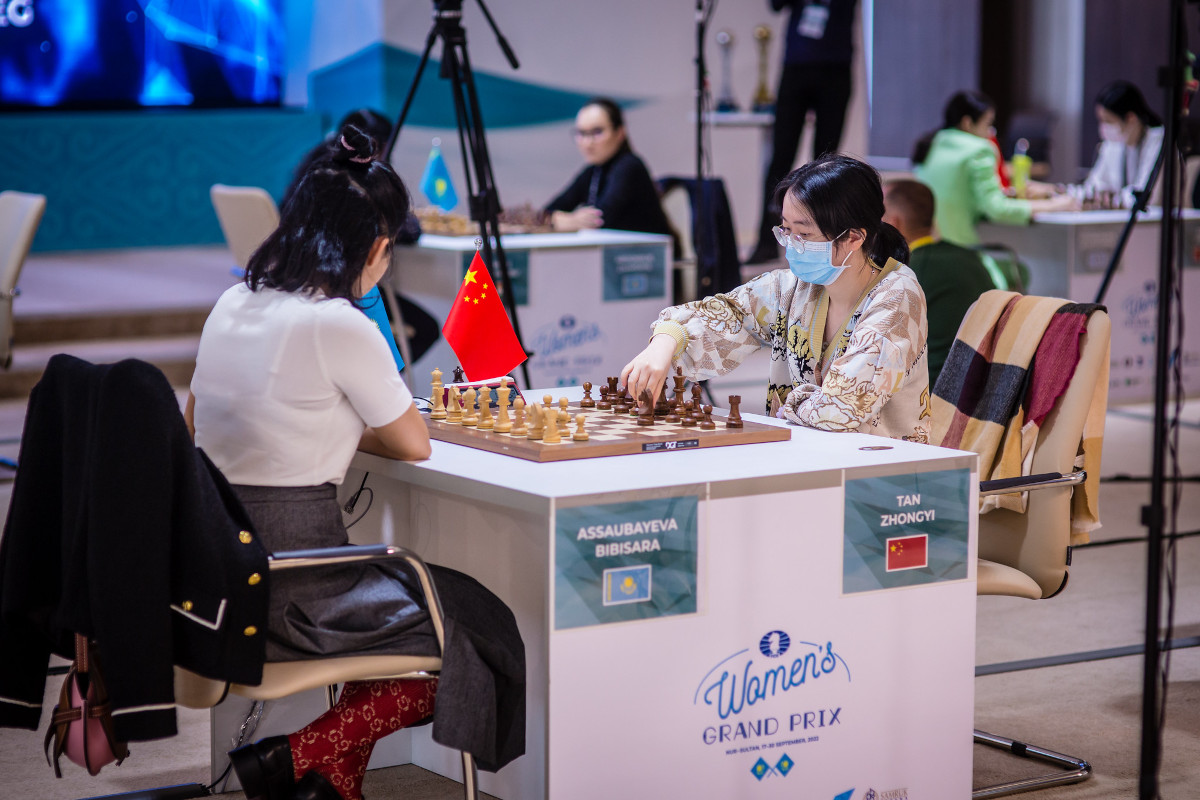 Tan Zhongyi playing black against Bibisara Assaubayeva | Photo: FIDE / Anna Shtourman
Standings after round 8
All games
Links