Plenty of action
Only 8 out of the 32 games played on the first day of action at the Generation Cup finished drawn. And the wins were not quite evenly distributed, as six players stand at least three points above the players placed at the bottom of the tournament table. After four rounds, a few of the participants already need to consider using an aggressive approach on day 2, as they need to quickly rack up points if they want to join the fight for a spot in the knockout.
Topping the standings is perennial favourite Magnus Carlsen, who collected three wins and a draw for a 10/12 score. Winning the preliminaries will not be an easy task for the Norwegian, though, as no fewer than four players stand a point behind. Three youngsters and a veteran make up the chasing group, with Indian stars Praggnanandhaa and Arjun joined by Hans Niemann and Vasyl Ivanchuk.
Ivanchuk kicked off the day with a loss against Pragg, and then grabbed three wins in a row, including back-to-back victories over elite grandmasters Anish Giri and Jan-Krzysztof Duda. The Ukrainian legend was interviewed afterwards, and candidly shared his desire to see the war in his country ending as soon as possible. Ivanchuk elaborated:
I hope the war will finish as soon as possible. I don't want to know that people I know are killed. I hope people can think logically, they need to do something to stop this nightmare. Young people are killed for nothing.
After the first day of action, the organizers put together a nice compilation of the players' expressions during the online games.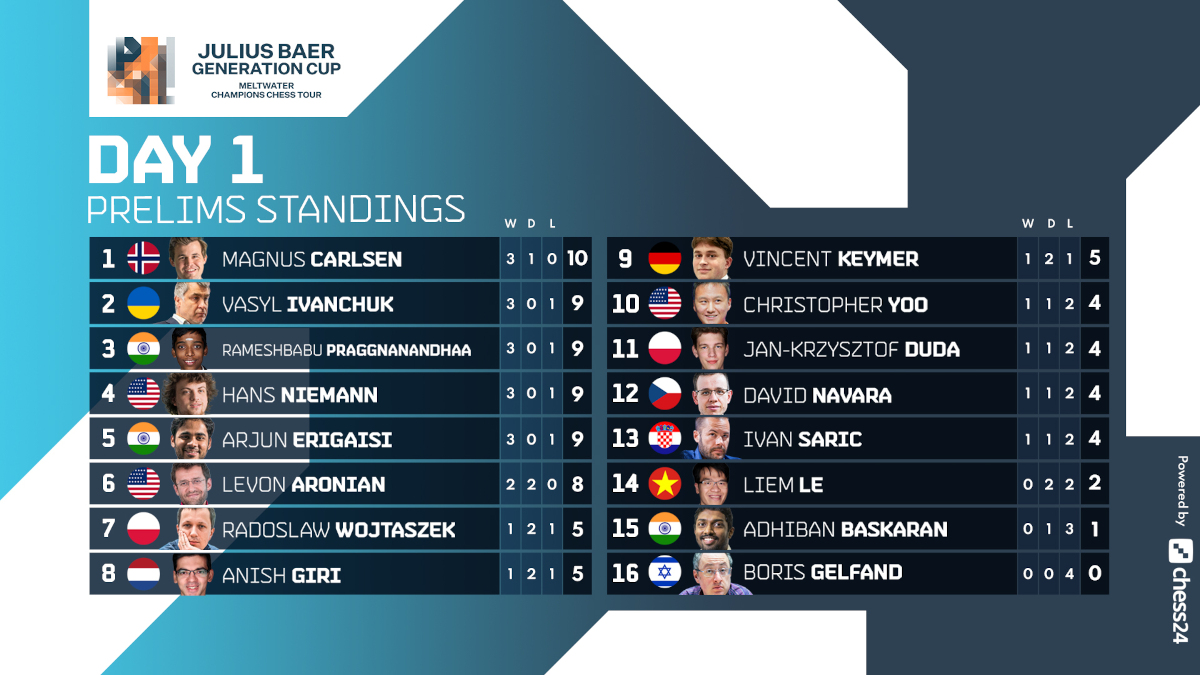 It was not all smooth sailing for Ivanchuk on Sunday, as he started the day with a disappointing loss against Pragg. The Ukrainian blundered twice from a winning position to end up losing against his (much) younger opponent.
With the safer king and the pair of bishops, White is clearly in the driver's seat here. At this point, it was time to materialize the positional edge into a more tangible advantage, with the pawn on g5 clearly a goner for Black. The natural 33.Bxg5 is winning, while Ivanchuk's 33.Rxg5 is too much of a finesse — Pragg quickly replied by 33…Nxg5 34.Bc4+ Ne6 and White's attack had run out of steam.
Engines show zeros now, but it is Black who has the material advantage going forward. Ivanchuk perhaps entered this line thinking that he was nonetheless winning with the bishop pair, and continued pushing forward with 35.d5, which in fact leaves him in a losing position after 35…Qxc4 36.dxe6+ Qxe6. Pragg did not falter once the tables had turned and got the win two moves later.
Commentator Peter Leko, after describing what had happened to Ivanchuk as "the most horrible feeling", showed concern for his long-time colleague:
Now I am really worried for Ivanchuk, how will he recover from this?
As we know now, the 53-year-old more than managed to recover, as he defeated Ivan Saric, Giri and Duda in the next three rounds. A resilient Ukrainian indeed!
In another battle of generations from the first round, Boris Gelfand blundered on move 20 and had to resign immediately afterwards in his game with white against Hans Niemann.
After 19…e5, the one move that keeps the game going is 20.Bxe5. The problem with 20.Bg5, as played by Gelfand, is that Black then has 20…Rc2, winning a piece by force.
The white queen can only escape the attack with 21.Qc1, and after 21…Rxe2 with a discovered attack, the f3-knight has lost one of its defenders and is bound to fall on the next move. Gelfand resigned after the rook infiltrated on c2.
Had White captured on e5 on the first diagrammed position, 20…Rc2 would have been ineffective due to 21.Qxd4.
---
Crosstable – Preliminaries (win = 3 pts; draw = 1 pt)
---
All games
---
---
Links