Two new leaders
Ian Nepomniachtchi started the Champions Showdown tournament at the Saint Louis Chess Club with three wins in a row, but could not keep up the pace on the second day of action. Nepomniachtchi managed to continue his streak against Fabiano Caruana, as he was leading the field with 4 out of 4, but then the streak ended abruptly with losses to Alireza Firouzja and Shakhriyar Mamedyarov.
Firouzja had collected two points on the first day with a win and two draws, and started the third day with a win over Garry Kasparov. In round five, the world's strongest junior followed that up with a win against Nepomniachtchi. The day ended for the French grandmaster with a draw against Leinier Dominguez.
Even more successful than Firouzja on day 2 was Mamedyarov. The Azerbaijani started the second day with a win over Wesley So and then defeated Garry Kasparov in the fifth round. He closed the day with another win over Ian Nepomniachtchi. On the first day, Shakh had scored 1½ points. The 3 points he collected on the second day of play leave Mamedyarov with 4½ points, in the shared lead.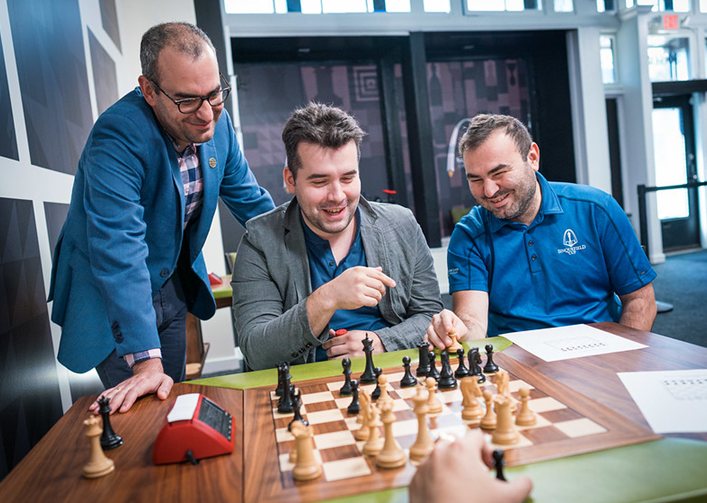 Leinier Dominguez, Ian Nepomniachtchi and Shakhriyar Mamedyarov | Photo: Lennart Ootes
Peter Svidler and Kasparov did not collect any points on the first day of the tournament. Svidler then scored his first (half) point in round four with a draw against Levon Aronian. After a loss to Hikaru Nakamura, Svidler celebrated his first win in the sixth round, when he managed to defeat former World Championship challenger Caruana.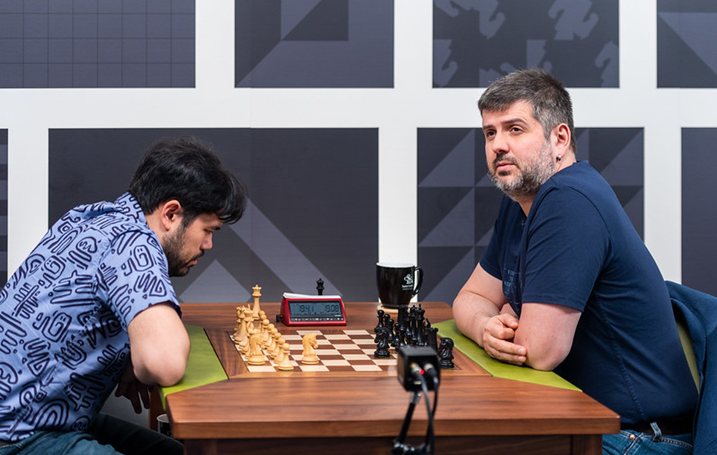 Hikaru Nakamura and Peter Svidler | Photo: Crystal Fuller
Kasparov, on the other hand, again suffered three defeats on the second day. The 13th World Champion lost to Firouzja, Mamedyarov and Wesley So.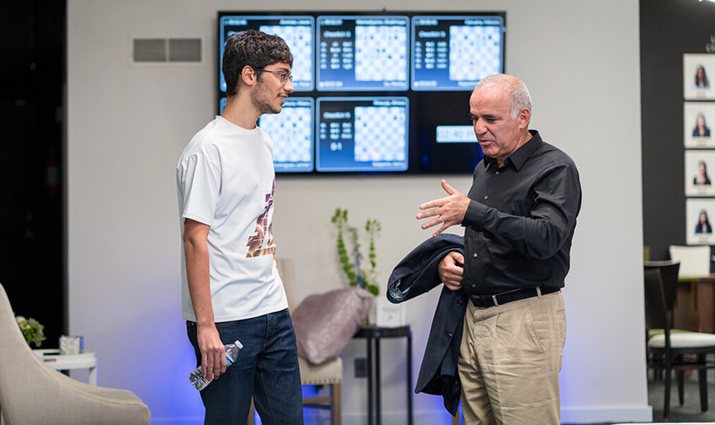 Alireza Firouzja and Garry Kasparov | Photo: Lennart Ootes
Endgame analysis by GM Karsten Müller – Do not rush!
Chess 9LX – Standings after round 6
All games
---

Master Class Vol.7: Garry Kasparov
On this DVD a team of experts gets to the bottom of Kasparov's play. In over 8 hours of video running time the authors Rogozenko, Marin, Reeh and Müller cast light on four important aspects of Kasparov's play: opening, strategy, tactics and endgame.
---
Links