Interview mit WGM Jennifer Shahade
In an exclusive interview with Tatiana Flores, two-time U.S. Women's Chess Champion, poker player and author, WGM Jennifer Shahade talks about the ideas behind her newest book Chess Queens, shares her thoughts on the current position of women's chess at a global level and on the stories of the female champions she portrays in Chess Queens. Furthermore, she reveals thrilling insights into its writing process.
Shahade became the first female to win the US Junior Open in 1998 and is now a two-time U.S. Women's Chess Champion, author, speaker and poker pro. As the author of Chess Bitch, Chess Queens and Play Like a Girl, along with her work with US Chess Women, as a board member of the World Chess Hall of Fame and the director of the US Chess Women Program, she aims to make chess more inclusive for everyone.
She is also an ambassador for PokerStars and Poker Power and host of the two award-winning podcasts GRID and Ladies Knight. The first one has won a Global Poker Award for the world's best poker podcast. Her writing appeared in the Washington Post, the Wall Street Journal and the New York Times.
What was the initial idea that motivated you to write Chess Bitch, the precursor of Chess Queens? When did you decide to make it the Chess Queens we now can enjoy without any censorship?
I had the idea of Chess Bitch when I was studying literature and feminism in college, at the NYU, and at the same time I was obsessed with chess and studying chess. It occurred to me that so many issues on feminism and gender theory are really interesting to explore as they pertain to chess. I also was interested in the great women players, but there wasn't enough material about them that I could read and be inspired by. It felt like there was a gap in the literature and I had to fill it! Even though I was very young at the time, it really felt like it was my destiny to fill that gap. I often thought that chess underscores that feminism is a global issue, so you might feel interested in making aware of that.
When I was playing chess as a youngster, I traveled the world and played against girls and women from different places and that became like a laboratory to me to understand that several perspectives should be brought do discuss big topics like feminism.
Then, Chess Bitch came because chess became so much popular and there still wasn't a book like Chess Bitch or Chess Queens talking about the history of women in the game through the lens of a coming-of-age story—someone who's been through it—that anybody could read. It's not a book to get better at chess, but a book to deepen your understanding about chess culture and what it means for the world at large. So 15 years later my publisher thought we should update that book to the modern era!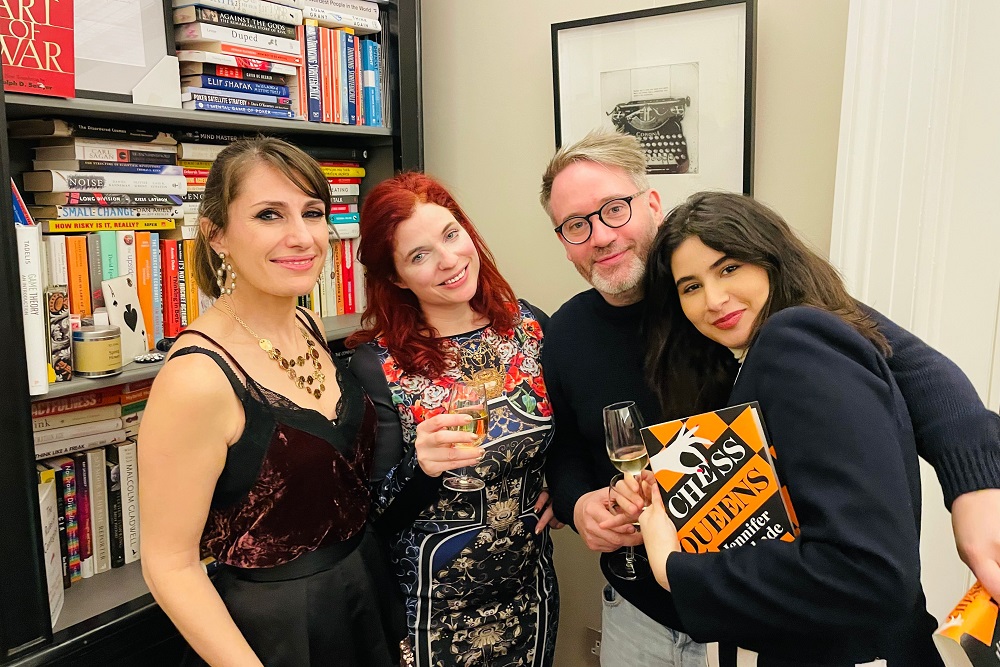 The history of the best female chess players in the world attracts people of all ages and genders, Photo from author and poker player Alex O'Brien's CHESS QUEENS book party. Also pictured: fellow Team PokerStars Pro Sam Grafton.
You started playing chess as a little kid, poker as a young adult. What led you to wanting to become an author?
Oh, I love books! Chess books in particular! I love the combination of words and images, whether they're historical photographs or chess positions. So when I was studying literature at the NYU, I really felt that chess and writing were in terms of passion parallels in my life. I often talk about chess bringing me in this state of "flow", and I feel the same when I'm writing. I feel like writing is something that no matter what I did in my life, it'd always be important to me. Writing helps me to think at the correct speed and to work out everything. I couldn't do it without writing, so it's always been something that has been a part of me.
Why do you think so much relevant female chess history has been ignored and undervalued?
The reason is sexism and misogyny. They are interested in Judit Polgar and Beth Harmon, Hou Yifan as well, but that's it. I think that should be expanded and that we need to be interested in women of all levels, because that's the future of chess. There's a slogan for the U.S. women's committee that the future of chess is female. I totally believe that.
Also, people in chess care mostly about who's the absolute highest rated player. It's nearly obsessive, like people can't get enough of that! Of course it's interesting, I get it, but of course this is going to leave some women out. Someone even thought that my book was all about Judit Polgar! And I was like, listen, there are a lot more of amazing women in chess. Some of them became 2600 like Humpy Koneru and Hou Yifan. But for me it's also about the great impact they had in the chess culture. Of course I wasn't able to fill all of them in one book, but a lot of women in Chess Queens exemplify my interests, some of the women I knew personally at the time and of course the major historic figures like Vera Menchik or Sonja Graf.

 
Hou Yifan and Judit Polgar before the start of the game in which Yifan prevailed. | Photo: Macauley Peterson
Many players —often male ones— justify the low percentage of female participation and different levels of play in chess with pseudo-scientific theories and are satisfied with them as an explanation. But you portray a different reality in your book, one that actually fits the reality female chess players live in. Do you think these people are aware of the battles and obstacles girls and women have to face in the (chess) world?
No, I don't think so. I think a lot of men believe that women have an advantage because they get more attention and a lot of people want more attention, especially nowadays that we life in an attentional economy. It's easier for girls and women to get more attention in chess, but before reaching a point where they can handle it and profit from it, they always had to deal with a bunch of bias along the way. That part is invisible just like the one where women gave up chess before reaching that part where they could leverage the success. Many just didn't want to put up with it and they had other fields they could succeed in without having to deal with any potential risks or trauma.     
I think there are things that are very visible, and it's easier to fix it on those things and say there's no disadvantage, but the problem is that there are a lot of structural biases and invisible women who never got to that point where they were able to have those opportunities.
So… yeah, I think a lot of men don't get it, but more are trying and are at least interested in listening. I've noticed a big change in the last ten years.
Do you think things will improve after the Year of Women in Chess?
Hmmm… I think so, but it's never fast enough. I think there's an incremental progress, but I'm far of saying that I'm satisfied with it. I think we need at least 20-25 % of female participation in order to create a less toxic environment. I think there's a lot of progress still to be made, because such a ratio like we have it now doesn't create a healthy environment for any gender. I won't be satisfied until we really see the numbers in the twenties and beyond.
You use the female pronouns she and her in your book to talk about its female protagonists, you describe female players as strong, confident and geniuses; you portray women's chess history and tournaments as exciting, aggressive, interesting and so on. This is unique in the chess world as the players in the media, books, videos, etc. are usually male. Do you think the chess community is aware of the great impact it can have to include females in the narrative of chess?
I think we definitely need to do more for that, because what happens is that a lot of popular game collections and lessons students get taught don't have any games by women and people of color or only very few. That definitely doesn't send the right message! The cool thing about chess is that there are so many great games with beautiful combinations that anybody who reaches a certain level gets to play—even if it's only in blitz! I think it's very important to be inclusive, especially because that's part of the beauty of our game. It allows so many different people of different ages and from all over the world to come together, and we should leverage that strength.
That's what I try to do with my book. I give inspirational and strong stories by female players, because while there's so much sexism, there's also the need to hear about the celebratory part where they have succeeded. It's super important for us to show it.
Shahade at her most recent trip in Columbus, Ohio for the US Chess Women Girls Club | Photo from Jennifer Shahade
In the U.S., your home country, the women's soccer team is now getting paid exactly the same as the man's one (same salaries and bonuses). Do you think the chess world will one day be ready to do the same?
I think some day, yes. I think they'll be chess tournaments where the women's section and the open one will have the same prizes. I wrote in the book that I used to think it was okay that there was less prize money in the women's section because women can qualify for the open one. But I've become more interested in labor rights and understanding the value of somebody's time—especially women who are often particularly tasked with unpaid labor: emotional labor, household labor and childcare—and I think differently about it now. I don't believe anymore that you're just paying someone for how high rated they are, you're also paying for their time because people love to watch chess and they want stars from all genders and all types. I think equal pay for both sections is a great idea in chess.
Are there any plans for Chess Queens to be translated into other languages?
Yes! There's a plan for it to be translated into Polish, which is very exciting. That's all for now though I've heard some rumblings about Spanish… But I'm extremely open and my publisher too for any inquiries and ideas about that. I've always dreamed about my work being translated, so it's pretty cool.
If you were the FIDE President, what changes would you immediately make in the chess world?
Well, I love my brother; I think he's a genius so I'd try to get him to do formats and the tiebreaks! (laughs) I feel it's always a disaster at the tiebreaks! Then I'd make sure that the sponsorships are very ethical. I think exciting chess has such a beautiful image that it should be possible to get really great mainstream sponsors… Obviously, I'd make a lot more of changes, make sure events are held in places that are comfortable for LGTBQ+ players. If I'd be FIDE President there'd be a different center of gravity for the leadership in the chess world. That said, I'm not currently interested in becoming a chess politician.
Shahade believes that the future of chess is female | Photo: Jennifer Shahade
What do you wish or hope for people to learn from Chess Queens?
I want to increase people's empathy. That's my dream as a writer; to make people understand the female and non-binary experience in chess by showing the other side. As I mentioned earlier, there are so many advantages that people might see for females in chess, but then they don't see all these dramatic other things, so they don't sympathize with it. It's not just about knowing that there's sexism, but about feeling it. About feeling the more difficult experience than just playing the game, about not being questioned all the time and many things more. Have empathy! There's always another side of the coin full of things you don't see. So I hope men can increase their empathy and I hope it inspires women and gender minorities who read the book. I hope that they see someone who did great things and they believe that maybe they can be this someone for somebody else.
Thank you very much for your valuable time, Jennifer! The ChessBase team and I wish you continued success with Chess Queens and your projects.
The interview was conducted via Zoom on June 03, 2022, in English. Tatiana Flores transcribed it.
Links