The main component of ChessFest was live re-enactments of two very famous games that are celebrating anniversaries: Game 3 from Fischer-Spassky, Reykjavik 1972 is celebrating its 50th birthday, while Game 6 from Kasparov-Deep Blue happened 25 years ago! The moves were given a dramatic interpretation by professional actors, accompanied by commentary and a 2D chess position being relayed on the giant screen
A raft of top players were drafted in to give lessons and simuls, including WGM Katarzyna Toma, warming up for Chennai…
GM Stuart Conquest showing his skills.
London's iconic Trafalgar Square, at a shade over 52 acres, was perfect for a mass participation outdoor chess event – and plenty of sun! 
The Mayor of Westminster, Labour's Hamza Taouzzale, made the ceremonial first move to kick off ChessFest (left), seen flanked on either side by ChessFest commentators, Chris Ward and Malcolm Pein, while (right).
 All day the fountains helped to keep the simul givers relatively cool.
With provision for over 500 people to play at a time and free chess lessons given by Chess in Schools and Communities' tutors, both the Casual Chess and Teaching Zones were full from start to finish. Some visitors came a fair way, but can you spot yourself or any of your club mates?
Executive Editor, Chief Executive of Chess in Schools and Communities, and ChessFest supremo, Malcolm Pein, donned a mask to give a demonstration of blindfold chess…
… while Editor Richard Palliser mainly gave simuls, but also briefly held court in the Challenge a Chess Master tent.
---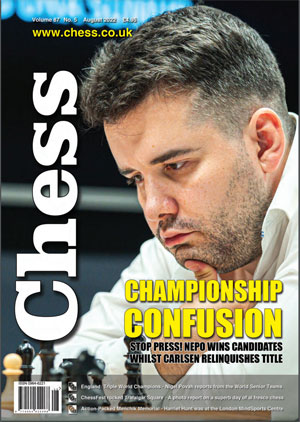 The above feature is reproduced from Chess Magazine August/2022, with kind permission.
About CHESS Magazine
CHESS Magazine was established in 1935 by B.H. Wood who ran it for over fifty years. It is published each month by the London Chess Centre and is edited by IM Richard Palliser and Matt Read.
The Executive Editor is Malcolm Pein, who organises the London Chess Classic.
CHESS is mailed to subscribers in over 50 countries. You can subscribe from Europe and Asia at a specially discounted rate for first timers, or subscribe from North America.