ChessBase Magazine Extra #208
Opening videos
Ivan Sokolov: 6.g3 against the Sicilian Four Knights Variation
1.e4 c5 2.Nf3 e6 3.d4 cxd4 4.Nxd4 Nf6 5.Nc3 Nc6 6.g3
The subject of Ivan Sokolov's video analysis is a rare line in the Sicilian Four Knights Variation. However, Sokolov's repertoire recommendation is primarily directed against the Sveshnikov Variation because Sveshnkiov players often use a change in the move order – starting with the Sicilian Four Knights Variation – in order to avoid the Rossolimo Variation (2…Nc6 3.Bb5). As is well known, it is very difficult for White to gain an advantage against the Sveshnikiov, so the surprise weapon 6.g3 (instead of 6.Ndb5 which would enable the Sveshnikov) is worth a try! Based on the game Durarbayli-Abdusattorov from the FIDE World Cup 2021, Sokolov examines all of Black's relevant replies (with the exception of 6…d6) and makes it clear that Black after is not faced with an easy task! Video playing time: 23 min.
Nico Zwirs: Queen's Gambit Vienna Variation with 5…b5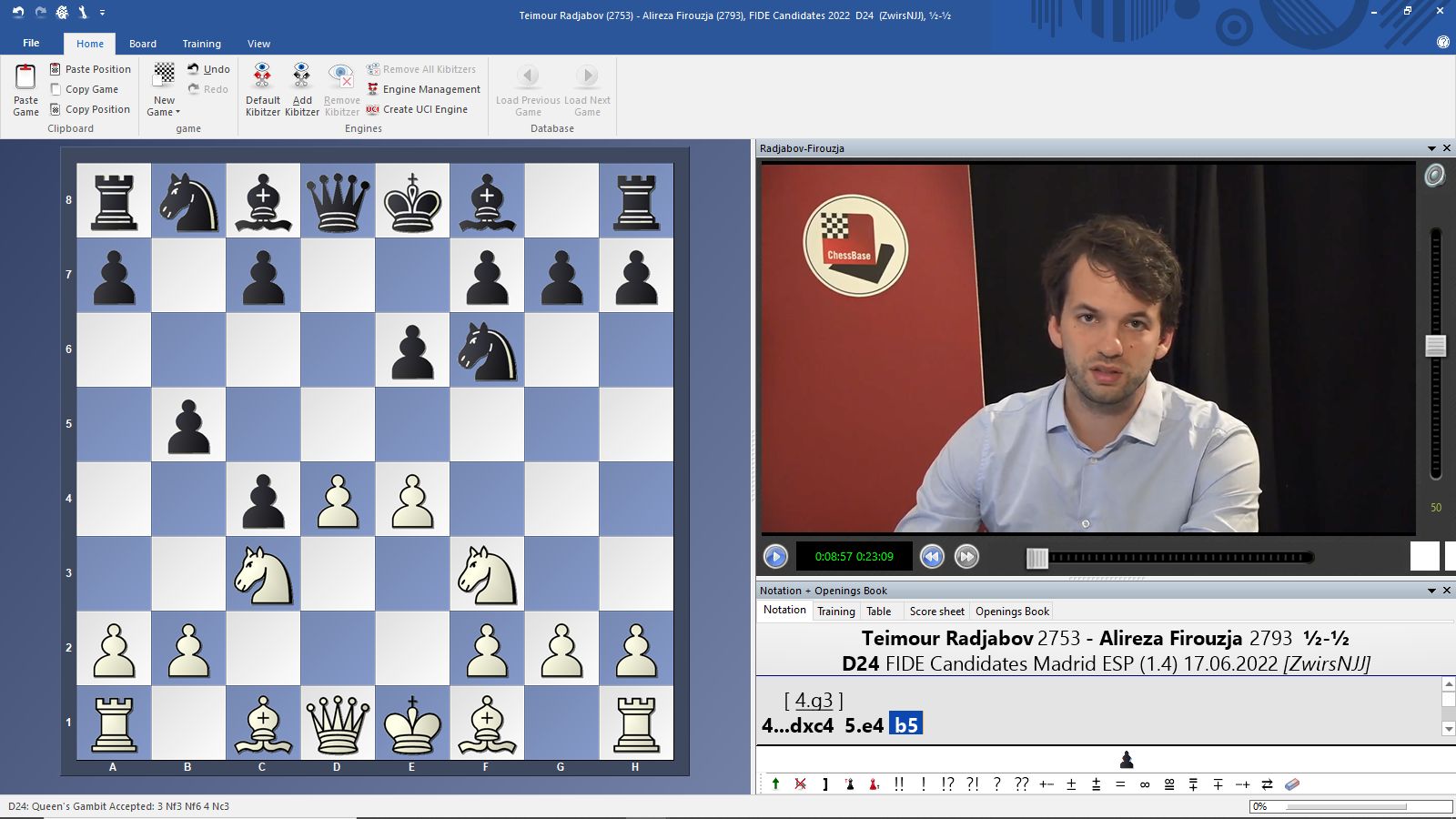 1.d4 d5 2.c4 e6 3.Nc3 Nf6 4.Nf3 dxc4 5.e4 b5
The move 5…b5 in the Vienna Variation of the Queen's Gambit only established itself in top chess a few years ago as an alternative to the main move 5…Bb4, but in the meantime it has already been played by Nepomniachtchi, Caruana, Nakamura, So, Aronian, Grischuk and many others. A look at the Mega Database 2022 with the Reference feature of ChessBase 16 shows: we are dealing here with an absolutely fashionable variation!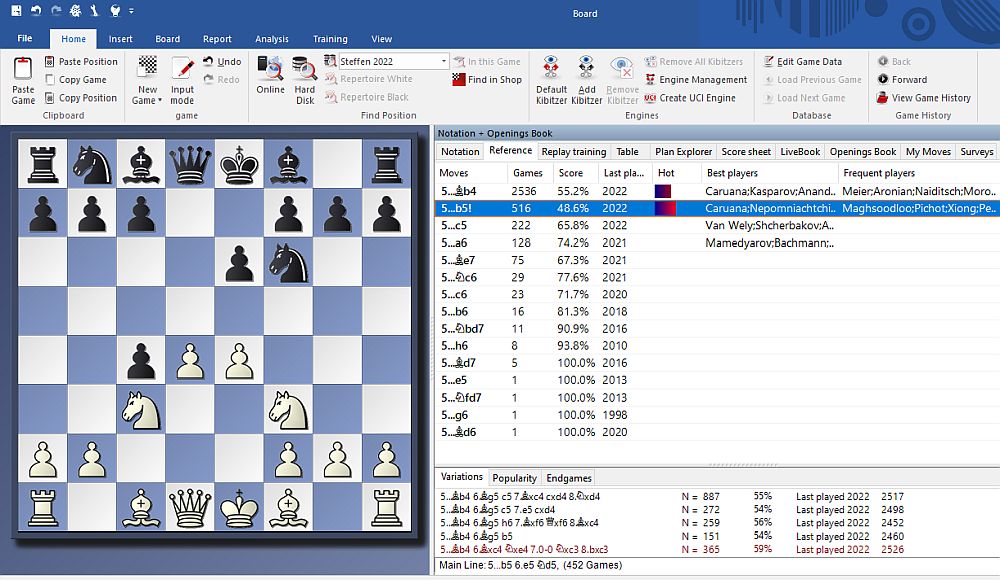 Moreover, Black's score with 5…b5 has been above average in practice so far (over 50%). In the 2022 Candidates Tournament the variation came on the board in the very first round between Teymour Radjabov and Alireza Firouzja. Nico Zwirs takes this current game as the starting point for his video analysis and also goes into detail about the strategic motifs of this very dynamic variation. Video playing time: 23 min.
David Navara, Anish Giri, Kirill Shevchenko and many other comment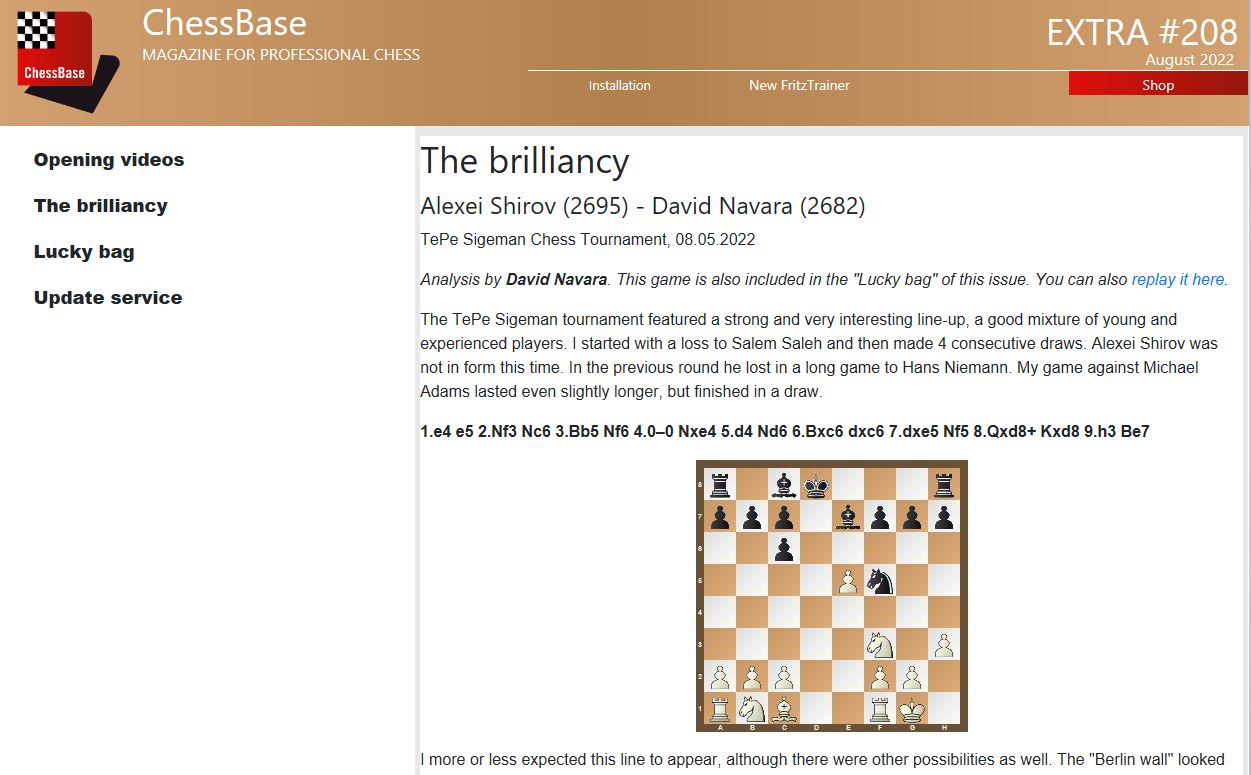 David Navara delivers "The brilliancy" of this CBM Extra. Against Alexei Shirov the Czech no. 1 managed a brilliant Black win with a Berlin endgame:
After 20…Rd8 (still preparation!) White got on the losing track after 21.Ne2?!
In addition to "The brilliancy", no fewer than 59 deeply analysed games await you in the "Lucky bag"! Among them are analyses by Anish Giri, Surya Ganguly, David Navara, Kirill Shevchenko, Nikolas Theodorou, Romain Edouard, Emanuel Berg, Adrian Mikhalchishin and many others.
And last but not least: the Update service provides over 45,000 new games for your database!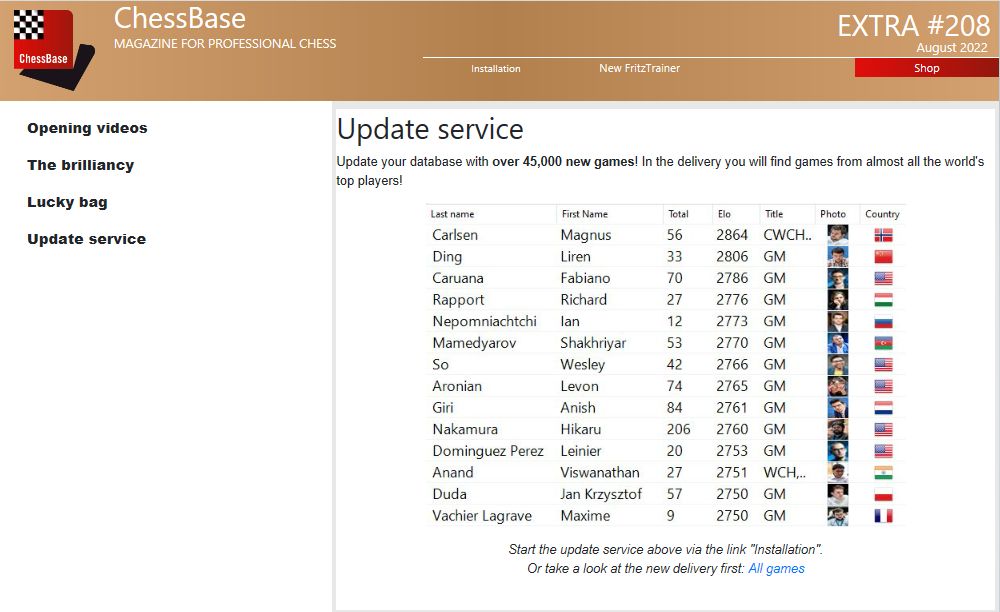 Once again, almost the entire world's top players are represented!
The games of the Update Service are also included in the Mega Update Service 2022, which you can use with the ChessBase 15/16 program (and a corresponding subscription).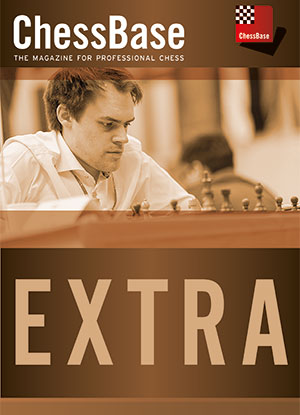 Order now in the  ChessBase Shop !