Turning points
For Kazakh rising star Zhansaya Abdumalik, 2021 was probably one of the most significant years of her life. It was filled with achievements that would impact both her personal and professional life.
Already in January, the year started with two important events: on the 12th of January she celebrated her 21st birthday; a couple of days later she was elected a deputy of the city of Almaty, which would mark the beginning of her political career which had been her childhood ambition. A few months later, she pulled off quite an achievement when she won the FIDE Women's Grand Prix along with the GM title.
Zhansaya celebrating her 21st birthday | Photo: Zhansaya's social media
21 years of age was a 'rite of passage' not only for reaching biological maturity, but it had significance in professional terms: her junior/girl years ended, and she entered the women's FIDE rating list.
Observing the FIDE rating list for girls over the previous few years, there are two names that dominated the top spots: Alexandra Goryachkina, the Women's World Champion Challenger, and Zhansaya Abdumalik. During the reign of Goryackina as the top girl, Zansaya would trail behind on the second spot.
With Goryackina's passing to the women's rating list, in January 2019, Zhansaya occupied her place and was the best girl in all three categories: standard, rapid and blitz. She remained on the first place in the world girl's rating list consistently, every month throughout 2019/2020 with only a couple of exceptions when she would be relegated to the second spot by Polina Shuvalova (RUS) or Jiner Zhu (CHI). In January 2021, no longer a 'girl', she was 22nd among the top 100 women, at 2472 Elo. She is currently 14th at 2495 Elo.
21 years of age was also a prerequisite for her right to occupy an official political position. She had lobbied tirelessly and succeeded in securing a position as deputy in her native city of Almaty. She is the youngest-ever elected member by a 35-year gap.
Zhansaya in her deputy office | Photo: Zhansaya's Deputy Instagram account
Her public duties have not deterred her from pursuing her chess career. At the FIDE Women's Grand Prix, held in Gibraltar, on May 22nd – June 2nd, with a round to spare, she clinched victory with 8½/ 11, leaving behind well seasoned women chess stars.
It brought her celebrity status as well as the long-awaited GM title. She is the first woman to have earned this title, not only in Kazakhstan, but in the overall Central Asia.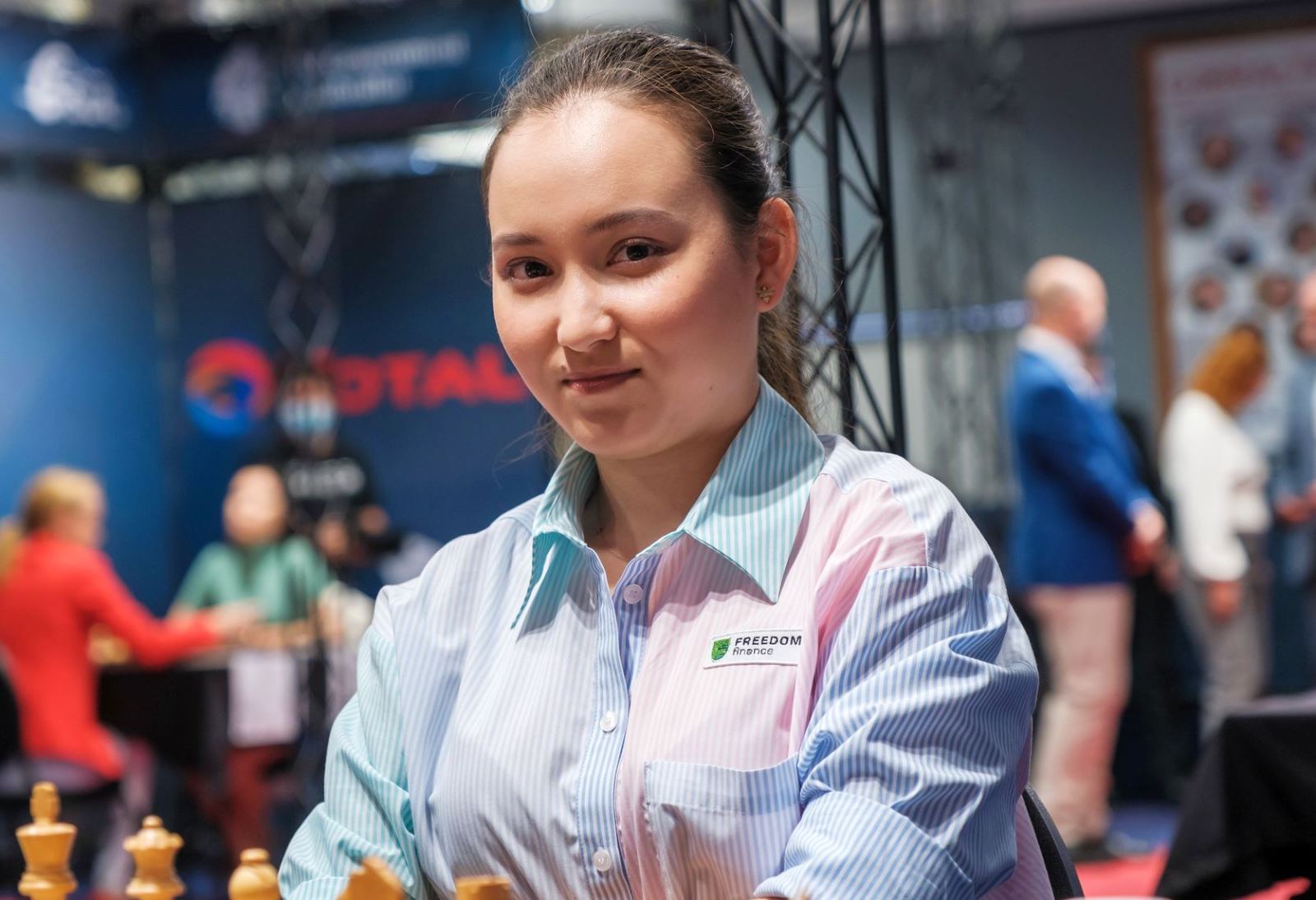 Zhansaya at the FIDE Women's Grand Prix in Gibraltar | Photo: John Saunders
The year rolled on packed with chess tournaments, social and political engagements connected to her new role as deputy, and all sorts of promotional activities. It was nicely rounded up with а high rank national award, 'Kurmet', which is bestowed to distinguished citizens for special services to the country in the spheres of economy, social contribution, science, culture, sport and education.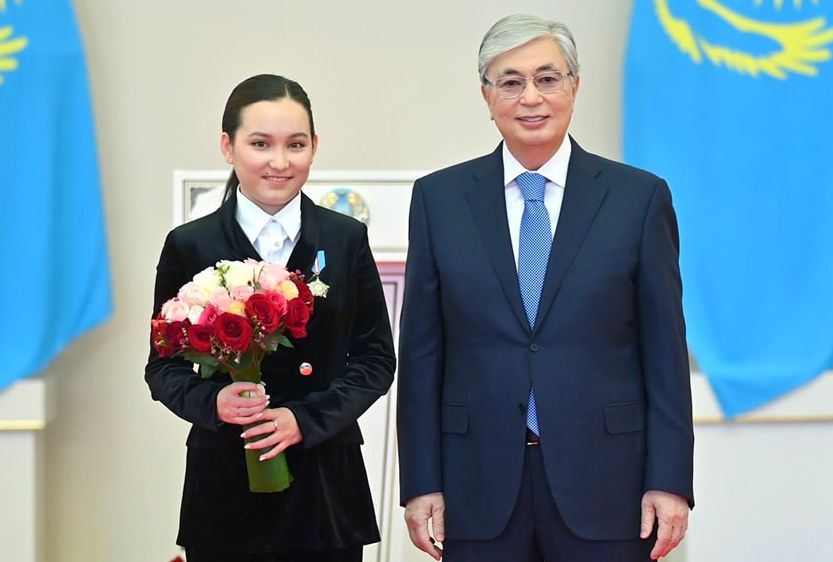 Photo: Zhansaya's Deputy Instagram account
On the eve of the 30th anniversary of Kazakhstan's Independence, President Kassym-Jomart Tokayev presented Zhansaya with the national award 'Kurmet' for outstanding services to the country.
Girls will be girls
The Fide Women's Grand Prix would launch her into the heights of women's chess. Her personal success also contributed to the recognition of the Kazakhstan chess that has seen a rise in popularity recently.
As published in the Astana Times, "Chess remains one of the most popular sports in Kazakhstan with nearly 200,000 people professionally engaged in it, according to Executive Director of the Kazakh Chess Federation, Irina Grishchenko. The first Kazakh chess club was opened in 1889 in Verny (present day Almaty) and the first women's tournament was organized in 1950".
Kazakhstan female chess players have been successfully representing their country on the international scene. Actually, Kazakhstan is a rare case where women's chess has a more significant presence and success than men's chess.
The oldest among the women players, IM Guliskhan Nakhbayeva, has been at the forefront for quite some time, but she opted for marital bliss and children and all but abandoned chess as a career. Another internationally acclaimed player, WGM Gulmira Dauletova, gradually gave up active chess after taking up the role of a Deputy Executive Director of the Kazakhstan Chess Federation.
They were eclipsed by IM Dianara Saduakassova and GM Zhansaya Abdumalik who, until not long ago, have been effectively the leading ladies of Kazakhstan chess.
Kazakhstan golden girls: Zhansaya & Dinara, winners of the Team Rapid U23 at the 2017 Asian Indoor and Martial Arts Games at Ashgabat, Turkmenistan | Photo: Kazakh Chess Federation
Today, new stars are emerging, like IM Bibisara Assaubayeva and the very young WIM Meruert Kamalidenova. Assaubayeva is the reigning Women's Blitz World champion — at 17 years of age she is the youngest ever to haver earned the title. She grabbed second place in the Women's Rapid World Championship.The Kazakh Federation has all rights to be proud of the achievements of its women's squad.
Women's team at the Batumi Olympiad 2018: (standing from L to R) WFM Serikbay Assel, Dinara Saduakasova, Gulmira Dauletova; (sitting from L to R) Guliskhan Nakhbayeva and Zhansaya Abdumalik | Photo: David Llada
Zhansaya and Dinara have been passing on intermittently the baton of predominance both at home and on the international scene. Dinara was the 2016 World U20 Champion. The following year, 2017, Zhansaya won the same title. For years, they have been alternately claiming the title of National Woman Champion or Asian Woman Champion.
When representing their country in women's team championships they would alternate between the first and the second boards. They both run highly acclaimed Chess Academies in their respective cities — Zhansaya in Almaty, Dinara in Nur-Sultan (formerly Astana). Going neck and neck in the battle for prestige, theirs is not a 'healthy competition' but a downright animosity. While Dinara remained discreet throughout, Zhansaya became openly boastful at the expense of her colleague and a national team member.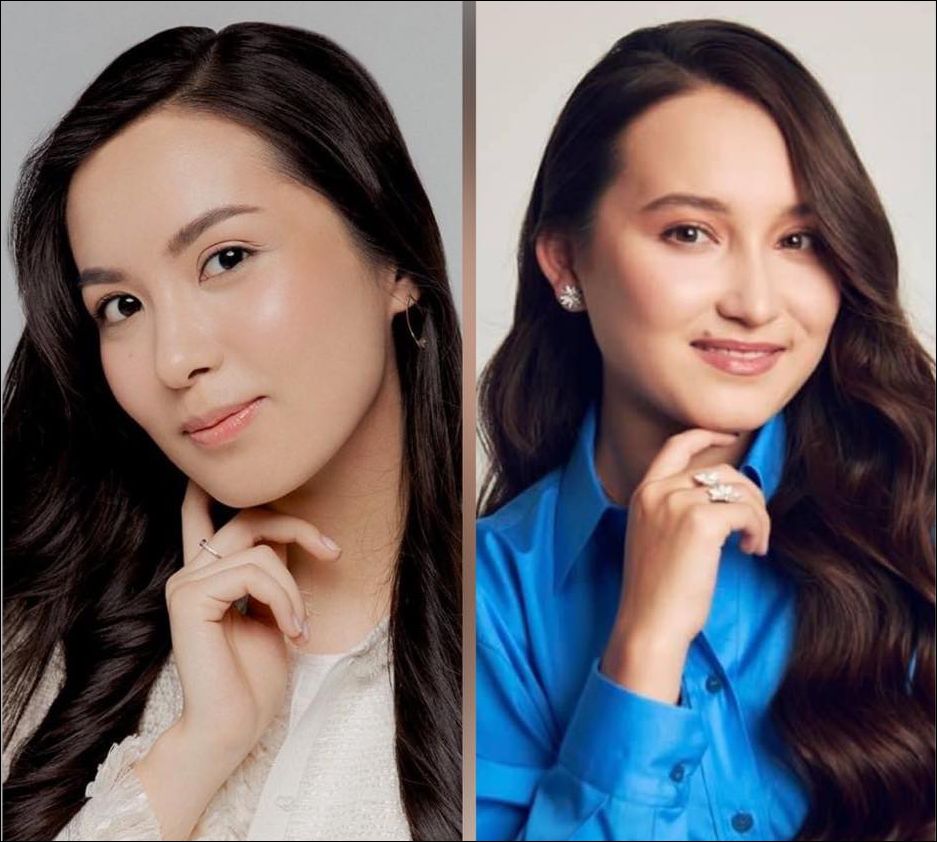 Beauty and brains: Zhansaya and Dinara | Photo: Kazakhstan Chess Federation archive
Strangely enough, they had met only once on the opposite sides of the board, at the 2015 Fide World Junior Championship U20 in Khanty-Mansiysk, Russia. The game was drawn.
Until the fateful Gibraltar Women's Grand Prix when, in the first round, they were paired against each other. Zhansaya won and that filled her with great pride.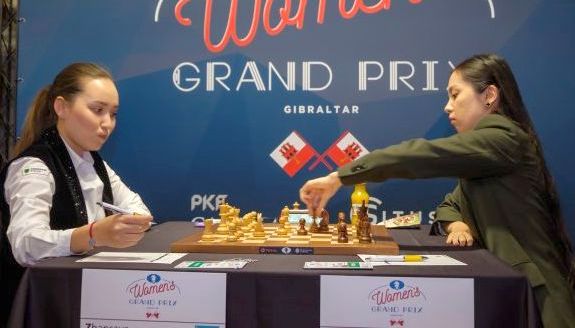 Zhansaya v Dinara at the Women's Grand Prix, Gibraltar, 2021 | Photo: John Saunders
Zhansaya Abdumalik: Facing Dinara was fundamental for me
Soon after her splendid performance at the Gibraltar Grand Prix an interview with the above title, in large capital letters, appeared in the Kazakh media portal Caravan. Why would the game be so 'fundamental'?
Zhansaya explained: "I have been waiting for this game for a long time. The last time I played against Dinara was in 2015 at the World Championship (U20) in Khanty-Mansiysk. That game ended in a draw. But then I was only 15 years old, I perceived chess in a completely different way than now. The new game was critical, because Dinara and I alternate in the Kazakhstan national team on the first or second board, and I wanted to prove that I am stronger. I went to the game with a clear aim of nothing less than victory." (Full interview, in Russian).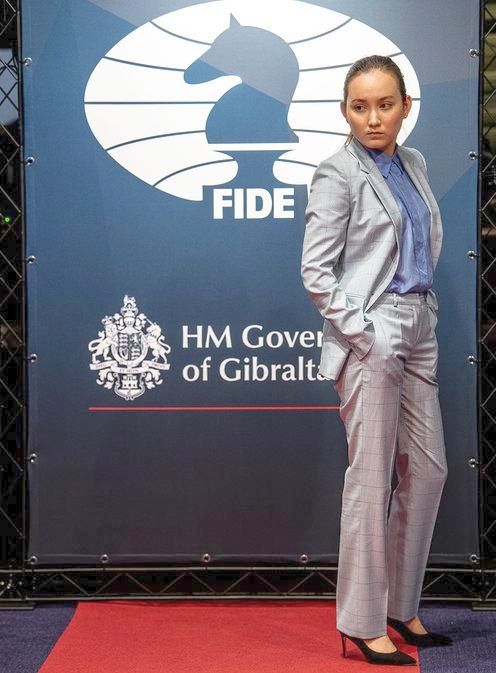 She means business: Zhansaya at the Women's Grand Prix in Gibraltar | Photo: John Saunders
Sadly, on this occasion Zhansaya showed her mean side. Had she forgotten that tables can be turned in a most unexpected way and no one is spared from painful surprises and 'bad luck'? Such bombastic self-praise was not called for, and it was far from diplomatic for someone with political ambitions.
After winning the Grand Prix in Gibraltar in spectacular style, all eyes were on Zhansaya at the subsequent tournaments in anticipation of more excitement. However, the sensation was short-lived.
Just over a month later, at the highly anticipated Women's Candidates KO tournament — played from 12 July to 3 August in Sochi — she suffered a painful fiasco. Her stellar performance in Gibraltar was dimmed by none other than her own compatriots.
Her nemesis, Dinara, famously marched into the quarterfinals beating some of the strongest players of the day and making it to the top eight. At the quarterfinal she succumbed to the former World Champion and the eventual overall winner, GM Alexandra Kosteniuk.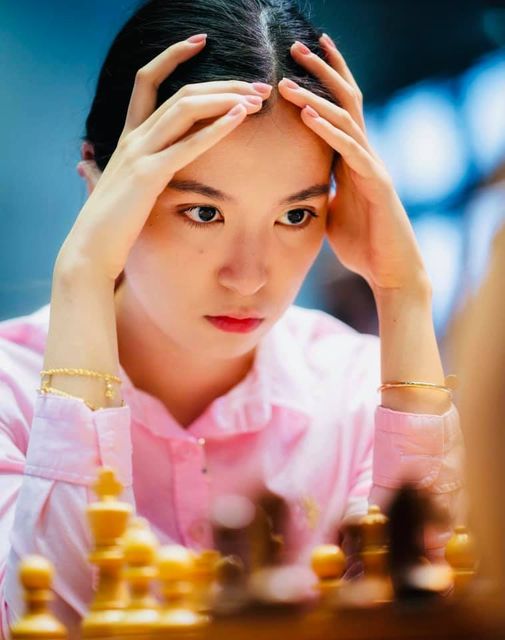 Dinara Saduakassova at the Women's World Cup, Sochi, 2021 | Photo: Lenart Ootes
As for Zhansaya, she returned home after the first round. The blow was delivered by her younger compatriot, another Kazakh rising star, Bibisara Assaubayeva. After the equal result of the first set of two classical games, they proceeded to a rapid play-off in which Bibisara emerged victorious. Her winning game also won the brilliancy prize.
Bibisara Assaubayeva vs Zhansaya Abdumalike at the FIDE Women's World Cup, 2021 | Photo: Official tournament site
Was Bibisara a more dignified winner? Not quite. She ploughed deep to bring to the fore her stunning victory: "In the second round I played with a member of our women's team, Zhansaya Abdumalik. I wanted to win, because back in 2011, at the U8 World Championship, I took 1st place when I was seven years old. She was only 4th at 7 years old".
Oh, dear! What a cringing girly catfight! Could there be some Genghis Khan germs in the Kazakh women's chess? Her following statement is more straightforward: "I scored a double — in our personal contests, the score is now 2:0 in my favour!"
It is both funny and sad to witness such bickering between members of the same team. However, we shall ascribe it to their youth and follow eagerly where the path will take these ambitious girls, each of them with a special gift and personality.
But it is not only the girls. Their parents equally take a slice of the cake of their daughters' successes and engage in rivalry. While Zhansaya is under the umbrella of her father, in Bibisara's case that role is played by her mother, who joined in her daughter's self-laudatory stance.
Zhansaya with her father, Daniyar; Bibisara with her mother, Liana | Photo:Zhansaya's and Bibisara's social media accounts
Social media today is a source of information and openly pronounced opinions. Immediately after Bibisara's win over Zhansaya at the World Cup, her mother wrote a long post on her Facebook account, which starts with: "After the second game, Sara sent Zhansaya and her entire coaching staff back home. For them, the World Cup ended after the first round".
The remaining content of the post shows that this comment was partly provoked by an unsolicited phone call by Zhansaya's father following the girl's first game, which was drawn. He was not happy with the draw and proceeded to belittle Bibisara's talent, as he claimed that Zhansaya is an obvious favourite and, worst of all, he mentioned cheating by Bibisara and her coaches.
Indignant, Bibisara's mother ended the call. After relating their telephone conversation, she finishes her post with the following comment: "I am very, very, very pleased that there are people in the chess world who believe that Bibisara plays like a computer! This is a big motivation for us! I promise that my daughter will be the best Chess Player on Planet Earth, playing like the best computer!"
Welcome to the Kazakh amusing games between fathers, mothers and daughters! Where will this lead only time will tell, but for now, take a seat and enjoy the show. These girls are just about starting to provide us with entertainment thanks to their fierce ambition, and, most importantly, their extraordinary talent.
To be continued…
---
---
Links