I wasn't sure whether I had anything new to add about the tournament, after my last year's report on it, as the place hasn't really changed since 2010, when I played in Paleochora for the 1st time… Then I realized that it's exactly what makes it even more interesting to write about. Year after year, when returning to this beautiful place, I find it looking exactly the way it did the previous year and there's a certain charm to it – discovering a new layer of the place or perhaps of myself each time…
This year's edition was about friendship and happiness for me. What about the one from last year one might think? Well – that was about seeking relief, as after a short, but tough run in the World Cup I was seriously doubting my chess and my life choices. And the year before? That one was about coming to appreciate nature and the harmony it is built around after a beautiful hiking experience in Agia Irini Gorge. Perhaps it would be interesting trying to recall each year when I played and what it meant to me… Maybe that's what next year's report will be about. For now, I'll try to share with you the emotions I experienced this time.
The trip to Paleochora always starts with taking a bus from the Chania Airport to the main Bus Station. The same bakery lures me in with the smell of freshly baked pastry with feta. The fact that I decided to watch my diet a bit doesn't stop me from ordering one bun, and the hot Cretan sun just calls for a frappé to accompany it. The bus sometimes leaves 5 minutes early, sometimes 10 minutes late, but it is never a problem, as even if missing it, the prospects of spending an extra evening roaming around the colorful streets of Chania's old town sometimes makes me secretly wish I'd miss it.
The old Venetial port of Chania | Photo: Irina Bulmaga
When finding a place in the bus, I always remember – but just in that moment – how I feel about the upcoming 1h30 of serpentines. I immediately regret the feta bun, the frappé, and I curse myself for forgetting about the peculiar drive every time.
One year, a spider bit me right before the bus trip and I didn't even notice how the time passed. That taught me I should distract myself. This time, I fantasized about owning a small vineyard on some hill on a Greek Island and making myself the most aromatic Malagouzia wine, which I'd then savor together with some friends on a terrace covered by those pink flower bushes which always seem to bloom… Or should it be climbing vines? We would look to the horizon, admiring yachts sailing in and out of the port and sharing funny stories from yet another tournament…
The bus enters Paleochora and always struggles to park, as the streets are quite narrow. Some manoeuvers later, I take my cabin-sized bag, packed for the two weeks I will stay. Right – cabin-sized, as all material becomes irrelevant in Paleochora. It took me quite some time to come to this conclusion, but here I am, every year – for two weeks I don't care about my clothes, looks and anything other than the spiritual.
A typical street in Paleochora | Photo: Irina Bulmaga
There are some errors to this system, which becomes apparent from time to time, e. g. when drawing against a player who has 400 Elo points less than me, but that's nothing a morning sea swim can't correct.
The games usually start at 6 pm, giving one just enough time to spend by the sea. Once you 'survive' the double (2nd and 3rd) rounds, the late evening dinners become the highlight of the day. The organizers kindly provide the invited players with coupons to be used in different taverns and over the years, I came to know most of the owners who meet me with "Ti kaneis, Irina?" (from Greek- how are you?). The answer is always "Poli Kala!" (gr.- very good).
"Poli Kala" it was this time as well! The beauty of this tournament is that it draws players from around the world who appreciate the same things about it as I do – the unique atmosphere. I met some of my dearest friends in Paleochora and it's something I'll be forever grateful for.
The results of the tournament can be found on chess-results: Four players scored 7.0/9, sharing places 1 to 4. GM Nikita Meshkovs had the best tie-break, followed by GM Ali Marandi Cemil Can, GM Andreas Kelires and IM Vojtech Zwardon.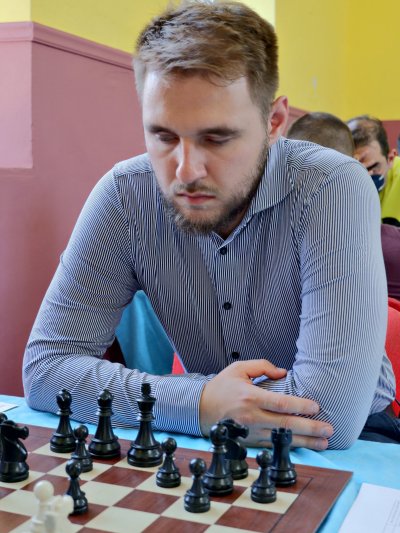 GM Nikita Meshkovs | Photo: Chania Chess Academy
I scored 6.0/9, which brought me the 1st women's prize.
Winning the women's prize: Irina Bulmaga
With the same number of points, IM Aleksandra Maltsevskaya came 2nd, while the 3rd place was taken by WFM Szente Varga Fruzsina, who scored 5.0/9.
However, something which one can't find on chess-results, is the warmth people share there.
On 25 July, a very special person and dear friend, GM Dmitry Svetushkin, would have celebrated his 42nd birthday, but unfortunately, he passed away two years ago, and since then, Paleochora – one of his favourite places – can never be the same to me. Each year when I return to the "Plateia" cafenion – the meeting point of many players, just next to the old playing hall, I remember the time spent there together… It is such a strange feeling I get, like he will just walk from across the corner any moment and smile in that special way he used to while telling some funny story…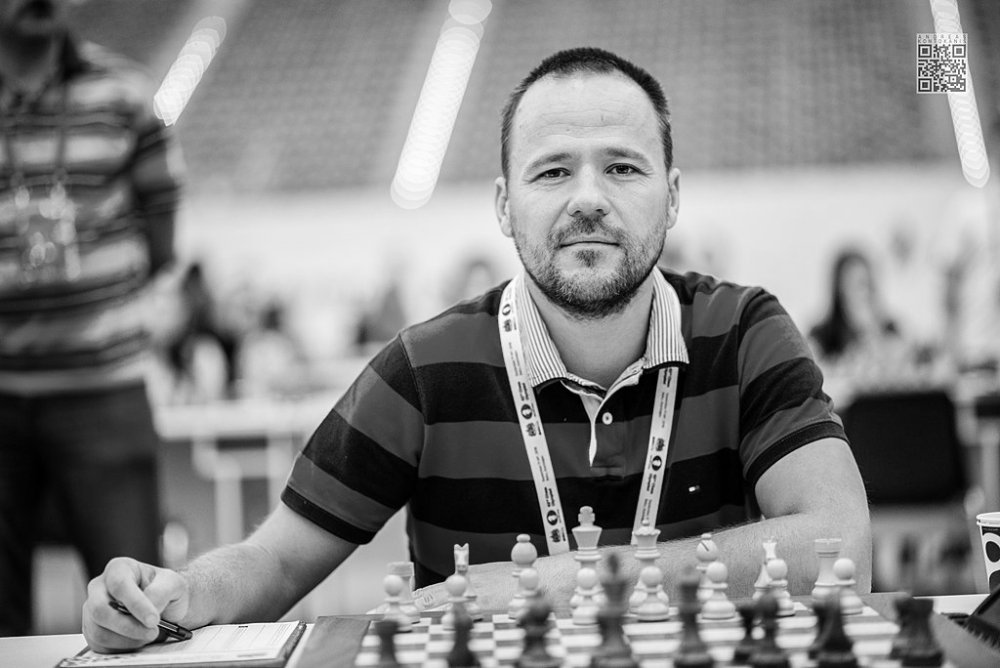 GM Dmitry Svetushkin | Photo: Andreas Kontokanis, Wikipedia
Love for chess, for friends, for beautiful evenings spent together is what Paleochora is about.
I wish you to appreciate the friends you have and to be grateful for the happiness they bring into your lives. There's nothing more important in life – "Tipota" (which is Greek for "nothing").
Links