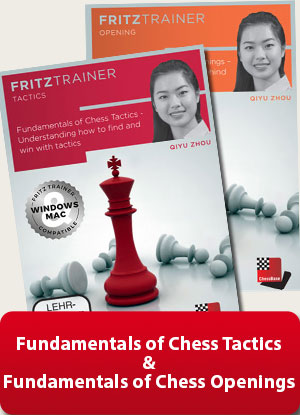 Qiyu Zhou: Fundamentals of Chess Openings & Fundamentals of Chess Tactics
WGM Qiyu Zhou, born in 2000, is a Canadian chess player who has competed for team Canada at the Women's Chess Olympiad since 2014 and who won the Canadian women's championship in 2016. She writes: "Openings may seem daunting, after all, with all the material out there on openings, what should you read or watch? Well, you can start with this DVD because I'll teach you all about the basics which apply to practically every single opening! Have you ever wanted to learn openings without the hassle of memorizing variation after variation? Do you just want to understand why you make the moves you make?
What's the easiest way to win a chess game? We all know finding a good tactic in a game can let you win a point immediately. Therefore, Fundamentals of Tactics is an excellent choice for you if you wish to learn how to start finding tactics in your games! Join me in learning about the most common tactical themes that appear in chess. I also provide extremely useful tips (which I use myself) for being the most efficient at finding tactics in your games."
This week: Only €39.90 instead of 54.90
 
Simon Williams: An aggressive Repertoire
The author concentrates on the King's Gambit accepted with 3.Bc4. Bronstein once said about this move, 'Play 3.Bc4 if you want to win!' Of course things have developed a lot since Bronstein's times, and this DVD aims to bring people up to speed with all the latest developments and new ideas that are playable, with both colours in this fascinating variation.
Simon Williams has included a lot of novelties and interesting attacking variations that should wet the lips of any attacking player, looking for an interesting way of meeting 1…e5! With the Berlin opening now leading to dull equal positions, it may well be time to start taking a look at the King's Gambit in more detail. The opening leads to crazy interesting positions, where Black is placed under pressure from move two.
This week: Bundle offer €104.93 instead of €139.90