All eyes on Chennai
The upcoming Chess Olympiad in Chennai, formerly known as Madras, will be a superlative event. For fans of the royal game, choosing from hundreds of games every day is not easy. Everyone can choose one or more teams according to national affiliations. In addition, the fact there is an open event and a women's tournament further widens the scope. Ultimately, with so many games and teams, you need a team with which you want to cheer along at a Chess Olympiad.
Teams to "successfully cheer along" could be the young Uzbek team in the Open or the Kazakh team in the women's event, as both teams have considerable potential for surprises. My choice was easy, though, since I have been following the Indian juniors and their development for quite some time. The second Indian team could already be the basis for the Olympic team in about four years. Only Arjun Erigaisi (born 2003), who already plays in Team A, will then replace Adhiban.
A capital of chess
Big time. The Chess Olympiad is a top national event for the Indian hosts, not only for chess enthusiasts. The Indians raised the security of ten million US dollars in a short time at the beginning of April. Politicians at various levels had lobbied for this in advance, and thus won the bid after Russia dropped out as host due to the invasion of Ukraine. Accordingly, a whole nation seems to be working together: in addition to a newly introduced torch relay through India, an Indian superstar created an anthem for the event, while the Napier Bridge in Chennai, built in 1869, was decorated in black and white.
Of course, there will be a mascot and a logo, as well as decorated buses and trains. The result is the biggest Chess Olympiad so far, with 186 teams registered in the open and 162 in the women's event (as of 22 July 2022). The games will be played officially in Chennai from 29 July to 9 August.
However, the venue is not Chennai, but the event will take place at the Sheraton Four Points in Mahabalipuram, on the Bay of the Bengal south of Chennai, also in the state of Tamil Nadu, which has about as many inhabitants as Germany. Stefan Löffler points out that the temperatures here are more bearable on average than in Chennai. Perhaps the only advantage of this year's temperatures in Europe is that the players got a taste of what it is always like in India during the monsoon season: hot and also wet. So those who want to spend their time not only in the playing hall and in the hotel should bring a suitable sunscreen and mosquito repellent.
Eager to succeed
The Indian players of all teams are staying at the Leela Palace, a 5-star hotel in Chennai right by the sea, before the tournament, and are holding a long training camp in preparation, their second camp. Players from all five teams and the coaches are attending. From Team B, Nihal, Adhiban and Pragg were present at the training camp from the start. Raunak and Gukesh arrived in Chennai from Europe on July 24. After that, India will move to a Radisson Blu Hotel. A week before the tournament, it was announced that a third team will be allowed to play in the women's event for India. This means that thirty players from the host nation will be in action.
At least a few medals are expected for India as teams and in individual medals. The pressure on the players is likely to be enormous, but so is the anticipation. Each of the now six teams has its own none-playing captain. Viswanathan Anand towers over them all as a mentor.
Heading the delegation is grandmaster Praveen Thipsay, the first Indian to achieve a grandmaster norm and another legend in Indian chess. Anand could certainly play again, but this is how the handover of responsibility to the younger generations is taking place. Vishy Anand has since unleashed a whole range of new activities. A chess school for top Indian talents is one of them, and for some weeks now he has been on Arkady Dvorkovich's ticket as his vice-president in FIDE.
India B: Young talents and a beast
India is playing with three teams in the Open. The second Indian team was conceded as a privilege for hosting, and the third (senior) team was added due to the odd number of participants. The lineups of the first two teams were announced earlier in May. While India A is one of the favourites, arriving as second seeds behind the United States, India B is romping with Germany in the chasing pack and could also be in for a surprise.
The solid one
Nihal Sarin
Born in 2004
Rating: 2651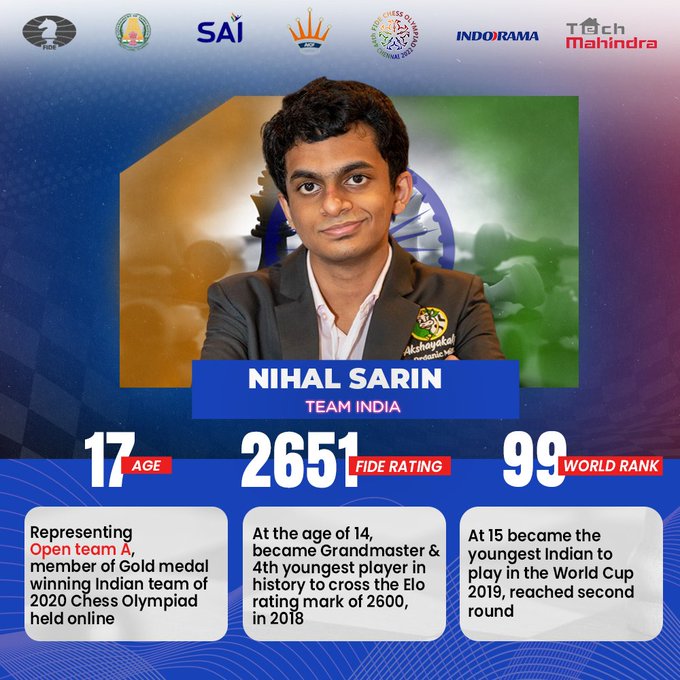 Nihal Sarin was born and raised in the state of Kerala, in southwest India. Since he became U10 World Champion in Durban in 2014, his development has been steady. However, Nihal recently found himself in a kind of results crisis with a stagnating rating. Nihal turned 18 years old on 13 July 2022, and has been coached by Indian grandmaster Srinath Narayanan since 2016. Like the other Indian juniors in Team B, he has been part of Anand's Westbridge Academy (WACA) since late 2020.
Prior to Chennai, Nihal played rather infrequently by his standards. In the Bundesliga, Nihal managed a win against Mamedyarov. Most recently, Nihal played in a GM tournament in Armenia and the French Team Championship (+5 =13 -0). Putting him on the top board makes sense because he rarely loses due to his safe style of play.
The striker
Gukesh Dommaraju
Born in 2006
Live rating: 2698
On board 2 the strongest Indian junior will be in action: Gukesh. The rising star became a grandmaster when he was 12 years, 7 months and 17 days. In 2022, the youngest player (born in 2006) in the team has won four tournaments and has increased his rating significantly: in December 2021 he was still at 2614 points, and at the beginning of July he was the next junior in line to join the 2700-club.
And so it happened. He first won a round-robin tournament in Spain with an 8/9 score and pushed his live rating to 2693.6. Shortly afterwards, Gukesh played the Masters Triathlon in Biel together with Vincent Keymer. The organizers had invited Gukesh on the advice of Vishy Anand. Gukesh won two black games in the first three rounds and became the fourth-youngest player ever (behind Magnus Carlsen, Wei Yi and Alireza) to cross the 2700-rating barrier in the live ratings list. However, since the pandemic, such historical comparisons are difficult to assess: Gukesh, like many other juniors, did not play a single tournament game for 13 months.
For a long time, the Indian had refrained from learning openings and using a computer with White and started with 1.Nf3 and 2.g3. Apparently it didn't do any harm. For five years, Gukesh has been coached by Vishnu Prasanna, India's 33rd grandmaster, who came up with the idea of omitting engine analysis.
Gukesh still lacks some experience against elite players. His game is characterized by inventiveness and creativity.
ChessBase India: Reaction of top Indian GMs after Gukesh hit 2700 Elo
The beast
Adhiban Baskaran
Born in 1992
Rating: 2598
The senior in the team is Adhiban Baskaran, Adhi for short. 'The Beast' recently suffered a considerable loss in his rating and even fell below 2600 points. Adhi will be 30 years old right after the Chess Olympiad. Perhaps it is the distraction of his own wedding that brought Adhi a crisis in results after the pandemic.
Adhi hails from a town in Tamil Nadu. His trainer for a long time was this year's team coach Ramesh, and that could work in the team's favour, as the top Indian coach places a lot of emphasis on a positive atmosphere in his teams and Adhi is known to be up for some fun.
Most recently, Adhi played a GM tournament in Singapore (+3 = 5 -1) and an Open in Serbia (+5 =3 -1) in early July. It will be interesting to see whether Adhi, who played unchallenged in the A-team a few years ago, dares to take his typical risky decisions or whether he plays more solidly given his position as the oldest player in the team.
The calculator
Praggnanandhaa Rameshbabu
Born in 2005
Live rating: 2660
Pragg is another player hailing from Chennai. When he won against Magnus Carlsen in an online tournament earlier this year, there were a few days of popular celebrations and receptions at home. Pragg turns 17 two days after the Chess Olympiad. Pragg's long-standing coach is Ramesh, who has been coaching Pragg for about a decade and even began to travel with him again recently.
In preparation for Chennai, Pragg played an Open tournament in Serbia. Behind Alexandr Predke, the youngster was the second seed. Pragg won the tournament with eight points from nine games and achieved a performance of 2789. Already on 15 August, Pragg will play in Miami with seven other world-class grandmasters such as Magnus Carlsen, Ding Liren and Levon Aronian for a prize fund of 310,000 US dollars.
In 2022, Pragg has already raked in over $60,000 in the Meltwater Champions Tour. His online commitments and a break from school have kept the Indian from a sharper rise in his rating.
Together with Adhi and Ranauk, one can expect many points on the last two boards. Pragg's calculation skills in particular are considered outstanding. Just like Nihal, the youngster occasionally spends too much time against strong opponents. He is, however, capable of beating any opponent.
The wildcard
Raunak Sadwhani
Born in 2005
Live rating: 2621*
The second-youngest player in the team, Raunak Sadwhani, plays on the fifth board. The youngster comes from Nagpur, a city of millions in central India. Raunak had announced after the pandemic that he wanted to concentrate on over-the-board tournaments.
As is usual with many Indian talents, Raunak has also been influenced by several coaches. His confidence and fast play are typical characteristics. In early July, Raunak played a tournament in Benasque and tied for third place with 8 points from 10 games and a 2633 performance. Raunak then went on to Portugal for a team event.
Raunak occasionally takes strategic risks, but is very successful in beating inferior opponents. An excellent 5th board with chances of a record result.
* The calculations of 2700chess.com and chess-results.com differ slightly, as 2700chess seems to be missing a game from Portugal (as of 22 July 2022).
ChessBase India: The ingredients that helped Raunak become the 65th GM of India
The successful Ramesh is the coach of Team B in this Chess Olympiad. Much like Germany, India B should start with three wins against weaker teams. After that, more exciting matches are likely to follow. All players in Team B play with White and Black in a very varied way and constantly change openings. That makes it interesting to watch and certainly uncomfortable for the opponents to prepare.
The games in Chennai start Friday, 29 July 2022 at 3 pm local time. That is 10.30 a.m. German time. After six rounds, there will be a rest day, on 4 August 2022.
---

Master Class Vol. 12: Viswanathan Anand
This DVD allows you to learn from the example of one of the best players in the history of chess and from the explanations of the authors how to successfully organise your games strategically, consequently how to keep your opponent permanently under press
---
Links