A memorable International Chess Day
What a day it was for the chess community. On International Chess Day, Magnus Carlsen announced he will not defend his title, Gukesh rejoined the 2700-club (in the live ratings list) and the SuperUnited Croatia tournament kicked off in Zagreb — with both Carlsen and Ian Nepomniachtchi heading a star-studded field.
Moreover, Carlsen and Nepo were set to play in the very first round. A smiling world champion saw a young boy making the ceremonial opening move (the kid chose 1.c4) to get things started at the 5-day rapid and blitz event:
The game would end in a 39-move draw, as the contenders entered a theoretical line in which the queens leave the board early in the game.
Meanwhile, Alireza Firouzja, Maxime Vachier-Lagrave and Jorden van Foreest got off to winning starts. Firouzja beat Ivan Saric with the white pieces, before drawing Nepo in round 2 and beating Veselin Topalov in the final round of the day. These results left the 19-year-old in the sole lead with 5/6 points (wins are worth 2 points in the rapid section).
Four players are sharing second place a point behind: Carlsen, Nepo, MVL and Wesley So. The second day of action will feature another stellar matchup right from the get go, as Carlsen will get the white pieces against Firouzja in round 4.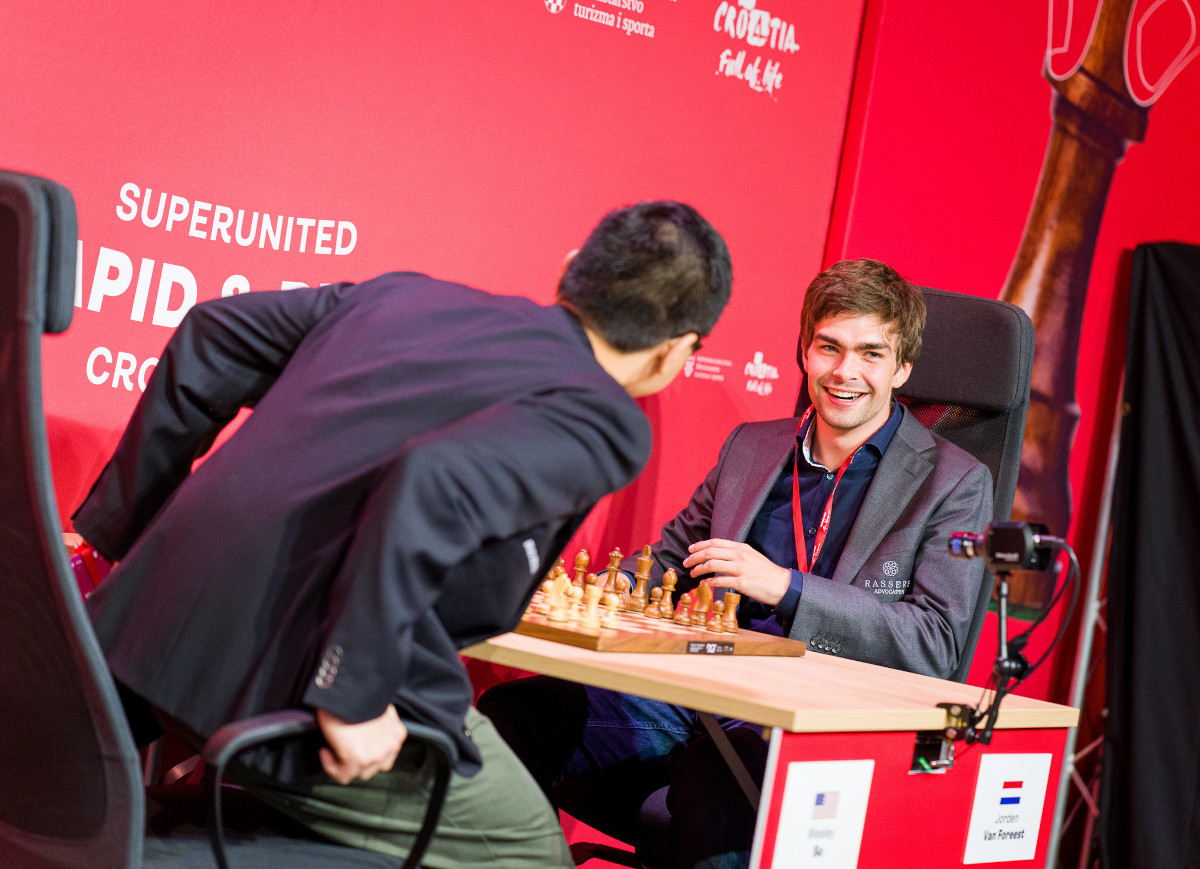 Jorden van Foreest kicked off with back-to-back wins and then was stopped by Wesley So, who beat the Dutchman with the white pieces | Photo: Lennart Ootes
After a disappointing performance in the Candidates Tournament, Firouzja quickly shared his thoughts on social media. A fierce fighter, he asserted that "[the] future is bright", as he thanked his fans for all the support:
Despite ups and downs, I'm happy with the experience and the lessons that I received from this very iconic tournament. I want to thank all my fans and supporters for believing in me. Future is bright.
The French representative, who has announced that he will not play in the upcoming Olympiad (much like MVL), showcased his proficient endgame technique to defeat Saric in the first round. The game lasted 97 moves. GM Karsten Müller analysed the instructive rook endgame starting from move 56.
Veselin Topalov had a rough first day in Zagreb, while Maxime Vachier-Lagrave scored 4/6 despite having played twice with black | Photo: Lennart Ootes
---
Standings after round 3 – Rapid
---
All games
Links