The pre-1948 challengers
With no disrespect meant to the players of this era who valiantly vied for the title, the lack of a proper infrastructure to allow all players a proper opportunity meant the champion could effectively handpick his opponents. This was (in)famously done by Alexander Alekhine, who dodged Capablanca to the end of his years, granting matches to players he felt comfortable he would beat. While Efim Bogoljubow was without a doubt a Top 5 player, he was not the most obvious challenger in 1929 in view of a certain Cuban, and according to Chessmetrics the no.2 performing player in 1933 was none other than…. Isaac Kashdan!
Alexander Alekhine (left) vs Isaac Kashdan (right). Four additional chess masters are standing from left to right: José Joaquín Araiza, Samuel Reshevsky, Harry Borochow and Arthur William Dake, who gathered for World Chess Congress in Pasadena, California.
It is not without irony that Alekhine's plan backfired against him in 1935, when a loss to Euwe led him to joining the Two Plus Club himself, having first challenged Capablanca for the title in 1927, and later in 1937 to regain it.
Footage of the opening ceremony for the 1935 match
1948 to Present Day
Mikhail Botvinnik – 3 challenges
Obviously, even during the early FIDE days, there were a few oddities, such as the mighty Botvinnik. No one disputes his class or deservingness, but nor did he have to actually fight his way through a field for his three matches as the challenger. A clause in the title contract allowed him to earn a rematch should he lose his title, and he used this judiciously to regain the crown against both Vasily Smyslov and then Mikhail Tal.
His third match as challenger failed as he could not unravel the mystery that was Tigran Petrosian, which also ended his reign.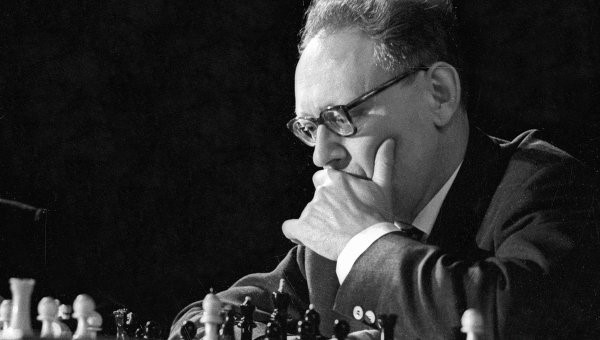 Mikhail Botvinnik in 1960 (source: Russian Power System Operator)
Viktor Korchnoi – 2 challenges
Korchnoi's legacy is well-documented, with more records on longevity and top-notch chess than anyone in the game. Lasker and Smyslov have their own claims, of course, so let this be stated with the caveat that it represents the author's personal opinion. Regardless, what is likely forgotten is that he could easily have been the one playing Karpov in 1984 instead of Kasparov were it not for his graciousness and sense of fairplay, making it three challenges.
What madness is this? In 1982, the Candidates were decided in matches, with the winner of the final to face the champion. The semifinal match between Korchnoi and Kasparov was initially set to be played in Pasadena, California, but the Soviet authorities refused to allow Kasparov to fly there for this purpose. Bear in mind, this was also shortly before they announced the boycott of the 1984 Olympic Games in Los Angeles. This was not aimed at Kasparov, since the other match saw Smyslov suffer a similar fate against Zoltan Ribli. Both Soviet players were effectively forfeited, and the final would therefore be between Korchnoi and Ribli, where Korchnoi would undoubtedly be the favorite. As it were, GM Raymond Keene managed to raise funds for both troubled matches and both Korchnoi and Ribli accepted to play them, forgoing on their default wins, and the rest is history.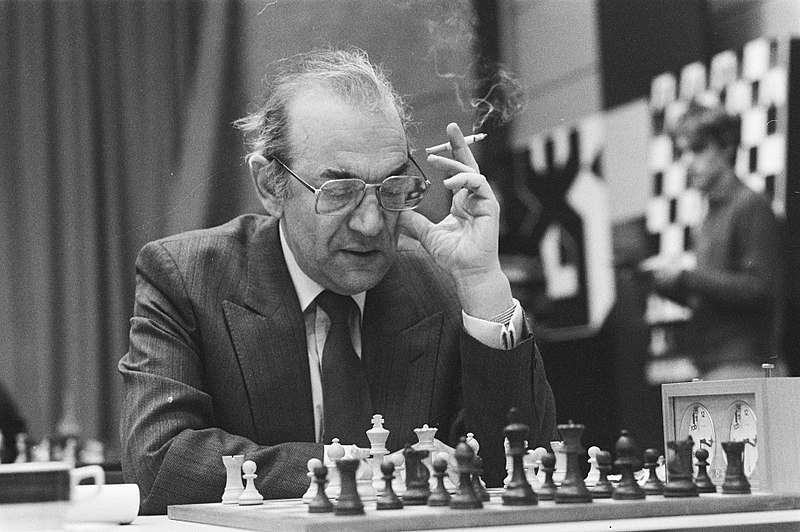 Korchnoi in Hoogovens 1985 (source: Rob Croes / Anefo)
Viktor Korchnoi's two official matches as the challenger were therefore in both 1978 and 1981 against Anatoly Karpov.
Anatoly Karpov – 4 challenges
What can one say about the great Karpov and World Champion for 10 years? He not only reigned from 1975 to 1985 with a record number of strong grandmaster tournament wins, but he also topped the top two Elo ratings spots from 1973 until 1996, a staggering 23 years!
His first challenge in 1975 was a no-show through no fault of his own, when Fischer infamously resigned his title and became the world's most famous recluse, with sightings almost as mythical as those of Elvis Presley (except that he was alive). He held on to the title for ten years and proved himself a more than worthy champion, until he finally lost to Garry Kasparov in 1985. The current generation won't remember it, but for a while it was really only about two names: Kasparov and Karpov, with the rest a healthy distance behind.
Documentary of the 1990 match
Anatoly Karpov would face Garry Kasparov a further three times in 1986, 1987, and 1990 in an attempt to regain his title, but to no avail.
Vishy Anand – 2 challenges
The state of affairs in the 1990s and early 2000s was murky to say the least. When Kasparov broke away from FIDE in 1993 to create his own rival organization, the PCA, it created a situation not unlike boxing and the multiple organizations, with a single champion sometimes unifying the titles and sometimes not. This also led to entertaining events such as the 1998 Knockout World Championship, which are hard to really credit on the same level. 
Anand's unquestioned matches as the challenger were in 1995 against Garry Kasparov, and 19 years later in 2014 when he faced Magnus Carlsen for the second time. In theory, one can make a case for a third challenge in 1998 when he climbed the grueling Knockout event to face Karpov in the mini-final, who was seeded directly there. 
Though Anand failed to regain his title in 2014, he did bloody his Norwegian rival in game three.
Vladimir Kramnik – 2 challenges
Vlaidmir Kramnik had two matches as the challenger for the title, one of which was successful in 2000 against Garry Kasparov, and the second in 2008 when Anand defeated him very effectively, showing he was the king of the hill then. Kramnik's name will always be synonymous of excellence in play and quality, as well as unparalleled openings research and preparation, a lesson he learned well from his predecessor, Kasparov.
Kasparov gives credit where credit is due as he explains his defeat to Kramnik in 2000
Ian Nepomniachtchi – 2 challenges
After his resounding defeat in 2021 against Magnus Carlsen, few gave him any chances to reach this stage again the very next cycle. Ding Liren said the statisticians and pundits. Caruana said the rest. Duda could be an underdog others claimed. Yet, rubbing their noses in their lack of faith, Ian Nepomniachtchi not only won the Candidates for a second time straight, he did so in spectacular fashion, absolutely crushing the field and winning a round in advance. 
Kasparov later stated that in hindsight it was incredibly shortisghted of him to so badly underestimate the Russian player, not just because of his obvious ability, but because of the huge amount of work in openings and more that Nepo was still benefiting from, having played a title match just six months earlier.
Kasparov admits his failure to consider Nepo's chances properly and explains what he feels was the key to his success.
One additional thing must be pointed out: Nepomniachtchi is also the first player in over 30 years, since Karpov, to be a consecutive challenger for the title. No matter how the match goes, he has shown exceptional character and grit to quiet the naysayers and earn his berth.
---

How I became World Champion Vol.1 1973-1985
Garry Kasparov's rise to the top was meteoric and at his very first attempt he managed to become World Champion, the youngest of all time. In over six hours of video, he gives a first hand account of crucial events from recent chess history, you can improve your chess understanding and enjoy explanations and comments from a unique and outstanding personality on and off the chess board.
---
Links