The oldest player in the field
While the likes of Gukesh and Praggnanandhaa continue to shine as they climb the rating ladder in classical chess, Levon Aronian, at 39, shows he is still one of the strongest players in the world in fast-paced time control. The Armenian-born star won the FTX Road to Miami online event after beating 23-year-old Wei Yi in the finals.
Aronian, who played from Yerevan, had a slow start, as he lost three out of his first five games in the preliminaries. Better performances in days 3 and 4 allowed him to reach the knockout, but only as the seventh seed (out of 8). After the scare, however, the US representative raised his playing level significantly, only conceding one loss in his matches against Arjun Erigaisi, Jan-Krzysztof Duda and Wei Yi combined.
The tournament winner confessed afterwards:
I didn't really deserve to be in the top eight because my play was very, very poor, but after that, I think I got myself together and I played better. 
His victory in the final match was rather convincing. In the first set, he got a 2½-1½ win after saving a position in game 3 and beating his young opponent in game 4. A more lopsided second set saw him winning twice with black to secure overall victory. In tennis terms, Aronian got something resembling a 7-5 6-2 victory.
Much like Aronian, Wei gained a ticket to participate in the FTX Crypto Cup set to kick off on August 15 in Miami. Due to the strict Covid-19 restrictions in China, the commentators asked the player from Yancheng whether he will make his way to the coastal American city. Fortunately, he responded that he thinks he will be able to make the trip. We certainly hope to see him showcasing his tactical, fighting style in the next tournament of the Meltwater Champions Chess Tour.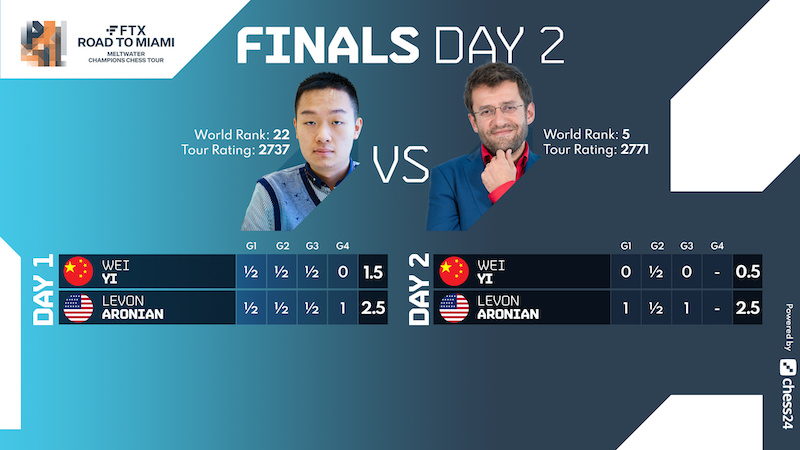 Analyses by GM Karsten Müller
In the first game of the first set, Wei Yi was a pawn down and had an inferior pawn structure in a knight vs bishop endgame. The Chinese, however, prevented Aronian's king from joining the fight and escaped with a draw.
Two more draws followed, but then came the decisive game which allowed Aronian to go into day 2 of the finals with an advantage. The Armenian made the most of the initiative in an interesting position with opposite-coloured bishops on the board.
Aronian won twice with black in the second set. In game 1, his opponent faltered in a rook endgame. This error turned out to be crucial going forward, as the Chinese was forced to win at least two games to take the match to tiebreaks.
All games from the final match
Links