Three white victories
What a start in the Deutschland Grand Prix, part of the 49th Dortmund International Chess Days Festival! After 90 moves and 5½ hours, the third game of the grandmaster tournament ended with a white win for Pavel Eljanov.
Ealier, the top-seeded shooting star Bogdan-Daniel Deac defeated Czech number 1 David Navara. After Navara played the opening inaccurately, the young Romanian managed to get a commanding victory.
Last year, Luke McShane was unable to travel to Dortmund at short notice due to entry restrictions. This year it worked out, and he started motivated with a white game against European Champion Matthias Blübaum. Against the Petroff Defence, McShane got a nice advantage in the middlegame and was able to lead it to victory in the endgame.
Last year's winner Pavel Eljanov won after almost six hours against the other German starter Rasmus Svane. Dmitrij Kollars, who provided entertaining live commentary with the two main commentators, did not play on the first day.
---
Analysis by Luke McShane
---
All games
Sportland NRW Cups off to a fighting start
The Sportland NRW Cup started perfectly for the young FM Christoph Dahl, who won two nice games. He is a two-time German U18 runner-up and is pursuing the goal of achieving a standard for the title of 'International Champion' in Dortmund.
After his opening defeat, 11-year-old Sauat Nurgaliev was able to record his first victory against Leonardo Costa.
In the women's Sportland NRW Cup, several young participants are hunting for title norms. But the experienced WGM Zoya Schleining from the Ruhr area had the perfect start with two wins. In both round-robin tournaments, one game of the weekend will be played on a morning in the course of the week.
Sparkassen Open with big surprises
Two rounds have already been played in the two open tournaments. The first big surprise in the Sparkassen Open A came in the second round on Sunday when Alexey Wagner (photo) beat the top seeded Grandmaster Erwin L'Ami. After two rounds, some players are still perfectly on track with 2 points, among them the co-favourites and Grandmasters Max Warmerdam and Dr. Florian Handke.
The Sparkassen Open B attracted 234 participants. The players up to a rating of 1900 play here in the morning and thus have time to watch the grandmasters in the afternoon. No fewer than 40 participants still have a perfect score in the B-Open.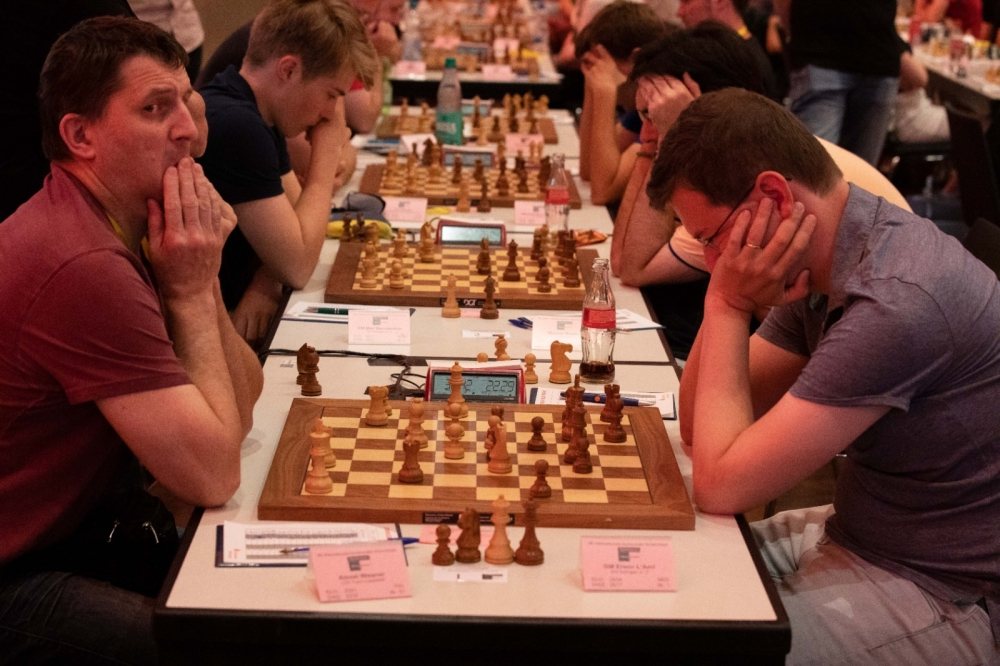 The tournament continues on Monday. Viswanathan Anand, Vladimir Kramnik, Michael Adams and Daniel Fridman will also play in the No Castling World Masters in the afternoon. The top game will certainly be the duel of the world champions.
GM Artur Jusupov, WIM Fiona Steil-Antoni and GM Matthias Blübaum, who is not playing, will commentate live.
Links