After the Accentus Chess960 tournament on Monday, the Grandmasters started their GM triathlon on Tuesday. The triathlon consists of a rapid tournament, a classical tournament and a blitz tournament. In the rapid tournament, a win counts two points while a draw yields one point. In the classical tournament, a win counts four points while a draw yields two points. The blitz tournament, the last competition of the triathlon, is a double-round-robin and here the players receive 1 point for a win and half a point for a draw.
It was Le Quang Liem who had the best start into the triathlon: He won the Rapid tournament with 11/14.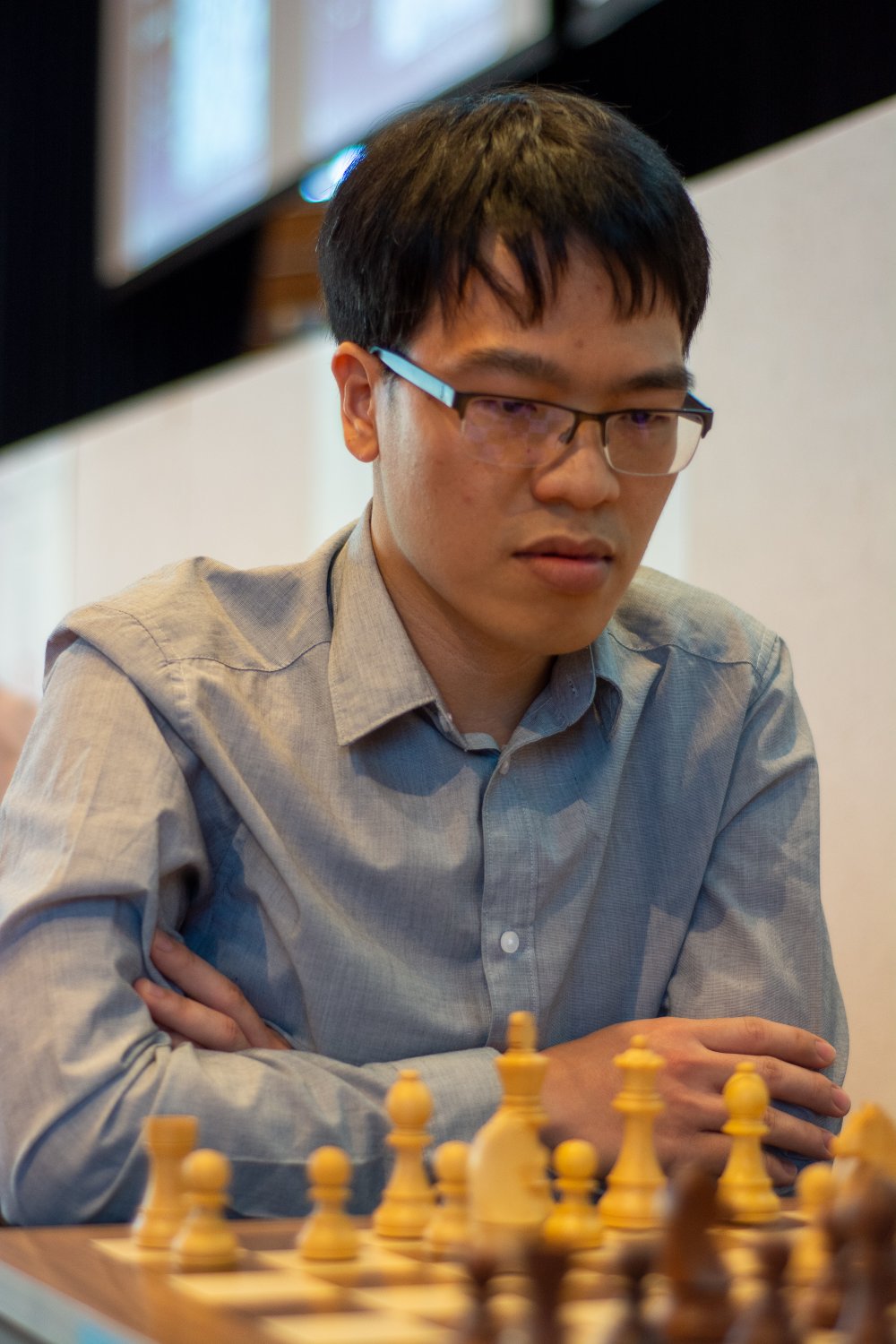 Le Quang Liem
Le defeated Gata Kamsky, drew against Nodirbek Abdusattorov, Gukesh and Keymer and finished the day with three more wins: against Salem Saleh, Arkadij Naiditsch and Andrey Esipenko.
Vincent Keymer, on the other hand, did not have a good day.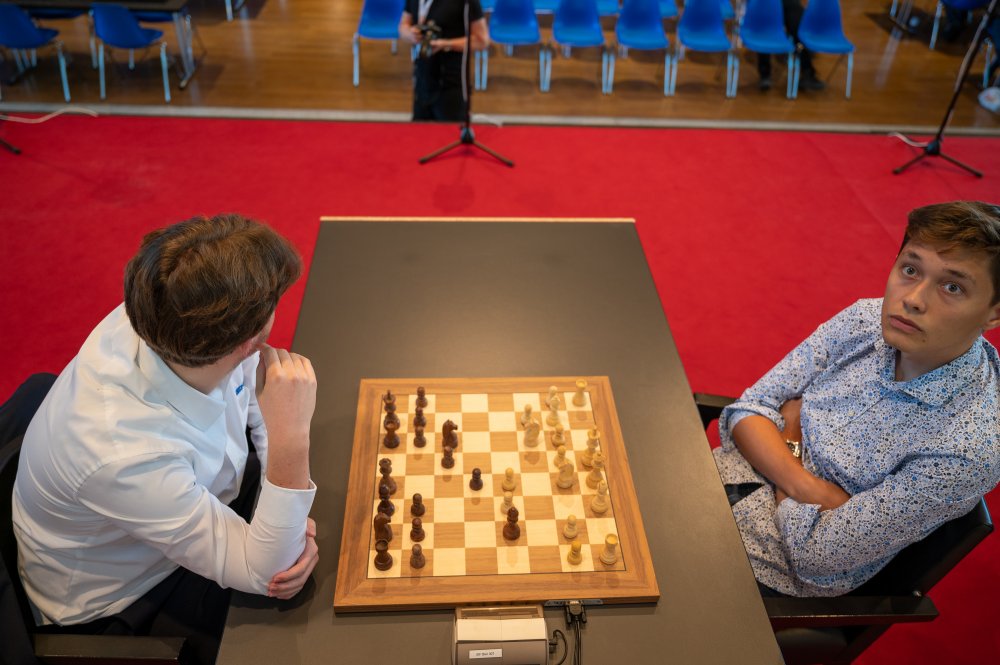 The winner of the Accentus Chess960 tournament started with a loss against Esipenko, but then won against Kamsky. After a loss against Abdusattorov Keymer drew against Le but then suffered losses against Gukesh and Salem. Though Keymer ended the day with a win against Naiditsch he still finished second to last with 5/14. Only Gata Kamsky (1/11) fared worse.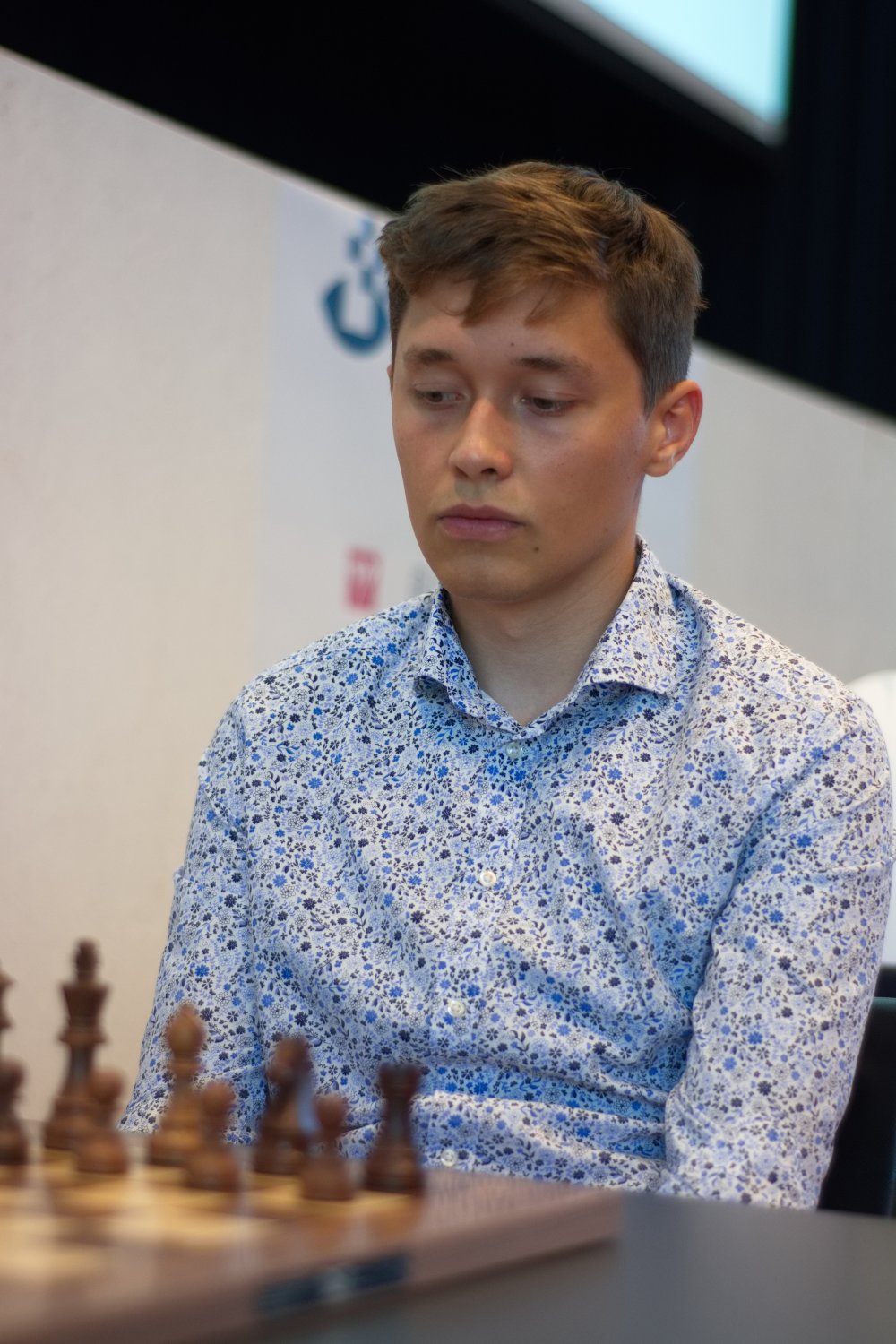 Andrey Esipenko
Second place behind Le went to Andrey Esipenko who finished with 10/14. Esipenko started with five wins but then lost the last two rounds. Abdusattorov finished third with 9/14.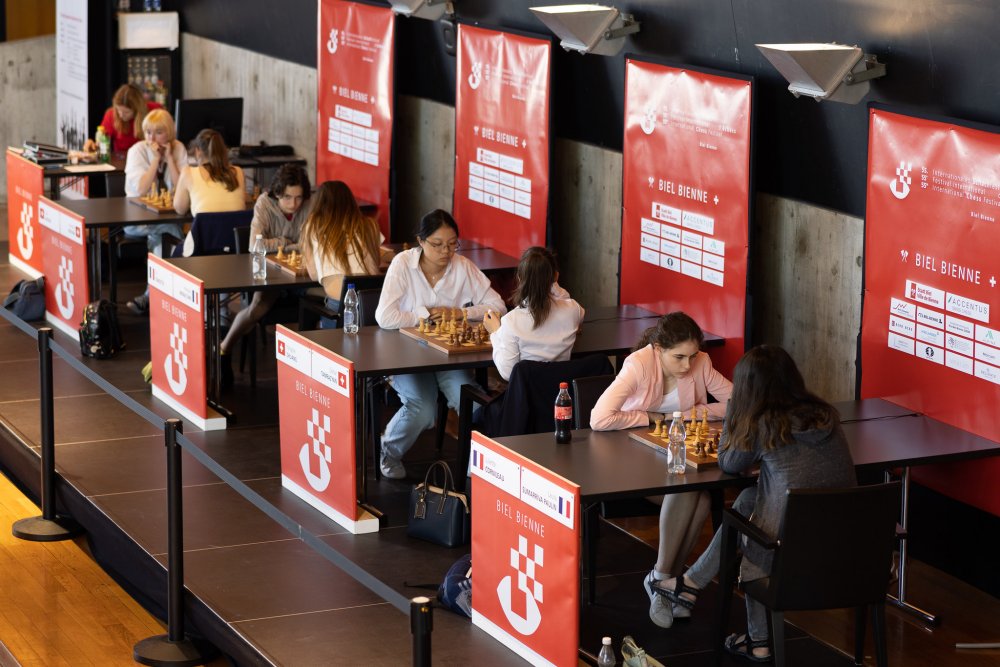 Parallel to the GM tournament, the eight women, who take part in the Accentus "Quadriathlon", also played a rapid tournament, which was won by Zhuang Yongzhe (SUI) and Juliette Cornileau (FRA).
The Rapid Open was won by Maxime Lagarde ahead of Eduardo Iturrizaga and Yu Yangyi.
Results GM Rapid
Round 1 (Tuesday, July 12 – 13:00)
Dommaraju Gukesh (0)

1 – 1

Nodirbek Abdusattorov (0)
Gata Kamsky (0)

0 – 2

Le Quang Liem (0)
Andrey Esipenko (0)

2 – 0

Vincent Keymer (0)
Arkadij Naiditsch (0)

0 – 2

Saleh Salem (0)
Round 2 (Tuesday, July 12 – 13:50)
Arkadij Naiditsch (0)

2 – 0

Dommaraju Gukesh (1)
Saleh Salem (2)

0 – 2

Andrey Esipenko (2)
Vincent Keymer (0)

2 – 0

Gata Kamsky (0)
Le Quang Liem (2)

1 – 1

Nodirbek Abdusattorov (1)
Round 3 (Tuesday, July 12 – 14:40)
Dommaraju Gukesh (1)

1 – 1

Le Quang Liem (3)
Nodirbek Abdusattorov (2)

2 – 0

Vincent Keymer (2)
Gata Kamsky (0)

0 – 2

Saleh Salem (2)
Andrey Esipenko (4)

2 – 0

Arkadij Naiditsch (2)
Round 4 (Tuesday, July 12 – 15:30)
Andrey Esipenko (6)

2 – 0

Dommaraju Gukesh (2)
Arkadij Naiditsch (2)

2 – 0

Gata Kamsky (0)
Saleh Salem (4)

1 – 1

Nodirbek Abdusattorov (4)
Vincent Keymer (2)

1 – 1

Le Quang Liem (4)
Round 5 (Tuesday, July 12 – 16:50)
Dommaraju Gukesh (2)

2 – 0

Vincent Keymer (3)
Le Quang Liem (5)

2 – 0

Saleh Salem (5)
Nodirbek Abdusattorov (5)

0 – 2

Arkadij Naiditsch (4)
Gata Kamsky (0)

0 – 2

Andrey Esipenko (8)
Round 6 (Tuesday, July 12 – 17:20)
Gata Kamsky (0)

1 – 1

Dommaraju Gukesh (4)
Andrey Esipenko (10)

0 – 2

Nodirbek Abdusattorov (5)
Arkadij Naiditsch (6)

0 – 2

Le Quang Liem (7)
Saleh Salem (5)

2 – 0

Vincent Keymer (3)
Round 7 (Tuesday, July 12 – 18:10)
Dommaraju Gukesh (5)

2 – 0

Saleh Salem (7)
Vincent Keymer (3)

2 – 0

Arkadij Naiditsch (6)
Le Quang Liem (9)

2 – 0

Andrey Esipenko (10)
Nodirbek Abdusattorov (7)

2 – 0

Gata Kamsky (1)
Overall standings
| Rank | Name | Games | Classical | Rapid | Blitz | Total |
| --- | --- | --- | --- | --- | --- | --- |
| 1 | GM Le Quang Liem | 7 | 0 | 11 | 0 | 11 |
| 2 | GM Andrey Esipenko | 7 | 0 | 10 | 0 | 10 |
| 3 | GM Nodirbek Abdusattorov | 7 | 0 | 9 | 0 | 9 |
| 4 | GM Dommaraju Gukesh | 7 | 0 | 7 | 0 | 7 |
|   | GM Saleh Salem | 7 | 0 | 7 | 0 | 7 |
| 6 | GM Arkadij Naiditsch | 7 | 0 | 6 | 0 | 6 |
| 7 | GM Vincent Keymer | 7 | 0 | 5 | 0 | 5 |
| 8 | GM Gata Kamsky | 7 | 0 | 1 | 0 | 1 |
Games