One norm to go
Less than three months ago, Tanitoluwa Adewumi clinched his first International Master norm at the New York Spring Invitational. Come summer, the 11-year-old grabbed his second norm in the same series of events in the Big Apple. Tani scored 7/9 points to become the outright winner of the New York Summer IM-C tournament.
The life of Tani's family suddenly took a turn for the better when Nicholas Kristof wrote a column for the New York Times in March 2019. Kristof picked up the story of Tani, who at 8 won the New York State Scholastic Chess Championship in his age group. The family of Nigerian immigrants was living in a homeless shelter at the time.
Since then, the ever-smiling boy has become a household name in the chess world. Besides being invited to visit Bill Clinton at his office in Harlem, Tani has played several blitz games against Fabiano Caruana and Hikaru Nakamura, and has been part of the Kasparov Chess Foundation's Young Stars program.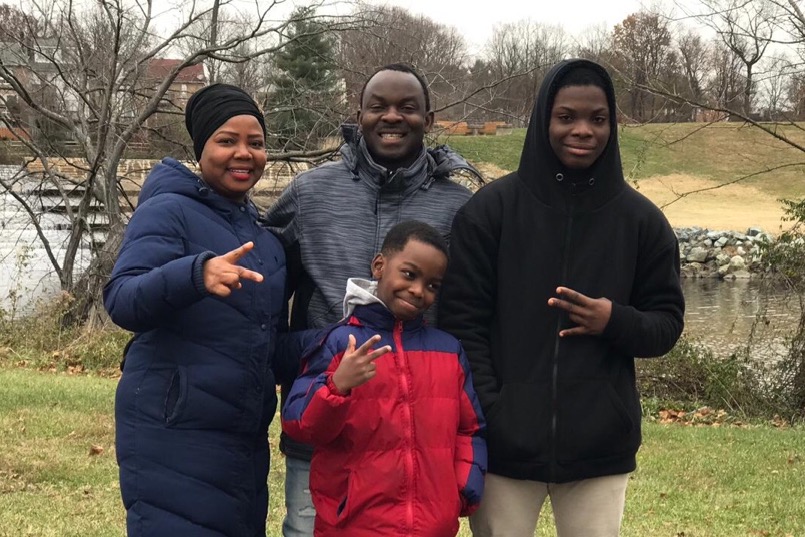 Devout Christians — Tani with his family
Not a fluke
When Tani grabbed his first IM norm in April, he had entered the tournament with a 2177 Elo rating. His 7/9 score was enough to clinch shared first place, and gained him no less than 127.6 rating points.
At the summer tournament which saw him collect his second norm, Tani also scored 7/9, but this time around he entered the event as the third seed. The 11-year-old's performance proved that his previous showing had not been a fluke. With a 2448 TPR (only 10 points short of his TPR in April), the Nigerian-American star added 33 more points to his FIDE rating.
Tani started strong, collecting three straight wins in the first three rounds of the event. In round 2, he defeated second seed Levy Rozman, a.k.a. GothamChess, one of the most popular chess streamers in the world. Tani showed a combination of positional understanding and excellent tactical vision to get the full point.
---
Final standings – IM C
| | | | | | | |
| --- | --- | --- | --- | --- | --- | --- |
| 1 |   | FM | Adewumi Tanitoluwa | 2309 | 7,0 | 0,0 |
| 2 |   | FM | Nakada Akira | 2297 | 6,5 | 0,0 |
| 3 |   | IM | Bortnyk Mykola | 2463 | 6,0 | 0,0 |
| 4 |   | IM | Rozman Levy | 2333 | 4,5 | 3,0 |
| 5 |   | FM | Huston Gus | 2282 | 4,5 | 2,0 |
| 6 |   | IM | Martin Del Campo Roberto | 2245 | 4,5 | 2,0 |
| 7 |   | FM | Poliannikov Danila | 2309 | 4,5 | 1,5 |
| 8 |   | CM | Hardaway Brewington | 2175 | 4,5 | 1,5 |
| 9 |   | AGM | Asavasaetakul Chawit | 1948 | 2,5 | 0,0 |
| 10 |   | CM | Le Nguyen Khoi Nguyen | 2001 | 0,5 | 0,0 |
---
All games
Links