Moscow, December 1953. He was 31. He was married. He stayed in a communal flat with his wife and little daughter. At home he could work on chess only after everyone in the flat had gone to sleep and that too, in the kitchen so as not disturb others. His recent results were nothing to write about. In the Candidates' Tournament, Zürich he had finished with less than 50% (+5, – 6, =17).This was the unenviable situation in which Averbakh found himself.
Still he was determined to compete and succeed. Then disaster struck. His father was detected with cancer and admitted to hospital. Next month he had to go to Moscow to play in the 21st USSR Championship. This time four big names were missing. Botvinnik and Smyslov were busy with preparation of their world championship match. Bronstein was away in Hastings along with Tolush. Keres was not playing. Still it was a strong event with Petrosian, Korchnoi, Geller and Taimanov, not to mention veterans, Flohr and Lilietnhal. And how could one overlook that combinational maestro Nezhmetdinov? As for Averbakh, he hardly had much time to prepare.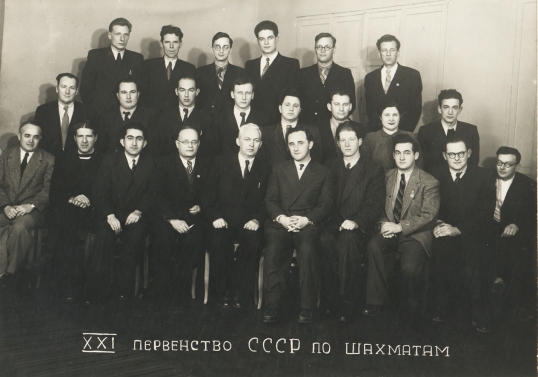 Players in the 21st USSR Championship 1954: First row: Salo Flohr, Andre Lilienthal and Tigran Petrosian (L), Efim Geller, Yuri Averbakh and Mark Taimanov (R); second row: Viktor Korchoi, last (R); third row:  Rashid Nezhmedinov second (L); (The rest are not identified) | Photo: www.Chesspro.ru
Still he finished first, ahead of them all. What is more, he remained unbeaten with a score of  +10 -0 = 9.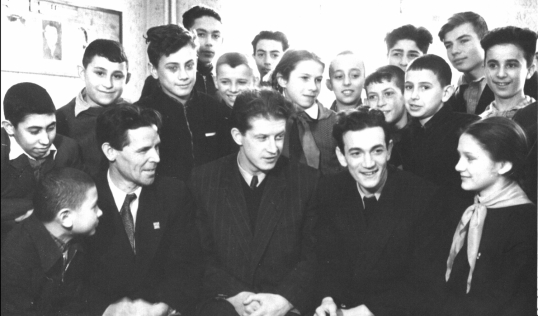 Nezhmetdinov, Averbakh and Korchnoi with young chess fans on the occasion of the USSR Championship 1954 | Photo Credit: ChessPro.ru
Efim Geller- Yuri Averbakh USSR Championship 1954
Defiance, defeat and disgrace
However, fate was still playing games with him. A match between the USA and the USSR was arranged in New York. Smyslov played on the first board and drew with Reshevsky.
Averbakh playing on the seventh board faced IM Donald Byrne, U.S. Open Champion, the younger brother of GM Robert Byrne.
After the first two games the score was 1-1. In the third game an unpleasant incident took place. Averbakh, making the last move before time control pressed the clock. However, his opponent saw that his flag was down and called the arbiter. The latter found that Averbakh's clock was still running. So he gave the verdict that Averbakh was lost on time.
Donald Byrne-Yuri Averbakh, USA-USSR Match 1954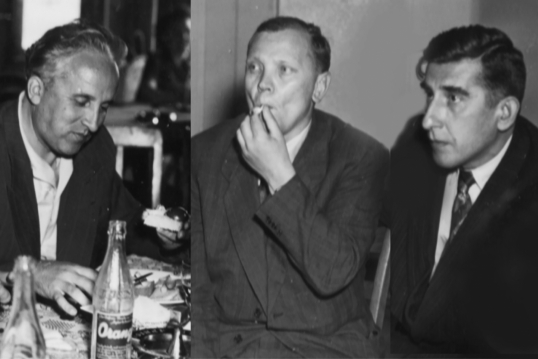 Comrade Mozintsev (KGB), Dmitry Postnikov and Igor Bondarevsky | Photo: www.ChessPro.ru
The clock was faulty and Averbakh protested. Unfortunately, it was in vain. The arbiter's verdict held. The Team Captain Igor Bondarevsky did not want to make an issue. They were honoured guests here in New York and they were playing before an appreciative crowd. Besides, the Soviets were leading by an overwhelming margin. One loss on a lower board did not make a difference. But Averbakh was terribly hurt.
"This shameful business threw me out of sorts. I could not sleep at all that night, for thinking over and over my misfortune. The next morning I planned to go for a walk… But then the phone rang.
"Come to our UN office," announced Postnikov. "We need you to help analyse Kotov's adjournment."
"Dmitry Vasilievich!" I protested, "I have had a sleepless night and do not feel very good. I need to relax."
"That's OK. Come here and analyse the position. Then you can relax."
I shouted, "I am not going anywhere," and putting down the receiver I headed off to town.
"My hands were shaking!"
Next morning an hour before the play Postnikov summoned me to his room.
"How dare you ignore my instructions!" he shouted.
I repeated, he needed to understand how I had been feeling, and I needed time to relax. I also added, it was not the time to create a scene, an hour before play. But Postnikov was having none of it. He continued to rage.
"I don't care about your game. You will do as you are told!"
When I sat at the board my hands were shaking. Having quickly obtained a much better position I couldn't concentrate and fell into time trouble. First, I squandered my advantage and then the draw as well."
Yuri Averbakh-Donald Byrne USA-USSR Match 1954
In this game Averbakh was not himself. He did not even notice that he could claim a draw by repetition of position on the 43rd move. In fairness to Donald Byrne he conducted a brilliant counterattack from a lost position.
"From the team result point of view my loss was insignificant, as we won by a large margin, but it was to have far reaching consequences…."
On their return to Moscow Postnikov reported on their performance of the team to the Sports Committee. He also drew attention to Averbakh's poor result and unsporting behaviour. Now there was a price to pay.
"I was expelled from the national team and I was not allowed to travel abroad. Even though I was the national champion, I was not taken to the Olympiad, not even as a reserve."
Averbakh becomes an author
Time heals everything.  Averbakh survived the fall from grace with authorities. He had won the 21st USSR Championship early that year. Unfortunately, he could not repeat that success next year in the 22nd USSR Championship. He ended up sharing 15th and 16th place with Lisitsyn. It was a terrible result and his play was panned by veteran, Pyotr Romanovsky. But was he to blame? He had spent almost all his time editing a book on the endgame, his first love.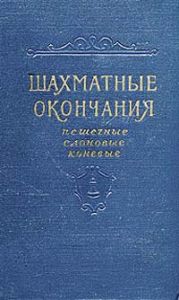 Шахматные окончания. Пешечные, слоновые, коневые (1956) | Photo: Wikimedia Commons
This was a 480-page tome that dealt with bishop, knight and pawn endings. No wonder that he could not prepare for the championship. The other reason for his failure was emotional. The death of his father*, the terrible result in New York and the punishment meted out by the Sports Committee all had their effect on his mind.
Missing the championship title again
As it happened, he did recover his form when he played in the 23rd USSR Championship next year. It was in this Championship that young Tal made his debut and won the hearts of the audience with his wild, adventurous play. The contest for top honours however was between Averbakh, Spassky and Taimanov.  Averbakh had an upset in the first round when Spassky played an unsound sacrifice in a lost position and won when Averbakh landed in time trouble. But then slowly he picked up pace and the race was not without adventures. Here is how he narrates the game with Tolush:
"The game with Tolush went badly for me, and clouds were gathering over my king; if there was one thing Alexander Kazimorovich could do it was to conduct mating attacks. At this moment I took what seemed from a logical point of view an insane position-I gave up a piece for two pawns, but liquidated pawns and exchanged queens.

True, the resulting endgame did not offer me any chances of holding…"
Still Averbakh took a chance and the game was adjourned.
"Sitting down at the board Alexander Kazimorovich did all he could to convey the impression that he did not see any reason for continuing the game, and played his moves quickly. It never entered his head that I might have any chances of saving the game. But I did, and not just saving it. The fact is during my analysis I had found a fantastic trap, and decided to try to catch my opponent. And suddenly it happened…"
Averbakh-Tolush, 23rd USSR Championship, 1956
The outcome of the championship was that three players, Averbakh, Taimanov and Spassky ended up with the same score, 11½ points out of 17. So a play-off was arranged between the trio. This time Taimanov was first with 3 points, Averbakh was second with 2½ points and Spassky with "only" ½ point. The encounter between Averbakh and Spassky turned out to be a crazy battle with one miracle following another.
Averbakh-Spassky, 23rd USSR Championship 1956
Averbakh did not play in the 24th USSR Championship next year. He returned to the arena the year after, in 1958. This was a strong Zonal tournament for the world championship cycle, with three future world champions, Tal, Spassky, Petrosian, not to mention Korchnoi, Bronstein and Geller among others. The lead changed several times and it was only the last round battle between Tal and Spassky that decided the final outcome:
Sorry, no sound! | Credit: British Pathė
Averbakh was involved in the adjournment session and it is only for reasons of space that I am leaving out that bit of exciting narrative.
Any way Spassky lost the adjourned game from a winning position and was out of the race for the world championship cycle. It was Tal, Petrosian, Bronstein and Averbakh who qualified for the Interzonal.
Meeting Bobby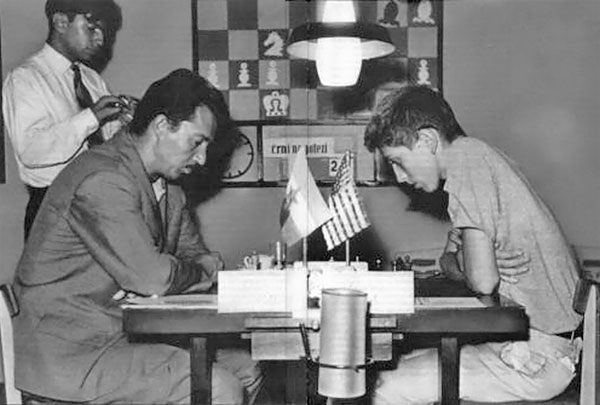 Bobby Fischer playing against Svetozar Gligoric in the Portoroz Interzonal 1958 | Photo: Tournament book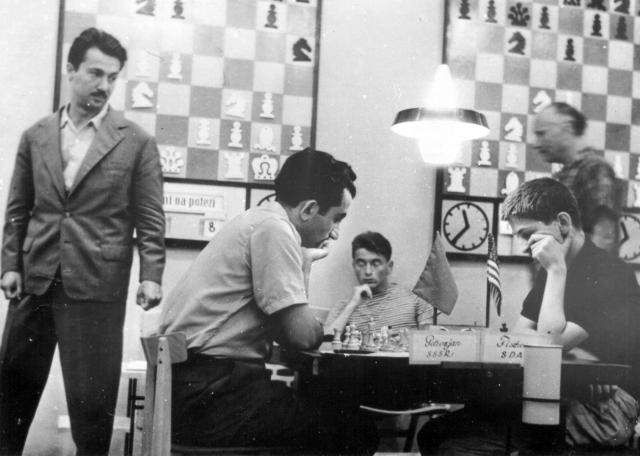 Bobby Fischer playing against Tigran Petrosian in the Porotoroz Interzonal 1958 | Photo: Douglas Griffin on Twitter
In the Interzonal later that year Tal was at zenith of his powers and came first. Petrosian played steady chess and qualified for the Candidates along with Tal. Bronstein lost in the last round to Cardoso, a young player from Philippines and lost his chance to qualify for the Candidates'. Averbakh needed only one point in the last two rounds. He drew with Matanovic and sadly lost to Szabo, bringing his career ambition in professional chess to an end. He did play in tournaments thereafter, but he was not rewarded with great success. Meanwhile he had discovered other gifts in chess and they were to play an important role in his life.
One narrative that is absent in this book is an account of Averbakh's first meeting with Bobby Fischer. It appears elsewhere in his other book, Averbakh's Selected Games:
"I saw Fischer for the first time at the Interzonal 1958. The tournament was held in Portoroz, a sea side resort in Yugoslavia. He turned out to be a skinny teenager in jeans and sweater, rather shy and even unsociable in his dealings with others. Bobby, as the participants and journalists quickly began calling him, gazed without the slightest interest at the colourful countryside of the sunny Adriatic. He was not attracted either by the golden sand, or the deep blue sea. All his thoughts were concentrated on chess. Chess comprised his inner life, and he was completely absorbed in it. And at the chess board this youth, almost still a child, showed himself to be a fully developed chess fighter, demonstrating amazing composure, precise calculation, and truly devilish ingenuity.
 I was especially staggered not so much by his very extensive opening knowledge, as by his striving everywhere to seek new paths. Fischer's play displayed not only his enormous talent, but also hinted at the enormous amount of work he had done on the study of chess. However, judge for yourself."
Yuri Averbakh-Robert J. Fischer, Portoroz Interzonal 1958
After the game I heard people ask Fischer why he proposed a draw. He said, "I did not want to lose to a grandmaster." When I was asked the same question, I said, "I did not want to lose to a boy."
To be continued…
Notes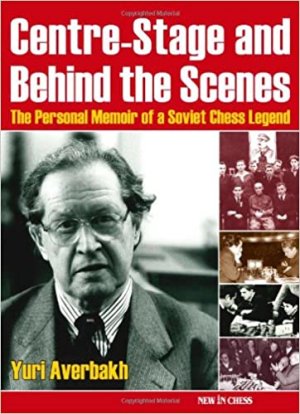 1) One limitation of this book is that there are no games in it. From this point of view, his other work, Averbakh's Selected Games (Cadogan, 1998), deserves mention. However, I have found Big DataBase also useful, as it has many of the games mentioned by Averbakh in this book.
2) A tribute on Averbakh's 100th birth anniversary with rare images from his life and career. Non-Russian readers may use English subtitles:
https://www.youtube.com/watch?v=rNxFnDqJ0sA
3) During the spring of 1954 Averbakh was a member of the USSR Team that visited Argentina and France. He was anxious about the condition of father suffering from cancer. In the book he writes, "I phoned Moscow from Paris and asked how my father was. "He's worse," replied my wife.  I asked her the same question when we arrived in Moscow while we were still sitting in the bus. "They buried him two weeks ago!" My father had died while we were still in Argentina. The Head of the Sports Committee concluded, I could do nothing about it and decided not to tell me the news. The news that my father had died could have had a serious effect on me and affected the sporting result. As for the question of sending me back to Moscow that thought never even arose."
4) Donald Byrne is known for his famous loss to Bobby Fischer in 1956 that was enthusiastically called, The Game of the Century by Hans Kmoch. The late master and university professor deserves better.
5) At Board 4, U.S. Open Champion Donald Byrne was opposed by Yuri Averbakh USSR Champion who hastens to explain to everybody that "he won Championship when nobody was playing in it."- Chess Life, July 5 1954.
6) Big DataBase does not record 40…Nge4 that Averbakh played against Donald Byrne in the third game of the USA-USSR Match 1954, presumably on account of the dispute involved on the clock.
7) Reports of the USA-USSR Match 1954 from the USCF Chess Life &Review Archives:
8) One year after the international tour of the Soviet Team there appeared a book Советские шахматисты в США, Англии и Швеции ("Soviet players in the USA, England and Switzerland") by Igor Bondarevsky. It offers an account of the tour with 68 deeply annotated games.
9) Bobby Fischer's game with Tigran Petrosian at the Portoroz Interzonal 1958 ended in a hard-fought draw. It's included in his book, My 60 Memorable Games.
Links