I was helping a student prepare for his next round. Due Black against a player that would likely play the London System, my student wanted to use a King's Indian Defense setup.
I reviewed some ideas, and then I showed him some model games where Black wins. I then suggested that he do some more preparation on his own, by looking over some games from a database that I made for him.
My database had only Black wins against the London System, where Black used this King's Indian Setup.
My student, like many scholastic players, enjoys short (miniature) games. Also, short games might have some opening traps. Therefore, my database had the shortest games appear first, and the longest games appear last. A few games were marked for him to look at because I thought they looked interesting.
I encouraged him to look through as many games as he wanted, mainly for inspiration, a confidence boost, and to pick up a few ideas.
Open a new board by pressing Control + N and enter these moves:1.d4 Nf6 2. Nf3 g6 3.Bf4 Bg7 4.e3 0-0 5.Be2 d6
Press the Enter Key to search the Online Database for games with the position.
Click on any game in the Search Result list. Press Control + A to select all games. Right click on the highlighted games -> Output -> Database.
Name the file "LondonOBW" or choose a file that you have already made.
I add "OBW" to file names for "only Black wins" and "OWW" for "only White wins." The file name reminds me to delete the file later, when I'm done with this project.
Our new LondonOBW database has about 1000 games now, with wins, losses, and draws. To remove the White wins and draws:
In the Database window, open your LondonOBW file by pressing Control + O and locating it. Or if you see the icon in the Database window, you can double click on it.
If the icon is not there, don't worry! After opening the file (with Control + O) you will see the icon in the Database window, at least for the rest of the session (until you close ChessBase). Try right clicking on the icon -> Properties -> Click the "Pin to favorites" checkbox.
In the Games List Window, press Control + F or click Home -> Filter Games.
In the Filter Games window, click Reset (optional, but often helpful when working with filters and searches in general), then click Advanced.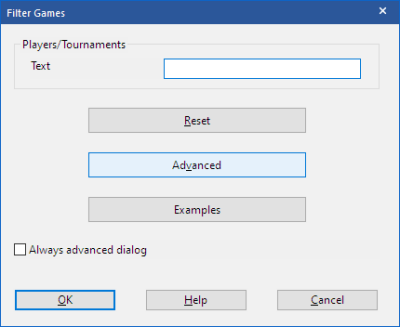 In the Advanced Filter Games Window, check the result boxes so they are 1-0 and ½-½. Click OK.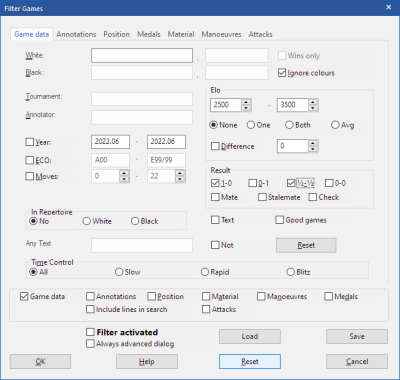 The search results should show only games that result in White wins (1-0) and draws (½-½-).
Select all games (Control + A) and press the Delete key. You will see strikethrough lines through all the games, to indicate that they are ready to be deleted.
To permanently delete the games, in your Database window, right click on the LondonOBW icon. Tools -> Remove deleted games. You will see a Confirm – Pack Database prompt. Click OK.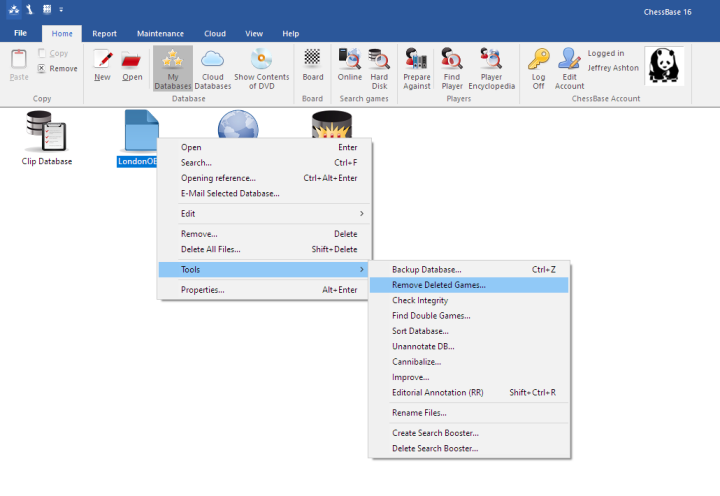 To have the database show the shortest games first and the longest games last:
Open your LondonOBW file.
In the Games List window, click on the Moves column twice so the games are arranged from shortest to longest.
In the menu ribbon, click on Games -> Fix sort order, then confirm with OK. This will lock the changes into place.
The Quick Board in the Games List window has a couple features that are easy to overlook. First, make sure that Quick Board is on. In the Games List menu, look for a Quick Board checkbox in the top of the screen, and click so it is on. Or in the menu, View -> Quick Board.
You can flip your Quick Board so the black chessmen are on the bottom, which is useful when preparing a Black opening. Also, you can change the Board Design for the Quick Board, such as adding coordinates or buttons to click through games. Right click anywhere in the empty margins right next to the Quick Board. You will see Flip Board and Board Design.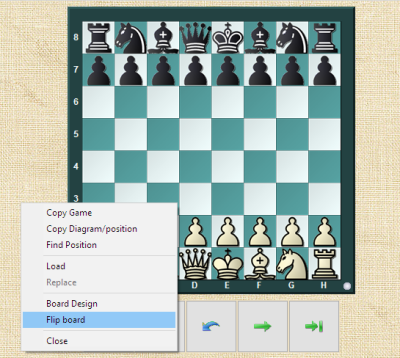 In the Games list window, you can quickly mark games with a blue (cyan) ChessBase medal by pressing a button.
First, you need to customize a keyboard shortcut.
In the Game list window, go to File -> Customize.
Locate "Mark Games." Assign the "m" key as the new keyboard shortcut. The "Input new shortcut" window will show a capital "M" as you type the m (or M) key on your keyboard to input that letter.
Click Assign, Apply, and OK.
Go through your games list, and press "m" by games that you think your student should review. Even when I'm doing my own preparation, I like to mark games. It forces me to think more actively and critically as I skim through games. I strongly encourage students to mark games that they think are interesting.
Delete games that are short due to a notation problem. To delete a game, press the Delete key, and a strikethrough will appear through the Game Header. Later you can permanently delete games (as described earlier in this article.
In the Games List with Quick Board on:
Use the left and right arrow keys to move forward and backwards through games.
Use the up and down arrow keys to move to the next game or previous game.
Use the "m" key to mark good games, and the Delete key to strikethrough bad/incomplete games.
Remind the student that they aren't expected to go through EVERY game, but they can do so if they wish.
My student prepared, and then the opponent did not play the London System. But my student still won! Additionally, my student can very quickly find model games and do his own preparation. Thanks to my database, and his study of it, he is ready to face the London System.
Links