Another memorable tournament
Candidates Tournaments since 2013, when FIDE decided to go back to the double round-robin format, have provided plenty of entertainment for chess fans all over the world. This year's edition was no exception. Even if there was barely any intrigue in the fight for first place, watching Ian Nepomniachtchi's dominating performance was in itself a great show. Not to mention the fact that the remaining players arrived in Madrid with clear intentions to finish first, which meant there was no lack of fighting games in every round.
Magnus Carlsen's surprising statements after the World Championship match in Dubai also helped. The suspense remains as to whether he will agree to face Nepo in another battle for the world crown. Thus, second-placed Ding Liren might become the Russian's rival in the match.
According to Hikaru Nakamura, it is very unlikely that Carlsen will in fact withdraw from the match. The professional streamer had this to say after losing against Ding on Monday:
Everyone has said that. I've seen Kramnik say it, I've seen Kasparov say it. Fabiano, Ding and myself, if you look at the way we played here, it was very clear that we all didn't really believe all that stuff.
Nepo, meanwhile, used a Doctor Strange reference to invite Carlsen to play him again. Dormammu is the archenemy of the series' mystic hero.
Ding beats anxious Naka
Hikaru Nakamura has not stopped creating content for his online followers during the Candidates Tournament. In his last recap from the event, titled "Dear YouTube, I cared too much", he explained how he failed to handle his clock effectively during his last-round game against Ding Liren.
The American made some decisions too hastily, as he did not identify the critical moments, when taking a bit more time to reflect on how to proceed was necessary. For example:
Naka only needed a draw to clinch second place. Given his ability in queenless positions and endgames, it is likely that he would play 18…Rxd1 in this position more often than not. Instead, he went for 18…h6, which he identified as the first mistake he made during the game.
Note that the text move is evaluated as equal by the engines, much like 18…Rxd1, but from a practical point of view, the former only made things harder for the US grandmaster.
As Nakamura began to lose control of the situation, Ding showcased excellent technique to create as much pressure on his opponent as the position allowed. On move 38, Black missed another chance to get closer to a draw.
The strongest move in the position is 38…f3, which would vastly hamper White's ability to activate his king. Naka thought for less than a minute before choosing 38…Bf6 though, which was followed by 39.Nd4 (not only centralizing but also 'protecting' f3) Re8 40.Kg2.
After 40…Ne5 41.Nf5 f3+ 42.Kg3, White's king joins the action, leaving Black with a very difficult defensive task ahead.
The time control had been reached, and Ding had a clear advantage. From this point on, the Chinese did not put a foot wrong, as he slowly upped the pressure until getting the win that might gain him the right to play in the next match for the world title.
The highlight of the day — Ding Liren vs Hikaru Nakamura | Photo: FIDE / Stev Bonhage
Radjabov and Firouzja end on a high note
Teimour Radjabov had a great second half of the tournament in Madrid. In the first seven rounds, he had lost twice, but since then he collected three wins to finish the event in shared third place with a 7½/14 score.
On Monday, he skilfully defended against Richard Rapport's bold kingside play.
With 19.g5 fxg5 20.Nxg5 hxg5 Rapport claimed that his attacking chances were enough compensation for the piece. The engines agree, as both rooks will join the queen and potentially the dark-squared bishop in the assault. However, precise play is needed to convert these dynamic factors into a win.
Of course, dealing with such threats from the black side is also extremely difficult. 
In the end, it was Radjabov who prevailed from the defensive side, as he went on to get his second consecutive victory with the black pieces after 33 moves.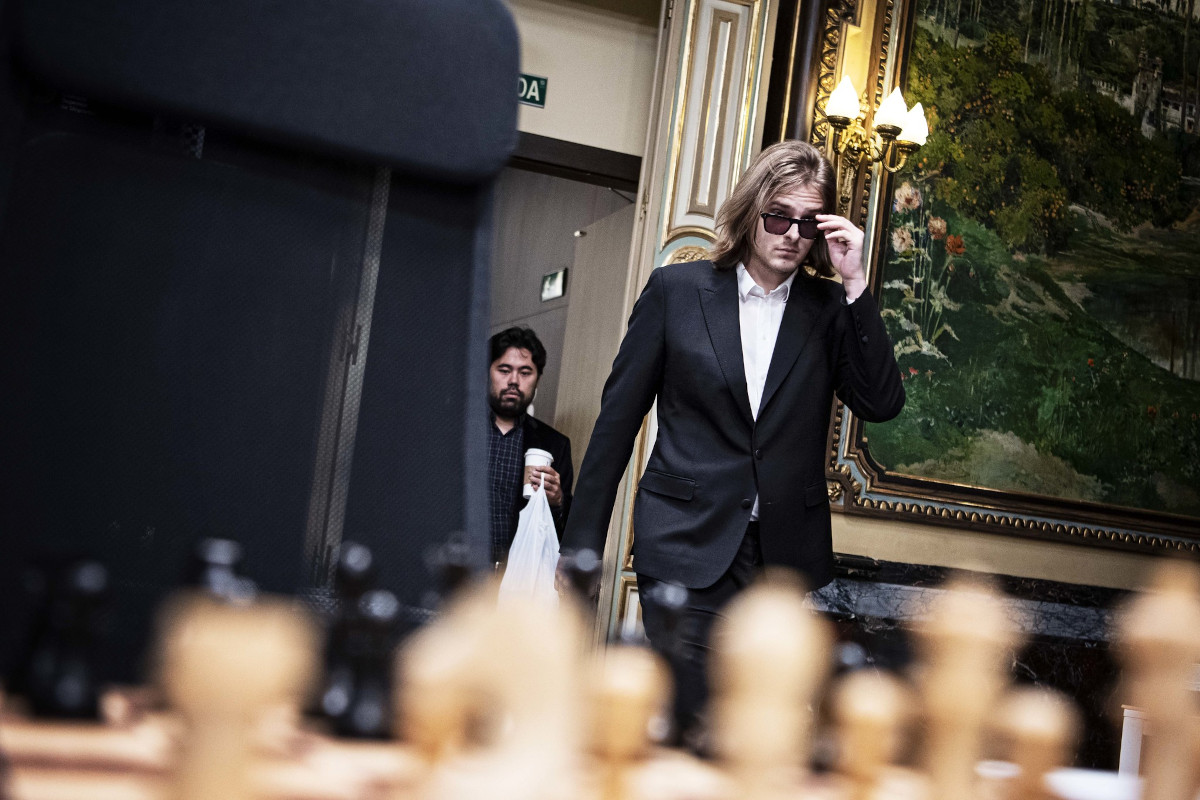 Clearly in the mood to go for g4-g5 — Richard Rapport | Photo: FIDE / Stev Bonhage
While Radjabov had an excellent second half, things went from bad to worse for Fabiano Caruana starting in round 8. The US grandmaster lost four out of his last seven games to finish on a minus score after his strong start in Madrid.
In the last round, Caruana faltered in the endgame after having defended fiercely (and effectively) for most of the game against Alireza Firouzja
White is a pawn down, but only after 60.Ne4 his position is lost. The natural 60…Rh3+ cannot be responded by 61.Kc4 Rh4 62.Kd3 due to 62…c4+ Ke3, and importantly the knight will have trouble reaching a defensive spot against the potential promotion of the a-pawn.
Caruana saw this and played 61.Kd2, but after 62…Kd5 63.Nf2 Rxc3, White has lost his one pawn and has no way to defend the position. Resignation came on the next move.
Alireza Firouzja | Photo: FIDE / Stev Bonhage
---
Round 14 results
---
Final standings
---
All games
Links