Let's be honest, unless you are an utter luddite, there is just about nothing we don't wish we could do on our phones. It isn't that we necessarily want to watch movies or TV shows on a 6-inch screen, for example, but that if stuck in some commute or waiting area we have that option.
So imagine being able to watch one of the many superb video courses from the ChessBase stable? This has now been solved, all while retaining the many options you enjoy when watching on a proper PC: enter and test out moves on the board, consult an engine, and more.
Buying a 'streamable' course
Not every course is available for streaming for now, though there are many times many from the last few years. Over time you can no doubt expect this to expand to some classics such as games collections from top players such as Kasparov, Anand, Kramnik, and more. 
Still, if you are in the market for a new one and want to be sure, it is easy: go to the ChessBase Shop and choose a course that interests you. In the basic Product details, one of the items will be streaming. If you see this and the icon, then it is available for streaming on your phone and other devices.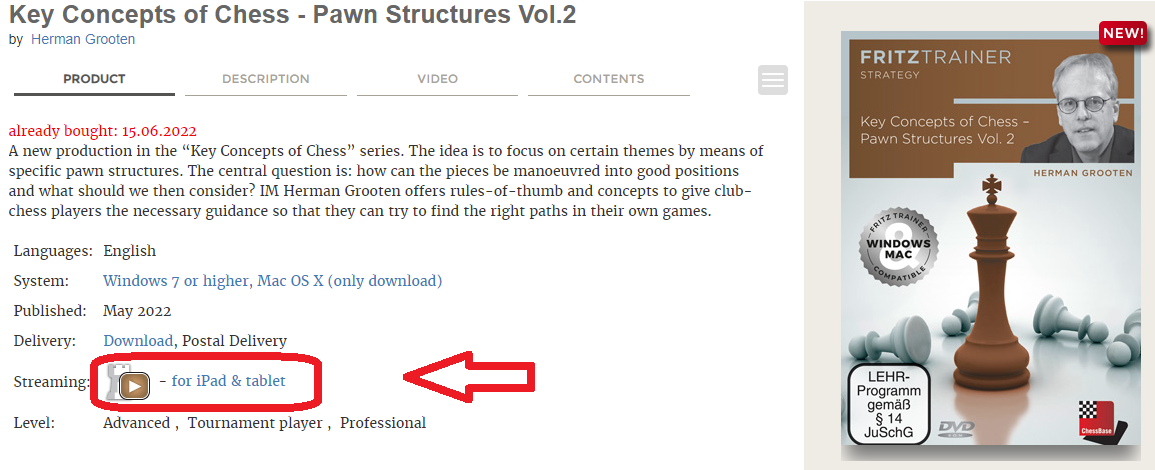 This icon means it is available for streaming (click to enlarge)
How to watch
Really, nothing could be easier. Although you can theoretically go to your Downloads and see what courses you own are streamable, this step is quite unnecessary.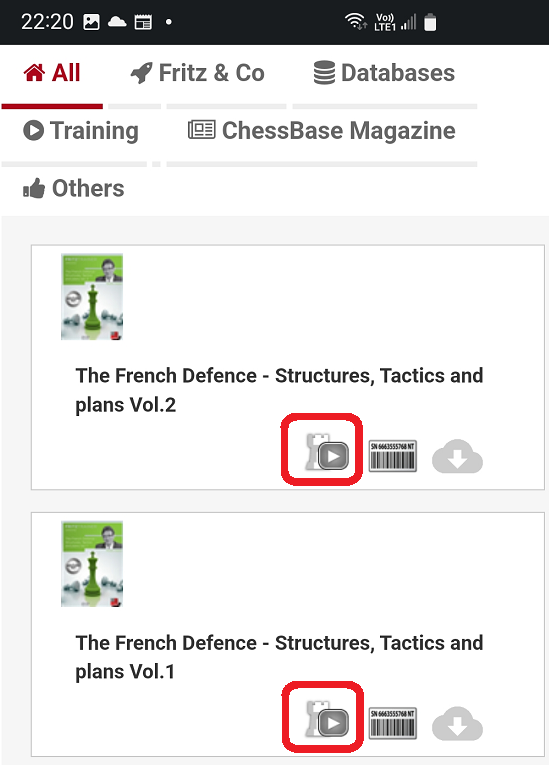 In your list of owned courses, the symbol will instantly tell you if it is available for streaming. This is a screenshot from a phone as it shows what you would see from one.
The simplest is to enter the ChessBase web app for videos:
Click here to enter the ChessBase Video web app page
Once there, click on My Videos.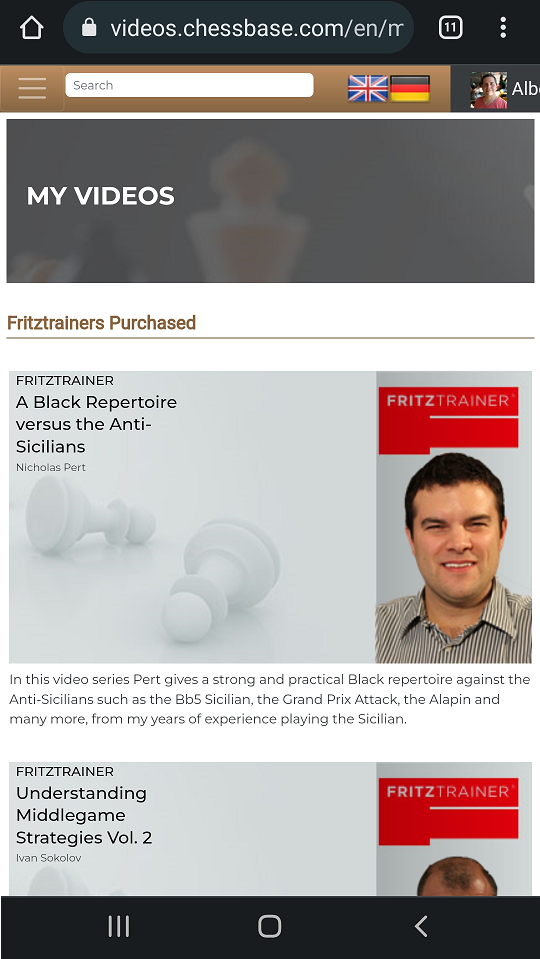 The page will now show the full list of videos you purchased and that are available for streaming. if it isn't in this list, then it is not available for streaming. All you have to do now is choose one and tap on it.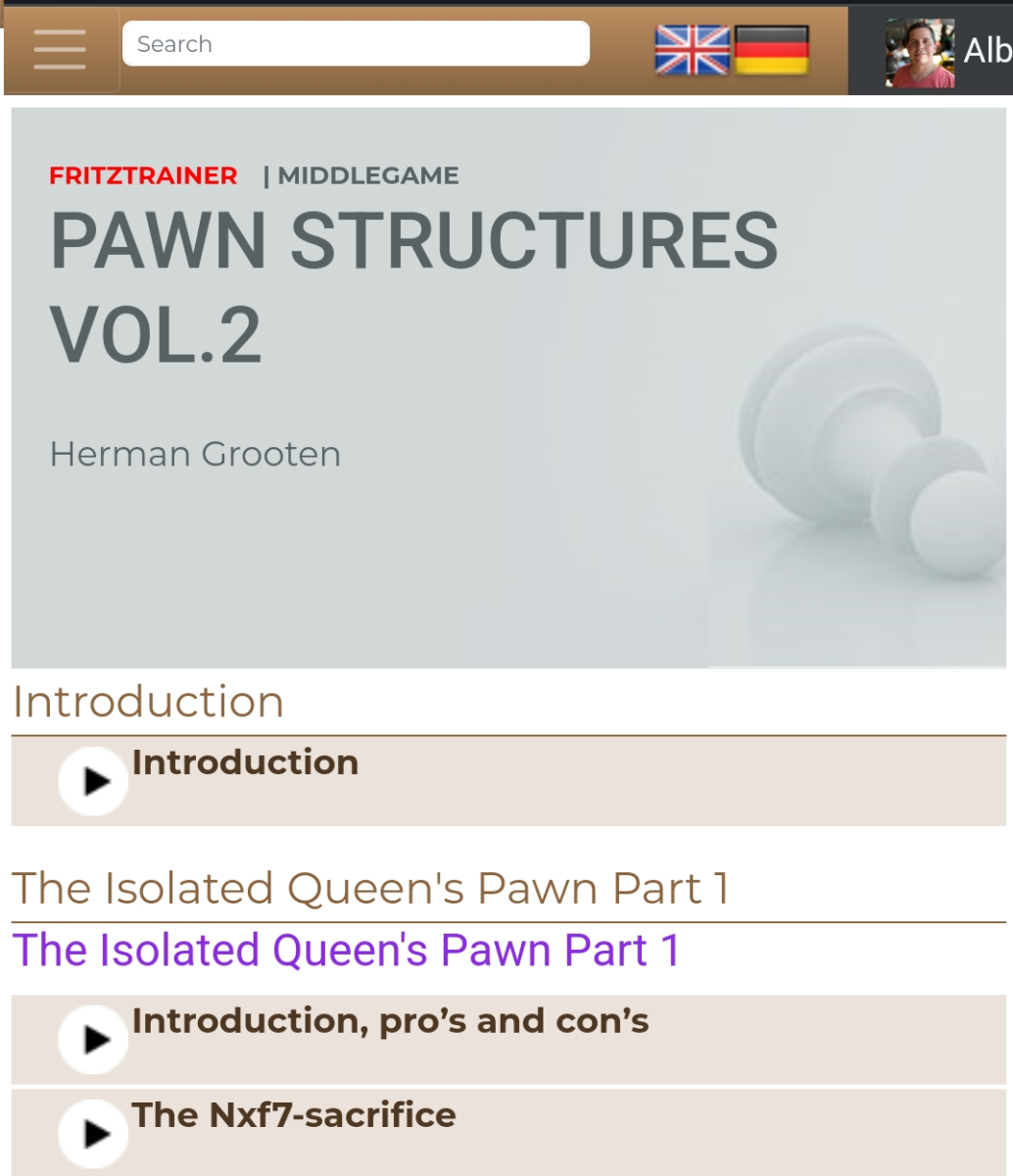 The contents will show not only the videos you can view, such as these, but also training positions and exercises.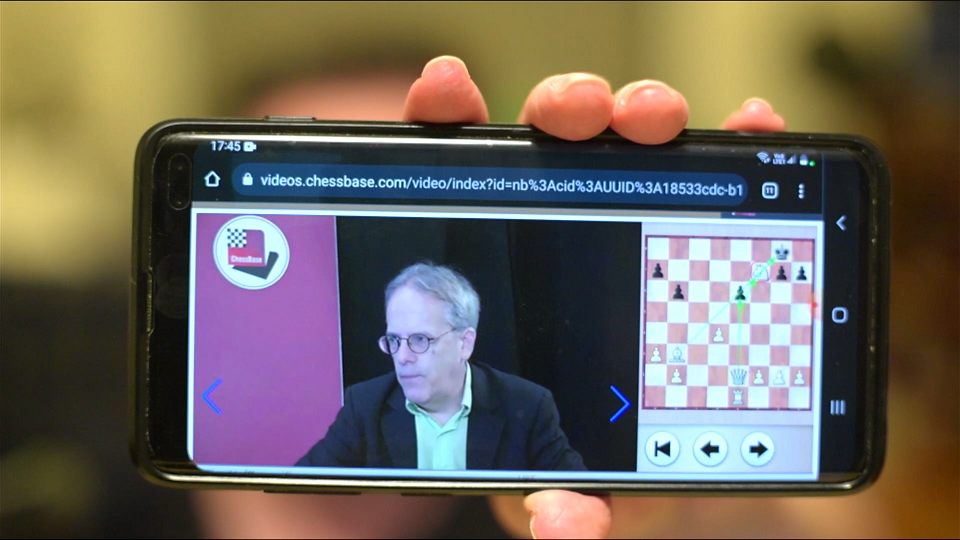 All are available in the mobile experience which remains excellent overall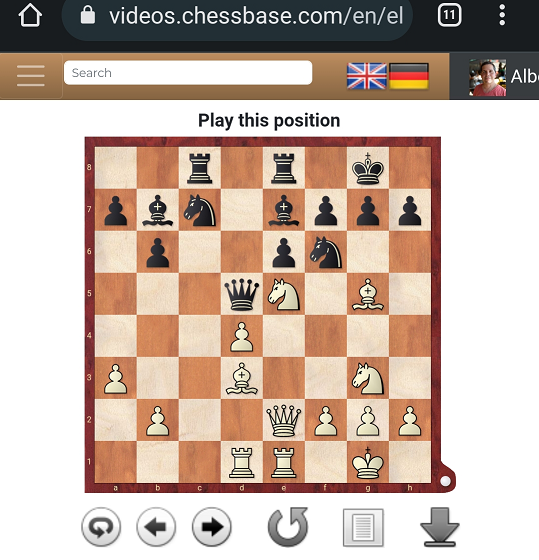 Even elements such as practice positions to train with the engine are available.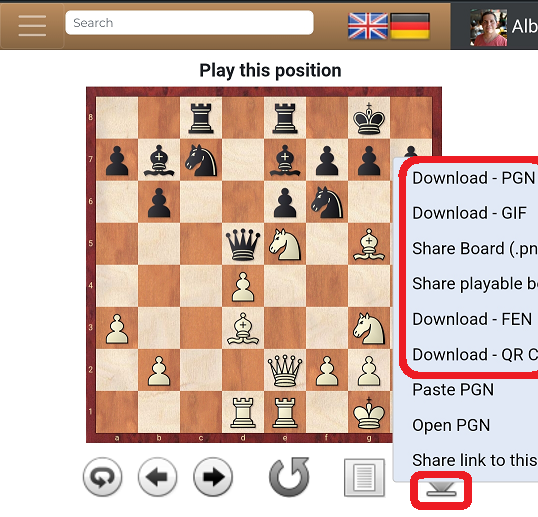 You can also save the position to share as a image of the board or export your entire played game for review in external software such as the ChessBase for Android app: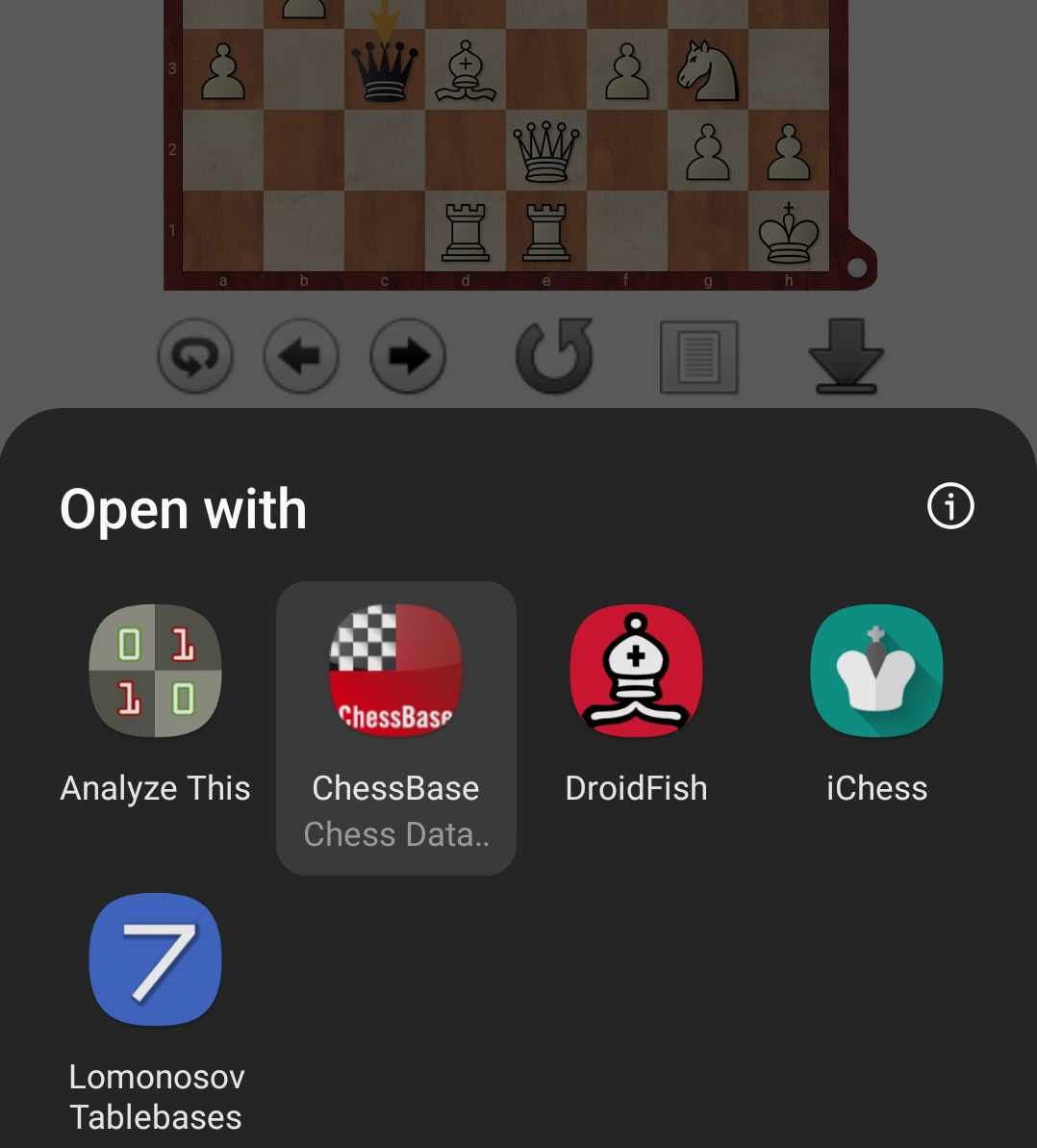 Special tip
One thing you can do to customize your user experience, notably in landscape mode, is to enter desktop mode. This does not involve opening anything in your computer, but rather entering the browser options of the page you have open: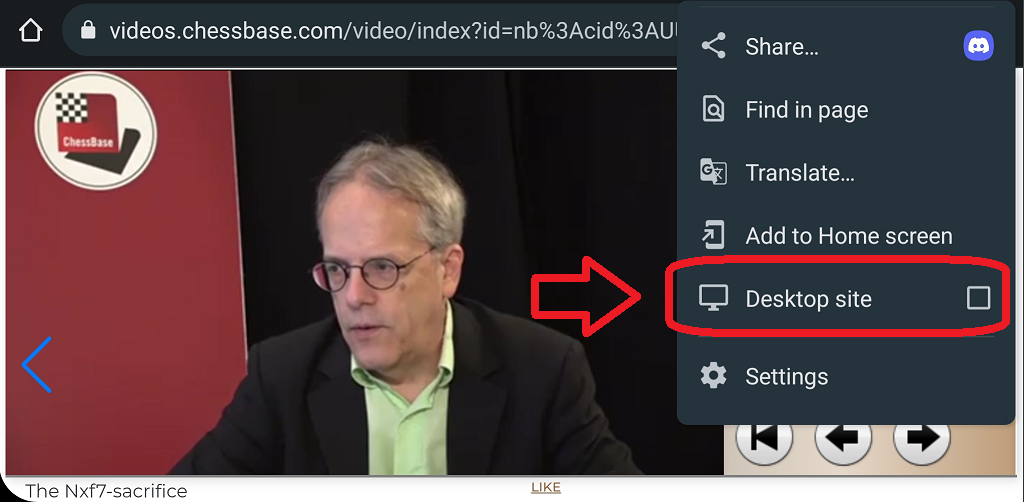 All mobile browsers have this option and if you look in the menu (top right for Chrome and Firefox) and scroll down you will see the choice. Tap on it and it will open the page again without the special mobile optimizations.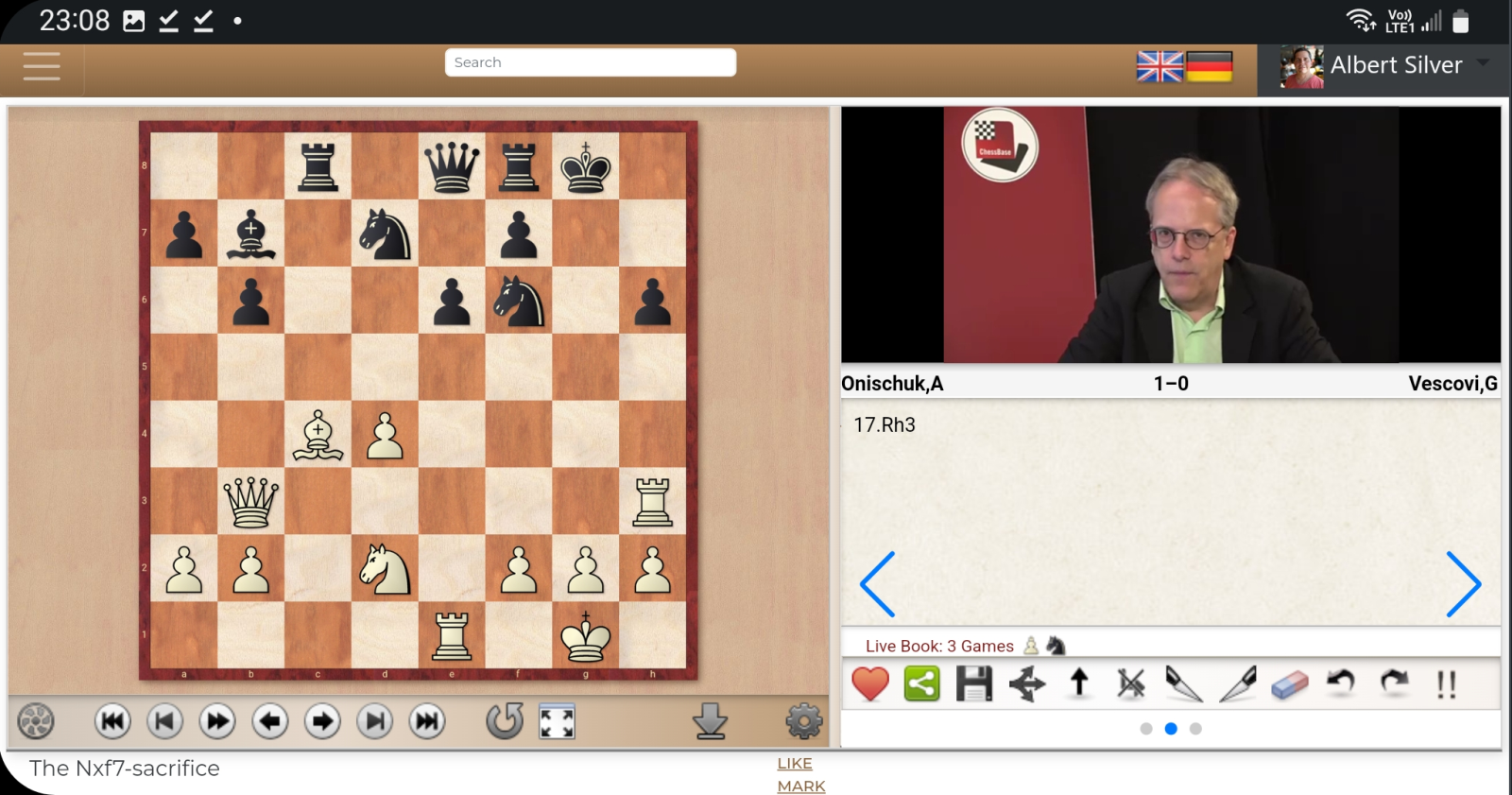 In this case, it means resizing the panes to the way they appear on a normal PC, and showing the full toolbars below the board and video. It is a completely personal choice, one which you may prefer or not, but the possibility is there.
Conclusion
There is no question this new option to view courses means much greater availability for both schedules and location, and you can now make productive use of other places such as a subway, bus, coffee break, or other.
Bear in mind you will also find a large archive of videos for no extra charge if you get a premium subscription to ChessBase Account, on top of the many other tools and options. Whatever your choice, you can hardly go wrong. Enjoy!
Click here to subscribe to ChessBase Account
Click here to see the many ChessBase video courses (AKA Fritztrainers)