Going for it!
Save for the draw in Ian Nepomniachtchi vs Teimour Radjabov, Wednesday's games in Madrid were filled with excitement. Fabiano Caruana, Ding Liren and Alireza Firouzja all played sharp — albeit questionable — variations with the black pieces, inviting their opponents to a full-on tactical battle from the get go.
Out of the three, only Ding succeeded, as he grabbed his second consecutive win by beating Richard Rapport. Caruana and Firouzja, on the other hand, quickly found themselves on the back foot and were eventually taken down by Jan-Krzysztof Duda and Hikaru Nakamura respectively.
Wednesday's results allowed Ding and Nakamura to join Caruana in shared second place. Nepomniachtchi's lead has extended to 1½ points, though, with only four rounds to go. Talking with the official commentary team, Nepo emphasized what he had stated in the previous edition of the Candidates — which he won:
As I said two years ago, it's very important to try not to lose. If you don't lose, it's surely going alright.
Indeed, Nepo is the only undefeated player in the field. Out of the three players standing 1½ points behind him, only Nakamura will get a chance to face the leader in what remains of the event, as he will get the black pieces against the Russian in Friday's twelfth round.
[Pictured: Ian Nepomniachtchi | Photo: David Llada]
Firouzja invites Naka's attack
Early in the round, the ever-ambitious Firouzja (who just turned 19 years old) played a novelty that had the clear intention of shaking things up against Nakamura's positional approach in a Najdorf Sicilian.
Thirteen years ago, Alexander Morozevich had grabbed the knight with the queen before getting a 41-move draw against Maxime Vachier-Lagrave. Firouzja's 10…gxf6 was certainly somewhat of a gamble, as there is little that justifies his damaging the pawn structure and opening a file on the flank where he will most likely need to place his king.
Not one to hurry, Nakamura began to improve his pieces gradually, trying to make the most of the holes created in Black's position. In a dynamic middlegame, the multiple US champion correctly gave up an exchange in order to place his knight on a dominating outpost.
White entered this line aware of the fact that the rook on d5 cannot be defended — in return, after 23.Nxd4 Qxd5 24.Nf5, White gets a hold of the weakened dark squares on Black's camp.
Firouzja's position crumbled quickly. Resignation came on move 32, after the disadvantages of capturing with the g-pawn in the opening had been fully exploited by Nakamura.
There is no defence.
Certainly one of the most popular chess players in the world — streamer and elite GM Hikaru Nakamura | Photo: FIDE / Stev Bonhage
Duda no longer winless
The one player who had remained winless after nine rounds in Madrid put an end to his bad streak in round 10. Much like Nakamura, Duda saw his opponent risking it all on the kingside. Caruana clearly saw this as a chance to close on Nepo in the standings.
After a 25-minute think, Caruana went for the difficult-to-justify 17…g5. Duda immediately began to rearrange his pieces for a potential kingside attack, as Black's knight was merely an onlooker from a5.
Only at this point, on move 35, Caruana managed to begin the regrouping of his knight with 35…Nb7. His bishop on d6 does not make a great impression either, while White counts with two sneaky knights helping his major pieces to create threats on the kingside.
It was not a trivial conversion, but Duda never lost the grip and grabbed his first full point of the event after 57 moves.
A great photographic eye combined with a marvellous playing venue — Jan-Krzysztof Duda and Fabiano Caruana in the mirror | Photo: FIDE / Stev Bonhage
Ding quietly joins the fight
For Ding, the tournament has been a tale of multiple missed chances after his first-round loss against Nepomniachtchi. Now that the event is coming to a close, though, he has collected back-to-back wins to climb to shared second place in the standings.
Similarly to both aforementioned games, Black did not shy away from entering complications early on. Rapport, who was playing white, responded in kind, as he provoked the creation of further imbalances with his knight jump on move 33.
The Hungarian's 33.Nc4 intends to open lines around the weakened black king. Both 33…Qxb4 and 33…dxc4 are playable. Ding went for the latter alternative, which is also the most critical.
After 34.dxc4, the Chinese immediately invited his opponent to grab an exchange with 34…Rc6, as he foresaw how things could quickly go wrong for him if White was allowed to coordinate his pieces. (See Jan Markos' latest 'Winning Academy' article, which highlights the importance of defence in professional chess).
Rapport quickly replied with 35.Ba4
The tactical skirmish continued, until a host of simplifications resulted in an endgame with rook and bishop against two bishops, in which Black had the upper hand.
In this setup, the bishop pair, the passer on the b-file and the active king grant Black a clear advantage. Rapport tried 46.Rxd4 exd4 47.Bxd4+, entering an opposite-coloured bishops endgame. But in this case this is not enough to save a draw.
Ding's king continued to march down the board, and Rapport decided to call it a day eight moves later.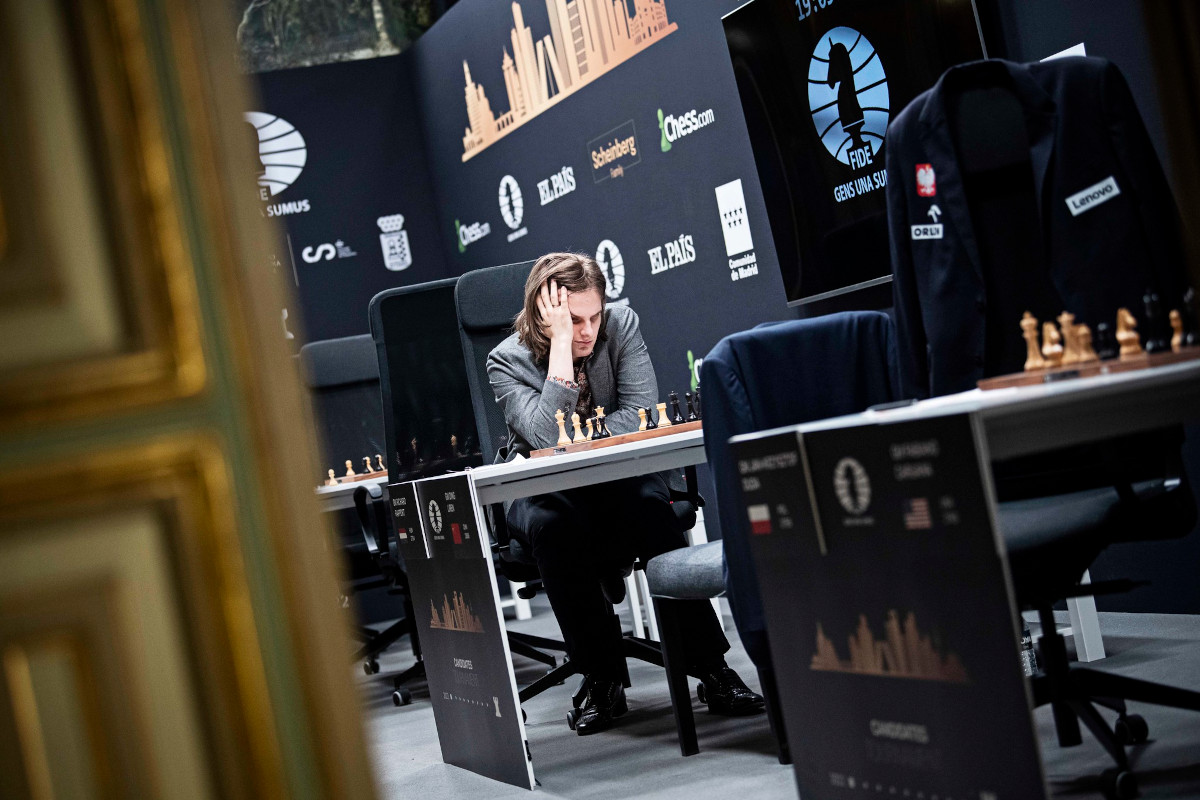 Richard Rapport | Photo: FIDE / Stev Bonhage
---
Nakamura's recap: "Dear YouTube, I destroyed Firouzja"
---
Round 10 results
---
Standings after round 10
---
All games
Links