An exciting final round
The third edition of the Stepan Vagyan Memorial took place in Jermuk, Armenia. A youthful field featuring ten ambitious players from five different countries made for an exciting event. The presence of Nihal Sarin, Hans Niemann and Shant Sargsyan, three U20 players who have been getting remarkable results lately, attracted the attention of the chess world.
However, (very slightly) older grandmasters were also eager to show what they are capable of. After eight rounds, Amin Tabatabaei (aged 21) was sharing first place with Sargsyan, while Alexander Donchenko (24) and Haik Martirosyan (21) stood a half point back.
To make things more interesting, the four players fighting for tournament victory were paired up against each other in Tuesday's final round. Martirosyan and Tabatabaei had the white pieces against Sargsyan and Donchenko, respectively.
Remarkably, both games finished decisively, as all four players were clearly looking to maximize their chances of winning the event.
Haik Martirosyan (2nd) and Shant Sargsyan (3rd) receiving their medals
The position in Tabatabaei vs Donchenko quickly turned into a double-edged, tactical struggle. White castled queenside, and Black decided to go for the throat.
Donchenko rejected to play any of the three sensible continuations in the position (13…0-0, 13…0-0-0 or 13…a6), as he decided to open things up on the queenside with 13…a5.
After 14.b5 Ne7 15.Rhe1, the ever-fighting German once again chose not to castle short and went for 15…h6 instead.
There followed 16.Na4 Qc7 17.Kb1 Bg4
Tabatabaei correctly continued with 18.Qe3 here, highlighting the weakness of the black king, as it is too late for Black to castle due to 18…0-0 19.gxf6 Qxh6, and White wins.
Donchenko found nothing better than 18…Kf8, when it is already difficult to suggest an effective defensive plan for Black. Things went from bad to worse for the German, as Tabatabaei powerfully handled his initiative until provoking Black's resignation in the following position.
27.f4 was the final blow — 27…Bxf4 fails to 28.Ne6+, while saving the bishop with 27…Bb8 simply leaves the central files wide open for the rooks to invade decisively. 1-0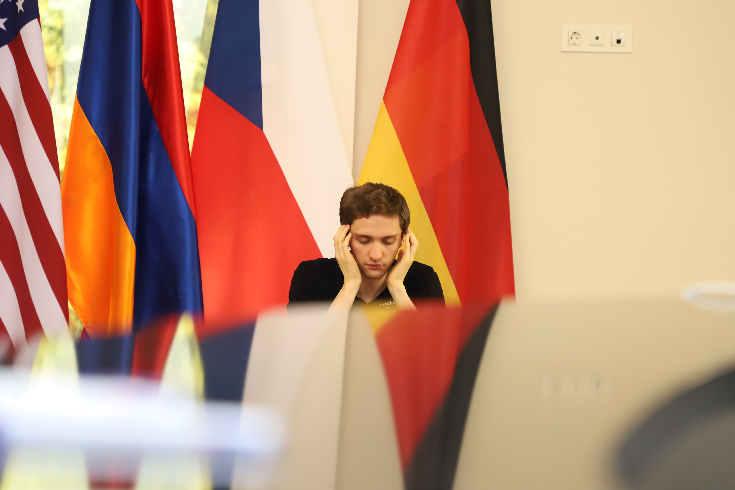 Alexander Donchenko, a fighter at heart
Tabatabaei's win meant that Sargsyan needed a win against Martirosyan to match the Iranian's score in the final standings. Similarly to the game above, castling was not a priority in the all-Armenian encounter.
This is a theoretical position which had been explored at the highest level. White has already moved his king to d1 (on move 15), but Black is still allowed to castle — to do so, Sargsyan could have played Praggnanandhaa's direct 18…d6 or Teimour Radjabov's 18…Rc8 19.Qa3 d6.
From this setup, Pragg had lost against Maxime Vachier-Lagrave while Radjabov had actually defeated Vladimir Akopian. Sargsyan, who probably had the tournament situation in mind, deviated with 18…Kf7.
Martirosyan found the best continuation in 19.Qd4, and after 19…Bxg2 20.Rg1 Be4 went for the critical 21.b4
Now that Black has missed the chance to boast of having the safer king, it turns out that White has an advantage with his bishop pair and spatial superiority.
From this point on, Martirosyan, much like Tabatabaei, showcased his ability to handle the initiative and ended up scoring a 46-move win. Martirosyan thus finished in sole second place.
Curiously, both Tabatabaei and Martirosyan had excellent performances at the 2021 World Cup in Sochi as well. Moreover, they faced each other in the fifth round, when the young GMs traded blows with black in their classical encounters before Tabatabaei came through by winning the second rapid game of the tiebreaks.
In the last month and a half, Tabatabaei has gained 15.2 rating points, which leaves him in 85th place in the live ratings list — he scored 5½/9 at the Sharjah Masters and 7/9 at the Karen Asrian Memorial.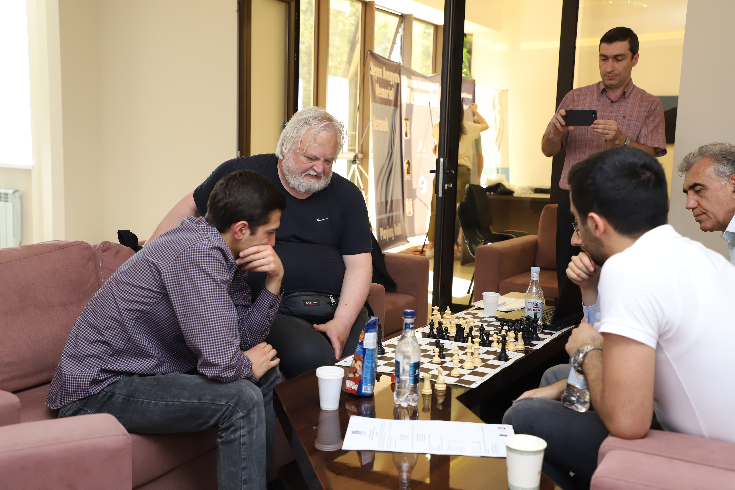 Famed coach and author Artur Yusupov sharing his wisdom in Jermuk
---
Final standings
---
All games
Links