Stabilizing
Ian Nepomniachtchi grabbed the sole lead of the Candidates in Tuesday's fourth round. Almost a week later, he has stabilized his spot atop the standings. On Saturday, Nepo beat Richard Rapport in a game that should have ended in a quick draw; the very next day, he drew Ding Liren in a game that — once again — saw him playing quickly from start to finish.
And he now has a full-point lead over Fabiano Caruana.
Caruana, who had kept up with Nepo's pace by scoring back-to-back wins in rounds 6 and 7, suffered his first loss of the event on Sunday. Hikaru Nakamura beat him from the white side of a theoretical Ruy Lopez. A static pawn structure established in the middlegame favoured Naka's newfound style — the one he has embraced since he became a full-time streamer.
Black has a rook and two pawns for White's two minor pieces. Black also has more space than his opponent — albeit this might turn out to be a disadvantage in the long run, since the pawns will become easier to target for the white army.
A more dynamic struggle would have favoured Caruana given the material imbalances, but in this stable position, White has plenty of time to manoeuvre his minor pieces to ideal spots without fearing a sudden attack by his opponent. In the diagrammed position, Naka began rearranging his pieces with the oft-undesirable 25.Nh1 — which, in this case, is the best move in the position!
A great display of positional understanding allowed Nakamura to maximize his pieces' potential. It was a slow process, but by move 58 the 5-time US champion had greatly activated his army while effectively eliminating almost all of Black's counterplay.
Here Naka, once again, chose the most reliable approach by playing 59.Be1, as he dealt with Black's one threat in the position. He prevented Caruana from playing …Re8+ and …e1Q, grabbing the bishop. Naka's move was, in fact, an imprecision.
Caruana continued with 59…Re8+ and, for a second time in a row, White's safety-first attitude (he played 60.Kf4 instead of the more active 60.Kd4) prompted the spectators to wonder whether Caruana was on his way to escape with a half point.
In the diagrammed position, White's best move is the immediate 59.Kd4, and after 59…Re8 60.Rxa6 (not even here 60.Be1 is necessary) e1Q 61.Bxe1 Rxe1 White is completely winning with his queenside passer and active, coordinated pieces.
Naka's choices gave Caruana's fans some hope, although White still had an advantage. The potential escape prompted Australian GM David Smerdon to consider writing a sequel to his excellent The Complete Chess Swindler.
But it was not meant to be for Caruana, who faltered five moves later and allowed his opponent to regain his clear advantage. Naka ended up scoring a memorable 72-move victory in what turned out to be an extremely tense and hard-fought battle.
Naka now stands a half point behind Caruana in sole third place. A complete shake-up of the tournament's standings might be completed in Monday's ninth round, when Nepo will get the white pieces in the all-important direct encounter against Caruana!
Ian Nepomniachtchi and Alireza Firouzja taking a (studied) look at the all-American battle | Photo: FIDE / Stev Bonhage
Rapport beats Duda
After losing his first game of the event on Saturday — following six draws in a row — Richard Rapport bounced right back by collecting a crashing victory over Jan-Krzysztof Duda.
A contested opening stage saw the action mostly taking place on the kingside, where both monarchs stood somewhat vulnerable to attacks. Rapport, playing white, had the more active pieces though.
The cold-blooded engines evaluate this position as equal, but from a human point of view it is easier to see White getting attacking chances on the kingside. While Rapport will get to stack his major pieces on the g and h-files, Duda needs to find manoeuvres that do not spoil his position — to add insult to injury, the Polish grandmaster was down on the clock at this point.
There followed 24…Rae7 25.Qf3 g6 (this was not necessary, better was 25…f6) 26.Rh1. And then Duda played the hasty 26…f5
After 27.Kg1, preparing to double (or triple) on the h-file, the most stubborn defensive move is 27…Rf8 — defending is generally more difficult than playing with the initiative.
Duda instead went for 27…b4
Rapport ignored his knight on c3 and continued with 28.exf5. Again, Duda's 28…gxf5 was not the best defensive try, although Black is lost anyway. Resignation came after 29.Ne4
The last piece joins the attack. Grabbing the knight fails to 30.Qh5, while any other manoeuvre will only delay the inevitable.
Duda is now one of three players sharing last place on 3/8 points. Alireza Firouzja and Teimour Radjabov also have a -2 score after drawing their round-8 direct encounter — a 93-move struggle that lasted no less than seven hours.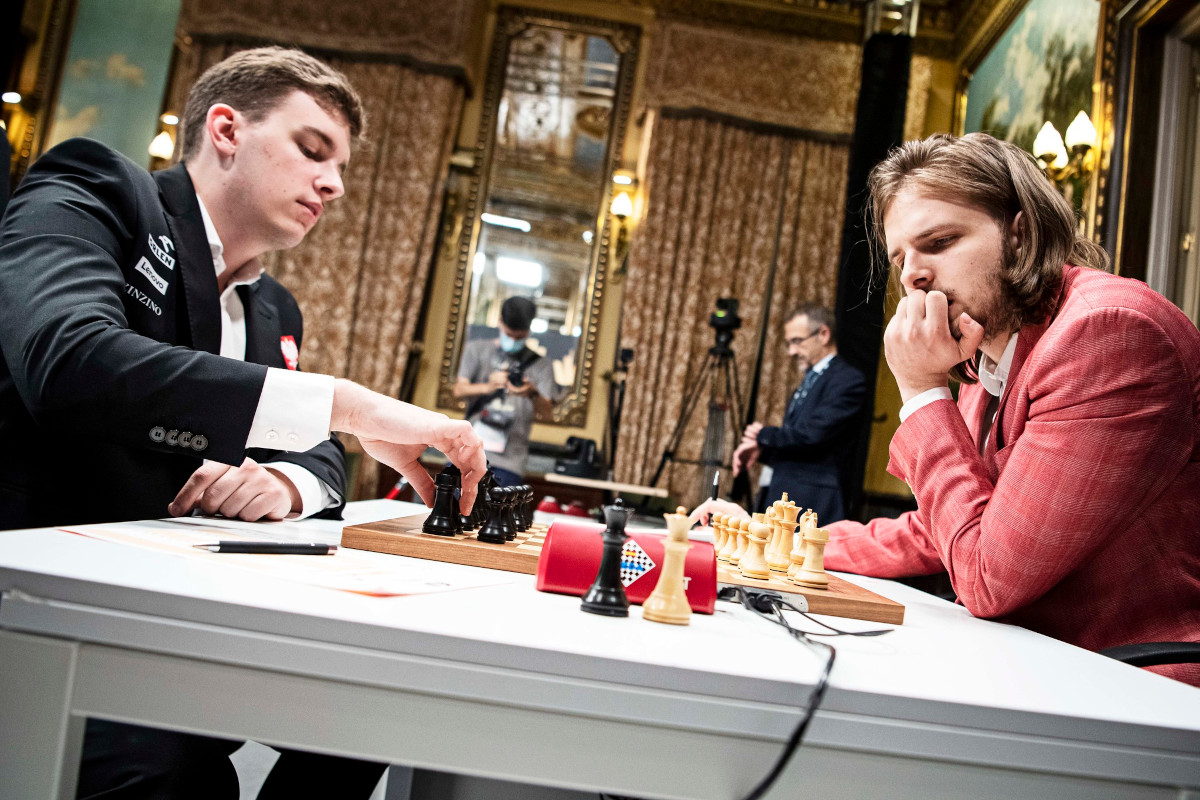 Richard Rapport vs Jan-Krzysztof Duda is about to begin | Photo: FIDE / Stev Bonhage
Round 8 results
---
Standings after round 8
---
All games
Links