Lasker affirms his worthiness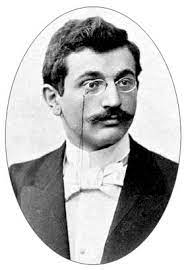 London 1899 and Paris 1900 have come down as two of Emanuel Lasker's most memorable victories. In hindsight, Lasker's turn-of-the century twin achievements are nothing surprising for a man who, for close to fifty years, tucked one glorious conquest after another under his belt. Certainly, they are impressive, but nothing was really beyond the great Lasker's reach.
Back then, however, Lasker's triumphs were anything but a foregone conclusion. Only two years removed from his rematch victory against Steinitz in 1897, Lasker wasn't quite the champion yet that he would come to be. He would, in fact, need every point of the wide margins he posted to affirm his worthiness of the title.
If the world lacked faith in Lasker then, it was because he rose to the throne almost too quickly for everyone to notice. He first competed in the Sixth German Congress of 1889, which he won, earning for himself the German master's title. He then participated in his first international tournament in Amsterdam 1892, placing second but ahead of 1891 world title contender Isidor Gunsberg. He travelled to the United States the following year and won the New York Tournament of 1893, sweeping all his thirteen games.
All the while he also scored significant match victories, beating Curt von Bardeleben, Jacques Mieses, Henry Bird, Joseph Henry Blackburne, Berthold Englisch, Jackson Showalter, and Celso Golmayo.
Whether all these were enough to merit a shot at the crown, Lasker did in fact challenge Wilhelm Steinitz for the world title in 1894. Steinitz, then already a veteran of four world championship matches, accepted. With his experience, he was so much favored that the stakes were reduced from $5000 to $2000 aside. Only a few souls were willing to wager on Lasker's success.
It was an upset of sorts, therefore, when Lasker took the match, 10-5, to become the second world champion. He, however, seemingly made more skeptics than believers. Steinitz was already 58, quite but a shadow of his former self to many. Siegbert Tarrasch, Lasker's fiercest rival, wasn't impressed and quipped: "The old Steinitz is no longer the Steinitz of old."
Lasker's rise in the five-year span since his first appearance at the German Chess Congress was remarkable, but he understood that he was taken as an untested champion who wanted the powerful performances that defined his predecessors. Anderssen had London 1851 and Baden-Baden 1870, while Steinitz had the Vienna Tournaments of 1873 and 1882. Lasker was yet to score his own.
Lasker's first chance at snaring a super-tournament didn't take long, for the following year he found himself and all the other strongest players of his generation in the great Hastings Tournament of 1895.
Rather than affirm Lasker, Hastings 1895 cast more doubt on his ascendancy. The enigmatic American, Harry Nelson Pillsbury, scored a stunning victory on his maiden international appearance to herald his coming as a close equal of Lasker, and a serious threat to his title. Mikhail Chigorin, the 1889 and 1892 title contender, finished second, with Lasker third.
Lasker's next chance came in St. Petersburg 1896. The tournament was organized as a 6 round-round robin among the top five finishers of Hastings 1895, perhaps to settle the pecking order among them that the event itself muddled. Along with Pillsbury, Chigorin, and Lasker, Tarrasch and Steinitz made up the top five as the 4th and 5th placers. Tarrasch, however, declined his invitation due to his medical practice.
St. Petersburg 1896. From left to right: Chigorin, Lasker, Pillsbury, and Steinitz
This left the four remaining players in a marathon, battle royale. Pillsbury led early, but Lasker scored heavily against Steinitz and Chigorin to win the tournament, two points ahead of Steinitz. Lasker had solidified his position as world champion, but he had lost his 6-game match with Pillsbury, and Steinitz wasn't too far behind. Steinitz, on the other hand, beat Pillsbury 4-0, which kept his hopes of recapturing the world title flickering. Lasker had to have a few more dominant performances.
St. Petersburg, Russian Empire, 13 Dec 1895 – 27 Jan 1896
St. Petersburg 1896 seemed to have been all the spark that Lasker needed. In the middle of the year he won Nuremberg 1896 ahead of his three rivals in St. Petersburg, and Tarrasch. Then late in the year up to January 1897, Steinitz ventured on a rematch for the crown on the strength of his second-place finish in St. Petersburg. Lasker thrashed him again, this time even more decisively, 10-2. Lasker was primed, then, for the next two powerful tournaments that he participated in, one to close and the other to open the new century.
London 1899 is one of the strongest tournaments ever held on British soil. It was a 15-player double round-robin event where almost every great player of the day participated. Aside from Lasker and his rivals in St. Petersburg, there was the old guard Blackburne, and rising players whowould soon become candidates or contenders for the world championship. These were David Janowski, Geza Maroczy, and Carl Schlechter. Other accomplished masters were US Champion Jackson Showalter, James Mason, and Henry Bird.
Standing (from left to right): D. Janowsky, G. Maróczy, F.J. Lee, L. Hoffer, J.W. Showalter, S. Tinsley, R. Teichmann and W. Cohn. Seated: H.E. Bird, E. Lasker, M. Chigorin, J.H. Blackburne and C. Schlechter. Absent: J. Mason, H.N. Pillsbury and W. Steinitz
Janowski started strong, winning his first four games. Lasker could only score half as much, but after his fourth round loss to Blackburne, he went on a scorching run to finish with 22.5 points out of 27 rounds, 4.5 points ahead of the second placers. Lasker steamrolled the field, beating everyone in the two-game matches except Blackburne, who earned a split.
London, 30 May – 10 July 1899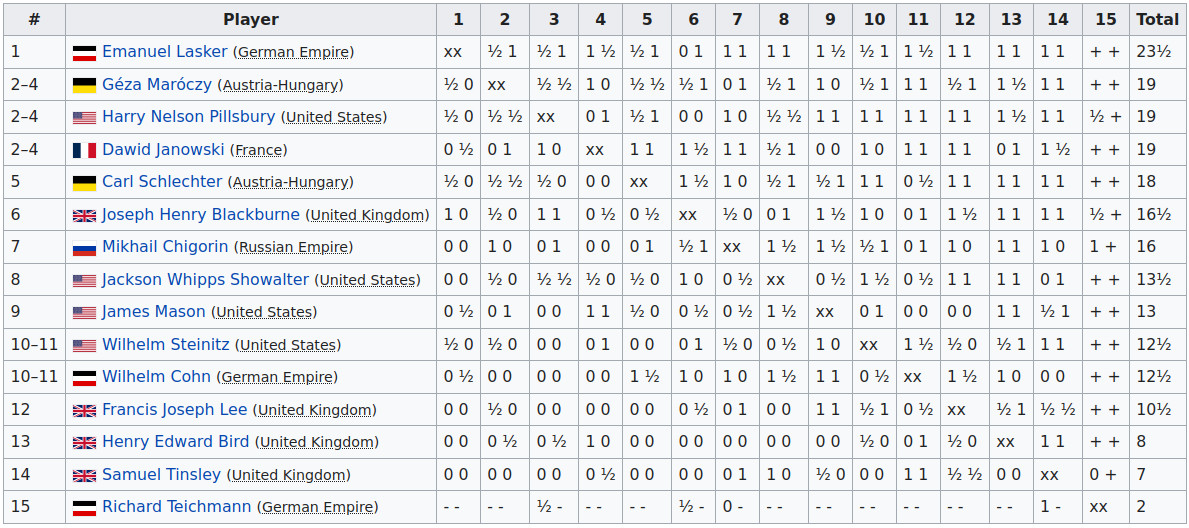 Click to enlarge
Paris 1900 was a 17-player, single round-robin event. It had an equally strong field that included Pillsbury, Frank Marshall, Maroczy, Amos Burn, Chigorin, Schlechter, Georg Marco, Mieses, Showalter and Janowski.
Paris 1900 might have been less grueling than London 1899 for being only a 16-rounder, but it could have been a 32-rounder for any of the players. The tournament adopted the unique rule of replaying drawn games with colors reversed. The result of the second game would stand as the players' score for the round.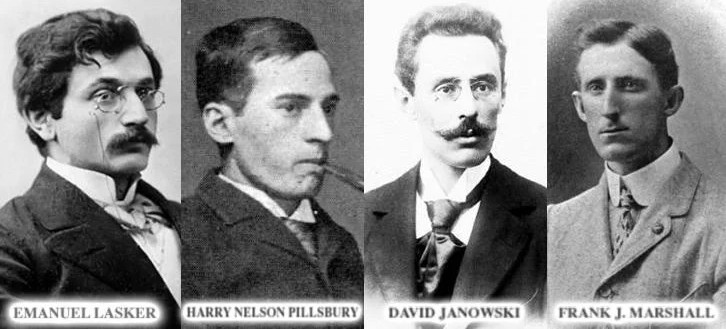 Lasker finished the event at 14.5 points, two points ahead of the runner-up, Pillsbury. He was every bit the juggernaut that he was in London, winning all his games except for a draw against Chigorin, and a loss against a young Marshall, who was making his international debut.
Paris, 17 May – June 20, 1900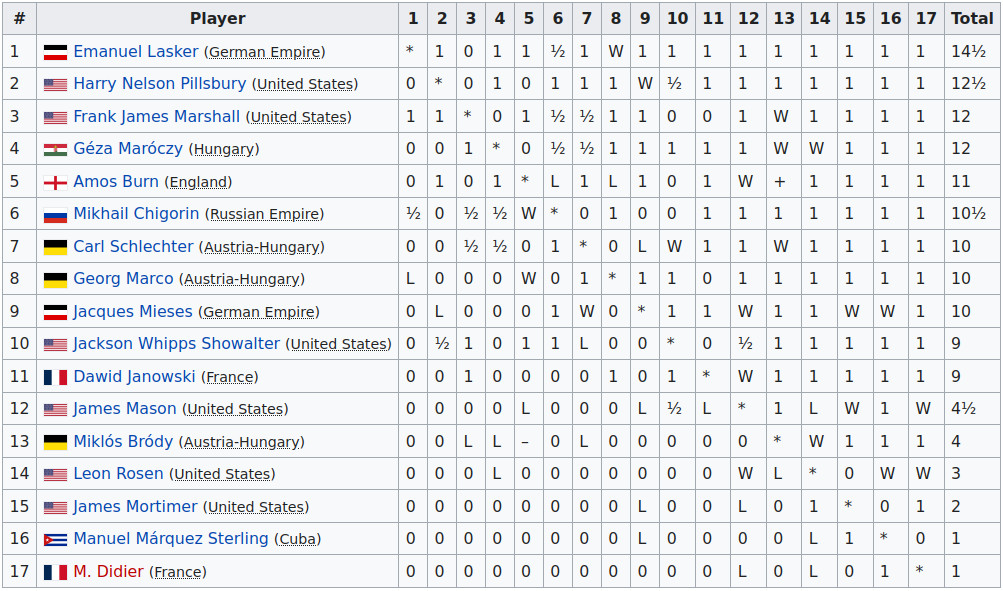 Click to enlarge
Such dominant victories in these two tournaments that included a former world champion, a former title contender, and present and future candidates to the crown left no doubt that Lasker was the world's best player by 1900. In which tournament was Lasker more vintage? He was more dominant in London with his 4.5 point-margin, but he was closer to perfection in Paris, only 1.5 points off as he was from the perfect score.
London 1899 and Paris 1900 were significant in other ways, too. As a great century-ending tournament, London 1899, perhaps fittingly, was Steinitz's last tournament. He would pass away the following year, and the tournament gave everyone a last glimpse at the man who, along with Paul Morphy and Anderssen, were the 19th century's finest players. London 1899 also sent the second-placer, Janowski, off a fine-streak. He would score other significant victories in the first decade of the new century, among them Monte Carlo 1901 and Barmen 1905, all of which would culminate in his challenge for the world title in 1910.
Paris 1900, on the other hand, introduced Frank Marshall. The only player who beat Lasker in this tournament would become one of the strongest players in the first half of the new century. As if Paris 1900 foretold his bright future, he took Cambridge 1904 four years later, challenged for the title in 1907, and became US Champion from 1909 to 1936.
As tournaments where Lasker grew his legend and where emerged new, rising players who would play significant parts in chess history and become title contenders themselves, London 1899 and Paris 1900 are, therefore, true landmark chess events.
Lasker's notable games in London 1899
Steinitz vs. Lasker – Winner of the tournament's Brilliancy Prize. Lasker's spectacular piece sacrifice doesn't lead to forced mate, but leaves White hopelessly disorganized.
Showalter vs. Lasker – Lasker grinds down the American champion in the ending, utilizing the motifs of superior Knight vs. Bishop and the outside passed pawn.
Blackburne vs. Lasker – Lasker plays a fine positional game against Blackburne who was on an impressive streak, having scored 4.5 in the last 5 rounds, and having beaten Steinitz and Pillsbury in his last two games.
Lasker's notable games in Paris 1900
Lasker vs. Pillsbury – Pillsbury survives a strong attack, but Lasker outplays him in the ending
Lasker vs. Maroczy – Lasker defeats a future world beater in a great display of tactics.
Rosen vs. Lasker – Lasker weaves a mating net to win the exchange, then neatly returns the exchange to simplify into a winning endgame.
Links